Tallulah Bankhead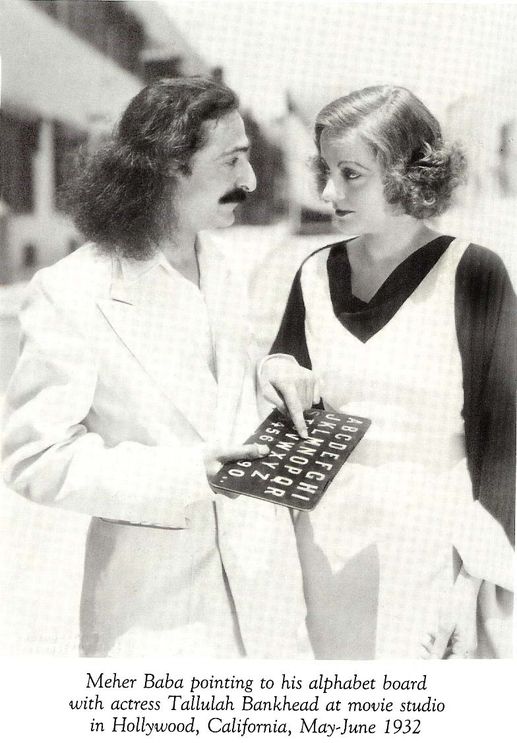 Born : 31st January, 1902
Died : 12th December, 1968

AMERICAN

She met Baba on the set of the film "Devil & the Deep" in Hollywood on the 2nd June 1932.

The next day, Baba visited Paramount Studios. On one lot, The Devil and the Deep was being filmed. Tod had known Tallulah Bankhead and the actor Charles Laughton in London, and  ....they in turn introduced Baba to the actor Gary Cooper.
Baba stayed to watch a couple of scenes being filmed and afterward was photographed with Tallulah Bankhead. The visit took almost two hours.
After lunch, Baba and a few others went to Fox and Universal Studios with actor Lalchand Mira, a friend of the Joneses. Here they met the cowboy Tom Mix and another actor named Ezra Mir, staying for an hour and a half. Tod returned to Paramount Studios to pick up Tallulah Bankhead who had an interview with Baba at 5:30 P.M. She had a long talk with Baba and said she was on her way to see the actress Greta Garbo and would tell her of him.
Lord Meher Volume 5, Page 1648-9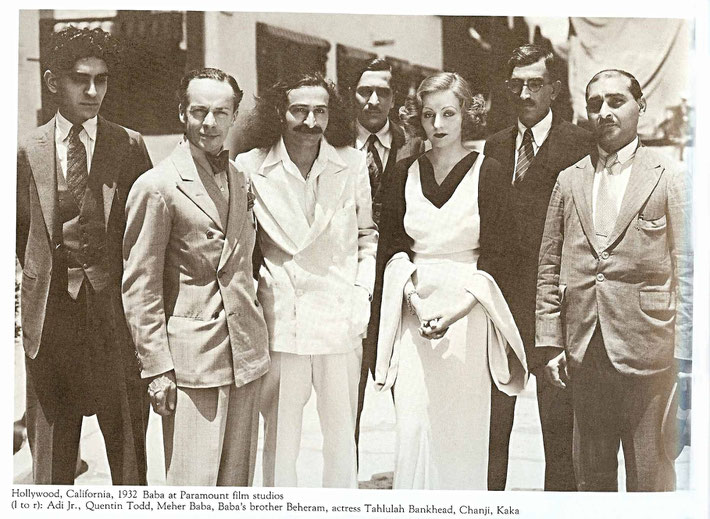 Recollections of Quentin Tod in Hollywood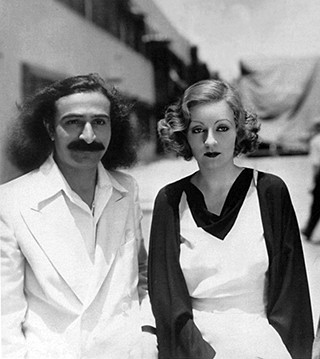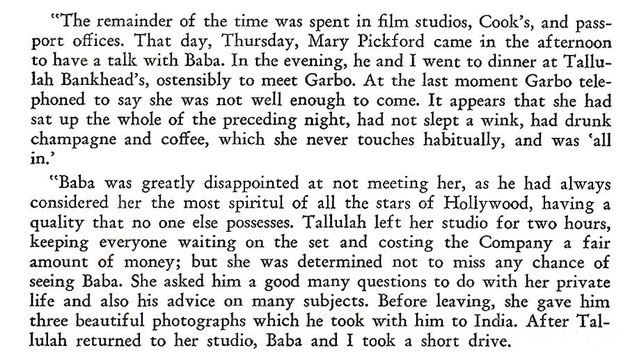 On June 2nd, 1932, Baba went to Paramount Studios again and met Maurice Chevalier, who was making Love Me Tonight with Jeanette MacDonald. Tallulah Bankhead was there and ran to Baba, hugging and kissing him.
Later that afternoon, Mary Pickford came to see Baba for a private interview at 3:30 and meditated in Baba's presence for five minutes. Baba and Quentin Tod were driven later to Santa Monica by director Ernst Lubitsch and had tea with him at his house. Rom Landau had written letters of introduction for Tod to Lubitsch and Von Sternberg.
In the evening, Baba went with Quentin to Tallulah Bankhead's residence for dinner, and also to meet Greta Garbo. However, Garbo telephoned at the last minute to say she was not well enough to come. Baba was openly disappointed at not meeting her, as he had implied that Garbo was the "most spiritual" of the Hollywood stars.
Lord Meher Volume 5, Page 1660


1932
ADI JR. had many stories of his travels with Baba. The following story by Adi describes the mistaken impression of the Hollywood movie stars who became acquainted with Meher Baba. At the reception at the Pickfair, Adi Jr. was staying aloof seated at a table, keeping his worn-out shoe concealed. Tallulah Bankhead came up and sat near him. Adi warned her not to touch him. She explained that she just wanted to talk. During their chat, the actor Gary Cooper came by and Tallulah introduced Adi to the famous actor. Adi, who was feeling self-conscious, simply said how much he admired Mr. Cooper's movies. Other stars came by, and Tallulah also introduced them to Adi who politely, but shyly, shook their hands. When it was announced that Baba wanted to leave, Tallulah asked Adi if it was possible for him to come to her house the next day for lunch, for she had something to talk about with him. Adi said that he thought it would be possible, but that he'd have to ask Baba. When he approached Baba, Baba replied, "Fine." Then in a stern tone, he further warned, "But do not touch her and do not let her touch you." Adi assured him that nothing ill-intentioned would happen.
Adi went to Tallulah's home, the following afternoon. When he met her, he immediately blurted out, "I am happy to be here, but please do not touch me." She blushed, saying she would not embarrass him. During their lunch, Adi asked what was it that she wanted to talk to him about. Tallulah said that she was in love with a certain man, but that he did not love her, nor showed her any affection. She wanted Adi to persuade his brother (Baba) to cast a "love-spell" on the man, and thereby he would fall in love with her and be hers. Adi was taken aback and assured her that Baba did not do such things and that she was greatly mistaken about the kind of spiritual things Baba taught. Tallulah, nevertheless, insisted that Adi ask his brother if he would cast such a spell. Adi said he would, but explained again that he doubted if Baba would do such a thing.
After Adi returned to the Jones residence, he was feeling quite disturbed about his meeting with Tallulah Bankhead, but did not say anything until he met with Baba. When he did, Baba sternly inquired, "Did you touch her?" Adi pleaded innocent and then explained why she invited him over and what she wanted Baba to do – cast a love-spell on a certain man, so he would fall in love with her. Baba showed his obvious disgust, "Hollywood!"
The general impression among many of the movie stars was that Baba was a yogi or swami of a high class, who possessed occult powers and could influence people's minds. That is why Tallulah made such an inquiry. The Hollywood actors and actresses were famous people whose lives were well publicized, and since Baba had attained much notoriety in the newspapers they had welcomed him as an equally famous person. However, their understanding of true spirituality, or what Meher Baba's Avatarhood really meant, lacked any depth.
Lord Meher Volume 5, Page 1661-2


Ramjoo added, "So much so that even in Hollywood, where materialism could be said to be at its height, movie stars such as Mary Pickford, Douglas Fairbanks, Tallulah Bankhead and others were greatly drawn to Baba. This article from Liberty magazine is very good and impartially written. Yet the writer of it, Frederick Collins, has made a mess of it here in reference to you. I would like you to read it, so I will send you a typed copy."
 
Lord Meher Volume 5, Page 1661


Georges Matchabelli was another visitor. Although his interview lasted only two minutes, it had a profound effect. He later told his wife, Norina, "You were right. Meher Baba is real!"
The actress Tallulah Bankhead was also in New York and dropped by the Stokeses' to see Baba during this occasion.
 
Lord Meher Volume 6, Page 1932


Since early morning, I ( Baba ) have been thinking of Chanji, my constant companion and indefatigable secretary during all my travels in India and abroad. I recall the time we traveled to Hollywood with Kaka Baria when many important film stars of the time met me [1932]. Once, Douglas Fairbanks and Mary Pickford invited me to their home as their chief guest, and many came there to shake hands with me. Mary Pickford welcomed me, saying: "We feel greatly honored by your presence in our home ..." and thereafter she introduced me to all those she had invited. Among them were Gary Cooper, Charles Laughton, Marlene Dietrich, and Will Rogers who spoke with me for half an hour. And, of course, there was Tallulah Bankhead. I remember Marie Dressler especially; she took to me like a mother to her son, and invited me for dinner at her home. She fondly caressed my face saying: "My child, my child ..."
Lord Meher Volume 18, Page 6044


MAE WEST posed with actress Tallulah Bankhead at an event during the 1950s.


• • Tallulah Bankhead [31 January 1902 –   12 December 1968] was an American actress, talk-show host and bonne vivante.
• • At 15, Bankhead won a movie-magazine beauty contest and moved to New York. She quickly won bit parts. During these early New York years, she became a peripheral member of the Algonquin Round Table, and was reputed to be a hard-partying girl-about-town.
• • In 1931 her name was tossed out as Paramount Pictures' "next Marlene Dietrich", but Hollywood success eluded her in her first four films of the 30s. Critics agreed that her acting was flat, that she was unable to dominate the camera, and that she was generally outclassed by Dietrich, Carole Lombard, and others.
• • In Hollywood, Tallulah rented a home [1712 Stanley Street], and began hosting frisky parties. On 9 September 1932, she was on the cover of Film Weekly.
• • She was outspoken and uninhibited.
• • In 1932 she briefly expressed interest in spirituality and met with an Indian mystic.
• • In 1933 Tallulah Bankhead nearly died following a 5-hour emergency hysterectomy for an advanced case of gonorrhea, contracted– –she said– –from either actor George Raft or Gary Cooper. Only 70 pounds when she was able to leave the hospital, she stoically said to her doctor, "Don't think this has taught me a lesson!"
http://maewest.blogspot.com/2006/12/mae-west-tallulah-ed.html


1712 N Stanley Street, Hollywood

Tallulah Bankhead
From Wikipedia, the free encyclopedia
Tallulah Brockman Bankhead (January 31, 1902 – December 12, 1968) was an American actress, talk-show host and bon vivant. [1]

Life and career
Early life and family
Bankhead was born in Huntsville, Alabama to William Brockman Bankhead and Adelaide Eugenia Bankhead (née Sledge) and was named after her paternal grandmother.[2] Her mother, Adelaide, died as a result of blood poisoning on February 23, 1902, shortly after Bankhead's birth. Bankhead has been described as "an extremely homely child", overweight and with a deep, husky voice resulting from chronic bronchitis.[2] However, others described her as an exhibitionist, performer, personality, and star from the very beginning.[3]

Bankhead came from a powerful Democratic political family in the South in general and Alabama in particular. Her father was the Speaker of the United States House of Representatives from 1936-1940 (in the 74th, 75th, and 76th Congresses), immediately preceding Sam Rayburn. She was the niece of Senator John H. Bankhead II and granddaughter of Senator John H. Bankhead. Bankhead herself was a Democrat, albeit one of a more liberal stripe than the rest of her family.
Her older sister, Evelyn Eugenia (b. January 24, 1901 - died 19??) was known as "Sister". Tallulah's family sent her to various schools in an attempt to keep her out of trouble, which included several years at a Roman Catholic convent school (although her father was a Methodist and her mother an Episcopalian).
Early career
At 15, Bankhead won a movie-magazine beauty contest and convinced her family to let her move to New York. She quickly won bit parts, first appearing in a non-speaking role in The Squab Farm. During these early New York years, she became a peripheral member of the Algonquin Round Table and known as a hard-partying girl-about-town. During this time she began to use cocaine and marijuana, going as far as saying "Cocaine isn't habit forming. I should know – I've been using it for years."[4] However, she did not consume alcohol to any great degree. She became known for her wit, although as screenwriter Anita Loos, a minor fellow Roundtable member, said: "She was so pretty that we thought she must be stupid." She became known for her outspokenness. Once, while in attendance at a party, a guest made a comment about rape, and Bankhead reportedly replied "I was raped in our driveway when I was eleven. You know darling, it was a terrible experience because we had all that gravel." She professed to having a ravenous appetite for sex, but not for a particular type. "I've tried several varieties of sex. The conventional position makes me claustrophobic. And the others give me either stiff neck or lockjaw", she said.
Once, at a party, one of her friends brought along a young man who boldly told Bankhead that he wanted to make love to her that night. She didn't bat an eye and said, "And so you shall, you wonderful, old-fashioned boy."[5][6] Another version of the story holds that Bankhead met Chico Marx at a party before her reputation had overturned the presumption that William B. Bankhead's daughter would be disgusted by Marx's typically crude (yet generally effective) approach. According to Dick Cavett, after Marx had been cautioned to be on his best behavior with Bankhead, the two first spoke at the punch bowl.
"Miss Bankhead."

"Mr. Marx." And, as everyone breathed a sigh of relief, Chico told her, "You know, I really want to fuck you.". She replied, "And so you shall, you old-fashioned boy."[7]

In 1923, she made her debut on the London stage, where she was to appear in over a dozen plays in the next eight years, most famously, The Dancers. Her fame as an actress was ensured in 1924 when she played Amy in Sidney Howard's They Knew What They Wanted. The show won the 1925 Pulitzer Prize. She was famous not only as an actress but also for her many affairs, infectious personality and witticisms like "There is less to this than meets the eye" and "I'm as pure as the driven slush." She was known for her promiscuous behavior, and had the reputation of being sexually available to anyone she found attractive, famous or not. Her longest known affair during this period in her life was with an Italian businessman named Anthony de Bosdari, which lasted just over one year.[5] By the end of the decade, she was one of the West End's — and England's — best-known and most notorious celebrities.[8]

While in London, Bankhead also bought herself a Bentley, which she loved to drive. She wasn't very competent with directions, however, and constantly found herself lost in the London streets. She would telephone a taxi-cab and pay the driver to drive to her destination while she followed behind in her car.[5]
Mid career
Bankhead returned to the US in 1931 to be Paramount Pictures' "next Marlene Dietrich", but Hollywood success eluded her in her first four films of the 1930s. She rented a home at 1712 Stanley Street, in Hollywood, and began hosting parties that were said to "have no boundaries".[9] On September 9, 1932, she was featured on the cover of Film Weekly.[10]

Bankhead's first film was Tarnished Lady (1931), directed by George Cukor, and the pair became fast friends. Bankhead behaved herself on the set and filming went smoothly, but she found film-making to be very boring and didn't have the patience for it. She didn't like Hollywood either. When she met producer Irving Thalberg, she asked him, "How do you get laid in this dreadful place?"[11]

Bankhead was not very interested in making films. The opportunity to make $50,000 per film, however, was too good to pass up. She later said, "The only reason I went to Hollywood was to fuck that divine Gary Cooper."[11] One of Bankhead's most notorious events was an interview that she gave to Motion Picture magazine in 1932, in which she ranted wildly about the state of her life and her views on love, marriage, and children:
"I'm serious about love. I'm damned serious about it now.... I haven't had an affair for six months. Six months! Too long.... If there's anything the matter with me now, it's not Hollywood or Hollywood's state of mind.... The matter with me is, I WANT A MAN! ... Six months is a long, long while. I WANT A MAN!"[12]



Alleged bisexuality and sexual exploits
Hollywood was becoming increasingly conservative, partly as a result of past scandals, due to the formation of the Production Code. The Code dictated not only what the studios could show in their films, but how actors had to conduct themselves off-screen. As predicted, the interview created quite a commotion. Will Hays was furious. Time ran a story about it, and, back home, Bankhead's father and family were perturbed. Bankhead immediately telegraphed her father, vowing never to speak with a magazine reporter again.[11]

However, following the release of the Kinsey Reports, she was once quoted as stating:"I found no surprises in the Kinsey Report. The good doctor's clinical notes were old hat to me..I've had many momentary love affairs. A lot of these impromptu romances have been climaxed in a fashion not generally condoned. I go into them impulsively. I scorn any notion of their permanence. I forget the fever associated with them when a new interest presents itself."
Rumors about her sex life have lingered for years, and she was linked romantically with many notable female personalities of the day, including Greta Garbo, Joan Crawford, Marlene Dietrich, Eva Le Gallienne, Laurette Taylor, and Alla Nazimova, as well as writer Mercedes de Acosta, the wealthy Betty Carstairs, and singer Billie Holiday.[13][14]

Tallulah Bankhead married actor John Emery, the son of stage actors Edward Emery (circa 1861 - 1938) and Isabel Waldron (1871 - 1950) on August 31, 1937 in Jasper, Alabama. They divorced on June 13, 1941 in Reno, Nevada.
Actress Patsy Kelly made a claim to author Boze Hadleigh, which he included in his 1996 book about lesbianism in Hollywood's early years, that she had a long affair with Bankhead.[5][11] John Gruen's Menotti: A Biography notes an incident in which Jane Bowles chased Bankhead around Capricorn, Gian Carlo Menotti and Samuel Barber's Mount Kisco estate, insisting that Bankhead needed to play the lesbian character Inès in Jean-Paul Sartre's No Exit (which Paul Bowles had recently translated), but Bankhead locked herself in the bathroom and kept insisting "That lesbian! I wouldn't know a thing about it."[15] In 1932, she expressed some interest in spirituality, but did not outwardly pursue it, except for a time when she met with the Indian mystic, Meher Baba.[16]

In 1933, Bankhead nearly died following a five-hour emergency hysterectomy. Only 70 pounds when she left the hospital, she stoically said to her doctor, "Don't think this has taught me a lesson!"[17]

Hollywood, Broadway and politics
In 1934, after recuperating in Alabama, she returned to England. After only a short stay, she was called back to New York to play in Dark Victory. Although Bette Davis played the leading character in the film version, she openly admitted in later years that she had emulated Bankhead in the role. Bankhead continued to play in various performances over the next few years, gaining excellent notices for her portrayal of Elizabeth in a revival of Somerset Maugham's The Circle. David O. Selznick, producer of Gone With the Wind (1939) called her the "first choice among established stars" to play Scarlett O'Hara. Although her screen test for the role in black-and-white was superb, she photographed poorly in Technicolor. Selznick also reportedly believed that at age 36, she was too old to play Scarlett, who is 16 at the beginning of the film; the role eventually went to Vivien Leigh. Selznick sent Kay Brown to Bankhead to "sound her out" about playing prostitute Belle Watling in the film, which she turned down.[18] Returning to Broadway, Bankhead's career stalled in unmemorable plays. When she appeared in Shakespeare's Antony and Cleopatra with her husband, John Emery, The Times' Brooks Atkinson wrote "Tallulah Bankhead barged down the Nile, last night, and promptly sank!" All the laughing stopped, though, when she played the cold and ruthless Regina Giddens in Lillian Hellman's The Little Foxes (1939). Her portrayal won her the New York Drama Critics' Circle Award for Best Performance, but Bankhead and Hellman feuded over the Soviet Union's invasion of Finland. Bankhead (a staunch anti-Communist) was said to want a portion of one performance's proceeds to go to Finnish relief, while Hellman (an equally staunch Stalinist) objected strenuously, and the two women didn't speak for the next quarter of a century.[8]

More success and the same award followed her 1942 performance in Thornton Wilder's The Skin of Our Teeth, in which Bankhead played Sabina, the housekeeper and temptress, opposite Fredric March and Florence Eldridge (Mr. and Mrs. Antrobus, and also husband and wife offstage). During the run of the play, some media accused Bankhead of a running feud with the play's director, Elia Kazan. Kazan confirmed the story in his autobiography, and he stated that Bankhead was one of the few people in his life that he ever actually detested.
In 1944, Alfred Hitchcock cast her as the cynical journalist, Constance Porter, in Lifeboat. The performance is widely acknowledged as her best on film, and won her the New York Film Critics Circle Award. Almost childlike in her immodesty, a beaming Tallulah accepted her New York trophy and exclaimed, "Dahlings, I was wonderful!" After World War II, Bankhead appeared in a revival of Noel Coward's Private Lives, taking it on tour and then to Broadway for the better part of two years. The play's run made Bankhead a fortune. From that time, Bankhead could command 10% of the gross and was billed larger than any other actor in the cast, although she usually granted equal billing to Estelle Winwood, a frequent co-star and close friend from the 1920s until Bankhead's death in 1968.[8]

Bankhead circulated widely in the celebrity crowd of her day, and was a party favorite for outlandish stunts such as underwearless cartwheels in a skirt or entering a soirée stark naked.Eleanor Roosevelt that she dropped her drawers and used the toilet while the first lady was still talking.[8] Always extravagant, upon leaving the theater one evening she encountered a Salvation Army band passing around the tambourine. Reaching into her purse, Bankhead withdrew a twenty dollar bill, tossed it into the tambourine and exited into a taxi with the remark, "there dahlings, I know it's been a rough winter for you Spanish dancers".
She is also said to have been so engrossed in conversation with
Like her family, Bankhead was a Democrat, but broke with most Southerners by campaigning for Harry Truman's reelection in 1948. While viewing the Inauguration parade, she booed the South Carolina float which carried then-Governor Strom Thurmond, who had recently run against Truman on the Dixiecrat ticket, splitting the Democratic vote. She is credited with having helped Truman immeasurably by belittling his rival, New York's Governor Thomas E. Dewey. Bankhead said Dewey reminded her of "the little man on the wedding cake", although Alice Roosevelt Longworth is often credited with the comment.
Late career
Though Tallulah Bankhead's career slowed in the mid-1950s, she never faded from the public eye. Although she had become a heavy drinker and consumer of sleeping pills (she was a life-long insomniac), Bankhead continued to perform in the 1950s and 1960s on Broadway, in the occasional film, as a highly-popular radio show host, and in the new medium of television.
In 1950, in an effort to cut into the rating leads of The Jack Benny Program and The Edgar Bergen & Charlie McCarthy Show which had jumped from NBC radio to CBS radio the previous season, NBC spent millions over the two seasons of The Big Show starring "the glamorous, unpredictable" Tallulah Bankhead as its host, in which she acted not only as mistress of ceremonies but also performed monologues and songs, many of which can be heard on the album Give My Regards To Broadway!. Despite Meredith Willson's Orchestra and Chorus and top guest stars from Broadway, Hollywood and radio, The Big Show, which earned rave reviews, failed to do more than dent Jack Benny's and Edgar Bergen's ratings.
Bankhead, who proved a masterful comedienne and intriguing personality, however, was not blamed for the failure of The Big Show as television's growth was hurting all radio ratings at the time, so the next season NBC installed her as one of a half dozen rotating hosts of NBC's The All Star Revue on Saturday nights. Bankhead's most popular television appearance was her December 3, 1957 appearance on The Lucy-Desi Comedy Hour. Bankhead played herself in the episode titled "The Celebrity Next Door". The part was originally slated for Bette Davis, but she had to bow out after cracking her vertebra. Lucille Ball reportedly was a fan of Bankhead's and did a good impression of her. By the time the episode was filmed, however, both Ball and Desi Arnaz were at their wit's end over Bankhead's behavior during rehearsal: she refused to listen to the director and she did not like to rehearse. It took her three hours to "wake up" once she arrived on the set and everyone thought she was drunk most of the time. Ball and Arnaz apparently didn't know about Tallulah's antipathy toward rehearsing or her incredible ability to memorize a script. The actual filming of the episode went off without a hitch.[19]

Bankhead appeared as Blanche DuBois in a revival of Tennessee Williams's A Streetcar Named Desire (1956), but reviews were poor. Fans who saw her late into the six-week run at City Center were graced with a far better performance. She received a Tony Award nomination for her performance of a bizarre 50-year-old mother in the short-lived Mary Coyle Chase play, Midgie Purvis (1961). Her last theatrical appearance was in another Williams play, The Milk Train Doesn't Stop Here Anymore (1963). Although she received good notices for her last performances, her career as one of the greats of the American stage was coming to an end. Her last motion picture was a British horror film, Fanatic (1965), co-starring Stefanie Powers, which was released in the U.S. as Die! Die! My Darling!. Her last appearance on screen came in March 1967 as the villainous Black Widow in the Batman TV series.
According to author Brendan Gill, when Bankhead entered the hospital for an illness, an article was headed "Tallulah Hospitalized, Hospital Tallulahized." This headline was a testament to Bankhead's large, charismatic personality (which inspired much of the "personality" of the character Cruella De Vil in Disney's One Hundred and One Dalmatians).[20]

Personal life
Bankhead had no children but was the godmother of Brook and Brockman Seawell, children of her lifelong friend and actress Eugenia Rawls and Rawls's husband, Donald Seawell. Bankhead was an avid baseball fan whose favorite team was the New York Giants.[21] This was evident in one of her famous quotes, through which she gave a nod to the arts: "There have been only two geniuses in the world. Willie Mays and Willie Shakespeare. But, darling, I think you'd better put Shakespeare first."[22]

Death
Tallulah Bankhead died in St. Luke's Hospital in New York City of double pneumonia arising from influenza, complicated by emphysema, on December 12, 1968, aged 66, and is buried in Saint Paul's Churchyard, Chestertown, Maryland.[1] Her last coherent words reportedly were "Codeine... bourbon."[23]

For her contribution to the motion picture industry, Tallulah Bankhead has a star on the Hollywood Walk of Fame at 6141 Hollywood Blvd.
Stage Play
A stage play by Matthew Lombardo, entitled Looped, features Tallulah Bankhead as the protagonist in an episode late in her life in which she is called to a recording studio to "loop" a line of recorded dialogue that must be dubbed into a film shot previously. The session reportedly took eight hours to successfully record a single line of dialogue, and the playwright uses the situation to reveal the story of Bankhead's life. Looped premiered at the Pasadena Playhouse in California in June 2008 under the direction of Rob Ruggiero. Valerie Harper portrayed Bankhead,[24] The play opens on Broadway in February 2010.[25]

Other actresses to portray Bankhead include Kathleen Turner (in Sandra Ryan Heyward's one-woman touring show "Tallulah" in the late 1990s), Carrie Nye (on television in The Scarlett O'Hara War), Eugenia Rawls (who played opposte Bankhead on Broadway in The Little Foxes, and Helen Gallagher.
MI5 investigation of Eton school scandal
In 2000, declassified papers thrust Bankhead in the limelight of public scandal posthumously. She had been investigated by MI5 during the 1920s amid rumors she was corrupting pupils at Eton. The documents alleged that she seduced up to half a dozen public schoolboys into taking part in "indecent and unnatural" acts. This rumor had sent shockwaves through the 1920s British establishment.[26]

The documents compiled by the British Aliens and Immigration Department allege that the investigation was scuttled by a determined cover-up by Eton's headmaster, Dr. Cyril Argentine Alington. The allegations were based purely on gossip and word of mouth, and lacked credible evidence. It appears that they were assembled by MI5 at the urgings of a Home Office minister.[26]

Filmography


Stage Work
The Squab Farm (March 13 - April 1918) (Broadway)
39 East (March 31, 1919 - closing date unknown) (appeared in six performances as a replacement for Constance Binney until Actors' Equity Association strike shut the play down) (Broadway)
Footloose (May 20 - June 1920) (Broadway)
Nice People (March 2 - June 1921) (Broadway)
Everyday (November 16, 1921 - January 1922) (Broadway)
Sleeping Partners (June 11, 1922) (Baltimore)
Good Gracious, Annabelle (June 20, 1922) (Baltimore)
Danger (December 22, 1921 - February 1922) (stepped in as two-week replacement for an ill Kathlene MacDonnel) (Broadway)
Her Temporary Husband (August 31 - November 1922) (replaced during tryouts in May 1922 before the show premiered on Broadway) (Stamford, Connecticut)
The Exciters (September 22 - October 1922) (Broadway)
The Dancers (February 15, 1923 - closing date unknown) (London)
Conchita (March 19, 1924 - closing date unknown) (London)
This Marriage (May 15, 1924 - closing date unknown) (London)
The Creaking Chair (July 22, 1924 - closing date unknown) (London)
Fallen Angels (April 21, 1925 - closing date unknown) (London)
The Green Hat (September 2, 1925 - closing date unknown) (London)
Scotch Mist (January 26, 1926 - closing date unknown) (London)
They Knew What They Wanted (May 18, 1926 - closing date unknown) (London)
The Gold Diggers (December 14, 1926 - closing date unknown) (London)
The Garden of Eden (May 30, 1927 - closing date unknown) (London)
Blackmail (February 28, 1928 - closing date unknown) (London)
Mud and Treacle (May 9, 1928 - closing date unknown) (London)
Her Cardboard Lover (August 21, 1928 - closing date unknown) (London and Scotland)
He's Mine (October 29, 1929 - closing date unknown) (London)
The Lady of the Camellias (March 5, 1930 - closing date unknown) (London)
Let Us Be Gay (August 18, 1930 - closing date unknown) (London)
Forsaking All Others (March 1 - June 1933) (Broadway)
Dark Victory (November 7 - December 1934) (Broadway)
Rain (Revival) (February 12 - March 1935) (Broadway)
Something Gay (April 29 - July 1935) (Broadway)
Reflected Glory (September 21, 1936 - January 1937) (Broadway)
Antony and Cleopatra (November 10 - November 14, 1937) (Broadway)
The Circle (April 18 - June 1938) (Broadway)
I Am Different (August 18, 1938 - closing date unknown) (opened in San Diego, California, closed during tryouts)
The Little Foxes (February 15, 1939 - February 3, 1940) (Broadway)
The Second Mrs Tanqueray (July 1, 1940) (Maplewood, New Jersey)
Her Cardboard Lover (June 30, 1941) (Westport, Connecticut)
Clash by Night (December 27, 1941 - February 7, 1942) (Broadway)
The Skin of Our Teeth (November 18, 1942 - September 25, 1943) (replaced after 229 performances by Miriam Hopkins) (Broadway)
Private Lives (June 19, 1944) (Stamford, Connecticut)
Foolish Notion (March 13 - June 9, 1945) (Broadway)
The Eagle Has Two Heads (March 19 - April 12, 1947) (Broadway)
Private Lives (Revival) (October 4, 1948 - May 7, 1949) (Broadway)
Dear Charles (September 15, 1954 - January 29, 1955) (Broadway)
A Streetcar Named Desire (Revival) (February 15, 1956 - closing date unknown) (New York City Center)
Ziegfeld Follies (April 16, 1956 - closing date unknown) (opened in Boston, closed during tryouts, retitled Welcome Darlings for a one-night-only show in Westport, Connecticut)
Eugenia (January 30 - February 9, 1957) (Broadway)
House on the Rocks (June 1958) (tour)
Crazy October (October 8, 1958 - closing date unknown) (opened in New Haven, Connecticut, closed in San Francisco during tryouts)
Craig's Wife (June 30, 1960) (Nyack, New York)
Midgie Purvis (February 1 - February 18, 1961) (Broadway)
Here Today (June 1962) (tour)
The Milk Train Doesn't Stop Here Anymore (January 1 - January 4, 1964) (Broadway)
Glad Tidings (June 1964) (tour)


References
 

Further reading
Lobenthal, Joel (2004). Tallulah!: The Life and Times of a Leading Lady. Regan Books. ISBN 0-06-039435-8.

 

Bret, David (1997). Tallulah Bankhead, A Scandalous Life. Robson Books.

 

McLellan, Diana (2001). The Girls: Sappho Goes to Hollywood. St. Martin's Griffin. ISBN 0-312-28320-2.

 

(review)
Oderman, Stuart, Talking to the Piano Player 2. BearManor Media, 2009. ISBN #1-59393-320-7.


External links