Frank James "Gary" Cooper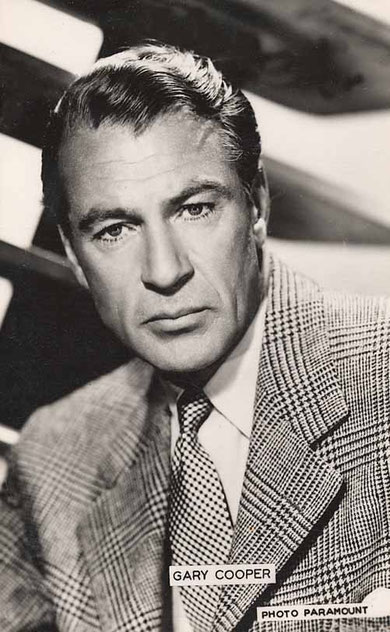 Born : 7 May 1901 - Helena, Montana, USA
Died :13 May 1961 - Los Angeles, California, USA

Married : Twice
Recollections of Quentin Tod in Hollywood - 1932


1932
ADI JR. had many stories of his travels with Baba. The following story by Adi describes the mistaken impression of the Hollywood movie stars who became acquainted with Meher Baba. At the reception at the Pickfair, Adi Jr. was staying aloof seated at a table, keeping his worn-out shoe concealed. Tallulah Bankhead came up and sat near him. Adi warned her not to touch him. She explained that she just wanted to talk. During their chat, the actor Gary Cooper came by and Tallulah introduced Adi to the famous actor. Adi, who was feeling self-conscious, simply said how much he admired Mr. Cooper's movies. Other stars came by, and Tallulah also introduced them to Adi who politely, but shyly, shook their hands.
Lord Meher Volume 5, Page 1661


Among those invited to the reception were Gary Cooper, Charles Farrell, Lottie Pickford and the lady who wrote Mary Pickford's screenplays. Countess Dentice di Frasso was also present. Baba stayed at the reception for two and a half hours. Mary Pickford greeted Baba at the door of Pickfair and led him to the spacious hall.

1936
After the interviews were over, Baba and the group went to see the movie Mr. Deeds Goes To Town, starring Gary Cooper. Baba was impressed with the film and remarked that it was an outstanding example of how motion pictures can be produced and used for the upliftment of mankind's consciousness while at the same time providing entertainment.
Lord Meher Volume 6, Page 2042


From Wikipedia, the free encyclopedia
Frank James "Gary" Cooper (May 7, 1901 – May 13, 1961) was an American film actor.[1] He was renowned for his quiet, understated acting style and his stoic, individualistic, emotionally restrained, but at times intense screen persona, which was particularly well suited to the many Westerns he made. His career spanned from 1925 until shortly before his death, and comprised more than one hundred films.
Cooper received five Academy Award nominations for Best Actor, winning twice for Sergeant York and High Noon. He also received an Honorary Award in 1961 from the Academy.
Decades later, the American Film Institute named Cooper among the AFI's 100 Years... 100 Stars, ranking 11th among males from the Classical Hollywood cinema period. In 2003, his performances as Will Kane in High Noon, Lou Gehrig in The Pride of the Yankees, and Alvin York in Sergeant York made the AFI's 100 Years... 100 Heroes and Villains list, all of them as heroes.
 

Childhood
Cooper was born Frank James Cooper in Helena, Montana, one of two sons of an English farmer from Bedfordshire, who later became an American lawyer and judge, Charles Henry Cooper (1865–1946), and Kent-born Alice (née Brazier) Cooper (1873–1967).[2] His mother hoped for their two sons to receive a better education than that available in Montana and arranged for the boys to attend Dunstable Grammar School in Bedfordshire, England between 1910 and 1913. Upon the outbreak of World War I, Mrs. Cooper brought her sons home and enrolled them in a Bozeman, Montana, high school.
When Cooper was 13, he injured his hip in a car accident. He returned to his parents' ranch near Helena to recuperate by horseback riding at the recommendation of his doctor. Cooper studied at Iowa's Grinnell College until the spring of 1924, but did not graduate. He had tried out, unsuccessfully, for the college's drama club.[3] He returned to Helena, managing the ranch and contributing cartoons to the local newspaper. In 1924, Cooper's father left the Montana Supreme Court bench and moved with his wife to Los Angeles. Gary, unable to make a living as an editorial cartoonist in Helena, joined them,[4] moving there that same year,[5] reasoning that he "would rather starve where it was warm, than to starve and freeze too."[6]
Hollywood
Failing as a salesman of electric signs and theatrical curtains, as a promoter for a local photographer and as an applicant for newspaper work in Los Angeles,[4] Cooper found work as an actor in 1925.[5] He earned money as an "extra" in the motion picture industry, usually cast as a cowboy. He is known to have had an uncredited role in the 1925 Tom Mix Western, Dick Turpin.[7] The following year, he had screen credit in a two-reeler, Lightnin' Wins, with actress Eileen Sedgwick as his leading lady.
After the release of this short film, Cooper accepted a long-term contract with Paramount Pictures. He changed his name to Gary in 1925, following the advice of casting director Nan Collins,[8] who felt it evoked the "rough, tough" nature of her native Gary, Indiana.[9]
"Coop," as he was called by his peers, went on to appear in over 100 films. He became a major star with his first sound picture, The Virginian, in 1929. The lead in the screen adaptation of A Farewell to Arms (1932) and the title role in 1936's Mr. Deeds Goes to Town furthered his box office appeal. Cooper was producer David O. Selznick's first choice for the role of Rhett Butler in the 1939 film Gone with the Wind.[10] When Cooper turned down the role, he was passionately against it. He is quoted as saying, "Gone with the Wind is going to be the biggest flop in Hollywood history. I'm glad it'll be Clark Gable who's falling flat on his nose, not me".[11][12] Alfred Hitchcock wanted him to star in Foreign Correspondent (1940) and Saboteur (1942). Cooper later admitted he had made a "mistake" in turning down the director. For the former film, Hitchcock cast look-alike Joel McCrea instead.
In 1942, Cooper won his first Academy Award for Best Actor for his performance as the title character in Sergeant York. Alvin York refused to authorize a movie about his life unless Gary Cooper portrayed him.
In 1953, Cooper won his second Best Actor Academy Award for his performance as Marshal Will Kane in High Noon, considered his finest role. Ill with an ulcer, he wasn't present to receive his Academy Award in February 1953. He asked John Wayne to accept it on his behalf, a bit of irony in light of Wayne's stated distaste for the film.[13]
Cooper continued to appear in films almost to the end of his life. Among his later box office hits was his portrayal of a Quaker farmer during the American Civil War in William Wyler's Friendly Persuasion in 1956. His final motion picture was a British film, The Naked Edge (1961), directed by Michael Anderson. Among his final projects was narrating an NBC documentary, The Real West, in which he helped clear up myths about famous Western figures.
Cooper appeared in live radio "remakes" of several of his films.
 

Congressional testimony
In 1944, Cooper joined the anti-communist Motion Picture Alliance for the Preservation of American Ideals. While filming Good Sam, he testified before the House Committee on Un-American Activities on October 23, 1947, characterized as a "friendly" witness. Asked if he had observed "communistic influence in Hollywood", Cooper named no one in particular but said he had "turned down quite a few scripts because I thought they were tinged with communistic ideas";[5] he also said he had heard statements such as "don't you think the Constitution of the United States is about 150 years out of date?" and "perhaps this would be a more efficient government without a Congress"— statements he characterized as "very un-American." He also told the committee the following:[5]
Several years ago, when communism was more of a social chit-chatter in parties for offices, and so on when communism didn't have the implications that it has now, discussion of communism was more open and I remember hearing statements from some folks to the effect that the communistic system had a great many features that were desirable. It offered the actors and artists — in other words, the creative people — a special place in government where we would be somewhat immune from the ordinary leveling of income. And as I remember, some actor's name was mentioned to me who had a house in Moscow which was very large — he had three cars, and stuff, with his house being quite a bit larger than my house in Beverly Hills at the time — and it looked to me like a pretty phony come-on to us in the picture business. From that time on, I could never take any of this pinko mouthing very seriously, because I didn't feel it was on the level.
Cooper's testimony occurred a month before the Hollywood blacklist was established.
Personal life
Cooper had high-profile relationships with actresses Clara Bow, Lupe Vélez, and the American-born socialite-spy Countess Carla Dentice di Frasso (née Dorothy Caldwell Taylor, formerly wife of British pioneer aviator Claude Grahame-White).[14][15][16]
On December 15, 1933, Cooper wed Veronica Balfe (May 27, 1913 - February 16, 2000), known as "Rocky." Balfe was a New York Roman Catholic socialite who had briefly acted under the name of Sandra Shaw. She appeared in the film No Other Woman, but her most widely seen role was in King Kong, as the woman dropped by Kong. Her third and final film was Blood Money. Her father was governor of the New York Stock Exchange, and her uncle was motion-picture art director Cedric Gibbons. During the 1930s she also became the California state women's skeet shooting champion. Cooper and Balfe had one child, Maria, now Maria Cooper Janis, married to classical pianist Byron Janis.
Cooper's wife persuaded him to convert to Catholicism in 1958. After he was married, but prior to his conversion, Cooper had affairs with several famous co-stars, including Marlene Dietrich, Grace Kelly, and Patricia Neal. He pressured Neal to have an abortion in 1950, because fathering a child out of wedlock could have destroyed his career.[17] Cooper's daughter Maria, when she was a little girl, famously spat at Neal[18], but many years later, the two became friends. Cooper separated from his wife between 1951 and 1954.
Cooper was friends with Ernest Hemingway and spent many vacations with the writer in Sun Valley, Idaho.
Cooper was a staunch supporter of the Republican Party. He voted for Calvin Coolidge in 1924 and Herbert Hoover in 1928 and 1932. He openly campaigned for Wendell Wilkie in 1940, and heavily campaigned for Thomas Dewey in 1944.[19]
 

Death
In April 1960, Cooper underwent surgery for prostate cancer after it had spread to his colon. It spread to his lungs and bones shortly thereafter.
Cooper was too ill to attend the Academy Awards ceremony in April 1961, so his close friend James Stewart accepted the honorary Oscar on his behalf. Stewart's emotional speech hinted that something was seriously wrong, and the next day newspapers ran the headline, "Gary Cooper has cancer." One month later, on May 13, 1961, six days after his 60th birthday, Cooper died.
Cooper was originally interred in Holy Cross Catholic Cemetery in Culver City, California. In May 1974 his body was removed from the Grotto Section of Holy Cross Cemetery, when his widow Veronica remarried and moved to New York, and she had Cooper's body relocated to Sacred Heart Cemetery, in Southampton, New York, on Long Island.[20][21] Veronica "Rocky" Cooper-Converse died in 2000 and was buried near Cooper at Sacred Heart Cemetery.