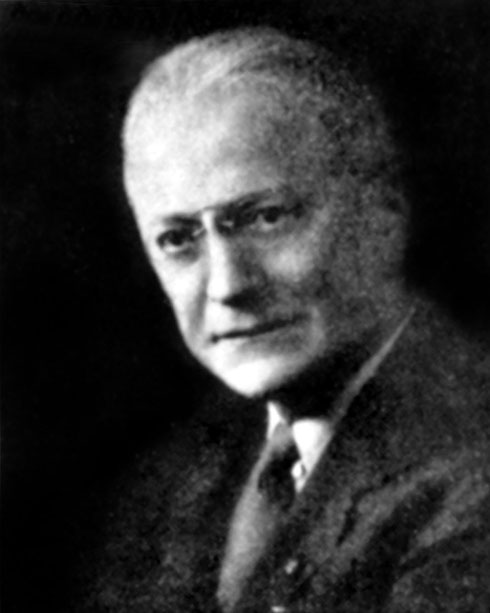 Born : February 17, 1879
Died : January 3, 1966
Nationality : American
Prior to Meher Baba's arrival, an article appeared in the New York Times written by Henry James Forman, with the headings:

 

 

A Silent Seer Comes To Arouse Americans

Shri Meher Baba, Who Has Lived Seven Years Plunged

In Thought, Teaches Disciples by Means of Signs

 

Spiritual guides, teachers, swamis and so-called yogis from India are not unusual phenomena in America, but seldom does the cable announce their coming in advance. Yet a recent dispatch told of the sailing from Bombay of Shri Meher Baba, a spiritual leader whom his many disciples and devotees style by such transcendent appellations as "the Messiah," "the Avatar," "the Sadguru" and "the Perfect Master." Together with some of his disciples, he is on his way to the United States with the avowed purpose of "breaking down America's materialism," of quickening and harmonizing all creeds, of awakening the country to a new spiritual life.
Expected to arrive in New York the last week in April, he will go directly to an ashram, or retreat, already prepared for him at Harmon-on-the-Hudson, and there commence his self-appointed mission.
Tenets explained: "Roughly," in the words of a disciple explaining his master's tenets, "every 2,200 years, the sun enters another sign of the zodiac. We are now entering a new solar epoch. The critical condition of the world is due to this fact. An old age is dying; a new age is being born. The world is convulsed by the birth pangs of a new civilization. Now, as always, when the need of mankind is most pressing, a great spiritual push will be given to the world. But first a great darkness will fall on the world. This darkness, however, is only the shadow cast by a great light.
"This is both a wonderful and a terrible time. It depends on how you look at it. Everywhere old forms, mental as well as physical, are breaking up. The wise see in these changes the bursting asunder of the chrysalis that frees the golden butterfly.
"During the last 2,000 years, the lower human mind has developed to its zenith. Now the divine, or universal mind, is stirring from its age long slumber, and the new era which we are about to enter will mark the unfoldment of the divine mind This implies an immense outpouring of spiritual energy, a quickening of the life impulse on a universal scale, the manifestation of a new type of consciousness – a higher synthesis of heart and mind.
"Shri Meher Baba is regarded as a Perfect Master, or Sadguru, all over India. He visited a retreat established by one of his disciples in England, and during his stay of eleven days, everyone there was transformed, permanently transformed, radiant, and at peace with himself and the world."
A Disciple's Experience: The disciple here quoted is Meredith Starr, a poet, who established the retreat in North Devonshire after a visit to Shri Meher Baba in India. Mr. Starr's meeting with "the Master," he recounts in some detail.
"Baba's age," he says, "seemed to be about 35. His skin was as fair as any European's; his hair and mustache were dark brown, making a vivid contrast to his face, and he had large, luminous eyes. Serenity and strength radiated from his presence, and his face seemed lit up as if by an inner light.
"He told us not to worry about anything, but just to trust him and follow his instructions, and that if we did so, we could not fail to progress. In a few days, we felt completely at home. There were some 300 people in his ashram, including about 70 boys. On the fourth or fifth day, Shri Meher Baba asked me to keep silence and to spend practically all my time in meditation. I remained silent for six months, only resuming speech on the day I left for Bombay. The Master had been silent for nearly seven years. He communicates by means of signs and an alphabet board."
Results of Mr. Starr's Meditation: "After a few weeks, I became unconscious of space or time. The outward world ceased to exist for me and I experienced immense inrushes of cosmic consciousness.
"A love so immense flooded my being that for three months tears continually streamed from my eyes – yet I am by no means a sentimental man. The deepest springs of life in my heart had been awakened. My life had been kindled by the flame of divine love which radiates continually from the Master. The springtide of creation was born anew in my soul. The old consciousness dissolved like a mist before the rising sun and was replaced by a new heaven and a new earth. My life was one continual symphony of inspiration. I could have written poetry all day and all night for months on end."
Pilgrims from all parts of India came daily "to take the dust of the Master's feet," often fifty or more pilgrims at a time, bringing gifts of sweetmeats, fruit and flowers. Sometimes whole processions came singing and dancing, accompanied by shell music drums, cymbals and flutes. Everyone there, declares Mr. Starr, "would have laid down his life for the Teacher." After six months, Mr. Starr returned to England and founded his retreat in North Devon.
Last autumn, when Gandhi sailed from India for the London Round Table Conference, Meher Baba was a silent fellow-traveler of the man the Occident calls the Mahatma. Gandhi is said to have asked to be allowed to come for a sojourn at Meher Baba's ashram in India. The answer was that he would be welcome after he had done with and laid aside his political activity.
After a stay of a few days in England, Meher Baba suddenly decided in November to come to America. He wished his visit to be unheralded, and unheralded it remained even to his departure in December. He visited New York and Boston, visited theaters and cinemas, the crowded streets of Broadway and Fifth Avenue, wherever American life in this region was at its busiest. The greater part of his brief stay, however, he spent in a little stone house at Harmon, lent by its owner for his use.
His communion with people who met him here was entirely silent. The few words that passed were indicated by his index finger pointing to the letters of the alphabet on a small wooden board he carried with him.
Arrangements for Return: His devotees and disciples believe Meher Baba to be a Messianic being, intent upon rendering great service to mankind in its present spiritual doldrums. He receives no money for his ministrations, but some of the friends he made during his visit to America are facilitating his return. Besides the retreat at Harmon, other such ashrams are being prepared in New England and in California. People from some of the Southern states who have heard of him have written to Harmon offering their homes for visits and sojourns of Meher Baba.
He has no desire, his disciples assert, to found any cult, creed or society; people from all creeds, castes and races come to him and receive the help they need. His help consists, we are told, not in words or explanations, but results from "the grace and spiritual love and power that perpetually stream through him."
Hazrat Qibla [One worthy of worship]

Meher Baba was born at Poona, not far from Bombay, on February 25, 1894, of Parsee parents, which means in the Zoroastrian faith. He was a carefree boy, from native accounts, a good student, a poet, a lover of nature and an excellent cricketer. In 1914, a Muslim woman "saint," Babajan, of Poona, who died a year ago at an age said to have been more than 130 years, saw the young student and, so it is related, by a single glance conferred upon him "superconsciousness."
From that day, he dedicated himself to the mystical life until, by the help of another saint, Shri Sadguru Upasni, the "Perfect Sight" came to him. Disciples and devotees began to gather about him, coming at times in hundreds, it is reported, to his ashram in Ahmednagar District, in the Deccan, intent, after the Indian manner, upon "God-Realization." Last year, 30,000 people gathered to celebrate his birthday.
Five years ago in May, Meher Baba opened a free school, perhaps unique in the present-day world, to teach young boys the spiritual life. Secular education was not neglected, and in general, the boys were taught English, mathematics and literature as in other native schools of a certain grade. The Hazrat Babajan High School, however, differs in this: Spiritual instruction of a nonsectarian character is an important feature of the curriculum.

Description
Henry James Forman (1879-1966) was a reporter and staff correspondent for New York Sun (1903-05); news editor for Literary Digest (1906); associate editor of North American Review (1906-10); and managing editor of Collier's (1913-19). He taught creative writing at Temple University and reviewed books for the New York Times. Forman also wrote numerous books. The collection consists of correspondence as well as manuscripts by Forman and clippings pertaining to his career.
Forman was born February 17, 1879; BA, Harvard, 1903; reporter and staff correspondent for New York Sun (1903-05); news editor, Literary Digest (1906); associate editor, North American Review (1906-10); managing editor, Collier's (1913-19); taught creative writing at Temple University; reviewed books for the New York Times; writings include: In the Footprints of Heine (1910), The Enchanted Garden (1923), Guilt (1924), The Pony Express (1925), The Rembrandt Murder (1931), The Story of Prophecy (1936), and Have You a religion? (1941); died January 3, 1966.
http://www.oac.cdlib.org/findaid/ark:/13030/kt7f59p0jw/
13th March 1933 ; Letter from Henry Forman to Meher Baba. Courtesy of Avater Meher Baba India Trust Archives.
An author famous for his 1933 book Our Movie Made Children, which was a summary of the Payne Fund Studies. The book has been described as an "alarmist tome", and was responsible for publicizing the study's more negative results.
Books written by Henry James Forman