( nee Elisabeth Pelletier de Chambure )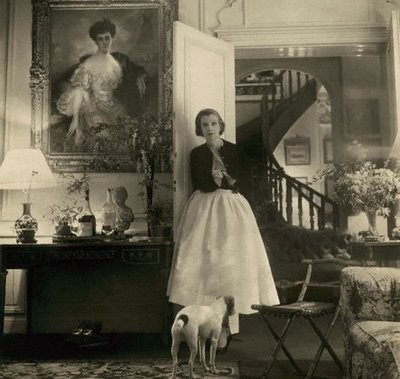 Born : 1902
Died : 1945 - Ravensbruck, Germany
Married : 1) 1923  Marc de Becker Remy - Divorced : 1934
               2) 1935 Philippe de Rothschild
Children : ( all from 2nd marriage ) - Philippine de Rothschild  ( born 1933 )
                                                 

-

Charles Henri de Rothschild ( born and died 1938 )
1932
Meanwhile, Kitty Davy and the others in the Kimco group had arranged for Baba's seven-day stay at the Knightsbridge Hotel. No sooner had Baba arrived than his lovers enthusiastically flocked to be near him. This was the first opportunity Elizabeth and Norina had to meet the London group. Norina had many acquaintances in London and she brought them to meet "the Beloved of God." Among them were Countess Kitty Pahlen of Russia, Baroness Rothschild, Lady Stella Vitelleschi and Vivienne Gieson. Vivienne was an interpretive dancer known as Orrea-via.
Lord Meher ; page 1742

From Wikipedia, the free encyclopedia
Elisabeth de Rothschild (née de Chambure) (March 9, 1902 - March 23, 1945) was a member by marriage of the wine-making branch of the Rothschild family.
Born in Paris as Elisabeth Pelletier de Chambure, into a wealthy Catholic aristocratic family whose roots were in the Burgundy region. Her ancestors included the famous Napoleonic General, Laurent Augustin Pelletier de Chambure. She was the daughter of Auguste Pelletier de Chambure, mayor of Escrignelles. She was called "Lili" as a child.
In 1934, immediately after her divorce from her first husband, Jonkeer Marc Edouard Marie de Becker-Rémy, a Belgian aristocrat, she married her lover, Baron Philippe de Rothschild, a member of the prominent Rothschild family and the owner of one of France's most famous vineyards, Château Mouton Rothschild in Pauillac in the Médoc. Rothschild also was a cousin by marriage of her previous husband.
Lili and Philippe de Rothschild had two children:
Charles Henri de Rothschild (born and died 1938)
Philippe de Rothschild's late-in-life memoirs ("Milady Vine," written in collaboration with his friend and companion, the British director Joan Littlewood) described his marriage to Lili as one of great passion but also enormous tempestuousness and despair. The couple's difficulties increased when their only son was born deformed and died soon after birth. They eventually separated acrimoniously, and by 1939, the baroness had reverted to using her maiden name of Pelletier de Chambure.
Following the German occupation of France in World War II, she and her then-estranged husband were arrested by the Vichy government and the vineyard property seized. They were then released. Philippe de Rothschild left France, moving to England, where he joined the Free French Forces and supported General Charles de Gaulle. However, in 1941, the Gestapo arrested Elisabeth on charges of attempting to cross the line of demarcation with a forged permit and sent her to Ravensbrück, a German concentration camp located about 50 miles north of Berlin.
Elisabeth de Rothschild reportedly died of epidemic typhus on March 23, 1945, at Ravensbrück. Her second husband's memoir, however, states that she was thrown into a concentration-camp oven alive. She was the only Rothschild to die in the Holocaust.