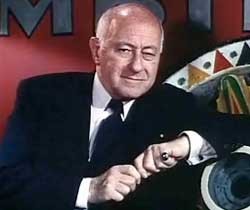 Born : 12th August, 1881 - Massachusetts, USA.
Died : 21st January, 1959 - Los Angeles, CA.,USA
Nationality : American
Film Maker
Baba had sent word beforehand that he would not be giving darshan, and that no one should come to see him at Ashiana except for those few he called. He did, however, go with the men to see the Cecil B. De Mille movie The Ten Commandments at the Regal Cinema, but he stayed only up to the part when Moses sees God (as the burning bush) on Mount Sinai.
Afterwards, Baba revealed:
Moses was on the sixth plane. His seeing the land of Israel but not being able to enter it is symbolic of his experience on the sixth plane of seeing God, but not yet merging in Him. Though when he dropped his body Moses realized God. I liked this picture very much; it was well acted and well made. It has much to give those who are able to receive it. Rameses [II] in his next incarnation entered the Path; the old Pharaoh [Seti] received mukti, because he took Moses' name when dying.
Baba then recalled his meeting with Cecil B. De Mille in Hollywood in 1932. Later, the women mandali were also sent to see the movie. While climbing the stairs to the theater's balcony, Baba was supported on one side by Homa Dadachanji and on the other by Homa's brother, Dara. Homa had a long history of leg problems and Dara had recently injured his knee. After the movie, Baba joked, "It was a sight for the gods! Here I was, injured myself, leaning on two cripples."
Lord Meher Volume 15, Page 5264
Before coming to Myrtle Beach from New Jersey, Harold Rudd had written to Cecil B. de Mille that Meher Baba had seen his latest movie The Ten Commandments and liked it very much. While at Myrtle Beach, a reply from de Mille was forwarded to Harold in which he wrote of his great appreciation and privilege of meeting Meher Baba in Hollywood at Mary Pickford's home in 1932. Harold Rudd told Nariman about this, and he went to the Lagoon Cabin and told Baba. Baba summoned Harold and asked him to read de Mille's letter. Baba was quite pleased with its contents, and then ordered Harold Rudd to read it out to the whole group the next day in the Barn, which he did. Baba commented, "I saw the first half of the picture in Bombay."
Lord Meher Volume 15, Page 5436
The following afternoon Eastern and Western followers gathered together behind Guruprasad – under a vast pandal or awning, as we call it in the West. My goodness, what a congregation. There were easily five thousand people, perhaps more. The Westerners sat up front, and I grabbed a front row seat. In front of us, there was a large stage with a raised dais. Baba and Eruch soon appeared and made their way forward. Baba walked slowly and painfully, supported by Eruch's strong arm. His hip had been broken in a severe automobile accident near Satara, India. The doctors had said that he would never walk again. As I watched him moving toward us, he seemed so majestic, even in his pain. I thought of Cecil B. DeMille's silent epic of the life and ministry of Jesus Christ, "The King of Kings," and I knew deep down that he was walking among us again.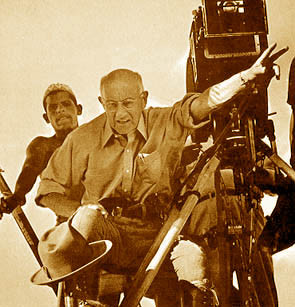 From Wikipedia, the free encyclopedia
Cecil B. DeMille

Born

Cecil Blount DeMille


August 12, 1881(

1881-08-12

)
Ashfield, Massachusetts,
United States
Died
January 21, 1959(

1959-01-21

) (aged 77)
Hollywood, California,
United States
Occupation
Producer, director, editor, screenwriter, actor
Years active
1913–1959
Spouse
Constance Adams (1902–1959)
Partner
Jeanie MacPherson
Julia Faye
Cecil Blount DeMille (August 12, 1881 – January 21, 1959) was an American film director and Academy Award-winning film producer in both silent and sound films.[1] He was renowned for the flamboyance and showmanship of his movies. Among his best-known films are The Ten Commandments (1956), Cleopatra (1934), and The Greatest Show on Earth (1952), which won the Academy Award for Best Picture.
[edit]
Early life
DeMille was born in Ashfield, Massachusetts while his parents were vacationing there and grew up in Washington, North Carolina. While he is known as DeMille (his nom d'oeuvre), his family name was Dutch and is usually spelled "Demil".[2] His father, Henry Churchill DeMille (1853–1893), was a North Carolina-born dramatist and lay reader in the Episcopal Church, who had earlier begun a career as a playwright, writing his first play at age 15. His mother was Beatrice DeMille (née Samuel), whose parents were both of German-Jewish heritage. She emigrated from England with her parents in 1871, when she was 18, where they settled in Brooklyn, New York. According to biographer Carol Easton, Beatrice grew up in a middle-class English household.[3]
DeMille's parents met while they were both members of a local music and literary society in New York. She was attracted to Henry, a tall, redheaded student who shared her love of the theater. While he was "slender and mild-mannered," she had dark good looks that "must have seemed to him exotic," writes Easton. She was also intelligent, educated, forthright, and strong-willed, and they were mutually attracted to each other. They were also both born in 1853. She would later convert to Henry's faith when they married.[3] Henry worked as a playwright, administrator and faculty member during the early years of The American Academy of Dramatic Arts, established in New York City in 1884.
In 1893, at the age of 40, Henry contracted typhoid fever and died, leaving Beatrice with three children, a house, and no savings. Cecil was 11 at the time. Until Henry's sudden death, they had both loved the theater, and she "enthusiastically supported" her husband's theatrical aspirations. Recognizing his love of the theater and his efforts to become a playwright and producer, she wrote at his funeral,
"May your sons be as fine and as noble and good and honest as you were. May they follow in your steps . . . "

[

3

]
Within 8 weeks after the death, to provide an income for the family, Beatrice opened an acting workshop, the Henry C. De Mille School for Girls, in her home. She would later become one of the few successful women theater promoters on Broadway.[3]
DeMille attended Pennsylvania Military College in Chester, Pennsylvania from the age of 15. He had an elder brother, William, and a sister Agnes, who died in childhood. Cecil DeMille's famous niece was named for her. He is credited with providing its name, and both Cecil (Class of 1900) and William (Class of 1901) graduated from the Academy, which they attended on scholarship. The Academy honored Cecil with an Alumni Achievement Award.
[edit]
Broadway
DeMille began his career as an actor on the Broadway stage in the theatrical company of Charles Frohman in 1900. His brother William was already establishing himself as a playwright and sometimes worked in collaboration with Cecil. DeMille co-starred with some of the men and women whom he would later direct in films (i.e. Charlotte Walker, Mary Pickford, and Pedro de Cordoba, among others). DeMille also served as producer and/or director for many plays. Some of these plays were later adapted into silent and sound films. Cecil and his brother occasionally worked with David Belasco. Belasco was legendary for the way he lit his stage scenes, as well as creating a lurid atmosphere. In 1911, Belasco premiered a play titled The Return of Peter Grimm. DeMille claimed he wrote the play and that Belasco had plagiarized DeMille's work without compensation. DeMille later adopted many of Belasco's stage lighting and atmospheric techniques in such films as The Cheat, a move some saw as revenge against Belasco.
[edit]
Motion pictures
DeMille entered films in 1913. He directed dozens of silent films, including Paramount Pictures' first production, The Squaw Man (1914), which was co-directed by Oscar Apfel, before coming into huge popularity during the late 1910s and early 1920s, when he reached the apex of his popularity with such films as Don't Change Your Husband (1919), The Ten Commandments (1923), and The King of Kings (1927). A few of his silent films featured scenes in two-color Technicolor.
Cecil B. DeMille had a keen eye for talent and was known for being an instrumental catalyst for the rising status of many a struggling or unknown actor. Actor Richard Dix's best-remembered early role was in the silent version of DeMille's The Ten Commandments. Richard Cromwell owed his 1930s movie fame in part to being personally selected by DeMille for the role as the leader of the youth gang in DeMille's poignant, now cult-favorite, This Day and Age (1933). To ensure that Cromwell's character used current slang, DeMille asked Horace Hahn to read the script and comment (at the time, Hahn was senior class president at Los Angeles High School).[4]
DeMille displayed a loyalty to certain supporting performers, casting them repeatedly in his pictures. They included Henry Wilcoxon, Julia Faye, Joseph Schildkraut, Ian Keith, Charles Bickford, Theodore Roberts, Akim Tamiroff and William Boyd. He also cast leading actors such as Claudette Colbert, Gloria Swanson, Gary Cooper, Jetta Goudal, Robert Preston, Paulette Goddard and Charlton Heston in multiple pictures. He was not known as a particularly good director of actors, often hiring actors whom he relied on to develop their own characters and act accordingly.
DeMille had a reputation for tyrannical behavior on the set, and he despised actors who were unwilling to take physical risks. Such was the case with Victor Mature in Samson and Delilah, when Mature refused to wrestle the lion, though the lion was tame and toothless. (DeMille remarked that Mature was "100% yellow"). Paulette Goddard's refusal to risk personal injury in a scene involving fire in Unconquered cost her DeMille's favor and probably a role in The Greatest Show on Earth. DeMille was, however, adept at directing "thousands of extras," and many of his pictures included spectacular set pieces, such as the parting of the Red Sea in both versions of The Ten Commandments, the toppling of the pagan temple in Samson and Delilah, train wrecks in The Road to Yesterday, Union Pacific and The Greatest Show on Earth, and the destruction of a zeppelin in Madame Satan.
DeMille was one of the first directors in Hollywood to become a celebrity in his own right. From 1936 to 1944, DeMille hosted and acted as pitchman for Cecil B. DeMille's Lux Radio Theater, a popular dramatic radio show of the time. Gloria Swanson immortalized DeMille with the oft-repeated line, "All right, Mr. DeMille, I'm ready for my close-up" in Billy Wilder's Sunset Boulevard, wherein DeMille played himself. DeMille also appeared as himself in Paramount's 1947 all-star musical comedy Variety Girl and he narrated many of his later films, as well as appearing on screen in the introduction to The Ten Commandments.
DeMille first used three-strip Technicolor in Northwest Mounted Police (1940). Following the favorable response to the vivid color photography, shot partly on location in the Canadian Rockies, DeMille decided to always use Technicolor in his films.
While he continued to be prolific throughout the 1930s and 1940s, he is probably best known for his 1956 film The Ten Commandments (which is very different from his 1923 film of the same title). Also representative of his penchant for the spectacular was the 1952 production of The Greatest Show on Earth which gave DeMille an Oscar for best picture and a nomination for best director.
In 1949 or 1950, DeMille was recruited by Allen Dulles and Frank Wisner to serve on the board of the anti-communist National Committee for a Free Europe, the public face of the organization that oversaw the Radio Free Europe service.[5] In 1954, Secretary of the Air Force Harold E. Talbott sought out DeMille for help in designing the cadet uniforms at the newly established United States Air Force Academy. DeMille's designs—most notably his design of the distinctive cadet parade uniform—won praise from Air Force and Academy leadership, were ultimately adopted, and are worn by cadets today.[6]
Near the end of his life, DeMille began pre-production work on a film biography of Robert Baden-Powell, 1st Baron Baden-Powell, the founder of the Scout Movement and had asked David Niven to star in the film, which was never made. Because of illness, he asked his son-in-law, actor Anthony Quinn, to direct a remake of his 1938 film The Buccaneer; although DeMille served as executive producer, he was unhappy with Quinn's work and tried unsuccessfully to remedy the situation. Despite a cast led by Charlton Heston and Yul Brynner and some impressive battle scenes, the film was considered a disappointment by many.
Though DeMille was respected by his peers, his individual films were often criticized by them. "Directorially, I think his pictures were the most horrible things I've ever seen in my life," said director William Wellman. "But he put on pictures that made a fortune. In that respect, he was better than any of us."[7]
[edit]
Personal life and death
DeMille married Constance Adams on August 16, 1902 and had one child, Cecilia. The couple adopted Katherine Lester in the early 1920s; her father had been killed in World War I and her mother had died of tuberculosis. Katherine married Anthony Quinn. They also adopted two sons, John and Richard, the latter of whom became a notable filmmaker, author, and psychologist.
During on-location filming in Egypt of the Exodus sequence for 1956's The Ten Commandments, the then-73-year-old DeMille climbed a 107-foot ladder to the top of the massive Per Rameses set and suffered a near-fatal heart attack. Aided by his daughter Cecilia, but against his doctor's orders, he was back directing the film within a week.
He died from heart failure in January 1959 and was entombed in Hollywood Memorial Cemetery (now known as Hollywood Forever Cemetery). At the time of his death, he was planning to direct a movie about space travel. He also wanted to make a movie on the Biblical book of Revelation. [8]
[edit]
Legacy and honors
A majority of the DeMille motion picture library now resides with EMKA, Ltd. through the television division of NBC Universal, due to Paramount Pictures' losing the rights to the DeMille films in 1958 to EMKA, so technically it is Universal Pictures that now oversees a vast part of DeMille's motion picture career as well as its related archival material. Samson and Delilah, although pre-1950, has been retained by Paramount, as are all the DeMille/Paramount silent films produced before 1928, and all sound films produced after 1950—television distribution for those films is handled by Trifecta Entertainment & Media.
The former film building at Chapman University in Orange, California is named in honor of DeMille. The Lawrence and Kristina Dodge College of Film and Media Arts now resides in Marion Knotts Studios.
The Golden Globe's annual Cecil B. DeMille Award recognizes lifetime achievement in the film industry.
There are two schools named after him, Cecil B. DeMille Middle school, in Long Beach, California, and Cecil B. DeMille elementary school in Midway City, California.
Al Stewart's single Last Days of the Century makes reference to him: "You look like a still from Cecil B. DeMille".
In the film Blazing Saddles, Gene Wilder's gunslinger character says of himself, "I've killed more people than Cecil B. DeMille."
In the seventh episode of the six season of The Sopranos, where Christopher Moltisanti is making an attempt to make a movie with Ben Kingsley, Silvio Dante makes a funny remark by calling him "Cecil B. Moltisanti".
[edit]
Filmography (as director)
[edit]
Filmography (appearing as himself)

From Wikipedia, the free encyclopedia
The Ten Commandments is a 1956 American epic film that dramatized the biblical story of Exodus, in which the Hebrew-born Moses, an adopted Egyptian prince, becomes the deliverer of the Hebrew slaves. The film, released by Paramount Pictures in VistaVision on October 5, 1956, was directed by Cecil B. DeMille and starred Charlton Heston in the lead role. Co-stars included Yul Brynner as his adoptive brother, Pharaoh Rameses II, Anne Baxter as Nefretiri, Edward G. Robinson as Dathan, Yvonne De Carlo as Sephora, Debra Paget as Lilia, John Derek as Joshua, Sir Cedric Hardwicke as Pharaoh Seti I, Vincent Price as Baka, and John Carradine as Aaron.
This was the last film that DeMille directed. He was set to direct his own remake of The Buccaneer, but his final illness forced him to relinquish the directing chores to his son-in-law, actor Anthony Quinn. DeMille had also planned to film the life of Lord Baden Powell, the founder of the Scout movement, with David Niven; this project was never realized.
The Ten Commandments is partially a remake of DeMille's 1923 silent film. Some of the cast and crew of the 1956 version worked on the original. It has since been remade again as a television miniseries broadcast in April 2006.
The Ten Commandments is one of the most financially successful films ever made, grossing over $65 million at the US box office. Adjusting for inflation, this makes it the fifth highest-grossing movie domestically, with an adjusted total of $977 million in 2010.[1]
In 1999, The Ten Commandments was selected for preservation in the United States National Film Registry by the Library of Congress as being "culturally, historically, or aesthetically significant". In June 2008, AFI revealed its "Ten Top Ten"—the best ten films in ten American film genres—after polling over 1,500 people from the creative community. The Ten Commandments was listed as the 10th best film in the epic genre.[2][3]
Other well-known talent in the film's "cast of thousands" included Herb Alpert as a Hebrew drummer, Carl "Alfalfa" Switzer as a slave, Michael Ansara as an Egyptian taskmaster, Robert Vaughn as a spearman and a Hebrew, Clint Walker as a Sardinian captain, Eduard Franz as Jethro, Mary Lou Cotterman as Ishara, one of Jethros' daughters, and DeMille himself as the film's narrator, all uncredited. For the original theatrical release, DeMille filmed an onscreen introduction, which was included in home video editions of the film but not the telecasts. In some of his earlier films, DeMille had provided narration, especially at the beginning of the film. This was the first of only two times he was seen as well as heard (the other was in the 1958 remake of The Buccaneer, in which he also provided an onscreen introduction). He also narrated portions of The Ten Commandments, to provide continuity between scenes, as he had in North West Mounted Police, Reap The Wild Wind, The Story of Dr. Wassell, Samson and Delilah, and The Greatest Show on Earth.
Heston, who previously worked for DeMille on The Greatest Show on Earth, won the part after he impressed DeMille (at an audition) with his knowledge of ancient Egypt. Interestingly enough, though Moses lived sometime in the New Kingdom, it was Old Kingdom Egyptian facts Heston spouted off at his audition that won him his legendary role.
Charlton Heston's newborn son, Fraser, appeared as the infant Moses. According to DVD commentary by Orrison (a protege and biographer of Henry Wilcoxon, who played Pentaur in the movie and served as associate producer), DeMille deliberately timed the filming of his scenes for when Fraser Heston was about three months old. This, and other stories about the making of the film, were related to Orrison by producer/actor Henry Wilcoxon and his wife, Joan Woodbury. Orrison later wrote the book Written in Stone: Making Cecil B. DeMille's Epic, The Ten Commandments.
DeMille did not want to cast anyone who had appeared in the 1954 Michael Curtiz film The Egyptian, but did eventually hire Michael Ansara (who had played the Hittite Commander), Mimi Gibson (who had played Ankhsenpaaten), John Carradine (who had a cameo as a tomb robber), and Peter Coe (who played an Egyptian soldier in both movies).
The film covers the life of Moses from his discovery in a basket floating on the Nile as a baby by Bithiah, a childless young widow and daughter of the then-Pharaoh, Rameses I, to his prohibition from entering the land of Israel in the wake of God's judgment on him at the waters of Meribah. In between, the film depicts the early adulthood of Moses as a beloved foster son of Pharaoh Seti I (brother of Bithiah) and general of his armies, his romance with Throne Princess Nefertari (or Nefretiri, as she is called in the film) and rivalry with the Pharaoh's own son, the future Pharaoh Rameses II.
Shortly after Moses' birth, Rameses I had ordered the slaying of all firstborn male Hebrews to prevent the prophecy of the Deliverer from coming true. Moses' mother (called "Yoshebel" in the film) had set him adrift on the Nile to escape, with his sister Miriam watching from a hidden spot. Bithiah discovers the Ark while playing with other young women in the banks of the Nile. She orders them to leave, then shows her servant Memnet the baby. Memnet warned Bithiah that the swaddling cloth was Levite, so the baby was placed there to escape Bithiah's father's edict. But Bithiah declared that this baby would be her son, and remembered when the pyramids were dust, and named "Moses" because she had drawn him from the Nile (the Hebrew name "Moshe" derived from the Hebrew word "Mashu", meaning "to draw"). Despite Memnet's protests about serving a son of Hebrew slaves, Bithiah ordered her to serve him and to swear to secrecy on pain of death. But Memnet hides the cloth under her clothes.
As a young general, Moses is victorious in a war with the Nubian people of ancient Ethiopia, loosing captured ibises to combat the serpents (as recorded by Josephus) and further impresses Seti I by being wily enough to enter into an alliance with the conquered Ethiopians rather than subjugate them. Moses then is charged with building a treasure city for Seti's Jubilee, which Rameses had failed to complete (probably the Biblical treasure cities of Pithom and Ramases (Avaris)).
Meanwhile, Moses and Nefretiri are deeply in love; she is the "throne princess", who must marry the next Pharaoh. Rameses wants her for himself, not because of any liking for her but for the throne, but Nefretiri hates him. She tells Rameses that she would never love him, to which Ramses responds, "does that matter?"
When Moses assumes control of the project, he rescued an old grease-woman from being left to be crushed; unknown to him it was his birthmother Yoshebel. Moses tells the Egyptian Master Builder Baka, "blood makes poor mortar" and asks "are you a master builder or a master butcher?" And he frees Joshua the stonecutter who had struck an Egyptian, punishable by death, to try to save Yoshebel whom Joshua didn't know. Moses was impressed with Joshua's bravery and words, and institutes numerous reforms concerning the treatment of the slave workers such as one day in seven to rest and even going so far as to raid temple granaries for necessary food supplies. Moses questions Joshua about his God, and Joshua declares his strong faith but says that God's name is unknown.
Rameses uses these changes as proof that Moses is planning an insurrection by currying the slaves' favor, and points out that the slaves are calling Moses the "Deliverer" of prophecy. However, when Seti confronts Moses, Moses argues he is simply making his workers more productive by making them stronger and happier. He proves his point with such impressive progress on the project that Seti becomes convinced that Rameses falsely accused his foster brother. Seti promises that Moses will get credit for the new city. Rameses, meanwhile, has been charged by his father with the task of finding out if there really is a Hebrew fitting the description of the Deliverer, and is having no luck.
As Nefretiri is joyously preparing for marriage, Memnet informs her that Prince Moses is not a prince at all, but the son of Hebrew slaves. Nefretiri is furious at the accusation, whereupon Memnet produces the Levite cloth and tells Nefretiri to wrap their firstborn in it. Memnet also tells her that a little girl had led her to Yochebel to breastfeed Moses, which she realized must be the real mother. Nefretiri kills Memnet by pushing her over the balcony. After doing so, Nefretiri inexplicably tells Moses what she has done.
Moses, unwilling to wait until he becomes Pharaoh, and thereby acquiring the legal ability to free his people, asks Bithiah about Memnet's stories. Bithia dissembles and reminds him of how he never doubted her when he held his hand as he took his first step. Moses leaves, promising that no matter what he finds, he will always love her. She rushes in a chariot to Yoshebel. Bithiah pleads with her not to reveal anything, since she has put the throne of Egypt within his grasp, and also declares how much she loved and cared for him, and promised to free them and make sure they were well cared for. But Moses has followed from a distance. Yoshebel cannot look him in the eyes and deny that she is his mother. And her robe matches the pattern of the much more faded Levite cloth Memnet kept. Then Yoshebel's adult children introduce themselves to Moses as, "I am your brother, Aaron," and "I am Miriam, your sister." Bithiah sadly departs. Moses is determined to reveal his status as a Hebrew, effectively throwing away what he has gained at the Egyptian court.
Declaring he is not ashamed ("Egyptian or Hebrew, I'm still Moses"), but curious, he spends time working among the slaves to learn of their hardship, only to be rescued from the mudpits by Nefretiri. Moses then saves Joshua's life again. Baka, the master builder, had taken Joshua's beloved, Lilia, intending to keep her as his sex slave until he would tire of her, whereupon he says he will return her to Joshua "more worthy." Joshua attempts to rescue Lilia, and in the process, strikes the master builder. Baka then has Joshua tied between two pillars and is in the process of whipping him to death. At this point, Moses bursts on the scene, strangles Baka to death, and sets Joshua free. Dathan, the devious and ambitious Hebrew overseer who has been charged by Rameses to help him find the Deliverer, watches from hiding. Moses confesses to Joshua that he himself is Hebrew; Joshua excitedly proclaims Moses the Deliverer, and although Moses denies it, Dathan has all the proof he needs. Revealing what he knows to Rameses, Dathan bargains for Baka's house, a post as Governor of Goshen and the ownership of Joshua's betrothed Lilia.
Moses is arrested and brought in chains before Seti, who begs him to say he is not the Deliverer. Moses does so, but avows that he would free the slaves if he could (and which he would have been able to do, if only he and Nefretiri had kept quiet, and Moses had been content to wait until he became Pharaoh). Bithiah confesses to her brother Seti that she took Moses from the Nile knowing by the design on his blankets that he was Hebrew. In a short, impassioned speech, Moses says that it is evil to enslave or oppress people, "to be stripped of spirit, and hope and faith, all because they are of another race, another creed. If there is a God, He did not mean this to be so!" Seti is grievously hurt, since he said that he had always loved him as a son, more than his own real son Rameses. So Seti imprisons him and orders his name stricken from all records and monuments, to be unspoken in Egypt forever thereafter. Asked what punishment Moses shall receive, Seti states that he is unable to speak it (tacitly admitting that ordinarily, the punishment would be death) and leaves the matter to Rameses' discretion. Rameses banishes Moses to the desert, fearing to execute him lest he create a martyr. Meanwhile, Seti proclaims Rameses to be the next Pharaoh. Nefretiri as the Throne Princess is required to marry the arrogant prince, to her great distress.
Lilia begs Dathan not to shame her before her people. Dathan reminds her that he is able to influence the decision on how to punish Joshua. He can be put to death or sentenced to work in the copper mines in Sinai. To save Joshua's life, Lilia tearfully agrees to become Dathan's mistress "of her own free will."
Moses makes his way across the desert, nearly dying of hunger and thirst. He comes to a well in the land of Midian. After drinking and eating dates from a nearby palm tree he passes out, to be awakened by the sound of seven sisters watering their flocks. Bullying Amalekites appear, pushing the girls aside, whereupon Moses wakes. Seemingly appearing out of nowhere he thrashes the Amalekites soundly with his staff, forcing them to wait their turn at the well. Moses finds a home in Midian with the girls' father Jethro, a Bedouin sheik, who reveals that he is a follower of "He who has no name", which Moses recognized as the God of Abraham. Jethro explains that they are the descendants of Ishmael, Abraham's first-born. Moses later impresses Jethro and the other shieks with his wise and just trading, so Jethro offers Moses one of his daughters as a wife. Moses chooses the eldest daughter, called Sephora in the film (the Greek form of her name), the least flamboyant but wisest, who was previously the one who had stood up to the Amalekites.
Back in Egypt, Seti dies heartbroken, with Moses' name on his lips, and Rameses succeeds him as Pharaoh (becoming Rameses II), taking Nefretiri as his Queen. Herding sheep in the desert, Moses finds Joshua, who has escaped from hard labour in the copper mines. Moses sees the Burning Bush on the summit of Mount Sinai; climbing up to investigate, he hears the voice of God. Naming himself "I Am That I Am", God charges Moses to return to Egypt and free His chosen people.
At Pharaoh's court, Moses comes before Rameses to win the slaves' freedom, turning his staff into a snake to show Rameses the power of God. Jannes and another magician do the same, but Moses's snake eats the others (not shown; the small son of Rameses and Nefretiri tells his mother with alarm). But the Pharaoh decrees that the Hebrews be given no straw to make their bricks, but to make the same tally as before on pain of death. As the Hebrews prepare to stone Moses in anger, Nefretiri's retinue rescues him; but when she attempts to resume their relationship, he spurns her, reminding her that not only is he on a mission, having been touched by God, but that he is also married.
As Moses continues to challenge Pharaoh's hold over his people, Egypt is beset by divine plagues. We see the water turned into blood, and hear of others. But Rameses hears of a naturalistic explanation of a mountain beyond the Nile cataract spewing red mud, although this would not have explained what the film showed: the red colour starting from where Aaron's stick touched the river and moving away, or the water in pitchers turning red as it was poured. but given this explanation, Rameses declared it not surprising that fish would die and frogs leave the water, and flies would bloat upon their carcasses and spread disease. So Moses predicts hot hail and three days of darkness; the hot hail comes shortly after and bursts into flame on the ground. Moses warns that the next plague would come from his own lips.
Enraged at the plagues and Moses' continuous demands, and at his generals and advisers telling him to give in. Rameses orders all first-born Hebrews to die, but just as Moses had foretold, this intention backfires. Although Nefretiri warns Sephora to escape with Gershom on a passing caravan to Midian, Moses tells her sadly that it is her own son who will die, and he cannot save him. In an eerily quiet scene, the Angel of Death creeps into Egyptian streets in a glowing green cloud, killing all the firstborn of Egypt, including the adult son of Pharaoh's top general, and Pharaoh's own child. Meanwhile, Bithiah is released to Moses.
Broken and despondent, Pharaoh orders Moses to take "your people, your cattle, your God and your pestilence" and go. Dathan is also ordered out when the Egyptian guards sees the sacrifice lamb's blood on the sides of his door frame, his position as an overseer counting for nothing with the Egyptians, the Hebrews resentful of him and refusing him the privileges he expects. The Exodus of the Hebrews from Egypt begins.
Goaded into rage by Nefretiri in her grief and anger at Moses, the Pharaoh arms himself and gathers his armies to chase the former slaves to the shore of the Red Sea. Held back by a pillar of fire, the Egyptian forces can only watch as Moses parts the waters ("Behold His mighty hand!") to provide his people an escape route. As the Hebrews race over the seabed, the pillar of fire dies down and the army rides in hot pursuit. The Hebrews make it to the far shore just in time to witness God's closing of the waters on the Egyptian army, drowning every man and horse. Rameses looks on in despair. All he can do is return to Nefretiri, confessing to her, "His god is God."
The former slaves camp at the foot of Sinai and wait as Moses again ascends the mountain. When Moses delays coming down from Sinai, the Hebrews lose faith and, urged on by the evil Dathan, build a golden calf as an idol to bear before them back to Egypt, hoping to win Rameses' forgiveness. Aaron is forced to help fashion the gold plating. Dathan also orders Lilia to be sacrificed. The people proceed to indulge their most wanton desires in an orgy of sinfulness. Sephora, now re-united with Moses, tells the people that he has gone to receive God's Law, and Bithiah asks, "Would the God who's shown you such wonders let Moses die before his work is done?" But their defences are mostly disregarded after Dathan's demagoguery.
Meanwhile, high atop the mountain, Moses witnesses God's creation of the stone tablets containing the Ten Commandments. When he finally climbs down, Moses beholds his people's iniquity and hurls the tablets at the idol in a rage. The idol explodes, and Dathan and his followers (such as Korah) are killed, a burning crevasse swallows all who do not join Moses at his side. After God forces them to endure forty years' exile in the desert wandering lost to prove their loyalty, the Hebrews finally are on the eve of arriving in the land of Israel. An elderly Moses then appoints Joshua to succeed him as leader (with Lilia by Joshua's side), says a final good bye to his devoted wife Sephora, and goes forth out of Israel to his destiny.
[edit]
Production and art design
The screenplay was adapted by a committee of Joseph Holt Ingraham, Arthur Eustace Southon and Dorothy Clarke Wilson from their respective books Pillar of Fire, On Eagle's Wings and Prince of Egypt. Aeneas MacKenzie, Jesse L. Lasky, Jr., Jack Gariss, and Fredric M. Frank also contributed to the adaptation of the three books.
Commentary for the film's DVD edition chronicles the historical research done by DeMille and associates. Katherine Orrison says that many details of Moses' life left out of the Bible are present in the Qur'an, which was sometimes used as a source. She also presents some coincidences in production. The man who designed Moses' distinctive rust-white-and-black-striped robe used those colors because they looked impressive, and only later discovered that these are the actual colors of the Tribe of Levi. Arnold Friberg would later state that he was the one who designed Moses' costume. As a gift, after the production, DeMille gave Moses' robe to Friberg, who still has it in his possession. Moses' robe as worn by Charlton Heston was hand-woven by Dorothea Hulse (1903–1963), one of the world's finest handweavers. She also created costumes for The Robe, as well as textiles and costume fabrics for Samson and Delilah, "David and Bathsheba" and others.
Jesse Lasky Jr., a co-writer on The Ten Commandments, described how DeMille would customarily spread out prints of paintings by Lawrence Alma-Tadema (1836–1912) to inform his set designers on the look he wanted to achieve. Arnold Friberg, in addition to designing sets and costumes, also contributed the manner in which Moses ordained Joshua to his mission at the end of the film: hands on Joshua's head. Friberg, a member of The Church of Jesus Christ of Latter-day Saints, demonstrated the LDS manner of performing such ordinations, and DeMille liked it.
Pharaoh is usually shown wearing the red-and-white crown of Upper and Lower Egypt. For his pursuit of the Israelites, however, he wears the blue Khepresh helmet-crown, which the Pharaohs wore for battle.
Sets, costumes and props from the film The Egyptian were bought and re-used for "The Ten Commandments". As the events in The Egyptian take place 70 years before the reign of Rameses II, an unintentional sense of continuity was created.
An Egyptian wall painting was also the source for the lively dance performed by a circle of young women at Seti's birthday gala. Their movements and costumes are based on art from the Tomb of the Sixth Dynasty Grand Vizier Mehu.[4]
The expression "the son of your body" for a biological offspring is based on inscriptions found in Mehu's tomb.[5]
There is an instance of breaking the fourth wall: After Moses says to Sephora "Your eyes are as sharp as they are beautiful" and runs off, Sephora turns and looks directly at the camera for a few seconds with an 'oh please' look.
[edit]
Box office performance
The Ten Commandments was the highest-grossing film of 1957, earning a net profit of $185,000,000.[6] Adjusted for inflation, it is the fifth-highest grossing movie of all time in the U.S. and Canada, with a box office gross of $977,260,000 calculated for 2010.[7]
[edit]
Academy Award win and nominations
The film won the Academy Award for Best Visual Effects. DeMille was reluctant to discuss technical details of how the film was made, especially the optical tricks used in the parting of the Red Sea. It was eventually revealed that footage of the Red Sea was spliced with film footage (run in reverse) of water pouring from large U-shaped trip-tanks set up in the studio back lot.[8][9][10]
Aside from winning the Academy Award for Best Visual Effects (John P. Fulton, A.S.C.), the film was also nominated for Best Art Direction-Set Decoration, Color (Hal Pereira, Walter H. Tyler, Albert Nozaki, Samuel M. Comer, Ray Moyer), Best Cinematography, Color, Best Costume Design, Color (Edith Head, Ralph Jester, John Jensen, Dorothy Jeakins and Arnold Friberg), Best Film Editing, Best Picture and Best Sound, Recording.[11]
[edit]
Popularity
Critics have argued that considerable liberties were taken with the biblical story of Exodus, compromising the film's claim to authenticity, but neither this nor its nearly four-hour length has had any effect on its popularity. In fact, many of the supposed "inaccuracies" were actually adopted by DeMille from extra-biblical ancient sources, such as Josephus, the Sepher ha-Yashar, and the Chronicle of Moses. Moses's career in Ethiopia, for instance, is based on ancient midrashim.[12] For decades, a showing of The Ten Commandments was a popular fund-raiser among revivalist Christian Churches, while the film was equally treasured by film buffs for DeMille's "cast of thousands" approach and the heroic but antiquated silent-screen-type acting. In the United States, the movie has traditionally been shown on television annually since 1973 on ABC around Palm Sunday, Easter, or Passover[citation needed]. Metallica was subsequently inspired by this film to create one of their most-played and best-known classics, "Creeping Death".
[edit]
Parodies
Due to its fame and popularity the film has been often parodied.
Heston's version of Moses was spoofed twice in History of the World, Part I (1981):

Mel Brooks, playing Moses, descends from Mount Sinai with 15 commandments written on three tablets. He fumbles, drops, and breaks one tablet: "The Lord, the Lord Jehovah has given unto you these fifteen... *smash* ... Oy! Ten! Ten commandments for all to obey!"
Brooks is then shown parting the Red Sea (on the same backlot as the original) as Comicus (Mel again) and company are trying to escape the Roman pursuit; afterwards, Moses is shown with his arms up, but he's being robbed: "People aren't safe anymore! You can't even breathe without being robbed in the street!"

On The Simpsons the film's setting was spoofed at the beginning of the episode Homer vs. Lisa and the 8th Commandment. It was spoofed again in the second segment of The Simpsons Bible Stories, where Milhouse plays the part of Moses, and also briefly in the third segment where Bart Simpson plays David. When Bart is imprisoned, Chief Wiggum mockingly says: "Where's your Messiah now?", a famous line from "The Ten Commandments" spoken by Edward G. Robinson, whose voice is the inspiration for Chief Wiggum's. In both segments Wiggum has the same outfit as Robinson in the film.
The "Simpsons" parody may have been inspired by comedian Billy Crystal's stand-up act from the 1980s, which included both the voices of Yul Brynner and Edward G. Robinson from the film to question the decision to cast Robinson, well-known for playing gangsters, in the part of Dathan.
In one scene from the 1980 film Caddyshack during a thunderstorm, the music that represents Moses from The Ten Commandments is played. When a golfer played by DeMille protege Henry Wilcoxon is struck by lightning, the music from the end of the film is played.
[edit]
Differences from the Bible
There are many differences between the movie's story line and the Exodus story as traditionally understood. According to the DVD commentary, some details are taken from sources such as Josephus, the Sepher ha-Yashar, and the Chronicle of Moses, as well as the Qur'an. Some are fictional inventions.
[edit]
Egyptian characters
In the film, the kings of Egypt are all named, such as Ramesses I, Seti I, Ramesses II, but the Bible makes no such distinctions, calling them all "Pharaoh." See article Pharaoh of the Exodus.
The Bible never mentions the wives of the Pharaohs, but the film includes a great deal of Queen Nefretiri. Her name is a variant of Nefertari, the Great Royal Wife of Rameses II. Egyptian records show that Rameses loved Nefertari, while in the film Nefretiri hates him. The Bible says "The Lord hardened Pharaoh's heart", but the film avers that Nefretiri's schemes are the means through which God does this. (Do not confuse with Nefertiti.)
While Pharaoh's daughter is not mentioned again in the Bible after her discovery and rescue of the infant Moses in the Bible, the film follows Bithiah's life well into her later years. The story of her following the Israelites out of Egypt is taken from the Midrash. In the Bible, Moses was 80 during the Exodus, so Bithiah must have been older still, yet in the film she is portrayed as relatively young and healthy enough to carry a child during the trek from Egypt.
In the film, an Egyptian named Baka (as played by Vincent Price) is killed by Moses for beating the Hebrew slave Joshua. However, Baka is not named in the Bible, nor is Joshua identified as the Hebrew slave being beaten. (It is, in fact, impossible that this should be the same Joshua who later led Israel in conquering Canaan, as the difference in his and Moses' ages was 40 years, Moses' age at the time of the incident.) In the Bible, Dathan is not mentioned as having been a witness to the killing. (The Bible does mention that, in another incident after Moses kills an Egyptian, he confronts two quarreling Israelites, one of whom accuses Moses of having killed an Egyptian. The Midrash identifies the Israelites as Dathan and his brother Aviram, which may have been the inspiration for this character.)
Exodus 15:19 does not specifically say Pharaoh drowned with his army but Psalm 136:15 says "but swept Pharaoh and his army into the Red Sea; His love endures forever" (NIV). There are midrashic sources that state that God singled Pharaoh out to be the sole Egyptian survivor so that he could serve as witness to the entire saga, the same reason given for Pharaoh's escape from perishing during the death of all firstborn (although if Pharaoh were Merneptah, as stated earlier, he would not be the firstborn and therefore would not have died). In the movie, Pharaoh stays in the rear ("This is work for a butcher, not a Pharaoh.") and witnesses the pursuit by his army and the waters of the sea covering them.
[edit]
Hebrew characters
The story of Shiphrah and Puah (Exodus 1:15-21) has been omitted in the film. Some Talmudic commentaries identify them as none other than Yokheved and Miriam.
The name of the birth mother of Moses in the Bible is Yokheved (Hebrew) or Jochebed (English). In the movie, this is changed to "Yoshebel." She is shown as a very oppressed and endangered slave working on a construction project under hazardous conditions. This may be problematic, since a strong case can be made that the tribe of Levi was not actually enslaved.[citation needed] Perhaps because of this, at one point Yoshebel states: "We are Levites, appointed shepherds of Israel."
In the film, the young Moses is a successful military commander who defeats a Nubian army and makes the Ethiopians allies of Egypt. This is sourced in Josephus, but is not in the Bible. It is also mentioned in Seder Olam, a sort of midrashic history book.
In Exodus 2:11-12, Moses "looked this way and that way, and when he saw that there was no man, he slew the Egyptian and hid him in the sand." No such caution in the film: Moses jumps right in to fight the Egyptian. Instead of sensibly fleeing to Midian immediately, as he does in the Bible, he stays in Egypt and is arrested and exiled.
The movie adds a subplot about Joshua coming to Moses to beseech him to return to Egypt to free the Israelites.
In the Bible, Moses complains to God that he is slow of speech, and of a slow tongue; in the film he only says "what words can I speak that they will heed?" DeMille considered having Moses stammer slightly, but Heston could not do it, and settled for speaking very slowly. Modern midrash asserts the relevance of the phrase "divine apostasia", which rehabilitates the term "apostasia" from its heretical or pejorative sense by defining it as an inability to articulate given the tools (or limitations rather) of language. This sense of the term apostasia asserts the moral humility and/or wisdom of silence or hesitance applied to speech and writing.
The Midianites are depicted as Arab Ishmaelites in the film; in the Bible the Midianites were descended from Midian, Abraham's son by his second wife Keturah, and not from Ishmael. (It should be noted, however, that different passages of Genesis say that Joseph's brothers sold him to Midianites [37:28, 36] and Ishmaelites [39:1].)
The story of Zipporah performing an emergency circumcision on her son by Moses (Exodus 4:24-26) is missing in the film.
[edit]
Sephora
In the film, Moses's wife Zipporah is called "Sephora". One probable answer is that during the film's pre-production research, DeMille chose the Greek translation of Zipporah, Sephora, primarily because Sephora is more close to the Arab name Safura, meaning "bird." .
[edit]
The plagues
The film shows four of the Plagues of Egypt: Blood, Hail, Darkness, and Death of the Firstborn, omitting the rest. DeMille could not figure out a way to enact the plagues of frogs, locusts and so on, without it coming out as unintentionally humorous, but they are mentioned in the dialogue between Pharaoh and his advisers. The plague of the frogs was filmed by DeMille but ultimately it was excised.
In the Bible, Moses did not say, "If there is one more plague on Egypt, it will be by your word that God will bring it" as he did in the movie, and Pharaoh did not decree that the firstborn of each house of Israel would die, beginning with the son of Moses.
In the Bible, God executes the tenth plague alone, not by sending the Angel of Death. In the film, on the first Passover night, the Destroyer is seen with a crescent moon in the sky. But Passover always begins in the middle of the Hebrew month of Nisan, during a full moon.
[edit]
The commandments
In the Bible, the reception of the Ten Commandments began as a national revelation, as opposed to the private one depicted in the film. The story of Moses and seventy Elders of Israel eating and drinking in the presence of God (Exodus 24:9-11) is not found in the film.
The story of Korah and his rebellion, which occurs much later in the Bible narrative, is conflated with that of the Golden Calf in the film. Korah himself plays only an assistant to the ringleader Dathan. Further, in the Bible, Dathan does not die during the Sin of the Golden Calf (nor do his brother Aviram or Korah), but during Korah's rebellion.
The Hebrew term generally translated as Ten Commandments is more accurately Ten Pronouncements, and Jewish tradition considers that Moses received not only those but all the 613 Commandments contained in the Five Books of Moses.
[edit]
Other changes
In Exodus, Pharaoh decreed the male children were to be cast into the river; the movie portrays the massacre by Pharaoh's soldiers using their swords, more like the slaughter of the innocents by Herod at the time of Jesus' birth as described in Matthew 2.
In the movie, the wayward Israelites were portrayed performing a human sacrifice (Lilia) to the golden calf. In the Bible they performed a "burnt offering" to the golden calf, which is described in Leviticus as requiring the butchering of animals—not human beings.
In the movie, the guilty Israelites died by falling into a crack that opened up in the Earth's crust. In the Bible, however, Moses, commanded whoever was on his side to pick up their swords and kill everyone who had sinned.
In Exodus 15, the Israelites sing and dance, led by Miriam, to celebrate the death of Pharaoh and the Egyptian army, and their own liberation. In the film, the "song of Moses" that celebrates the triumph over the Egyptians is greatly abbreviated, and the subsequent dancing is not portrayed.
The Biblical story of the attack by the Amalekites and the Battle of Rephidim has been omitted in the film.
The Biblical accounts of God supplying the Israelites with water, manna and quail are missing in the movie, though they are alluded to by Moses in the final scene.
Exodus 14 says the angel of the Lord came between the camps of the Egyptians and the Israelites along with "the pillar of cloud" which had been leading the Israelites by day. At night they were led by "the pillar of fire" which gave light. The movie shows only the pillar of fire (during daylight) separating the Egyptians and the Hebrews.
In the movie, the Red Sea is suddenly parted and the Israelites instantly walk through the parted Red Sea path on dry land. The Biblical account of the Red Sea parting is that the winds blew them open overnight in order for them to walk on dry land: "Then Moses stretched out his hand over the sea, and all that night the LORD drove the sea back with a strong east wind and turned it into dry land. The waters were divided." (Exodus 14:21)
In the movie, God ordered the Israelites to wander in the wilderness for 40 years as punishment for the Golden Calf incident. In the Bible, the 40 years of wandering was punishment for their unwillingness to believe God would deliver the promised land to the Hebrews despite the apparent physical superiority of the natives.