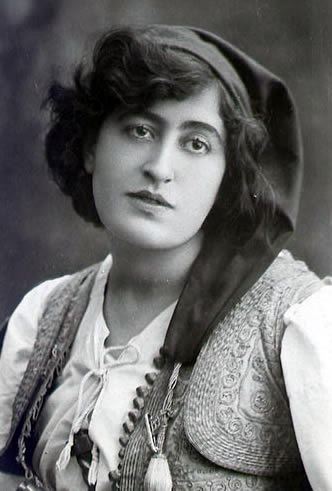 6th January, 1935 - Camino Palmero, Hollywood
Constance Collier, a Hollywood movie actress and drama teacher, came to see Baba at the house on Camino Palmero on January 6th. She said to him, "I have hundreds of friends, but not one could be called a true one. I feel so alone."
Baba gestured to her, "I am your friend – a real one."
"Yes, I believe you are. I do not feel alone since I have known you. Please remember me," she asked.
"I am in you all the time," Baba assured her.
Lord Meher ; Bhau Kalchuri - page 1944


1840 Camino Palmero
This is the house she met Baba

From Wikipedia, the free encyclopedia
Constance Collier
 
Born
Laura Constance Hardie
22 January 1878(

1878-01-22

)
Windsor, Berkshire, England
Died
25 April 1955 (aged 77)
New York City, New York
United States
Occupation
actress, screenwriter
Years active
1916 - 1949

Spouse(s)

Julian L'Estrange (1912-1918)
Constance Collier (22 January 1878 – 25 April 1955) was a British-born American film actress and acting coach.
Life and career
Born Laura Constance Hardie, in Windsor, Berkshire, Collier made her stage debut at the age of 3, when she played Fairy Peasblossom in A Midsummer's Night Dream. In 1893, at the age of 15, she joined the Gaiety Girls, the famous dance troupe based at the Gaiety Theatre in London. She was a very beautiful woman and soon became so tall that she towered over all the other dancers. In addition, she had an enormous personality and considerable determination. She naturally attracted considerable attention. On 27 December 1906, Beerbohm Tree's extravagant revival of Antony and Cleopatra opened at His Majesty's Theatre, with Tree as Mark Antony and Constance Collier as Cleopatra, a performance for which she received much critical praise.[1]
Famed for his realistic productions, Tree and his designer, Percy Macquoid, dressed Collier in a range of spectacular costumes. Later, Constance Collier commented: "There is only a mention in the play of Cleopatra appearing as the goddess Isis. Tree elaborated this into a great tableau... Cleopatra, robed in silver, crowned in silver, carrying a golden scepter and the symbol of the sacred golden calf in her hand, went in procession through the streets of Alexandria, the ragged, screaming populace acclaiming the Queen, half in hate, half in superstitious fear and joy as she made her sacrilegious ascent to her high throne in the market-place."[1]
Constance Collier was now established as a popular and distinguished actress. In January 1908, she starred with Beerbohm Tree at His Majesty's Theatre in J. Comyn's new play The Mystery of Edwin Drood, based on Charles Dickens's unfinished novel of the same name. Later that year, she made the first of several tours of the United States. During the second, made with Beerbohm Tree in 1916, she made four silent films, including an uncredited appearance in D. W. Griffith's Intolerance and as Lady Macbeth in Tree's first and disastrous film interpretation of Shakespeare's MacBeth.[1]
In 1905, Collier married Irish actor Julian Boyles (stage name Julian L'Estrange). They performed together for many years until his death in 1918 in New York from influenza. No children were born from the marriage.
In the early 1920s, she established a close friendship with Ivor Novello, who was then a young, handsome actor. His first play, The Rat, was written in collaboration with her in 1924. She also appeared in several plays with him, including the British version of the American success, The Firebrand by Edwin Justus Mayer.[1] In 1935, upon her arrival in Hollywood, Luise Rainer hired Collier to improve Rainer's theater acting and English, and to learn the basics of film acting.
In 1932 Collier starred as Carlotta Vance in the original production of George S. Kaufmann and Edna Ferber's classic comedy Dinner at Eight (play). The role was played in the 1933 film by Marie Dressler.
She appeared in the films Stage Door (1937), Mitchell Leisen's Kitty (1945, a comedic performance as Lady Susan, the drunken aunt of Ray Milland), Perils of Pauline with Betty Hutton, Alfred Hitchcock's Rope (1948), and Otto Preminger's Whirlpool (1949).[1]
During the making of the film version of Stage Door, she became great friends with Katharine Hepburn, a friendship that lasted the rest of Collier's life.
Constance Collier was presented with the American Shakespeare Festival Theatre Award for distinguished service in training and guiding actors in Shakespearean roles. Collier was a drama coach for many famous actors, including coaching Katharine Hepburn during Hepburn's world tour performing Shakespeare in the 50's. Upon Collier's death in 1955, Hepburn "inherited" Collier's secretary Phyllis Wilbourn, who remained with Hepburn as her secretary for 40 years. Collier has a star on the Hollywood Walk of Fame.
Further reading
Harlequinade: The Story of My Life, John Lane The Bodley Head (1929)
References
External links