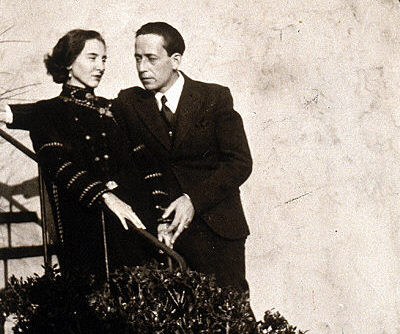 Born :
Died :
Married : Dane Rudhyar - 9th June 1930

Divorced : 1945
Nationality : Italian
1937
Maliya Rudhyar, the astrologer Dane Rudhyar's wife, was touring India and came to Nasik on March 31st. The Rudhyars had met Baba in Boston in 1931 and again in Hollywood in 1932. During Maliya's meeting, Baba stated to her, "Bravery and strength overcome all difficulties. Be firm, do not despair and keep longing.
"It is there in you. You are the infinite universe, but you must discover it and find that out. I will help you – always.
"Places and physical conditions do not matter where longing and determination are deep and strong. It is not a question of patient, endless walking. It matters how and where you walk – in which direction. You may walk and walk for years, but if it is in the wrong direction it is a waste of energy and time. If you go further away, of course you do come back when the time comes, but it is such a long process."
Maliya was invited to stay in the Nasik ashram and she did for a few weeks and then returned to America.
Letter to Meher Baba - 1st April 1937
1937
Sam Cohen, the seeker from Oceano, California, arrived in Bombay aboard the Conte Verde on April 20th, and was met by Chanji and taken to Nasik the same evening. Maliya Rudhyar returned from touring India the next day and began staying in Room Five of Sarzat.
12th May 1937 - Ojay, California