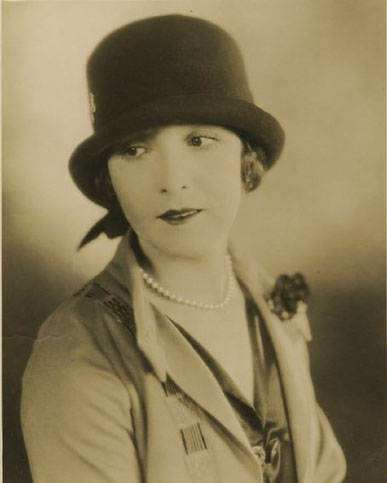 Born : July 23, 1895, Houston, Texas
Died : November 3, 1977, Pacific Palisades, California
Actress
AMERICAN
Recollection of Quentin Tod in Hollywood - 1932
Baba met several other movie stars in Hollywood during his visit, including Boris Karloff, John Gilbert, Bruce Evans, Florence Vidor, Charles Farrell, Johnny Mack Brown and Cary Grant. Some of these actors and actresses met him later in the evening of June 1st, when Douglas Fairbanks and Mary Pickford invited Baba to Pickfair, their twenty-two-room mansion at 1143 Summit Drive, for a reception with a few others from the film industry. Marc Jones drove Baba, Meredith ( Starr ), Margaret, Priscilla and ( Quentin ) Tod to Beverly Hills at eight o'clock that night. The mandali followed in another car, along with Norina ( Matchabelli ) and Elizabeth ( Patterson ).

The recollections of Quentin Tod in Hollywood, 1932


Florence Vidor
From Wikipedia, the free encyclopedia
Florence Vidor (b. July 23, 1895, Houston, Texas - d. November 3, 1977, Pacific Palisades, California) was an American actress.
Born as Florence Arto, her father, J.P. Arto, was an important executive and she started working in silent movies thanks to her husband, the director King Vidor. She signed her first contract with Vitagraph in 1916. Her fame was due to specially her role in the 1921 film Hail the Woman.
She got divorced in 1925 after having had a daughter (Suzanne), but she maintained her husband's surname. She married the violin player Jascha Heifetz one year after. Her career ended with silent movies.
She died in 1977 at the age of 82.
Filmography
Chinatown Nights (1929)
The Patriot (1928)

The Magnificent Flirt (1928)

Doomsday (1928)

Honeymoon Hate (1927)

One Woman to Another (1927)

The World at Her Feet (1927)

Afraid to Love (1927)

The Popular Sin (1926)

The Eagle of the Sea (1926)

You Never Know Women (1926)

Sea Horses (1926)

The Grand Duchess and the Waiter (1926)

The Enchanted Hill (1926)

The Trouble with Wives (1925)

Marry Me (1925)

Grounds for Divorce (1925)

Are Parents People? (1925)

The Girl of Gold (1925)

The Mirage (1924)

Husbands and Lovers (1924)

Barbara Frietchie (1924)

Welcome Stranger (1924)

Borrowed Husbands (1924)

The Marriage Circle (1924)
The Virginian (1923)

Main Street (1923)

Alice Adams (1923)

Souls for Sale (1923)

Conquering the Woman (1922)

Skin Deep (1922)

Dusk to Dawn (1922)
Real Adventure (1922)

Woman, Wake Up (1922)

Hail the Woman (1921)

Beau Revel (1921)

Lying Lips (1921)

The Jack-Knife Man (1920)
The Family Honor (1920)
Poor Relations (1919)
The Other Half (1919)
Till I Come Back to You (1918)

The Bravest Way (1918)

Old Wives for New (1918)

The White Man's Law (1918)

The Honor of His House (1918)

The Hidden Pearls (1918)

The Widow's Might (1918/I)

The Secret Game (1917)

The Countess Charming (1917)

Hashimura Togo (1917)

The Cook of Canyon Camp (1917)

American Methods (1917)

A Tale of Two Cities (1917)

The Intrigue (1916)

The Yellow Girl (1916)

Curfew at Simpton Center (1916)

Bill Peter's Kid (1916)
External links