( Helen Virginia Briggs )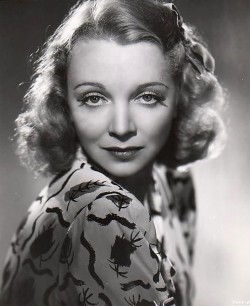 Born : 29th September, 1910 - Minneapolis, Minnesota, USA
Died : 24th February, 1982 - Woodland Hills, California, USA

Married ;  1. John Gilbert
                 2. J.Walter Rubin
                 3. Ali Ipar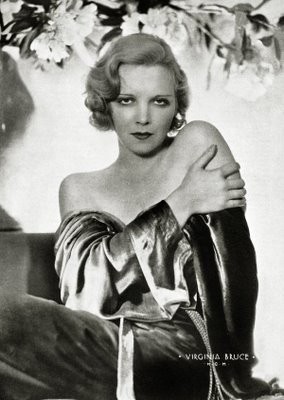 Hollywood - 1932
ON JUNE 1st, Cath Gardner and Max and Lillian Wardall arrived from New York City. Baba visited Metro Goldwyn Mayer Film Studios the same day and saw the actor Lewis Stone perform. Baba met Virginia Bruce and saw the sets of Mata Hari, which Greta Garbo had just finished starring in. They also met the director Josef Von Sternberg, who was directing Marlene Dietrich in The Blond Venus. Baba commented that he did not care much for Marlene Dietrich's role, but liked Von Sternberg as a person.
Baba met the actress on the 1st June, 1932 in Hollywood at the MGM Studios. The original photo is found below.

Recollections of Quentin Tod in Hollywood - 1932

In this photo John Gilbert was Virginia Bruce's fiancée and later, her husband. They both met Baba only a couple of months prior to this photo.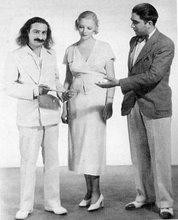 Baba met the actress on the 1st June, 1932 in Hollywood at the MGM Studios. The man on the right could be Adi K. Irani, who was accompaning Baba on his tour.
Virginia Bruce
From Wikipedia, the free encyclopedia
Virginia Bruce (September 29, 1910 – February 24, 1982) was an American actress and singer.
Career
Born Helen Virginia Briggs in Minneapolis, Minnesota, Bruce began her acting career in minor roles in Hollywood in 1929. In 1930 she appeared on Broadway in the musical Smiles, followed by America's Sweetheart in 1931.
Bruce returned to Hollywood in 1932, where she married John Gilbert, her co-star in the film Downstairs. She retired briefly after the birth of their daughter Susan Ann Gilbert. The couple divorced in 1934, and Virginia returned to a hectic schedule of film appearances. Gilbert died in 1936. That same year, Bruce introduced the Cole Porter standard "I've Got You Under My Skin" in the film Born to Dance and costarred in the MGM musical The Great Ziegfeld. One of her final film appearances was in the 1960s Strangers When We Meet. Her final film appearance was in Madame Wang's in 1981.
Personal life and death
Bruce married film director J. Walter Ruben in 1937, making the Wallace Beery western The Bad Man of Brimstone together that year, and they had a son named Christopher, but she was widowed in 1942. In 1946 she married Ali Ipar. They divorced in 1951 in order for him to receive a commission in the Turkish Military (which forbid promotions of men married to foreigners), but remarried in 1952. Bruce is the mother of actor Rick Dano with Royal Dano and Bruce is also the grandmother of Hutch Dano.[1]

Virginia Bruce died from cancer on February 24, 1982 in Woodland Hills, California.
Selected filmography