Saint Gagde Maharaj
Born : 23rd Febuary 1876
Died : 21st December 1956
Nationality : Indian
Hindu saint of the sixth plane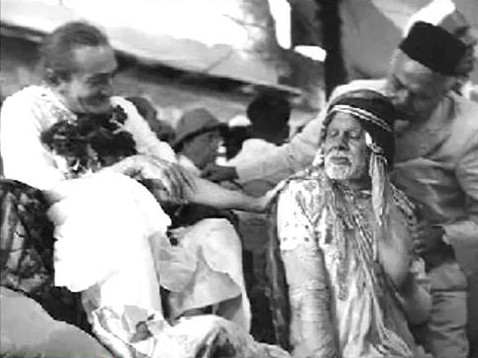 During this darshan programme , Gagde sat in front of Baba. Papa Jessawala comforts him.
Meher Baba used the word "saint" (sant in Hindi) primarily to refer to advanced souls on the mental (5th or 6th) planes. Sant Gadge Maharaj of Pandharpur (died Dec. 21, 1956) was a well-known Hindu saint of Maharashtra. Meher Baba identified him as a sixth-plane saint.
"Gadge Maharaj...was one of the greatest saints alive in India, and ... was even considered to be a Sadguru by many devotees..." Lord Meher 12:4398
Sitting left of Meher Baba is Sarosh Irani with Adi K Irani sitting behind him. Gadge is standing left of him.
While at Deccan College, Merwan formed a dramatic troupe which rehearsed at his uncle Rustom's and aunt Piroja's house on Sachapir Street. The group staged two or three public performances at a local theater with the proceeds donated to charity.
Merwan and his friends would sometimes attend kirtan performances – Hindu songs with narration about God or the gurus and saints. Gadge Maharaj was a Hindu saint of the sixth plane, who in his youth wandered in India living off alms. He was later known as a "perfect saint" because not only did he teach the love of God but also performed selfless service by managing a leper colony in Pandharpur, India. Once Merwan heard the great saint perform a kirtan in Poona. Although the humble saint was dressed in rags, Gadge Maharaj radiated divine love, and all who attended were profoundly impressed.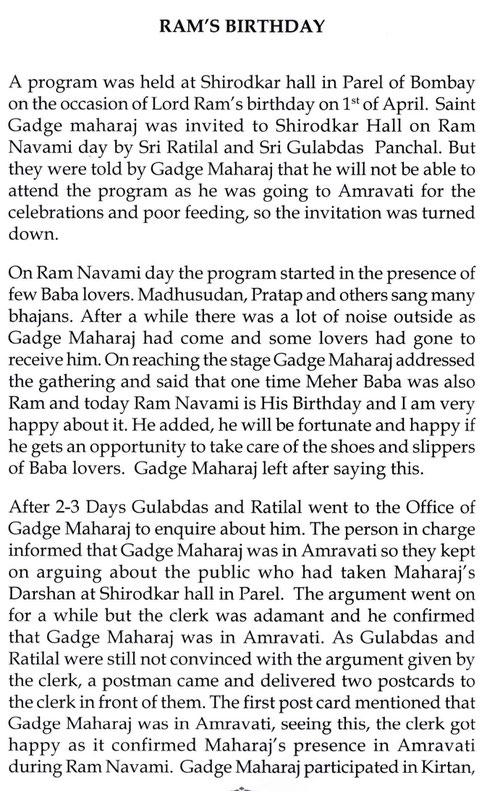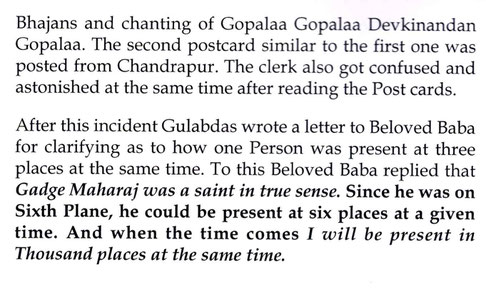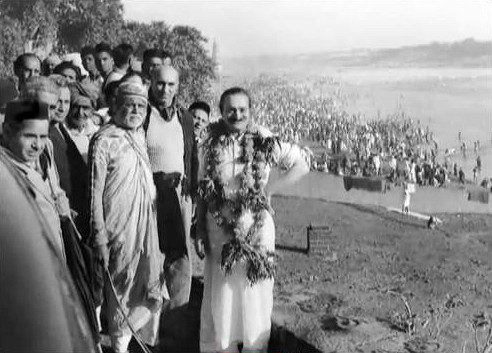 Here are some further sources gathered by Markar (who compiled the anthology at
http://www.meherbabadnyana.net/life_eternal/Life_Eternal.html
):

A Love So Amazing, by Bili Eaton, pp. 95-96
The Ancient One (by Eruch Jessawala), ed. Naosherwan Anzar, p. 158
Awakener Magazine, vol. 2 (no. 4): pp. 1-11 ("Baba Visits Pandharpur" - 1954)
Awakener Magazine, vol. 4 (no. 3):  p. 36
82 Family Letters, by Mani Irani, p.10
 Thanks to Kendra Crossen Burroughs

for her assistance with this page.