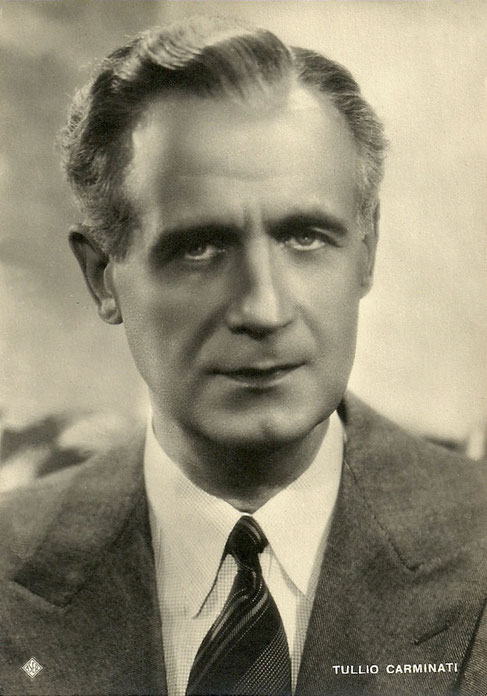 Born : 21st September 1894 - Zara ( now Croatia )
Died : 26th February 1971 - Rome, Italy
6th January, 1935 - Hollywood
Tullio Carminati, another screen actor, came to see Baba that evening. He had performed on stage with Norina years before and, although she was now older, he remarked to Norina, "Why, you look so much better than you did before. It is really something quite different, something divine. I can clearly see it."
Pointing to Baba, Norina replied, "It is his divinity that you see in me. Just look at him and see for yourself."
Lord Meher Volume 6, Page 1944

Costume party at the Vendome Cafe, Hollywood, mid 1930s. Left to right
Cary Grant, Mary Pickford, Countess De Frasso, Tulio Carminati
THE SALT LAKE TRIBUNE, SATURDAY MORNING, NOVEMBER 24/1934
Count Tullio Carminati89977493.pdf
Adobe Acrobat Document
613.2 KB
The following is a reproduction of the small segment in the above newspaper. The actual article is in the center of the page above the cartoon.
Q. Please give some information about Grace Moore's lending- man in
'One Night of Love." M. B.

A. Tullio Carnnnati, Italian nobleman-actor, was born in Zara on the Dalmatian coast.
Mr. Carminati's real name is Count Tullio Carminati di Brambilla.
He has appeared at one time or another upon the stage of eight countries, exclusive
of Scandinavia.
He studied in Roma under Maestro Ermete Novelli and at the age of 19 was Italy's youngest leading man, playing repertoire with Tina di Lorenzo. He trouped up and down Italy with increasing success and then made his first picture appearance at the invitation of Princess
Matchabelli, who wanted him for her leading man.
Returning to the theater in 1920, he formed his own company, appearing in "The Jest"
and "Wings."
About that time Duse offered the young actor the position of leading man and managing director of her company. Following her death, he appeared in motion picures in Italy,
Germany, France and Spain and today speaks fluently the language of each of those countries.
He also played on Broadway in 'Strictly Dishonorable" and in "Music in the Air." He made his bow to the talking screen early in 1934 in "Gallant Lady," in which he sings.
His outstanding success in American films up to the present time is the picture, "One Night of Love," in which he appeared with Grace Moore.

Tullio Carminati
From Wikipedia, the free encyclopedia
 

Born

Count Tullio Carminati de Brambilla




September 21, 1894




Zara, Austria-Hungary [now Zadar, Croatia]

Died

February 26, 1971




Rome, Italy

Years active
1915 - 1963
Tullio Carminati (1894-1971) was an Italian actor most famous for roles in The Cardinal, One Night of Love, and El Cid. He also appeared in the movie, Roman Holiday.
External links
---
---
Filmography
Soundtrack:
Paris in Spring (1935) (performer: "Paris in Spring", "Bonjour et Bonsoir", "Paris in Spring" (reprise))


... aka Paris Love Song

Let's Live Tonight (1935) (performer: "Love Passes By")
One Night of Love (1934) (performer: "The Last Rose of Summer" (1808) (uncredited)) ("One Night of Love" (1934) (uncredited))
Archive Footage:
La valigia dei sogni (1953)