Hazrat Muhiyadeen Abdul Qadir Jalani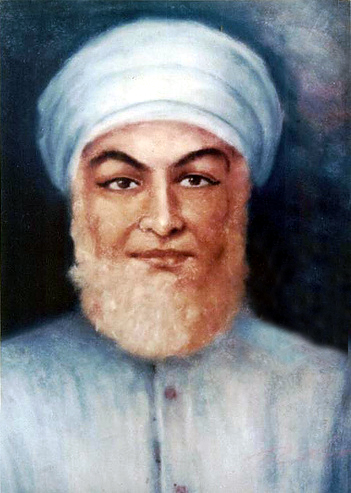 Born : 1077
Died :  1166
Islamic spiritual leader
1936
Arriving in Baghdad, Iraq, on the evening of Sunday, October 25th, Baba and the mandali checked into a hotel. The next day they took a tour of Baghdad. On October 27th, Baba visited the shrine of Hazrat Abdul Qadir Jalani – a Qutub of his time. Baba remained in the Muslim tomb for some time, but made no comment on his work.
Abdul-Qadir Gilani
From Wikipedia, the free encyclopedia
'Abd al-Qadir al-Jilani ibn Salih ibn Jangidost, (Persian: عبد القادر گیلانی Abdolɢāder Gilāni) (also spelled Abdulqadir Gaylani, Abdelkader, Abdul Qadir, Abdul Khadir - Jilani, Jeelani, Jilali, Gailani, Gillani, Gilani,Al Gilani) (470–561 A.H.)(1077–1166 A.D.) was a Persian[1] Hanbali preacher, Sunni sheikh (Considered Sufi by "his followers"), and the founder of the Qadiri Sufi order. He was born on the first Ramadan in 470 A.H., 1078 A.D., in the Persian province of Gilan (Iran) south of the Caspian Sea. Since the Persian "G" does not exist in Literary Arabic, his name has also been recorded as Kilani and Jilani in Arabic manuscripts.
Sultan of the Awliya' of Allah, al-Ghawth al-A'zam Shaikh Muhyi'din 'Abd al-Qadir al-Jilani, al-Hasani, al-Husaini. Gilani belongs to the spiritual chain of Junayd Baghdadi. His contribution to thought in the Muslim world earned him the title Muhiyuddin (lit. "The reviver of the faith"), as he along with his students and associates laid the groundwork for the society which later produced stalwarts like Nur ad-Din Zangi and Saladin. His Sufi order named after him is generally thought to be the oldest and first of such orders.
Biography
He was born in 1078 A.D. (471 A.H.) in a small town of Iranian Gilan Province. Many Muslim scholar claim him as a sharif and a blood relative to the Prophet Muhammad but such a claim has little likelihood and he was of Persian origin[2][3][4][5][6]. His complete name reads Muhyi ad-Din 'Abd al-Qadir son of Abu Salih son of Jenki-Dost (Jangi-Dost) al-Jili. Jangi-Dost is a Persian name and one tradition makes him spend eleven years in a tower which ever since bears the name Burj al-'Ajami ('The Persian Tower')[7]
 

Education
He spent his early life in the town of his birth. At the age of eighteen he went to Baghdad (1095), where he pursued the study of Hanbali law under several teachers. The Shaik received lessons on Fiqh from Abu Ali al-Mukharrimi, Hadith from Abu-Bakar-bin-Muzaffar, and tafsir from the renowned commentator, Abu Muhammad Jafar.
In Tasawwuf (the sciences of the heart), his spiritual instructor was Shaikh Abu'l-Khair Hammad bin Muslim al-Dabbas. From him, he received his basic training, and with his help he set out on the spiritual journey.
After completion of education, Abdul Qadir Jilani abandoned the city of Baghdad, and spent twenty-five years as a wanderer in the desert regions of Iraq as a recluse.[8]
Later life
He was over fifty years old by the time he returned to Baghdad in 1127, and began to preach in public. He moved into the school belonging to his old teacher al-Mukharrimii; there he engaged himself in teaching. Soon he became popular with his pupils. In the morning he taught hadith and tafsir, and in the afternoon held discourse on science of the hearts and the virtues of the Qur'an.
He busied himself for forty years in the service of Islam from 521 to 561 AH. During this period hundreds of thousands of people converted to Islam because of him and organized several teams to go abroad for dawah purposes.
 

Death
Gilani died on Saturday night 1166 (11th Rabi' al-thani 561AH on the Islamic calendar) at the age of eighty-nine years, and was entombed in a shrine within his Madrassa in Baghdad.[9][10][11] His Shrine and Mosque are in what used to be the school he preached in, located in Babul-Sheikh, Resafa (East bank of the Tigris) in Baghdad, Iraq.
His tomb, partially destroyed during the Mongol attack of 1258 and subsequently rebuilt, remains as testimony to the acclaim he enjoys among mystically inclined Muslims. It is visited throughout the year by pilgrims from distant parts of the Islamic world; Indonesian, Pakistani, and Indian Muslims often combine a visit to the tomb of Ḡawṯ-e Aʿẓam with the pilgrimage to Mecca. His ʿors, by tradition celebrated on 11 Rabīʿ II, is the occasion for special festivities in Baghdad and elsewhere. According to Herklots (Islam, p. 193), the Indian celebration included a recital of the entire Koran, together with the invocation of all ninety-nine names of the saint.
Family
The Shaikh had four virtuous wives and forty-nine children, twenty-seven sons and twenty-two daughters.Indian sub-continent throughout the years preaching Islam in his method (Arabic=Tareqa,طريقة). As they have reached the Western part of the Muslim world of North Africa and Morocco, and parts of the Horn of Africa (Ethiopia, Somalia, Eritrea).
The most famous of his sons are Shaikh Abdul-Wahab, Sheikh Abdul-Razzaq, Shaikh Abdul-Aziz, Shaikh Isa, Shaikh Musa, Sheikh Yahya, Sheikh Abdullah, Sheikh Muhammed and Sheikh Ibrahim. His sons and grandsons reached the
Culture
He was born in late Sha'aban or early Ramadhan for he was known as an infant to abstain from suckling during the day of Ramadhan.[12].
Works
Some of Jilani's more well known works include:
Al-Ghunya li-talibi tariq al-haqq wa al-din (Sufficient Provision for Seekers of the Path of Truth and Religion)

Al-Fath ar-Rabbani (The Sublime Revelation)

Malfuzat (Utterances)

Futuh al-Ghaib (Revelations of the Unseen)

Jala' al-Khatir (The Removal of Care)
Lovely Poetry of Sheikh Abdul Qadir Jilani
HO beloved come through the gate of my heart without veil cause there is nothing in my house except your sweet pain..............
 

Bibliography
Utterances of Shaikh Abd al-Qadir al-Jīlānī (Malfūzāt) / transl. from the Arabic by Muhtar Holland Malfūzāt
Author: Muhtar Holland (1935-) Year: 1994, Publisher: Kuala Lumpur : S. Abdul Majeed & Co, ISBN 1-88221-603-2
Fifteen letters, khamsata ashara maktūban / Shaikh Abd Al-Qādir Al-Jīlānī ; translated from the Persian into Arabic by Alī usāmu ́D-Dīn Al-Muttaqī ; and from Arabic into English by Muhtar Holland, Kamsata ašara maktūban
Author: ʿAlāʾ al-Dīn ʿAlī b. ʿAbd al-Malik al- Muttaqī al-Hindī (ca1480-1567); Muhtar Holland (1935-) Year: c1997 Edition: 1st ed Publisher: Hollywood, Fla : Al-Baz Pub ISBN 1-88221-616-4
The removal of cares = Jalā Al-Khawātir : a collection of forty-five discoures / Shaikh Abd Al-Qādir Al-Jīlānī ; transl. from the Arabic by Muhtar Holland
Jalā al-Khawātir Author: Muhtar Holland (1935-) Year: c1997 Publisher: Ft. Lauderdale, Fla : Al-Baz Pub Extent: xxiii, 308 p Size: 22 cm ISBN 1-88221-613-X
The Sultan of the saints : mystical life and teachings of Shaikh Syed Abdul Qadir Jilani / Muhammad Riaz Qadiri
Author: Muhammad Riyaz Qadiri Year: 2000, Publisher: Gujranwala : Abbasi Publications, Size: 22 cm, ISBN 969-851016-8
The sublime revelation = al-Fath ar-Rabbānī : a collection of sixty-two discourses / Abd al-Qādir al- Jīlānī ; transl. from the Arabic by Muhtar Holland, al-Fath al-Rabbānī
Year: 1998 Edition: 2nd ed, Publisher: Ft. Lauderdale : Al-Baz Publishing, ISBN 1-88221-602-4
Al-Ghunya li-talibi tariq al-haqq wa al-din (Sufficient Provision for Seekers of the Path of Truth and Religion) ,(Arabic),PartI,II,Abd Al-Qadir Al-Gaylani,Pub.Dar Al-Hurya, Baghdad, Iraq, 1988.

Al-Ghunya li-talibi tariq al-haqq wa al-din (Sufficient Provision for Seekers of the Path of Truth and Religion)
(Arabic), Introdused by Dr. Majid Irsan Al-Kilani, Pub. Dar Al-Khair, Damascus-Bairut, 2005.
 

See also
 

List of notable personalities
References
 

External links