Tom Mix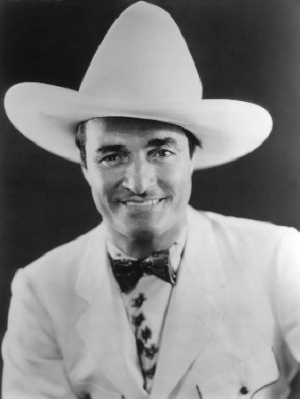 1932
After lunch, Baba and a few others went to Fox and Universal Studios with actor Lalchand Mira, a friend of the Joneses. Here they met the cowboy Tom Mix and another actor named Ezra Mir, staying for an hour and a half. Tod returned to Paramount Studios to pick up Tallulah Bankhead who had an interview with Baba at 5:30 P.M. She had a long talk with Baba and said she was on her way to see the actress Greta Garbo and would tell her of him.

Recollections of Quentin Tod in Hollywood - 1932



Tom met Baba in Hollywood on the 31st May, 1932
Tom Mix
From Wikipedia, the free encyclopedia
Tom Mix



Tom Mix, 1925

Born
Thomas Hezikiah Mix

[

1

]


January 6, 1880(

1880-01-06

)
Mix Run, Pennsylvania
Died
October 12, 1940 (aged 60)
Florence, Arizona
Other

name(s)

Thomas Edwin Mix

Spouse(s)

Grace I. Allin (1902–1903)
Kitty Jewel Perinne (1905–1906)
Olive Stokes (1907–1917)
Victoria Forde (1918–1931)
Mabel Hubbard Ward (1932–1940)
Official website
Thomas Edwin Mix (born Thomas Hezikiah Mix;[1] January 6, 1880 – October 12, 1940) was an American film actor and the star of many early Western movies. He made a reported 336 films between 1910 and 1935, all but nine of which were silent features. He was Hollywood's first Western megastar and is noted as having helped define the genre for all cowboy actors who followed.
[edit]
Early years
Mix was born into a relatively poor logging family in Mix Run, Pennsylvania, about 40 miles (60 km) north of State College, Pennsylvania. He spent his childhood growing up in nearby Dubois, Pennsylvania learning to ride horses and working on the local farm owned by John Dubois, a lumber businessman. He had dreams of being in the circus and was rumored to have been caught by his parents practicing knife throwing tricks against a wall using his sister as an assistant.
In April 1898, during the Spanish-American War, he enlisted in the Army under the name Thomas E. (Edwin) Mix. His unit never went overseas, and Mix later failed to return for duty after an extended furlough when he married Grace I. Allin on July 18, 1902. Mix was listed as AWOL on November 4, 1902 but was never court martialed nor apparently even discharged. His marriage to Allin was annulled after one year. In 1905 Mix married Kitty Jewel Perinne, but this marriage also ended within a year. In 1907 he married Olive Stokes.
In 1905 Mix rode in Theodore Roosevelt's inaugural parade with a group of 50 horsemen led by Seth Bullock which included several former Rough Riders (years later, Hollywood publicity handouts would muddle this event to misleadingly imply Mix had been a Rough Rider himself.) After working a variety of odd jobs in the Oklahoma Territory, Mix found employment at the Miller Brothers 101 Ranch, reportedly the largest ranching business in the United States and covering 101,000 acres (409 km²), hence its name. He stood out as a skilled horseman and expert shot, winning the 1909 national Riding and Rodeo Championship.
Mix often claimed to have attended the Virginia Military Institute and to have been the son of a cavalry officer. There is no basis for these claims.
[edit]
Film career
[edit]
Selig Polyscope
Mix began his film career as a supporting cast member with the Selig Polyscope Company. His first shoot in 1910 at their studio in the Edendale district of Los Angeles (now known as Echo Park) was Ranch Life in the Great Southwest, in which he showed his skills as a cattle wrangler. The film was a success and Mix became an early motion picture star. Olive gave birth to their daughter Ruth on July 13, 1912. Mix performed in more than 100 films for Selig, many of which were filmed in Las Vegas, New Mexico. While with Selig he co-starred in several films with Victoria Forde and they fell in love. He divorced Olive Stokes in 1917. By then Selig Polyscope had encountered severe financial difficulties and Tom Mix and Victoria Forde both subsequently signed with Fox Film Corporation, which had leased the Edendale studio. Mix and Forde married in 1918 and they had a daughter, Thomasina Mix (Tommie), in 1922.
[edit]
Mixville
He went on to make more than 160 escapist matinee cowboy films throughout the 1920s. These featured action oriented scripts which contrasted with the documentary style of his work with Selig. Heroes and villains were sharply defined and a clean-cut cowboy always "saved the day." Millions of American children grew up watching his films on Saturday afternoons. His intelligent and handsome horse Tony also became a celebrity. Mix did his own stunts and was frequently injured.
Mix's salary at Fox reached $7,500 a week. His performances weren't noted for their realism but for screen-friendly action stunts and horseback riding, attention-grabbing cowboy costumes and showmanship. At the Edendale lot Mix built a 12-acre (49,000 m2) shooting set called Mixville. Loaded with western props and furnishings, it has been described as a "complete frontier town, with a dusty street, hitching rails, a saloon, jail, bank, doctor's office, surveyor's office, and the simple frame houses typical of the early Western era." Near the back of the lot an Indian village of lodges was ringed by miniature plaster mountains which on screen were said to be "ferociously convincing." The set also included a simulated desert, large corral and a ranch house with no roof, to facilitate interior shots.
During 1929, Mix's last year in silent pictures, he worked for Film Booking Office of America (FBO), a small movie studio run by Joseph P. Kennedy Sr. and soon to be merged into Kennedy's RKO Radio Pictures. Mix was 49 and by most accounts he was ready to retire from the movies. That same year, Mix was a pallbearer at the funeral of Wyatt Earp (during which he reportedly wept).[2]
Mix appeared with the Sells-Floto Circus in 1929, 1930 and 1931 at a reported weekly salary of $20,000. He and Forde were divorced in 1931. Meanwhile the Great Depression (along with the actor's free spending ways and many wives) had reportedly wiped out most of his savings. In 1932 he married his fifth wife, Mabel Hubbard Ward. Universal Pictures approached him that year with an offer to do talkies which included script and cast approval. He did nine pictures for Universal, but because of injuries he received while filming he was reluctant to continue with any more. Mix then appeared with the Sam B. Dill circus, which he reportedly bought two years later (1935).
Mix's last screen appearance was a 15-episode Mascot Pictures serial, The Miracle Rider (1935), receiving $40,000 for four weeks of filming. Also that year, Texas governor James Allred named Mix an honorary Texas Ranger. Mix went back to circus performing, this time with his eldest daughter Ruth, who had appeared in some of his films. In 1938, Mix went to Europe on a promotional trip, while his daughter Ruth stayed behind to manage his circus, which soon failed. He later excluded her from his will. He had reportedly made over $6,000,000 (approaching $400 million in early 21st century, inflation-adjusted values) during his 26-year film career.
In 1933 Ralston-Purina obtained his permission to produce a Tom Mix radio series called Tom Mix Ralston Straight Shooters which, but for one year during World War II, was popular throughout most of the 1930s through the early 1950s. Mix never appeared on these broadcasts and was instead played by radio actors: Artells Dickson (early 1930s), Jack Holden (from 1937), Russell Thorsen (early 1940s) and Joe "Curley" Bradley (from 1944). Others in the supporting cast included George Gobel, Harold Peary and Willard Waterman.
On the afternoon of October 12, 1940 Mix was driving his 1937 Cord 812 Phaeton near Florence, Arizona (between Tucson and Phoenix) on Arizona State Route 79 when he came upon construction barriers at a bridge previously washed away by a flash flood. A work crew watched as he was unable to brake in time and his car slid into a gully. A large polished aluminium suitcase he had put on the seat behind him flew forward and struck Mix in the back of the head, shattering his skull and breaking his neck. The 60-year-old actor was killed almost instantly. Accounts vary as to whether Mix was speeding before the accident, along with the role alcohol consumption may have played.
The site of his death is located on what is now State Route 79. There is an historical marker and the gully is named Tom Mix Wash. Mix is interred in the Forest Lawn Memorial Park Cemetery in Glendale, California.
[edit]
Legacy
Tom Mix was "the King of Cowboys" when Ronald Reagan and John Wayne were youngsters and the influence of his screen persona can be seen in their approach to portraying cowboys. When an injury caused football player John Wayne to drop out of USC, Tom Mix helped him get a job moving props in the back lot of Fox Studios.
By most accounts, Tom Mix made 336 movies throughout his career. As of 2007, only about 10% of these were reportedly available for viewing, although it was unclear how many of these films are now considered lost films.
For his contribution to the motion picture industry, Tom Mix has a star on the Hollywood Walk of Fame at 1708 Vine Street. His cowboy boot prints, palm prints and his famous horse Tony's hoof prints are at Grauman's Chinese Theatre at 6925 Hollywood Boulevard. In 1958 he was inducted posthumously into the Western Performers Hall of Fame at the National Cowboy & Western Heritage Museum in Oklahoma City, Oklahoma. There is a Tom Mix museum in Dewey, Oklahoma and another in Mix Run, Pennsylvania. Between 1980 and 2004, 21 Tom Mix festivals were held during the month of September, most of them in DuBois, Pennsylvania.
[edit]
Cultural references
By the 21st century, most people were more familiar with Tom Mix's name through the many cultural references which have echoed long after his death, rather than from having seen his films. Cereal boxtop premiums (radio premiums) from the 1940s relating to Mix are still traded by collectors. Mix was referred to in Conny Froboess' 1951 song "Pack' die Badehose ein" and in a 1953 Dinah Washington song, "TV Is the Thing This Year" for EmArcy Records (signifying a change in technology from radio to television).
In the JD Salinger short story "The Laughing Man", the Chief is described as having "the most photogenic features of Buck Jones, Ken Maynard, and Tom Mix."
In 1967, Tom was featured with many other 20th century celebrities on the cover of The Beatles' Sergeant Pepper's Lonely Hearts Club Band. (On the album cover, Tom's portrait appears between Marlon Brando from The Wild One and Oscar Wilde, just to the right of Paul's waxwork statue likeness.)
Bruce Willis played Tom Mix in the 1988 Blake Edwards film Sunset with James Garner as Wyatt Earp. In The Beverly Hillbillies, Jed Clampett's reason for going to Beverly Hills was to live in the same place as Tom Mix.
Daryl Ponicsan's novel Tom Mix Died for Your Sins (1975) evokes Mix's life and personality. Clifford Irving offered a pseudo-autobiographical version of Mix's early adulthood, drawing him as a brash young gringo who befriends and then joins up with the Mexican revolutionary Pancho Villa in the novel Tom Mix and Pancho Villa (1982).
In the 2008 movie Changeling. starring Angelina Jolie, the mysterious little boy claiming to be Walter Collins finally confesses to the police that the reason he ran away to Los Angeles was in hopes of meeting Tom Mix and his horse Tony.
James Horwitz's book They Went Thataway (1975) ends with Horwitz visiting Tom Mix Wash (where Mix died) and leaving his childhood cowboy boots at the foot of the monument. A resurrected Tom Mix appeared in two of Philip José Farmer's Riverworld novels, The Dark Design (1977) and The Magic Labyrinth (1980), along with a short story featured in the anthology Riverworld and Other Stories (1979). In an episode of M*A*S*H Father Mulcahy used a Tom Mix pocket knife to perform an emergency tracheotomy.
Philip K. Dick's sci-fi novel The Penultimate Truth features an underground bunker named 'the Tom Mix'. In Batman/Houdini: The Devil's Workshop (1993), Tom Mix is a high profile figure in Gotham society and takes up Houdini's offer of a free punch to the stomach. In an episode of Raw Toonage, Bonkers D. Bobcat plays a cowboy character named "Trail Mix Bonkers", an obvious homage to Tom Mix, as well as a play on both his name and trail mix. The menacing cowboy character in David Lynch's film Mulholland Drive contains oblique references to Mix. The ghost of Tom Mix haunted a Hollywood couple in the supernatural thriller The Ghosts of Edendale (2004).
Ralston-Purina briefly revived its Tom Mix boxtop fan club during the 1980s and in 2007 had Tom Mix pages on the company's website. Tom Mix is mentioned as being a pall bearer and weeping at the funeral for Wyatt Earp at the beginning of the end credits for the 1993 George P. Cosmatos film Tombstone. In the Doctor Who episode "The Gunfighters", the TARDIS lands at Tombstone, Arizona in 1881, where the Doctor says he doesn't understand why they want to dress like Tom Mix.
[edit]
Filmography (talkies)