Romauld ( Rom ) Landau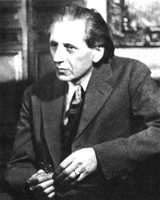 Born ; 17th October 1899, Poland
Died : 1974
Polish origins
Biographical History
Rom Landau (1899-1974) was a sculptor, author, educator and Arabist. Although born in Poland, he became a British citizen and served as a volunteer in the Royal Air Force during World War II. His particular area of interest was Morocco, and he authored numerous works about Morocco and the Middle East, mainly in the 1950s and 1960s. He taught Islamic Studies at the College of the Pacific in Stockton, CA, and was also an artist and art critic. His extensive knowledge of Arabic issues earned him a place on the Arab committee of the Intelligence Department of the British Foreign Office.
The Rom Landau Papers contains the papers of the B ritish author, artist, educator, and Arabist. Although Landau's particular interest was Morocco, the collection also includes material on Algeria, Jordan, Iraq, Israel, Syria, Lebanon, Turkey and Palestine.
The collection is divided into six series. Biographical data and public recognition comprises short excerpts of biographical information, instances where Landau was mentioned in the press, etc. Correspondence contains business (1927-1974), personal (1972-1974) and legal material. Writings and art consists of Landau's papers, manuscripts, lectures, notes, and speeches on the Middle East, political intelligence, religion, and other topics; it also includes a small selection of Landau's sculpture and a copy of his book, God Is My Adventure. Printed material contains brochures for the University of the Pacific. Memorabilia comprises personal items such as Moroccan art, copies of Landau's books, a passport, photographs, scrapbooks, silverware, and other miscellaneous items.
Recordings contains reel-to-reel tape audio recordings made by Landua of the songs, music and dance of various countries in the Middle East, and of some of his radio interviews, lectures and other speaking engagements, along with one apparently professional production, King Mohammed V by Leo Diner Films. There are also eight home-made recordings of opera singers and performances. Tapes relating to his Islamic studies are numbered and listed individually; opera recordings are not.
Rom was introduced to Baba in London in mid-May 1932.
He later wrote a book titled " God is my Adventure - Portrait of a Perfect Master _ Shri Meher Baba "

Romauld (Rom) Landau was born in England, October 17, 1899. He was a sculptor, author, educator (including University of the Pacific, Stockton, CA), foreign service officer, and specialist on Arab and Islamic culture. His particular area of interest was Morocco, and he authored numerous works about Morocco, mainly in the 1950s and 1960s. He also was an art critic and book reviewer for several newspapers and periodicals, including The Spectator. Landau died in 1974.

1932
During this stay, one visitor brought by Quentin Tod was an Italian journalist named Rom Landau. He was taken to Baba's room one morning. Baba was sitting in the middle of the room in an easy chair, wearing a dressing gown, house shoes and wool scarf. Landau asked several questions during his forty-five minute interview, but Baba would repeatedly respond, "Your question requires a more elaborate answer and a longer discussion. I shall have to write the answer to you in a day or two." As Landau was leaving, Baba stopped him and dictated on the board, "I am going to help you in the future."
A few days later, Baba had one of the mandali write to Rom Landau, as he dictated this message:
Lord Meher Volume 5, Page 1612
see the following article.

Another rather more serious work appeared this year 1935 ; by Rom Landau, entitled  God is My Adventure. The author had heard of Baba from the interview with James Douglas ( editor of the Sunday Express-London ) and says that he went to see him a few weeks after at a house in Lancaster Gate, London. His account is a more sympathetic, more detailed and better written book than the other., but, while there is a good deal of common sense in what he says, Landau was clearly unable to make anything of Baba, beyond saying that, ' In a world in which there is a Steiner there must also be room for a Shri Meher Baba ' .  Baba remained  a mystery to him, as he does to those who look at him with preconceived ideas.
The God-Man ; C.Purdom - page 128

Landau's List. Out this week is another notable book dealing not with one cult but with many, God Is My Adventure by Rom Landau.† A 37-year-old Pole who wrote biographies of his eminent compatriots Ignaz Paderewski and Joseph Pilsudski, Author Landau has set out on a pioneering journey through that religious shadowland which lies between piety and eccentricity, "regions of truth that the official religions and sciences are shy of exploring." Of the nine cultists he has appraised, Author Landau credits Frank Buchman with being "the most successful and shrewdest revivalist of our time." However, Author Landau finds Buchman's movement theologically frivolous, grows sarcastic at the Oxford Group's practice of suppressing or "sublimating" the sex impulse. "Five 'sublimated' Arabs, Italians or Frenchmen," says Pole Landau, "would prove the efficacy of Buchman's sex methods more convincingly than 500 English undergraduates."
Other magnetic priests & prophets on Landau's list:
Baba. The U. S. four years ago was fascinated by the arrival of a long-haired, silky-mustached Parsee named Shri Sadgaru Meher Baba (TIME, May 2, 1932). Called the "God Man," the "Messiah," the "Perfect Master," Meher Baba never speaks. The God Man claims to have been strictly silent since 1925, carries a little alphabet board on which he deftly spells his mute revelations (see cut, p. 37), among which is the declaration that he is in an "infinite state." He became that way, he says, after kissing an ancient holy woman named Hazrat Babajan, remaining in a coma for nine months.
From his London interview with Meher Baba, Author Landau got little. But a female disciple in Manhattan gave Landau a graphic description of the holy man's entourage: "He gets up very early. . . . He takes a very hot bath, and his hair is attended to with the greatest care. . . . He then goes from room to room, stops for a while in front of every bed, looks at the sleeping person, and, no doubt, directs in his own way the life of the disciple for the rest of the day. . . . He never reads books, but he knows everything. . . . Baba does not read a paper. He just goes over the headlines."


Read more: http://www.time.com/time/magazine/article/0,9171,848514-4,00.html#ixzz154pMN0ZZ

New York - 1932
Landau published an account of this meeting three years later in his book God is My Adventure and called it: "Portrait of a Perfect Master: Shri Meher Baba." The book became an immediate bestseller.
Landau included an account of a later visit in New York with Norina Matchabelli, to whom he had been introduced by Quentin Tod. According to Norina, Landau seemed an intelligent fellow, and she presumed him to be a genuine seeker and was rather intimate with him due to his personal friendship with Tod, narrating some of the experiences of her life before and after meeting the Master. She later regretted doing so, as Landau proved to be skeptical of Meher Baba.

Hollywood - 1932
Later that afternoon, Mary Pickford came to see Baba for a private interview at 3:30 and meditated in Baba's presence for five minutes. Baba and Quentin Tod were driven later to Santa Monica by director Ernst Lubitsch and had tea with him at his house. Rom Landau had written letters of introduction for Tod to Lubitsch and Von Sternberg.

On November 12th, Baba allowed a Christian minister on board to meet him. The minister was reading the book by Rom Landau entitled God Is My Adventure and pointed out a chapter about Baba in the book. During their discussion, while speaking about the Bible, Baba commented to the minister:
If a lecturer speaks today before a gathering of five hundred, and the same subject is repeated by the five hundred listeners to others, there would be five hundred different interpretations – some never dreamed of by the speaker! Therefore, what about the teachings of Masters like Jesus interpreted after him perhaps a thousand times through different interpreters in the past. The original thought is sometimes lost sight of, or made irrelevant, but yet each clings to his own different interpretation as the original.
That is why many today hesitate to believe in the Bible and other such books, where interpretations do not appeal to them. There is more of the writers in the Bible than of Jesus Christ!
Thus it is that there are always quarrels between fanatic followers of different religions over words and explanations that the Prophets never uttered, but were written in the so-called holy scriptures by over-enthusiastic disciples and priests, which quite naturally creates a revolt in the minds of others.
Lord Meher Volume 6, Page 2235

1941

 

When Meher Baba was in seclusion in Panchgani during September of 1941, some distorted reports appeared in the press regarding his meetings with Mahatma Gandhi in the early thirties. Gandhi's English follower, Mirabehn, was reported to have told the author, Rom Landau:

 

 

I know all the details about the connection between the two men. It was always Shri Meher Baba who went to see Gandhi, never otherwise. They first met on the Rajputana, and Baba sent round word, asking whether Gandhi would receive him. Gandhi, of course, consented. They had a talk, and after that, Shri Meher Baba visited Gandhi again in London. But, you may state quite emphatically that Gandhi never asked Meher Baba for help or for spiritual or other advice. He liked Meher Baba, and he talked to him, as he talks to everyone who wants to see him – that was all.

 

In Landau's book, God Is My Adventure, he wrote about this subject. He also told James Douglas, the London editor who had interviewed Baba years before, what he had learned.
Inquiries were made by several newspaper editors about Landau's statements. As Meher Baba was in seclusion at the time, Chanji could not ask him how to reply. Chanji was staying in Bombay, and to clarify the matter, he went to Gandhi's ashram in Segaon. Gandhi was busy, but Chanji broached the topic with Mirabehn, and afterwards wrote Gandhi about it.
After going through the distorted reports, Gandhi wrote back to Chanji:
September 20, 1941 Segaon, Wardha
Dear Dadachanji,
With reference to the alleged interview with Mirabehn, and reported by Rom Landau, you may announce to the curious that it was not Meher Baba who sought me out on the S. S. Rajputana, but I who sought him out in his cabin, and it was I who used to go frequently to his cabin. And this I did for the love of Jamshed Mehta, who had cabled to me that Babaji was a fellow passenger with me, and that I should seek him out and try to understand him. And, as you were Baba's interpreter of the alphabetical plate through which he held converse with the world, you know the spiritual nature of our conversation.
I had further invited Baba to meet me in London during the time I was there.
There was no question of Masterhood and discipleship. I have never felt like being disciple to anybody in a spiritual way, though I am still, and have always been, in search of a Guru, as I hold every seeker of God should be.
Yours sincerely,
Mohandas Gandhi
Lord Meher Volume 7, Page 2713-4



ROM Landau - POLISH WRITER OF ORIGIN, a lover of MOROCCO

On 5 January 2012 at the Christian cemetery in Marrakech unveiling ceremony took place after the restoration of the tomb of Zbigniew Romuald Landau, a British researcher of Polish origin, and arabisty writer, author of the biography of Mohammed V and Hassan II, a biography issued before the war, Pilsudski and Paderewski.

Romuald Landau, born in Poland in 1899 (he used a pen name Rom Landau) fought in the Second World War as an RAF pilot. After 1945 he settled in Marrakesh, where he died in 1974 He has published several dozen books on history, culture, religion, music and literature of Morocco. The ceremony was attended by the Ambassador and Consul of the Republic of Poland, the personal representative of the British Ambassador, Sir Derrick Holden-Brown, vice-mayor of Marrakech Mr. Adnane Benabdellah, professor Aicha El Hajjami Cadi Ayyad University of Marrakech, Polish priest from the parish of Father Barnabas in Marrakech, a famous Polish painter creating the Tom Kawiak Morocco, representatives of the Polish community and journalists. Then held a press conference and gala dinner.

Being the last year in a catastrophic state of Romuald Landau's tomb was renovated by the Embassy of Poland in the framework of a project implemented by the Consular Office.