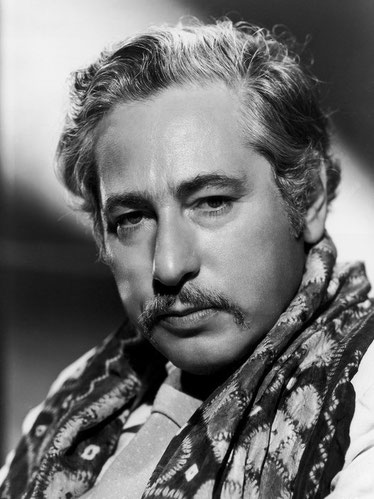 Born :
Died :
AMERICAN
Film maker
Baba met him in Hollywood on the set of "Blonde Venus"  1st June 1932
ON JUNE 1st, Cath Gardner and Max and Lillian Wardall arrived from New York City. Baba visited Metro Goldwyn Mayer Film Studios the same day and saw the actor Lewis Stone perform. Baba met Virginia Bruce and saw the sets of Mata Hari, which Greta Garbo had just finished starring in. They also met the director Josef Von Sternberg, who was directing Marlene Dietrich in The Blond Venus. Baba commented that he did not care much for Marlene Dietrich's role, but liked Von Sternberg as a person.
Lord Meher Volume 5, Page 1654




We also met von Sternberg who was directing "The Blonde Venus" for Marlene Dietrich. Baba did not care very much for Marlene Dietrich's offhand manner, but he liked von Sterberg. We stayed in the set for about half an hour.
Quentin Tod's recollections of Hollywood 1932
Courtesy of The Awakener ; Vol. X11, No.3 - page 12

Josef von Sternberg
From Wikipedia, the free encyclopedia
Josef von Sternberg


Born
Jonas Sternberg
May 29, 1894(

1894-05-29

)
Vienna, Austria-Hungary

Died
December 22, 1969 (aged 75)
Hollywood, California


Spouse(s)

Riza Royce (1926-1930)
Jean Annette McBride (1945-1947)
Meri Otis Wilner (1948-1969)



Josef von Sternberg aka Jonas Sternberg (29 May 1894 – 22 December 1969) was an Austrian-American film director. He is considered one of the earliest 'auteur' filmmakers, having filled many other roles on his films including those of cinematographer, screenwriter, and editor. Sternberg's style influenced later directors, particularly those of the film noir period. He is particularly noted for his distinctive mise en scène, use of lighting and soft lens, and collaboration with actress Marlene Dietrich.
Life and career
Sternberg was born Jonas Sternberg to a Jewish family in Vienna but spent most of his childhood in New York City and Lynbrook, New Jersey.[1] His father, Moses (Morris) Sternberg, a former soldier in the army of Austria-Hungary, twice tried to make a home for the family in the US before finding employment as a lace worker.
Sternberg dropped out of Jamaica High School and worked as an errand boy in a lace warehouse. He later obtained a job cleaning and repairing movie prints, and soon found himself working for William A. Brady at the World Film studios at Fort Lee, New Jersey. He made his directorial debut in 1925 with The Salvation Hunters (called by some the first American independent film). Charlie Chaplin was impressed by this film, and encouraged Douglas Fairbanks and Mary Pickford to acquire the rights to it. Pickford also asked him to direct a film with her as star, but rejected his first scenario. Chaplin also commissioned him to write and direct A Woman of the Sea (also known as The Sea Gull), starring his former star and lover Edna Purviance, but this film was also suppressed. Sternberg had commercial success later in the decade at Paramount Pictures with the late-period silent films The Last Command and The Docks of New York, both noted for their influential cinematography. His reputation was also advanced by a series of early gangster films including Underworld and Thunderbolt.
Sternberg's career suffered a decline after Thunderbolt. and he accepted an invitation to make a film in Germany. In 1929, Sternberg worked in Berlin and directed the widely acclaimed film Der blaue Engel (The Blue Angel) in both German and English versions simultaneously, the first German-language talkie. It was Sternberg's second film with the German actor Emil Jannings as the doomed Professor Rath. (The first was The Last Command.)
Sternberg also cast the then-unknown Marlene Dietrich as Lola Lola, the female lead, and overnight made her an international star. Sternberg and Dietrich continued to collaborate on Morocco, Dishonored, Shanghai Express, Blonde Venus, The Scarlet Empress, and The Devil is a Woman. The Scarlet Empress is particularly celebrated for its atmospheric and suggestively demonic production design.
His new found prosperity made it possible in 1932 for him to commission an impressive mini-mansion from the famous architect Richard Neutra. Even after its demolition in 1972, the Von Sternberg house remained an example of modernism in architecture.
Macao (1952) was Sternberg's last Hollywood film. Anatahan (1953), made in Japan, is the story of a group of Japanese soldiers who refused to believe that the Second World War had ended. The film, which was directed, photographed, narrated, and written by Sternberg, saw limited release and was a financial failure. It was also Sternberg's final film; although another Hollywood picture he co-directed (Jet Pilot) was released in 1957, it had actually been shot seven years earlier, when he was still under contract to producer Howard Hughes.[2]

Between 1959 and 1963 Sternberg taught a course on film aesthetics at the University of California at Los Angeles, based on his own films. His students included Jim Morrison and Ray Manzarek, who went on to form the rock group The Doors. References to Sternberg films appear in some songs by the group, and Manzarek describes Sternberg as "perhaps the greatest single influence on The Doors."[3]

Sternberg died from a heart attack in 1969, aged 75, and was interred in the Westwood Village Memorial Park Cemetery in Los Angeles. He wrote an autobiography titled Fun in a Chinese Laundry, which took its title from an early film comedy; also, over fifty production stills (from the Purviance family's collec
tion), showing his work on A Woman of the Sea, were published in 2008.
Filmography
Silent films
 

Sound films
Documentaries
Other projects
References
^ (The false aristocratic title 'von' was added by actor/co-producer Elliott Dexter in 1925 during the production of "By Divine Right" (film), supposedly to "even up" the credits as they appeared on screen. Sternberg did not protest, since it invited comparison with his hero, Erich von Stroheim)
^ The Doors by the Doors and Ben-Fong Torres


External links