Ganna Walska ( born Hanna Puacz )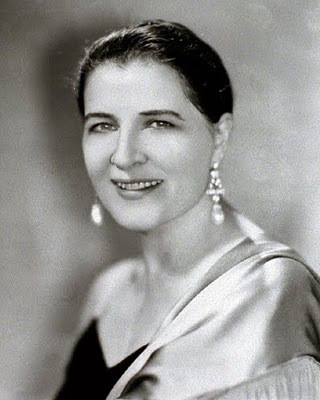 Born : 1887 - Poland
Died : 1984 - California, USA
OPERA SINGER & GARDENER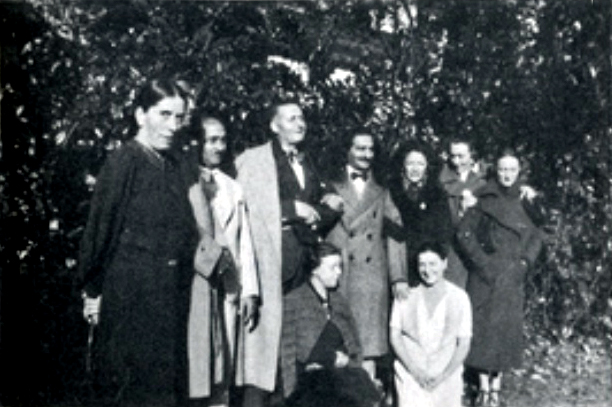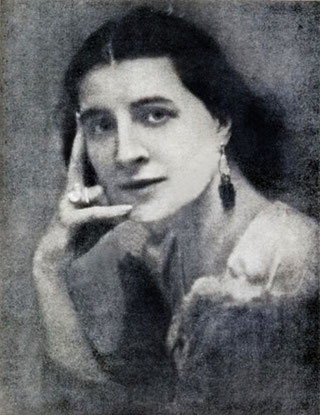 November 8th 1936

That night, Baba and the group were driven half an hour outside of Paris to spend the night at a large French style country estate belonging to Gana Walska, a wealthy friend of Norina's who had not met Baba before. The house was magnificent and the garden and grounds beautiful. After a lavish meal, Baba was shown to his bedroom. It was winter and by some thoughtless mishap his room was not heated. Baba nearly froze and got no rest. He later took Norina aside and complained bitterly about it.
Before they left the next morning, Gana Walska gave them a tour of the house. They admired all her treasures of art, and when they came to one painted portrait, Gana proudly exclaimed to Baba, "That is my master – my guru!" Elizabeth was shocked.
Lord Meher ; page 2045 Lord Meher Online Edition Page 1743

Norina was quite embarrassed because she had been determined to bring this well-known aristocratic woman and others of her class to Baba, but since their inner connection was not deeply established, she rarely succeeded. At one point, however, Gana did express some interest in coming to India for a stay in the ashram.
The next night was spent at Alfredo and Consuella de Sides' apartment in Paris. The de Sideses were also well-to-do French people and became some of Baba's main contacts in Paris.
Lord Meher ; page 2046 Lord Meher Online Edition Page 1745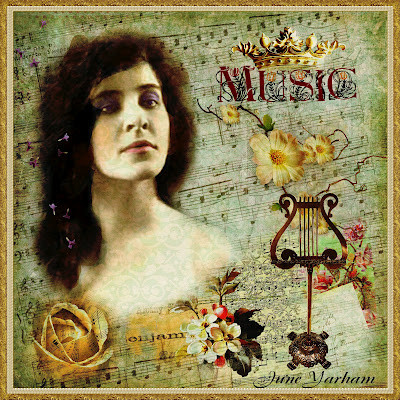 Sam Cohen, the seeker from Oceano, California, arrived in Bombay aboard the Conte Verde on April 20th, and was met by Chanji and taken to Nasik the same evening. Maliya Rudhyar returned from touring India the next day and began staying in Room Five of Sarzat.
Other close Europeans such as Quentin Tod, Christine McNaughton, Anita de Caro, Mabel Ryan, Alfredo and Consuella de Sides and Gana Walska, a friend of Norina's, were also to come and join the group at Meher Retreat in Nasik, and it was for them that Baba had proposed building additional quarters. 
The Westerners were still visiting Meherabad every two weeks, starting late at night to avoid travelling in the heat of the day. On one occasion, Rano, Margaret and one other person had sore throats. Norina sent a telegram to Baba that it would be better to cancel this trip since so many were ill. Baba cabled back in no uncertain terms: "Unless everyone comes, I will send all of you back to the West!"
Lord Meher Volume 6, Page 2166 Lord Meher Online Edition Page 1826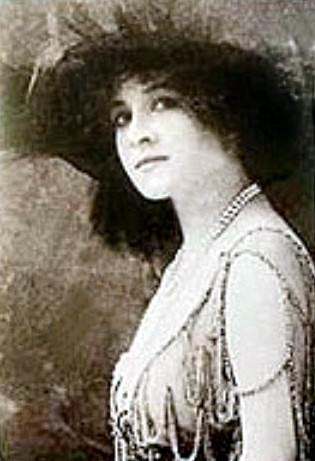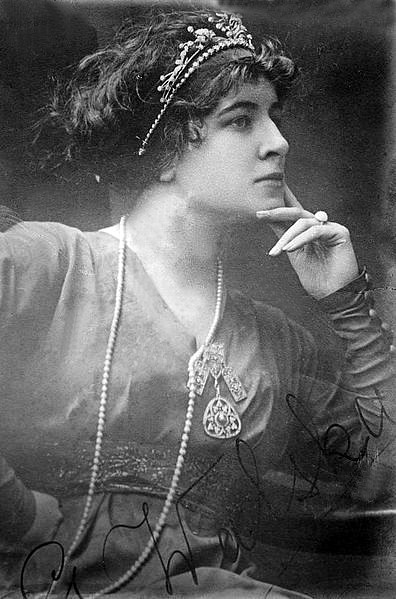 Lotusland (Montecito, CA)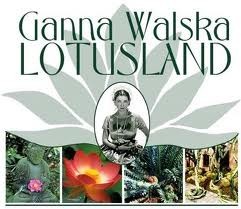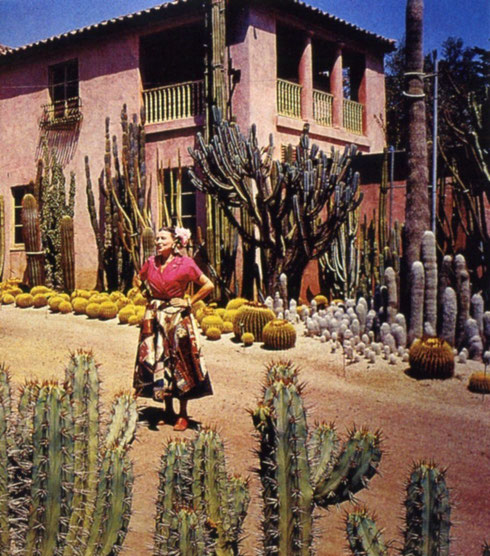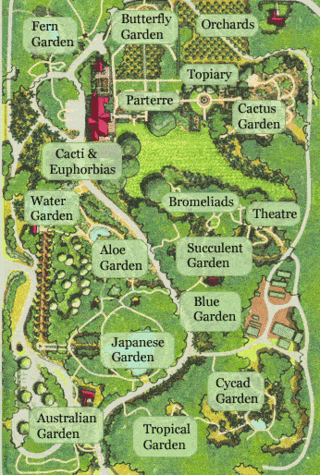 From Wikipedia, the free encyclopedia
Ganna Walska (born Hanna Puacz on June 26, 1887 – March 2, 1984) was a Polish opera singer and garden enthusiast who created the Lotusland botanical gardens at her mansion in Montecito, California. She was married six times, four times to very wealthy husbands. The lavish promotion of her lackluster opera career by her fourth husband, Harold Fowler McCormick, inspired aspects of the screenplay for Citizen Kane.
She was born Hanna Puacz on 26 June 1887 in Brest-Litovsk, Belarus to Napoleon Puacz and Karolina Massalska.[1] Ganna is a Russian form of Hannah, and Walska "reminiscent of her favorite music, the waltz".[2]

In 1922, after her marriage to Harold F. McCormick, Ganna Walska purchased the Théâtre des Champs-Élysées in Paris. She told the Chicago Tribune that she had invested her own funds, not those of her wealthy husband, and said, "I will never appear in my own theatre until I have gained recognition based solely on my merits as an artist."[3]

Walska pursued a career as an opera singer. The lavish promotion of her opera career by McCormick—despite her apparent renown as a terrible singer—inspired aspects of the screenplay for Orson Welles's Citizen Kane.[4] Roger Ebert, in his DVD commentary on Citizen Kane, suggests that the character of Susan Alexander was based on Walska. McCormick spent thousands of dollars on voice lessons for her and even arranged for Walska to take the lead in a production of Zaza by Ruggero Leoncavallo at the Chicago Opera in 1920. Reportedly, Walska got into an argument with director Pietro Cimini during dress rehearsal and stormed out of the production before she appeared. Contemporaries said Walska had a terrible voice, pleasing only to McCormick.
New York Times headlines of the day read, "Ganna Walska Fails as Butterfly: Voice Deserts Her Again When She Essays Role of Puccini's Heroine" (January 29, 1925), and "Mme. Walska Clings to Ambition to Sing" (July 14, 1927).
"According to her 1943 memoirs, Always Room at the Top, Walska had tried every sort of fashionable mumbo jumbo to conquer her nerves and salvage her voice," reported The New York Times in 1996. "Nothing worked. During a performance of Giordano's Fedora in Havana she veered so persistently off key that the audience pelted her with rotten vegetables. It was an event that Orson Welles remembered when he began concocting the character of the newspaper publisher's second wife for Citizen Kane."[5]

In 1926 Walska purchased the Duchess of Marlborough Fabergé egg that had been offered by Consuelo Vanderbilt at a charity auction. It was later acquired by Malcolm Forbes as the first Easter egg in his Fabergé egg collection.[6]

Ganna Walska died on March 2, 1984 at Lotusland, leaving her garden and her fortune to the Ganna Walska Lotusland Foundation.
Marriages
Ganna Walska was married six times:
Lotusland
In 1941, with the encouragement of her sixth husband Theos Bernard, she purchased the historic 37-acre (0.15 km2) 'Cuesta Linda' estate in Montecito near Santa Barbara, California, intending to use it as a retreat for Tibetan monks. Because of restrictions on wartime visas, the monks were unable to come to the United States. After her divorce from Bernard in 1946, Walska changed the name of her estate to "Lotusland" (after a famous flower held sacred in Indian and Tibetan religions, the lotus, Nelumbo nucifera) and the lotus growing in several of her garden's ponds. She devoted the rest of her life to designing, redesigning, expanding, and maintaining the estate's renowned innovative and extensive gardens. Her landscape design talent is well regarded for distinctive gardens of exceptional creativity.
Honors