Julian Kitchens Miller Lamar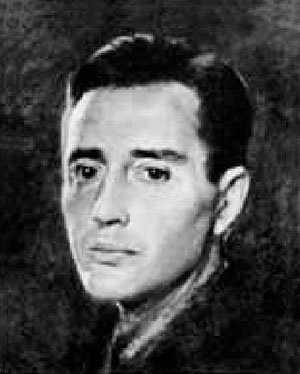 Birth : 14th October, 1893 - Augusta, Richmond Co., Georgia, USA
Died :  6th September, 1967 - Atlanta, Fulton Co., Georgia, USA

Buried : Summerville Cemetary, Augusta, Georgia, USA
Married & Divorced : Lucy Hamilton K Armes
Parents : Frank Harvey Miller Jr. &  Maria Julia Cummings Lamar
AMERICAN
Painter / Artist
1931
A painter named Julian Lamar was an old friend of Malcolm and Jean, and he was among those staying at Harmon. As soon as he saw Baba, he pronounced, "How radiant your eyes are! What a glow is on your face! How could this luster and glow be captured on film? I have seen photographs of you but they do not reveal all that you are! I would like to reflect your true beauty by painting your portrait if you would consent to a sitting."
Pointing to himself, Baba gestured, "This is not the original picture! My real portrait is something quite different and to portray it accurately, you must wipe out your own image."
Baba meant the annihilation of the limited ego-mind. "This is beyond my understanding," confessed Lamar. "I can only paint you as I see you, but I need your consent." Baba gave him permission and Lamar was pleased.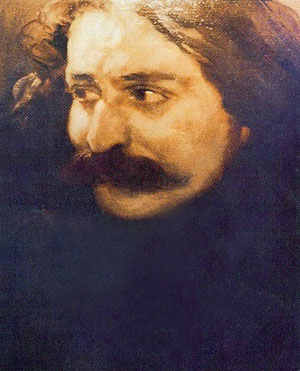 Elizabeth Patterson would say that Baba looked exactly that way when she first met Him. Baba said of it that Lamar had captured the scar on His forehead precisely, and that the Avatar always carries this mark. The story remains that this painting hung in the Graham Stokes house in NYC, in his "prayer room" for many years before coming to Meher Center at Myrtle Beach,SC.
MANHATTAN

NEW YORK was unlike any other city Baba had been to and it intrigued him. On Sunday, November 15th, Baba was driven to Manhattan concerning travel documents for his return to Europe and India. Afterward, he met with several new people at the home of Dr. and Mrs. Frederick B. Robinson. He then went to stay at the Phelps Stokes' residence at 88 Grove Street for two days. Among those he saw in New York were Milo Shattuck and Julian Lamar again, and Anita and her mother Jacqueline de Caro, a strict Catholic who nonetheless felt something special when she saw Baba in person.
1932
 On May 21st, Baba was driven by Elizabeth Patterson through Central Park. This was the first time she drove for Baba. Julian Lamar drove the car following Baba's. Julian was upset, for someone had broken into his car and stolen his luggage the previous night. He mentioned this incident repeatedly to Baba. Baba asked, "It wasn't all you had in the world, was it?" Julian admitted it wasn't, and Baba remarked, "I am in you as well as in the thief!"
The paintings above are some examples of Julian's works. He did not paint a self-potrait.
List of some of his paintings:

Franklin D. Roosevelt
Portrait of Gertrude Bass Warner, 1927
Lucius Q. C. Lamar, The Collection of the Supreme Court of the United States
Sir Winston Churchill, 1942; presented to Pres. Franklin D. Roosevelt in 1942; hangs in the Franklin D. Roosevelt presidential library in Hyde Park, NY
Joseph Rucker Lamar, Supreme Court Justice
Mrs. Francis S. Whitten, 1926; appeared in Harper's Magazine
Frank Harvey Miller III
Princes Augusta
Self-portrait, 1935 and 1940

Bio contribution by Eleanor Colso
Summerville Cemetary, Augusta, Georgia, USA
Courtesy of :
Julian Lamar 1918
Cullum No. 5980 • Sep 8, 1967 • Died in Atlanta, Georgia
Interred in Summerville Cemetery, Augusta, GA
---
Julian Kitchen Lamar Miller was born in Augusta, Georgia, on 14 October 1893. When he passed away at his home in Atlanta, Georgia, on 8 September 1967, he was the noted Julian Lamar, a well-known portrait and landscape artist who had many thousands of paintings to his credit, including portraits of many truly famous persons. Jake was still active in his artwork right up to the time of his death.
The son of a newspaper publisher, Frank Harvey Miller of Montgomery, Alabama, and Maria Cumming Lamar, our Jake was given every opportunity, both locally and in Washington, Paris, Munich, and Florence, to develop his God-given talents. He had started painting at the age of 11, and in the next 10 years his work began to attract attention. His family, however, felt that a military background would greatly improve his education. So, on 15 June 1915, Jake entered the Academy. Throughout his later career as a portrait painter, Jake always gave much credit to his West Point education as a good source of art inspiration as well as the mechanics of painting that filled out the gaps of his European school and metropolitan art center training.
Entering West Point, Jake, like the rest of us, was busy trying to assimilate Beast Barracks and summer Plebe Camp. Returning to barracks, Jake was assigned to E Company and during his Plebe year, his many artistic talents began to spread around, Many an Upper Classman was heard to inquire, "Is this the DIV where Mr. Miller, who can print hop cards, lives?" And many an Army girl still treasures her 50-year-old hop card from her evening at Cullum Hall, made up for her Upper Classman date by Plebe Jake Miller.
With a roommate like Bill Coogan of similar talents, it was not long before they became the Corps Co-Hop Managers and participants of all our Hundredth Nights and Furlough Song and Show Committees. Jake, because of his artistic talents, was a natural as Chairman of our Ring Committee and a member of our HOWITZER Board. The cry of "Where's Mr. Miller," hung to Jake all through his cadet days.
In spite of all these extra-curricular activities, Jake was a good student and a fine soldier. The Tactical Department recognized this, and Jake moved from Cadet Corporal wherein he displayed the hard-work side of his nature by making E Company cook tent the model of the battalion. From there he moved on to become the Regimental Supply Officer and one of our very few Cadet Captains of the Corps. The Tactical Department, the Class, and the Corps had recognized Jake's worth when things had to be accomplished. "Where's Mr. Miller" had become a sounding board that always came through.
Upon graduation from West Point on 12 June 1918, Jake became a Second Lieutenant, Infantry, U.S. Army and was assigned to the 20th Infantry. After serving as a student officer at the Infantry School of Arms from 6 July to 30 September 1918 at Fort Sill, Oklahoma, he was assigned and helped train the 10th Division at Camp Funston, Kansas. From Camp Funston, Jake moved to France with the Advance School Detachment 10th Division and became a student officer at Gondrecourt. He returned to the United States 28 October 1918 and remained with troops until 15 January 1919 when he was transferred to Rock Island, Illinois, where he served until July 1919. After his return to the United States and while still serving with troops, Jake's spare time turned more and more to his art work which was almost immediately in great demand. Like many others after the signing of the Armistice, he felt that his future was in civilian life and particularly in the world of art. Accordingly, he resigned his commission on 16 July 1919 and moved to Chicago with his temporary address appropriately enough in the Fine Arts Building on Michigan Boulevard.
From Chicago it was a short step to New York City where he opened his studio. On 10 March 1920 he married Lucy Hamilton Armes, also an artist and prominent socially in Washington. They lived in an apartment at the National Art Club in New York City. Divorced, Jake subsequently, in 1937, married Wilmethe Kershaw of St. Louis, who had carved her acting career in England, gaining fame through the years until she became the head of England's National Theater. In addition to their New York home, they purchased a colonial estate on the banks of the James River in Virginia. The site was formerly a grant from the Indians to Virginia's first governor, and their home is the second oldest brick building in the United States. Hereafter, the Lamars, portrait painter and actress, were referred to as the Lamars of New York and Virginia.
Jake's devoted sister Cazenove, now Mrs. Leslie R. D. Helm of Augusta, Georgia, is his only survivor. She has been a great help to the writer in compiling this memorial. Up to a few years ago when he moved to Atlanta to continue his art work, Jake lived with his sister when he gave up his studio in New York.
During West Point days, Jake had met Major Stuart Cramer, Class of 1913, then an instructor in French. Their acquaintance grew, and after Major Cramer left the Service in 1922, Jake made many visits to Charlotte, North Carolina, to paint the portraits of Major Cramer's children—the children, as the Charlotte Observer wrote, of one of Charlotte's most prominent industrial leaders. Jake specialized in children's paintings and besides the children of other families in South Carolina painted two generations of well-known Georgia residents.
Jake maintained his New York City studio for many years. Early in his career, 1922, by decree of the Supreme Court of New York City he had his name changed to Julian Lamar in honor of his mother's family and giving himself a shorter and easier name to remember in the art world. And his fame as a portrait painter increased in stature. By intense study of the portrait subject, especially the eyes, he seemed to have a genius for transferring personality into cold cloth.
From his home studio in New York, he was now travelling to Chicago. Southampton, Boston, Newport, Pittsburgh, Palm Beach, Philadelphia, Baltimore, Wilmington, Minneapolis, St. Paul, St. Louis, Denver, and throughout the deep South, painting his subjects in their native surroundings. Now, after many years of palette and brush, Julian Lamar became a name to conjure with among the portrait painters of America. He had transferred to canvas the personality, character, and facial features of many thousands of persons, a large majority being celebrities, many truly famous names such as: the Oyster Bay Roosevelts; Prime Minister Winston Chuchill and Franklin D. Roosevelt, both paintings now hang in the Hyde Park gallery; Ceneral Douglas MacArthur; Dr. Franklin H. Martin, President, American College of Surgeons; Walter Carpenter, President, DuPont Company and his wife of Wilmington, Delaware; Governor Frank Dixon of Alabama; John Grier Hibban, Nassau Hall, Princeton; Henry Fairfield Osborn, Curator, American Museum of Natural History. The Augusta Chronicle Herald in "What Goes Here," its Sunday Feature Section, 3 March 1968 wrote, ''The late Julian Lamar contributed much to the community—especially in the field of art.
"Because his early paintings reveal so much of his personality, the Augusta Museum has arranged an exhibit of Lamar's landscapes and portraits of himself and his family. His work will be displayed at the museum through 17 March.
"Having studied at the United States Military Academy and the Academy of Arts in Munich, Germany, Lamar made art his career...the fruits of which can now be enjoyed by many Augustans."
- W.E.L. June '18