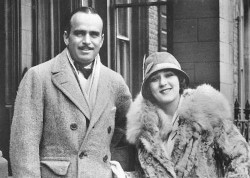 They met Baba at their residency "Pickfair" 1143 Summit Drive, Hollywood, California.  1st June 1932
Mary Pickford  had another meeting with Baba but in private.
Recollections of Quentin Tod in Hollywood - 1932


When they left India, each of the men mandali had been allowed to bring only two flimsy dress suits and one pair of shoes, which they had to wear continually. Baba would often change his attire, and for the reception at Pickfair, Baba wore a stylish Palm Beach suit; in contrast, the mandali looked like paupers. Apart from their poorly tailored suits, the sole of Adi Jr.'s shoe had come apart and was flapping up and down when he walked. Baba, however, refused to let him purchase a new pair, so Adi tied a string around his shoe to hold the heel in place. Crowds of celebrities dressed in formal attire mingled throughout Pickfair mansion while Adi sat huddled in a corner, embarrassed, trying to hide his worn-out shoe with the string tied around it.
Among those invited to the reception were Gary Cooper, Charles Farrell, Lottie Pickford and the lady who wrote Mary Pickford's screenplays. Countess Dentice di Frasso was also present. Baba stayed at the reception for two and a half hours. Mary Pickford greeted Baba at the door of Pickfair and led him to the spacious hall.
Lord Meher Volume 5, Page 1654

Mary Pickford had Baba sit on a sofa and she herself sat on the carpet by his feet. The others, too, sat down on the carpet around Baba, and the wine of love began speaking to all hearts. Douglas Fairbanks joined his wife near Baba, who conveyed to him:
The whole universe and its structure, I have created. The universe is my cinema. But just as an audience becomes absorbed in witnessing a drama on the screen, and the film engages their emotions and sways their feelings by its influence, causing them to forget that it is not real – in the same way, the spectators of the world are charmed by this worldly film show, forgetting themselves and taking it to be real!
So I have come to tell them that this worldly cinema in which they are absorbed is not real. I have come to turn their focus toward Reality. Only God is real, and everything else is a mere motion picture!
Mary Pickford was spiritually inclined, and Baba met with her and others in the motion picture business for about forty minutes before dinner. Baba emphasized the impact of films and their value in turning people toward spiritual goals. 
Lord Meher Volume 5, Page 1656 


After dinner, Baba got up to leave three times, but Mary Pickford would not allow him to go. Finally, when he stood up, all surrounded him. Dictating from his alphabet board, he continued to converse with them while standing. After a few minutes, his roving glance fell on a young lady standing isolated at the far end of the room with her back to him. Baba beckoned for her and when his summons was relayed, she turned her face toward him but remained aloof. She was called again. Slowly coming forward, she stopped at a distance. Norina told her, "Come and shake hands with Baba, child." The young lady remained reserved, and Elizabeth said to her, "Why are you afraid, dear? Come nearer and meet Baba."
She asked, "How can I touch him?"
"Why not?" Norina replied. "All can meet Baba!"
This brought tears to her eyes, and she pitiably asked, "But I am a sinner! How can I touch a holy being like him?"
Baba then went to her, and passed his hand over her head and shoulders. She started weeping, and Baba gestured to her, "I am the purest of the pure. I can purify the worst sinner. You have understood your mistakes and acknowledged them faithfully in the presence of others, and so you are forgiven. This penance from the depths of your heart is adequate, and you are now cleansed. Now, don't fear in the least and don't repeat your past mistakes. I give you my blessings!" The girl burst into tears, and Baba lovingly embraced her. The tears which Baba had drawn from her heart wiped out all her sins.
Those who witnessed this were deeply moved; their hearts overflowed and their eyes also teared. Before departing, Baba again embraced all the guests and putting his hand on the girl's head, consoled her, "You have received forgiveness for everything! Forget the past and don't worry at all." The girl pressed her eyes to Baba's hand and kissed it. As Baba left, all eyes followed him. In their films, Mary Pickford and Douglas Fairbanks had depicted scenes of deep human love, but witnessing this sight of pure divine love from Meher Baba was a rare experience indeed. Their hearts were full.

Costume party at the Vendome Cafe, Hollywood, mid 1930s. Left to right
Cary Grant, Mary Pickford, Countess De Frasso, Tulio Carminati
All four individuals met Meher Baba whilst he visited Hollywood.

The entire Dadachanji family arrived from Bombay. Remembering Chanji, Baba reminisced:
Since early morning, I have been thinking of Chanji, my constant companion and indefatigable secretary during all my travels in India and abroad. I recall the time we traveled to Hollywood with Kaka Baria when many important film stars of the time met me [1932]. Once, Douglas Fairbanks and Mary Pickford invited me to their home as their chief guest, and many came there to shake hands with me. Mary Pickford welcomed me, saying: "We feel greatly honored by your presence in our home ..." and thereafter she introduced me to all those she had invited. Among them were Gary Cooper, Charles Laughton, Marlene Dietrich, and Will Rogers who spoke with me for half an hour. And, of course, there was Tallulah Bankhead. I remember Marie Dressler especially; she took to me like a mother to her son, and invited me for dinner at her home. She fondly caressed my face saying: "My child, my child ..."
Lord Meher Volume 18, Page 6044


Douglas Fairbanks
From Wikipedia, the free encyclopedia
Douglas Elton Thomas Ullman Fairbanks, Sr., (May 23, 1883 – December 12, 1939) was an American actor, screenwriter, director and producer, best known for his swashbuckling roles in silent films such as The Thief of Bagdad, Robin Hood, and The Mark of Zorro. An astute businessman, Fairbanks was a founding member of United Artists. Fairbanks was also a founding member of The Motion Picture Academy and hosted the first Oscars Ceremony in 1929. With his marriage to Mary Pickford in 1920, the couple became Hollywood royalty with Fairbanks constantly referred to as "The King of Hollywood".[1]
 

Early life
Fairbanks was born Douglas Elton Ullman (spelled "Ulman" by Douglas Fairbanks Jr. in his memoirs) in Denver, Colorado, the son of Hezekiah Charles Ullman (born September 1833) and Ella Adelaide Marsh (born 1850). He had a half-brother, John Fairbanks (born 1873), and a full brother, Robert Payne Ullman (March 13, 1882-February 22, 1948).
Fairbanks' father, who was born in Pennsylvania to a Jewish family, was a prominent New York City attorney. His mother, a Roman Catholic, was born in New York, and had previously been married to a man named John Fairbanks until his death. She then married a man named Wilcox, who turned out to be abusive. Her divorce was handled by Ullman, who later became her third husband.
In about 1881, Charles Ullman purchased several mining interests in the Rocky Mountains and moved the family to Denver, where he re-established his law practice. Ullman abandoned the family when Douglas was five years old, and he and Robert were brought up by their mother, who gave them the family name Fairbanks, after her first husband.
Early career
Douglas Fairbanks began acting on the Denver stage at an early age, doing amateur theatre. He was in summer stock at the Elitch Gardens Theatre, becoming a sensation in his teens. He attended East Denver High School, and was once expelled for dressing up the campus statues on St. Patrick's Day. He left during his senior year. He said he attended Colorado School of Mines for a term but no record of attendance has been found. An article on the matter recounts a professor once saying Fairbanks was asked to leave because of a prank not long after he began. It is also claimed he attended Harvard University.
Fairbanks moved to New York in the early 1900s to pursue an acting career, joining the acting troupe of British actor Frederick Warde who had discovered Fairbanks performing in Denver. He worked in a hardware store and as a clerk in a Wall Street office before his Broadway debut in 1902.
On July 11, 1907 in Watch Hill, Rhode Island, he married Anna Beth Sully, the daughter of wealthy industrialist, Daniel J. Sully. They had one son, Douglas Elton Fairbanks, who later became known as actor "Douglas Fairbanks Jr.". The family moved to Hollywood, California in 1915.
 

Hollywood
Fairbanks signed a contract with Triangle Pictures in 1915 and began working under the supervision of D.W. Griffith. His first film was titled The Lamb, and in the film, he debuted his remarkable athletic abilities that would gain wide attention among theatre audiences.[2] His athletic abilities were not appreciated by Griffith, however, and he was brought to the attention of Anita Loos and John Emerson, who wrote and directed many of his early romantic comedies. In 1916, Fairbanks established his own company, the Douglas Fairbanks Film Corporation,[3] and would soon get a job at Paramount.[3] By 1918, Fairbanks was Hollywood's most popular actor.[4] Within eighteen months of his arrival, Fairbanks' popularity and business acumen raised him up to be the third highest paid.
Fairbanks met actress Mary Pickford at a party in 1916 and began an affair. In 1917, the couple joined Fairbanks' friend Charlie Chaplin[2] selling war bonds by train across the U.S. Pickford and Chaplin were then the two highest paid film stars in Hollywood. To curtail these stars' astronomical salaries, the large studios attempted to monopolise distributors and exhibitors.
Sully was granted a divorce from Fairbanks in late 1918, the judgement being finalized in early 1919.
To avoid being controlled by the studios and to protect their independence, Fairbanks, Pickford, Chaplin, and D. W. Griffith formed United Artists in 1919, which created their own distributorships and gave them complete artistic control over their films and the profits generated. The company was kept solvent in the years immediately after its formation largely from the success of Fairbanks' films.
Fairbanks was determined to have Pickford become his wife, but she was still married to actor Owen Moore. He finally gave her an ultimatum. She then obtained a fast divorce in the small Nevada town of Minden, Nevada, on March 2, 1920. Fairbanks leased the Beverly Hills mansion Grayhall and was rumoured to have used it during his courtship of Pickford.
The couple married on March 28, 1920. Pickford's divorce from Moore was contested by Nevada legislators, however, and the dispute was not settled until 1922. Even though the lawmakers objected to the marriage, the public went wild over the idea of "Everybody's Hero" marrying "America's Sweetheart". The couple were greeted by large crowds in London and Paris during their European honeymoon, becoming Hollywood's first celebrity marriage.
During the years they were married, Fairbanks and Pickford were regarded as "Hollywood Royalty," famous for entertaining at their Beverly Hills estate, Pickfair.
By 1920, Fairbanks had completed twenty-nine films (twenty-eight features and one two-reel short), which showcased his ebullient screen persona and athletic ability. By 1920, he had the inspiration of staging a new type of adventure-costume picture, a genre that was then out of favour with the public; Fairbanks had previously been a comic in his other films.[1] In The Mark of Zorro, Fairbanks combined his appealing screen persona with the new adventureous, costume element. It was a smash success and parlayed the actor into the rank of superstar. For the remainder of his career in silent films, he continued to produce and star in ever more elaborate, impressive costume films, such as The Three Musketeers (1921), Douglas Fairbanks as Robin Hood (1922), The Thief of Bagdad (1924), The Black Pirate (1926, the first full-length Technicolor film), and The Gaucho (1927). Fairbanks spared no expense and effort in these films, which established the standard for all future swashbuckling films.
In 1921, he, Pickford, Chaplin, and others, helped to organise the Motion Picture Fund to assist those in the industry who could not work, or were unable to meet their bills.
During the first ceremony of its type, he and Pickford placed their hand and foot prints in wet cement at the newly opened Grauman's Chinese Theatre in Hollywood on April 30, 1927. Fairbanks was elected first President of the Motion Picture Academy of Arts and Sciences that same year, and he presented the first Academy Awards in his studio office. Fairbanks also has a star on the Hollywood Walk of Fame at 7020 Hollywood Boulevard.
His last silent film was the lavish The Iron Mask (1929), a sequel to 1921's The Three Musketeers which included an introductory prologue spoken by Fairbanks. While Fairbanks had flourished in the silent genre, the restrictions of early sound films dulled his enthusiasm for film-making. Also, his athletic abilities and general health began to decline, in part due to years of heavy chain-smoking. He and Pickford chose to make their first talkie as a joint venture, playing Petruchio and Kate in Shakespeare's The Taming of the Shrew (1929). This film, and his subsequent sound films, were poorly received by Depression era audiences. The last film he acted in was the British production The Private Life of Don Juan (1934), after which he retired from acting.
Final Years
After he began an affair with Lady Sylvia Ashley, Fairbanks and Pickford separated in 1933. They divorced in 1936, with Pickford keeping Pickfair. Within months he and Ashley were married in Paris.
He continued to be marginally involved in the film industry and United Artists, but his later years lacked the intense focus of his film years. His health continued to decline, and in his final years he lived at 705 Ocean Front (now Pacific Coast Highway) in Santa Monica, California, although much of his time was spent travelling abroad with Sylvia.
In December 1939, at 56, Fairbanks had a heart attack in his sleep and died a day later at his home in Santa Monica. By some accounts[5] His funeral service was held at the Wee Kirk o' the Heather Church in Glendale's Forest Lawn Memorial Park Cemetery where he was placed in a crypt in the Great Mausoleum. He was deeply mourned and honored by his colleagues and fans for his contributions to the film industry and Hollywood.
, he had been obsessively working-out against medical advice, trying to regain his once-trim waistline. Fairbanks's famous last words were "I've never felt better."
Two years following his death, he was removed from Forest Lawn by his widow, who commissioned an elaborate marble monument for him, with long rectangular reflecting pool, raised tomb, and classic Greek architecture in Hollywood Forever Cemetery. The monument was dedicated in a ceremony held in October 1941, with Fairbanks' close friend Charles Chaplin reading a remembrance. The remains of his son, Douglas Fairbanks, Jr., were also interred here upon his death in 2000.
Le

gacy
In 1991, AMPAS opened the "Fairbanks Center for Motion Picture Study" located at 333 S. La Cienega Boulevard in Beverly Hills. The building houses the Margaret Herrick Library.[6]
In 1998 a group of fans opened "The Douglas Fairbanks Sr. Museum" in Austin, Texas. The museum had to close due to flood damage in 2007 but expects to reopen in 2009.[7]. The museum also offers a virtual tour of their holdings.[8] In 2006 the Museum released a book of Fairbanks interviews and writings titled "Douglas Fairbanks: In His Own Words".[9]
There has been a renewed interest in Fairbanks in recent years. Several of his films have been released on DVD including a box set, "Douglas Fairbanks: A Modern Musketeer" from Flicker Alley. In 2008, AMPAS commissioned and released a biography on Fairbanks, written by Jeffery Vance and Tony Maietta.
On January 24, 2009, AMPAS opened an exhibition at their Fourth Floor Gallery dedicated to Fairbanks titled, "Douglas Fairbanks: The First King of Hollywood". The exhibit features costumes, props, pictures, and documents from his career and personal life. The exhibit will run until April 2009.[10] In addition to the exhibit AMPAS will screen Thief of Bagdad and The Iron Mask in March 2009. Recently, a bronze statue of Fairbanks was erected in the Academy of Motion Picture Arts & Sciences Courtyard of the new School of Cinematic Arts building on the University of Southern California campus. Fairbanks was a key figure in the film school's founding in 1929, and in its curriculum development.
"Swashbucklers do it with panache," says film historian Sparrow Morgan, founder of The Fairbanks Memorial. She proves her point every year on May 23 (May 22 in 2009 due to scheduling difficulties) by celebrating classic film star Douglas Fairbanks' birthday with a free screening of one of his classic films at Hollywood Forever Cemetery, 6000 Santa Monica Boulevard in Hollywood. More information is at http://www.fairbanksmemorial.org
Filmography
References
External links

Mary Pickford
From Wikipedia, the free encyclopedia
Mary Pickford (April 8, 1892 – May 29, 1979) was a Canadian-born motion picture actress, co-founder of the film studio United Artists and one of the original 36 founders of the Academy of Motion Picture Arts and Sciences. Known as "America's Sweetheart," "Little Mary" and "The girl with the curls," she was one of the Canadian pioneers in early Hollywood. Her influence in the development of film acting was enormous. Because her international fame was triggered by moving images, she is a watershed figure in the history of modern celebrity. And as one of silent film's most important performers and producers, her contract demands were central to shaping the Hollywood industry. In consideration of her contributions to American cinema, the American Film Institute named Pickford 24th among the greatest female stars of all time.
Life and career
Early life
Mary Pickford was born Gladys Louise Smith in Toronto, Ontario. Her father, John Charles Smith, was the son of Methodist immigrants, and worked a variety of odd jobs. Her mother, Charlotte Hennessy, was from an Irish Catholic family. She had two younger siblings, Jack and Lottie Pickford, who would also become actors. To please the relatives, Pickford's mother baptized her in both the Methodist and Catholic churches (and used the opportunity to change her middle name to "Mary"). She was raised Roman Catholic after her father, an alcoholic, left his family in 1895, and died three years later of a cerebral hemorrhage. Hennessy, who had worked as a seamstress throughout the separation, began taking in boarders. Through one of these lodgers, the seven-year-old Pickford won a bit part at Toronto's Princess Theatre in a stock company production of The Silver King. She subsequently acted in many melodramas with the Valentine Company in Toronto, capped by the starring role of Little Eva in their production of Uncle Tom's Cabin, the most popular play of the 19th century.
 

Early career
By the early 1900s, acting had become a family enterprise, as Pickford, her mother and two younger siblings toured the United States by rail in third-rate companies and plays. After six impoverished years, Pickford gave herself a single summer to land a leading role on Broadway, planning to quit acting if she failed. She landed a supporting role in a 1907 Broadway play, The Warrens of Virginia. The play was written by William C. deMille, whose brother, the then-unknown Cecil B. DeMille, also appeared in the cast. David Belasco, the producer of the play, insisted that Gladys Smith assume the stage name Mary Pickford.[1] After completing the Broadway run and touring the play, however, Pickford was once again out of work.
On April 19, 1909, the Biograph Company director D. W. Griffith screen-tested her at the company's New York studio for a role in the nickelodeon film Pippa Passes. The role went to someone else, but Griffith was immediately taken with Pickford, who instinctively grasped that movie acting was simpler and more intimate than the stylized stage acting of the day. Most Biograph actors earned $5 a day, but after a single day in the studio, Griffith agreed to pay Pickford $10 a day against a guarantee of $40 a week.[2] Like everyone at Biograph, Pickford played both bit parts and leading roles, playing mothers, ingenues, spurned women, spitfires, slaves, native Americans, and a prostitute. As Pickford said of her whirlwind success at Biograph: "I played scrubwomen and secretaries and women of all nationalities... I decided that if I could get into as many pictures as possible, I'd become known, and there would be a demand for my work." In 1909, Pickford appeared in 51 films — almost one a week. She also introduced her friend Florence La Badie to D. W. Griffith, which launched La Badie's very successful film acting career.
In January 1910 she traveled with a Biograph crew to Los Angeles. Many other companies wintered on the West Coast, escaping the weak light and short days that hampered winter shooting in the East. Pickford added to her 1909 Biographs (Sweet and Twenty, They Would Elope, and To Save Her Soul, to name a few) with films from California. Like the other players in Griffith's company, her name was not listed in the credits, but Pickford had been noticed by audiences within weeks of her first film appearance. In turn, exhibitors capitalized on her popularity by advertising on sandwich boards outside their nickelodeons that a film featuring "The Girl with the Golden Curls," "Blondilocks" or "The Biograph Girl" was inside.[3] Pickford left Biograph in December 1910, and spent 1911 starring in films at Carl Laemmle's Independent Moving Pictures Company (IMP), which was absorbed into Universal Pictures in 1912, and Majestic. Unhappy with their creative standards, she returned to work with Griffith in 1912, and gave some of her greatest performances in films such as Friends, The Mender of Nets, Just Like a Woman, and The Female of the Species. That year, Pickford also introduced Dorothy and Lillian Gish (both friends from her days touring melodrama) to Griffith.[4] :115 Both became major silent stars, in comedy and tragedy respectively.
In late 1912, Pickford made her last Biograph, The New York Hat, in order to return to Broadway in the David Belasco production of A Good Little Devil. The experience was the major turning point in her career; Pickford, who had always hoped to conquer the Broadway stage, discovered how deeply she missed film acting. In 1913 she decided to turn her energies exclusively toward film. In the same year, Adolph Zukor formed Famous Players in Famous Plays (later Paramount), one of the first American feature film companies, and Pickford left the stage to join his roster of stars.
Zukor based his company on the theory that feature film's potential lay in recording theatrical players in replicas of their most famous stage roles and productions. Accordingly, Zukor first filmed Pickford in a silent version of A Good Little Devil. The film, produced in 1913, showed the play's Broadway actors reciting every line of dialogue, resulting in a stiff film that Pickford later called "one of the worst [features] I ever made...it was deadly." [5]. Zukor agreed; in fact, he held the film back from distribution for a year. By that time, Pickford's work in material written for the camera (not the stage) had attracted a fanatical following. Comedy-dramas like In the Bishop's Carriage (1913), Caprice (1913), and especially Hearts Adrift (1914) made her irresistible to moviegoers. In fact, Hearts Adrift was so popular that Pickford asked for the first of her many celebrated pay raises based on the profits and reviews [6]. The film also marked the first time Pickford's name was put above the title on movie marquees [6]. Tess of the Storm Country was released five weeks later. Brownlow observes that the movie "sent her career into orbit and made her the most popular actress in America, if not the world." [7] Her appeal was summed up two years later by the February 1916 issue of "Photoplay" as "luminous tenderness in a steel band of gutter ferocity".[4]:126Only Charlie Chaplin--who reportedly slightly surpassed Pickford's popularity in 1916[8]--had a similarly spellbinding pull with critics and the audience. In retrospect, there is no way to measure which star was more popular; box-office records were unreliable in those days, and popularity polls were often fictions created by the studios or magazines. Certainly, each enjoyed a level of fame that far outstripped that of other actors. Throughout the 1910s and '20s, Pickford was believed to be the most famous woman in the world, or, as a silent-film journalist described her, "the best known woman who has ever lived, the woman who was known to more people and loved by more people than any other woman that has been in all history." [9]
 

Stardom
Throughout her career, Pickford starred in 52 features. In 1916, Pickford would also sign a new contract with Zukor that granted her full authority over the production of the films she starred in,[10] and also a record breaking salary of $10,000 a week.[11] Occasionally, she played a child, in films like The Poor Little Rich Girl (1917), Rebecca of Sunnybrook Farm (1917), and Daddy-Long-Legs (1919). Pickford's fans were devoted to these "Little Girl" roles, but they were not typical of her career.[12]
In 1918, Pickford broke with Paramount and became an independent producer at First National.[13] In 1919, Pickford — along with D.W. Griffith, Charlie Chaplin, and Douglas Fairbanks — formed the independent film production company United Artists. Through United Artists, Pickford continued to produce and perform in her own movies; she now could also distribute them the way she chose.
In 1920, Pickford's film Pollyanna would gross around $1,100,000.[14] The following year, Pickford's film Little Lord Fauntleroy would also be a success,[14] and in 1923, Rosita grossed over $1,000,000 as well.[14] In this period, Pickford also made two of the greatest silent films ever made in Hollywood: Sparrows (1926), which blended the Dickensian with newly minted German expressionist style, and the romantic comedy My Best Girl (1927). These films are not just technical triumphs, but are icons of the silents' great, poetic final period.
The arrival of sound was her undoing. She appears to have underestimated the value of adding sound to movies and she is quoted as saying "Adding sound to movies would be like putting lipstick on the Venus de Milo". She played a reckless socialite in Coquette (1929), a role where she no longer had her famous curls, but rather a 1920s bob; Pickford had cut her hair in the wake of her mother's death in 1928, and her fans were shocked at the transformation.[15] Pickford's hair had become a symbol of female virtue, and cutting it was front-page news in The New York Times and other papers. Unfortunately, though Coquette was a success and won her an Academy Award for Best Actress,[16] the public failed to respond to these more sophisticated roles. Like most movie stars of the silent era, Pickford's career faded as talkies became more popular among audiences.[16] Her next film, The Taming of The Shrew was a disaster at the box office.[17] In her late thirties, Pickford was unable to play the children, teenage spitfires and feisty young women so adored by her fans, nor could she play the soigné heroines of early sound.
In 1933, Pickford did do a Technicolor screen test for a animated/live action film version of Alice in Wonderland, but Walt Disney discarded the project when Paramount made their own star cast version of the book. Only one Technicolor still of her screen test still exists. She retired from acting in 1933, though she continued to produce films for others, including Sleep, My Love (1948), an update of Gaslight with Claudette Colbert.
Relationships
Pickford was married three times. She first married Owen Moore (1886–1939), an Irish-born silent film actor, on January 7, 1911. It is believed she became pregnant by Moore in the early 1910s, but had a miscarriage or an abortion; some accounts suggest this led to her inability to have children.[4]:125 The couple had numerous marital problems, notably Moore's alcoholism, insecurity about living in the shadow of Pickford's fame, and bouts of domestic violence. The couple lived apart for several years, and Pickford became secretly involved in a relationship with Douglas Fairbanks.
Pickford and Fairbanks' romance was well along by the time they toured the U.S. in 1918 in support of Liberty Bond sales for the World War I effort, and the phrase "by the clock" became a secret message of their love. (Once during their courtship, Fairbanks was discussing his mother's recent death as the couple was driving. When he finished the story, the car clock stopped. The pair took this as a signal that Fairbanks' late mother approved of their relationship.)
Pickford divorced Moore on March 2, 1920, and married Fairbanks on March 28 of the same year. The tone of their European honeymoon was set by a riot in London as fans tried to touch Pickford's hair and clothes (she was dragged from her car and badly trampled). In Paris, a similar riot erupted at an outdoor market, with Pickford locked in a meat cage for her own protection, then pulled to safety through an open window. The couple's triumphant return to Hollywood was witnessed by vast crowds who turned out to hail them at railway stations across the United States.
The Mark of Zorro (1920) and a series of other swashbucklers gave the popular Fairbanks a more romantic, heroic image, and Pickford continued to epitomize the virtuous but fiery girl next door. Even at private parties, people instinctively stood up when Pickford entered a room; she and her husband were often referred to as "Hollywood royalty." Their international acclaim was so vast that foreign heads of state and dignitaries who visited the White House usually asked if they could also visit Pickfair, the couple's mansion in Beverly Hills.[1]
Dinners at Pickfair were legendary. Charlie Chaplin, Fairbanks' best friend, was often present. Other guests included George Bernard Shaw, Albert Einstein, Elinor Glyn, Helen Keller, H. G. Wells, Lord Mountbatten, Fritz Kreisler, Amelia Earhart, F. Scott Fitzgerald, Noel Coward, Max Reinhardt, Sir Arthur Conan Doyle, Austen Chamberlain, and Sir Harry Lauder. Lauder's nephew, Matt Lauder, Jr., a professional golfer who owned a property at Eagle Rock, near Pasadena, California, taught Fairbanks to play golf. Pickford and Fairbanks were the first actors to leave their handprints in the courtyard cement at Grauman's Chinese Theatre (Pickford also left her footprints). Nonetheless, the public nature of Pickford's second marriage strained it to the breaking point. Both she and Fairbanks had little time off from producing and acting in their films. When they weren't acting or attending to United Artists, they were constantly on display as America's unofficial ambassadors to the world—leading parades, cutting ribbons, making speeches.
The pressures increased when their film careers both began to founder at the end of the silent era. Fairbanks' restless nature found an outlet in almost-constant overseas travel (something which Pickford did not enjoy). The relationship was irreparably damaged when Fairbanks' romance with Sylvia, Lady Ashley became public in the early 1930s. This led to a long separation and a final divorce on January 10, 1936. Fairbanks' son by his first wife, Douglas Fairbanks Jr., claimed that his father and Pickford regretted their inability to reconcile for the rest of their lives.
On June 24, 1937, Pickford married her last husband, actor and band leader Charles 'Buddy' Rogers. They adopted two children: Roxanne (born 1944, adopted 1944) and Ronald Charles (born 1937, adopted 1943, a.k.a. Ron Pickford Rogers). As a PBS American Experience documentary noted, Pickford's relationship with her children was tense, and she eventually criticized their physical imperfections, including Ronnie's small stature and Roxanne's crooked teeth. Both children would later remark that their mother was too self-absorbed to provide real maternal love. In 2003, Ronnie recalled that "Things didn't work out that much, you know. But I'll never forget her. I think that she was a good woman." [18]
In March 1928, Pickford's mother Charlotte died of breast cancer, followed by her brother Jack in 1933 and sister Lottie in 1936. Owen Moore, an incurable alcoholic, died in 1939. Fairbanks, meanwhile, died of a heart attack in 1939. Upon hearing of his death, Pickford reportedly began to weep in front of her new husband Rogers, saying "My darling is gone."[1] But according to Pickford, she held her tears back for fear of hurting Rogers, and only allowed herself to weep when she found herself alone on a train.[19] Still, as her marriage to Rogers wore on, Pickford often rhapsodized about Fairbanks, and from time to time mistakenly addressed Buddy Rogers as "Douglas." [20]
Ronald and Roxanne each left Pickfair at a young age. Pickford and Rogers stayed together for over four decades until Pickford's death from a cerebral hemorrhage at the age of 87.
The film industry
Pickford used her stature in the movie industry to promote a variety of causes. During World War I, she promoted the sale of Liberty Bonds, through an exhausting series of fund-raising speeches that kicked off in Washington, D.C., where she sold bonds alongside Charles Chaplin, Douglas Fairbanks, and Marie Dressler. Five days later she spoke on Wall Street to an estimated 50,000 people. Though Canadian-born, she was a powerful symbol of Americana, kissing the American flag for cameras and auctioning one of her world-famous curls for $15,000. In a single speech in Chicago she sold an estimated five million dollars' worth of bonds. She was christened the U.S. Navy's official "Little Sister"; the Army named two cannons after her and made her an honorary colonel.
But Pickford's most profound influence (beyond her acting) was to help reshape the film industry itself. When she entered features, Hollywood believed that the movies' future lay in reproducing Broadway plays for a mass audience. Pickford, who entered feature film with two Broadway credits but a far greater following among fans of nickelodeon flickers, became the world's most popular actress in a matter of months. In response to her astonishing popularity, Hollywood rethought its vision of features as "canned theatre," and focused instead on actors and material that were uniquely suited to film, not the footlights.
An astute businesswoman, Pickford became her own producer within three years of her start in features. According to her Foundation, "she oversaw every aspect of the making of her films, from hiring talent and crew to overseeing the script, the shooting, the editing, to the final release and promotion of each project." Pickford first demanded (and received) these powers in 1916, when she was under contract to Adolph Zukor's Famous Players In Famous Plays (later Paramount). He also acquiesced to her refusal to participate in block-booking, the widespread practice of forcing an exhibitor to show a bad film of the studio's choosing in order to also show a Pickford film. In 1916, Pickford's films were distributed, singly, through a special distribution unit called Artcraft.
In 1919, she increased her power by co-founding United Artists (UA) with Charlie Chaplin, D. W. Griffith, and her soon-to-be husband, Douglas Fairbanks. Before UA's creation, Hollywood studios were vertically integrated, not only producing films but forming chains of theaters. Distributors (also part of the studios) then arranged for company productions to be shown in the company's movie venues. Filmmakers relied on the studios for bookings; in return they put up with what many considered creative interference. United Artists broke from this tradition. It was solely a distribution company, offering independent film producers access to its own screens as well as the rental of temporarily unbooked cinemas owned by other companies. Pickford and Fairbanks produced and shot their films after 1920 at the jointly owned Pickford-Fairbanks studio on Santa Monica Boulevard. The producers who signed with UA were true independents, producing, creating and controlling their work to an unprecedented degree. As a co-founder, as well as the producer and star of her own films, Pickford became the most powerful woman who has ever worked in Hollywood. By 1930, Pickford's career as an actress had greatly faded.[16]
When she retired from acting in 1933, Pickford continued to produce films for United Artists, and she and Chaplin remained partners in the company for decades. Chaplin left the company in 1955, and Pickford followed suit in 1956, selling her remaining shares for three million dollars. [21]
Later years
After retiring from the screen, Pickford developed alcoholism, the addiction that had afflicted her father. Other alcoholics in the family included her first husband Owen Moore, her mother Charlotte, and her younger siblings Lottie and Jack. Charlotte died of breast cancer in March 1928 after several operations. Within a few years, Lottie and Jack died of alcohol-related causes. These deaths, her divorce from Fairbanks, and the end of silent films left Pickford deeply depressed. Her relationship to her adopted children, Roxanne and Ronald, was turbulent at best. Gradually, Pickford became a recluse, remaining almost entirely at Pickfair, allowing visits only from Lillian Gish, her stepson Douglas Fairbanks, Jr., and a few select others. In the mid-1960s, she often received visitors only by telephone, speaking to them from her bedroom. Buddy Rogers often gave guests tours of Pickfair, including views of a genuine western bar she had bought for Douglas Fairbanks, and a portrait of Pickford in the drawing room. Painted at the height of her fame, it emphasizes her girlish beauty and spun-gold curls. A print of this image now hangs in the Library of Congress.[21]
In addition to her Oscar as best actress for Coquette (1929), Mary Pickford received an Academy Honorary Award for a lifetime of achievements in 1976. The Academy sent a TV crew to her house to record her short statement of thanks.
Death
She died of cerebral hemorrhage on May 29, 1979, and was buried in the Garden of Memory of the Forest Lawn Memorial Park Cemetery in Glendale, California. Buried alongside her in the Pickford private family plot are her mother Charlotte, her siblings Lottie and Jack Pickford, and the family of Elizabeth Watson, Charlotte's sister, who had helped raise Mary in Toronto.[22]
Legacy
The "Pickford Center for Motion Picture Study" at 1313 Vine Street in Hollywood, constructed by the Academy of Motion Picture Arts and Sciences, opened in 1948 as a radio and television studio facility. The "Mary Pickford Theater" at the Library of Congress is named in her honor.[21]
There is a first-run movie theatre in Cathedral City, California, called "The Mary Pickford Theatre". The theater is a grand one with several screens and is built in the shape of an Spanish Cathedral, complete with bell tower and three-story lobby. The lobby contains a historic display with original artifacts belonging to Ms. Pickford and Buddy Rogers, her last husband. Among them are a rare and spectacular beaded gown she wore in the film "Dorothy Vernon at Haddon Hall" (1924) designed by Mitchell Leisen, her special Oscar and jewelry box.
The 1980 stage musical The Biograph Girl about the silent film era features the character of Pickford. She received a posthumous star on Canada's Walk of Fame in Toronto in 1999. In 2006, along with fellow deceased Canadian stars Fay Wray, Lorne Greene and John Candy, Pickford was featured on a Canadian postage stamp.[23] In 2007, the Motion Picture Academy of Arts and Sciences has sued the estate of the deceased Buddy Rogers' second wife, Beverly Rogers, in order to stop the public sale of one of Pickford's Oscars.[24] She was the recipient of an honorary doctorate degree from Iowa Wesleyan College, Mount Pleasant, Iowa.
Mary Pickford Auditorium at Claremont McKenna College is named in her honor.
Partial chronology
1909: discovered by D.W. Griffith at Biograph, worked for $5 a day, which he quickly increased to $10 a day.

1911: I.M.P., $175 a week, with the employment of her mother and siblings guaranteed. Unhappy with the quality of I.M.P. films, Pickford sued to be released from her contract and won on the grounds that being under 21, she had been too young to contract with I.M.P.

1911: Majestic Film Corp., $225 a week, with the employment of her husband, Owen Moore, as an actor and director, guaranteed.
1912: back to Biograph, $175 a week, a pay cut she justified with the belief that the key to a great career was to "get yourself with the right associates." This period featured some of Pickford's most mature and varied work. Owen Moore signed with Victor Films and an unpublicized marital separation began.
1913: appeared as the star (with Lillian Gish in a small role) in Belasco's Broadway production A Good Little Devil for $175 a week, raised to $200 a week.

1913: Pickford moved to feature film by signing with Adolph Zukor's Famous Players in Famous Plays, for $500/week (D.W. Griffith had balked at paying more than $300).

1914: Pickford became an international phenomenon through her roles as barefoot adolescents and urchins in the features Hearts Adrift and Tess of the Storm Country. Within the U.S., she was called "America's Sweetheart." In the country of her birth, she was "Canada's Sweetheart" and she became "The World's Sweetheart" overseas. Pickford asked Zukor for double her previous salary, and received it ($1,000/wk.).
1915: At her request, her salary at Famous Players was again doubled, to $2000 a week, plus half the profits of her films. The movie Rags contained one of Pickford's ground-breaking roles as a self-described "hellcat."

1916: Pickford formed her own producing unit, the Pickford Film Corporation, within Famous Players, and installed her mother as treasurer. She had a voice in the selection of her roles and the film's final cut. She chose her own directors and approved the supporting cast and the advertising. She was required to make only six films a year, a saner quota that earlier years, in which she made nine or more. She was paid annually $10,000 a week plus half the profits in her films, or half a million dollars, whichever was greater. As the contract's duration was two years, Pickford was guaranteed at least a million dollars. Famous Players also created a special unit called Artcraft to distribute Pickford's features, rather than blockbooking them, a practice Pickford vehemently opposed.

1917: Pickford toured the United States with Fairbanks and Chaplin, supporting U.S. involvement in World War I and promoting Liberty Bonds. She played three of her legendary roles as children in The Poor Little Rich Girl, Rebecca of Sunnybrook Farm, and A Little Princess. On the other hand, she was thoroughly adult in an anti-German propaganda picture The Little American, and the western A Romance of the Redwoods, both directed by Cecil B. DeMille.
1918: She signed a contract with First National to make three films for $675,000 (about $10 million in 2005-terms). Pickford also received 50 percent of all profits, and complete creative control from script to the final cut. Meanwhile, Famous Players released one of her greatest films, the tragedy Stella Maris, in which she played a double role, as well as M'liss (another ragged spitfire) and the war comedy Johanna Enlists.
1919: Pickford co-founded United Artists with Charles Chaplin, Douglas Fairbanks and D.W. Griffith. During U.A.'s start-up, Pickford's films for First National were released, including Daddy Long-Legs (from the book by Jean Webster) and the violent melodrama The Heart o' the Hills.
1923: Hoping to expand her image, Pickford convinced Ernst Lubitsch to direct her next film. After considering Faust, they settled on Rosita, the story of a Spanish street-singer who attracts the attention of the lecherous king. Though the role catered to Pickford's gift for playing sweet-but-fiery women in rags, it introduced a note of sexual sophistication which many of her fans loathed. Plans for future films with Lubitsch were abandoned. For the next few years she appeared in a series of superlative productions, culminating in Sparrows (1926), which blended German expressionism to Hollywood production values.

1925: Pickford purchased 132 reels of camera negatives and prints from her Biograph period, 1909–1912, nearly 70 percent of her short films for that studio.

1927: United Artists, under Pickford's direction, opened their flagship Spanish Gothic movie theatre in downtown Los Angeles. Pickford became deeply involved in the design of the theatre, and two Anthony Heinsbergen murals in the auditorium feature her. Theatre architect Howard Crane opened two other UA theatres in the same year, in Chicago and Detroit. The Los Angeles theatre has become known as the University Cathedral of Dr. Eugene Scott. The romantic comedy My Best Girl was released with her future husband, Charles Rogers, playing the male interest.

1927 Mary travels to Russia and is filmed going about her business. The shots were made into a film that Pickford knew nothing about.

1929: Pickford starred in a sound film, Coquette, a production that did well at the box office, earning $1.4 million. Pickford used the break from silent film to establish a more flirtatious and sophisticated adult character. Her performance earned her an Oscar. In the same year, Pickford appeared with her husband Douglas Fairbanks in a sound version of The Taming of the Shrew.
1933: Pickford starred with Leslie Howard in Secrets, a money-losing film which proved her last.
1937: Pickford founded Mary Pickford Cosmetics, a beauty company.
1941: Pickford, Charlie Chaplin, Walt Disney, Orson Welles, Samuel Goldwyn, David O. Selznick, Alexander Korda, and Walter Wanger founded the Society of Independent Motion Picture Producers.
1949: Pickford and her husband Buddy Rogers formed Pickford-Rogers-Boyd, a radio and television-production company.
1951: Columbia Pictures and producer Stanley Kramer announced that Pickford would star in The Library, her first picture since 1933. She withdrew a month before filming was to begin in 1952. The anti-censorship screenplay was eventually filmed as Storm Center (1956), with Bette Davis in the lead.

1956: Pickford sold her stock interest in United Artists, one-third of the company's shares, a year after Charles Chaplin had sold his quarter interest.

1976: Pickford received an Academy Honorary Award for a lifetime of achievements.

Mary Pickford has a star on the Hollywood Walk of Fame at 6280 Hollywood Boulevard. Her handprints and footprints can be seen in the courtyard of Grauman's Chinese Theater in Hollywood.
 

Filmography
see: Mary Pickford filmography
References
^ a b c "Mary Pickford at Filmbug.". Filmbug. http://www.filmbug.com/db/342424

. Retrieved 2007-01-24

.

 

^ Sunshine and Shadow, page 10.
^ "Mary Pickford at Golden Silents.". Golden Silents. http://www.goldensilents.com/stars/marypickford.html

. Retrieved 2007-01-15

.

 

^ a b c Whitfield, Eileen: Pickford: the Woman Who Made Hollywood, pages 115, 125, 126
^ Whitfield, Eileen. "Pickford, The Woman Who Made Hollywood," p. 376
^ Kevin Brownlow: Mary Pickford Rediscovered, page 93.
^ Whitfield, Eileen: Pickford, The Woman Who Made Hollywood, p.131.
^ Lane, Christina (2002-01-29). "Mary Pickford". Mary Pickford. St. James Encyclopedia of Pop Culture. http://findarticles.com/p/articles/mi_g1epc/is_bio/ai_2419200952

. Retrieved 2009-01-11

.

 

^ "Timeline: Mary Pickford". American Experience. PBS. 2004-07-23. http://www.pbs.org/wgbh/amex/pickford/timeline/index.html

. Retrieved 2009-01-11

.

 

^ Whitfield, Eileen: Pickford, the Woman Who Made Hollywood, page 300.
^ "Movie Timeline: 1910 - 1919 - A Brief Overview of the Decade". The Picture Show Man. http://www.pictureshowman.com/timeline_1910_1919.cfm

. Retrieved 2009-01-11

.

 

^ a b c "Timeline: Mary Pickford". American Experience. PBS. 2004-07-23. http://www.pbs.org/wgbh/amex/pickford/timeline/timeline2.html

. Retrieved 2009-01-11

.

 

^ Fan Culture, PBS, People & Events, Mary Pickford
^ a b c The Long Decline, PBS People & Events, Mary Pickford
^ Douglas Fairbanks, PBS, People & Events, Mary Pickford
^ "Buddy Rogers, Mary Pickford and Their Children". American Experience. http://www.pbs.org/wgbh/amex/pickford/peopleevents/p_rogers.html

. Retrieved 2007-08-26

.

 

^ Pickford, The Woman Who Made Hollywood, page 313
^ Pickford, The Woman Who Made Hollywood, page 350.
^ a b c "Biography at u-s-history.com". http://www.u-s-history.com/pages/h3890.html

. Retrieved 2007-01-24

.

 

^ Alden, Whitman (May 30, 1979, Wednesday). "Mary Pickford Is Dead at 86; 'America's Sweetheart' of Films; Outshone Contemporaries.". New York Times. "Mary Pickford, who reigned supreme as "America's Sweetheart" in the era of silent films, died of a stroke yesterday in Santa Monica (Calif.) Hospital. She was 86 years old."

 

^ Canadians in Hollywood, Canada Post, Collecting, May 26, 2006
^ Siderious, Christina "Skip" (2007-09-01). "The Oscar goes to... Court". http://seattletimes.nwsource.com/html/localnews/2003863659_oscar01m.html.

 

, Seattle Times, Local News, September 1, 2007
 

Further reading
External links