( Leila Marie Koerber )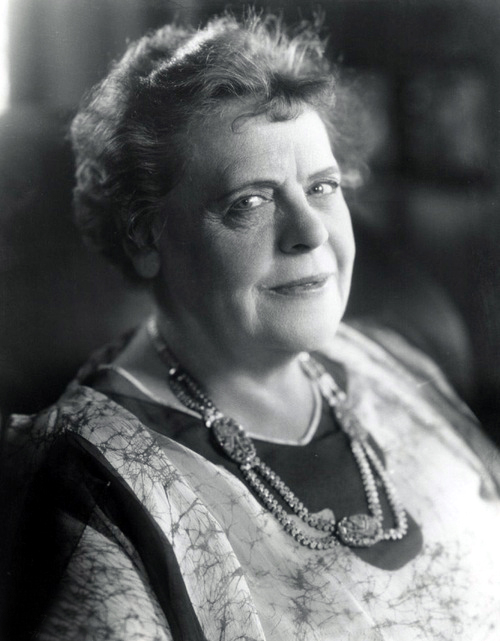 1932
On June 4th, Baba had lunch with Marie Dressler at her home at 801 Alpine Drive. Marie was a famous actress who had co-starred in many of Charlie Chaplin's movies, and had won the Academy Award the previous year for best actress and was nominated again for it in 1932. Marie had a keen wit and humor, and Baba thoroughly enjoyed her company; they were soon sharing stories and joking like old friends. In the middle of lunch, she said, "Baba, if you permit me, I would like to take you out to the woods and dance with you. And even if you want to speak a few words to me, I promise not to tell anyone!"
Baba revealed, spelling on his board, "Before breaking my silence, it is essential for me to proceed to China. On my return, I will break my silence on July 13th at the Hollywood Bowl."
Marie said, "When you break your silence, I will be at your side."
Lord Meher Volume 5, Page 1661
I remember Marie Dressler especially; she took to me like a mother to her son, and invited me for dinner at her home. She fondly caressed my face saying: "My child, my child ..."
Lord Meher Volume 18, Page 6044

801 N Alpine Drive, Beverly Hills, LA
Marie invited Baba  for lunch at her house on the 4th June, 1932.
Marie Dressler
From Wikipedia, the free encyclopedia
Marie Dressler



1909 portrait

Born
Leila Marie Koerber
November 9, 1868(

1868-11-09

)
Cobourg, Ontario, Canada
Died
July 28, 1934 (aged 65)
Santa Barbara, California, U.S.
Occupation
Actress
Years active
1914–1933

Spouse(s)

George Hoppert (1900–1906)
Marie Dressler (November 9, 1868 – July 28, 1934) was a Canadian actress and Depression-era box office hit. She won the Academy Award for Best Actress in 1931 in Min and Bill.
Early life
Born Leila Marie Koerber in Cobourg, Ontario, to parents Alexander Rudolph Koerber (who was Austrian) and Anna Henderson, the young Dressler was able to hone her talents to make people laugh, and began her acting career when she was fourteen. In 1892 she made her debut on Broadway. At first she hoped to make a career of singing light opera, but then gravitated to vaudeville. In vaudeville she was known for her full-figured body—fashionable at the time—and had buxom contemporaries such as her friends Lillian Russell, Fay Templeton, May Irwin and Trixie Friganza.
Career
In the early 1890s, Dressler began her career. She appeared in a play called Robber of the Rhine which was written by Maurice Barrymore. Barrymore gave Dressler some positive advice about furthering her career and she later acknowledged his help. She years later would appear with his sons, Lionel and John, in motion pictures. During the early 1900s, she became a major vaudeville star, although she had appeared on stage in New York City earlier, for example, in 1492 Up To Date (1895). In 1902, she met fellow Canadian Mack Sennett and helped him get a job in the theater. In addition to her stage work, Dressler recorded for Edison Records in 1909 and 1910. Dressler's first role in a film was in 1910, when she was 42. After Sennett became the owner of his namesake motion picture studio, he convinced Dressler to star in his highly successful 1914 silent film Tillie's Punctured Romance, opposite Sennett's newly discovered actor, Charlie Chaplin. Dressler appeared in two more "Tillie" sequels and other comedies until 1918, when she returned to vaudeville.
In 1919, during the Actors' Equity strike in New York City, the Chorus Equity Association was formed and voted Dressler its first president.
In 1927, Dressler was secretly blacklisted by the theater production companies due to her strong stance in a labor dispute. Frances Marion, an MGM screenwriter, came to Dressler's rescue. Dressler had shown great kindness to Marion during the filming of Tillie Wakes Up in 1917, and in return, Marion used her influence with MGM's production chief Irving Thalberg to return Dressler to the screen. Her first MGM feature was The Callahans and the Murphys (1927), a rowdy silent comedy co-starring Dressler (as Ma Callahan) with another former Mack Sennett comedienne, Polly Moran. (Dressler and Moran appeared together frequently from then on, and co-starred in a series of feature-length situation comedies during the early 1930s.)
In 1929, Marie Dressler found herself once again out of work, so she joined Edward Everett Horton's theater troupe in L.A.. Soon after this, however, Dressler once again found herself in demand due to the arrival of talkies and the need for stage-trained performers. She proceeded to leave Horton flat, much to his indignation.
Talkies presented no problems for Marie Dressler, whose rumbling voice could handle both sympathetic scenes and snappy comebacks (she's the wisecracking stage actress in Chasing Rainbows and the dubious matron in Rudy Vallee's Vagabond Lover). Frances Marion persuaded Thalberg to give Dressler the role of Marthy, the old harridan who welcomes Greta Garbo home after the search for her father, in the 1930 film Anna Christie. Garbo and the critics were impressed by Dressler's acting ability, and so was MGM, who quickly signed Dressler to a $500-per-week contract.
A robust, full-bodied woman of very plain features, Dressler went on to act in comic films which were very popular with the movie-going public and an equally lucrative investment for MGM. Although past sixty years of age, she quickly became Hollywood's number one box-office attraction, and stayed on top until her death at age 65. In addition to her comedic genius and her natural elegance, Dressler demonstrated her considerable talents by taking on serious roles. For her starring portrayal in Min and Bill, co-starring Wallace Beery, she won the 1931 Academy Award for Best Actress. Dressler was nominated again for Best Actress for her 1932 starring role in Emma. With that film, Dressler demonstrated her profound generosity to other performers. Dressler personally insisted that her studio bosses cast a friend of hers, a largely unknown young actor named Richard Cromwell, in the lead opposite her. This break helped launch his career.
Dressler followed these successes with more hits in 1933, including the comedy Dinner at Eight, in which she played an aging but vivacious former stage actress, and, following the release of that film, appeared on the cover of Time magazine, in its August 7, 1933, issue.
Her newly regenerated career came to an abrupt end when she was diagnosed with terminal cancer in 1934. MGM head Louis B. Mayer learned of Dressler's illness from her doctor and asked that she not be told. To keep her home, he ordered her not to travel on her vacation because he wanted to put her in a new film. Dressler was furious but complied.
Dressler appeared in more than 40 films, and her achieved her greatest successes in talking pictures made during the last years of her life. Always seeing herself as physically unattractive, she wrote an autobiography titled, The Life Story of an Ugly Duckling.
Death
Dressler died aged 65 years on Saturday July 28, 1934 in Santa Barbara, California and is interred in a crypt in the Great Mausoleum in the Forest Lawn Memorial Park Cemetery in Glendale, California. For her contribution to the motion picture industry, Marie Dressler has a star on the Hollywood Walk of Fame at 1731 Vine Street.
Legacy
Each year, the Marie Dressler Foundation Vintage Film Festival is held in her hometown of Cobourg, Ontario. Canada Post, as part of its "Canada in Hollywood" series, issued a postage stamp on June 30, 2008 to honour Marie Dressler.
In the late 1990s, two biographies of Dressler were published. One was entitled: Marie Dressler: The Unlikeliest Star, by Ontario resident and writer Betty Lee. The other, by Matthew Kennedy, titled Marie Dressler: A Biography (1999), is the more comprehensive source; however, only Lee had access to the diary of an intimate friend of Dressler's, the silent film actress Claire Dubrey. At least one of these biographers speculatively claims Dressler bore a son around 1896 or that even Dubrey was Dressler's biological daughter hence their close relationship.
Filmography
See also
References
External links