Gladys George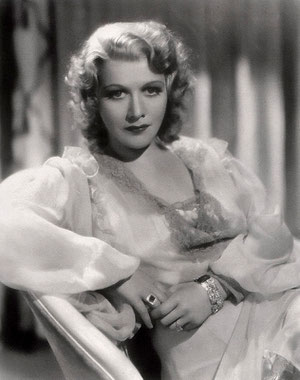 1932
On June 10th, Elizabeth Patterson's friend Mrs. Hutchins came with her sister to see Baba. Baba went for another drive in the afternoon through Honolulu to the Huimalu Hotel and later to view a large fish aquarium. In the evening, they went to the theater and saw Gladys George in the play, A Church Mouse.

Gladys George
From Wikipedia, the free encyclopedia
Gladys George

from the trailer for the film Marie Antoinette (1938)
Born
Gladys Clare Evans
September 13, 1904(

1904-09-13

)
Patten, Maine, U.S.
Died
December 8, 1954 (aged 50)
Los Angeles, California, U.S.
Occupation
Actress
Years active
1919–1954

Spouse(s)

Ben Erway (1922-1930) (divorced)
Edward Fowler (1933-1935) (divorced)
Leonard Penn (1935-1944) (divorced)
Kenneth Bradley (1946-1950) (divorced)
Gladys George (September 13, 1904[1] – December 8, 1954) was an American actress.
[edit]
Early life
She was born as Gladys Clare Evans on September 13, 1904[1]in Patten, Maine to English parents.
[edit]
Career
George starred on stage in the 1920s, although she had made several films in the early part of that decade.
She is credited for contributing to the enormous success on Broadway of Personal Appearance, a comedy by Lawrence Riley in which she had the starring role. This role was reprised by Mae West in the classic film Go West, Young Man, which West adapted from the play. In 1936 she was nominated for an Academy Award for Best Actress for Valiant Is the Word for Carrie.
Her only other leading role was in Madame X (1937). She also appeared in The Roaring Twenties (1939), The Way of All Flesh (1940), The Best Years of Our Lives (1946) and He Ran All the Way (1951). She played the widow of Miles Archer (Iva Archer) in The Maltese Falcon and Mme. Du Barry in Marie Antoinette. Her last successful roles were as Madge Parkson in Flamingo Road and her brief appearance as the corrupt nurce Miss Hatch in Detective Story (1951). After which, her career limited to TV appearances.
[edit]
Health
According to her obituary at Find-a-Grave Gladys George was afflicted with numerous ailments, including throat cancer, heart disease, and cirrhosis of the liver. She died from a cerebral hemorrhage in 1954 in Los Angeles, California, aged 50.
[edit]
Filmography
[edit]
References
[edit]
External links
Persondata
NAME
George, Gladys
ALTERNATIVE NAMES
Evans, Gladys Clare
SHORT DESCRIPTION
Actor
DATE OF BIRTH
September 13, 1904
PLACE OF BIRTH
Patten, Maine, U.S.
DATE OF DEATH
December 8, 1954
PLACE OF DEATH
Los Angeles, California, U.S.
Personal tools
Toolbox
Languages