Ilya Lvovich Tolstoy, Count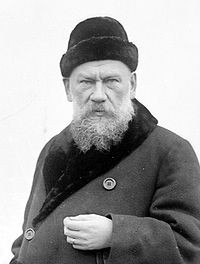 Born : 22nd May, 1866 - Yasnaya Polyana, Russia
Died : 11th. December 1933, New York, USA
Married : 1) Sofia Nikolaevna Filosofova
               : 2) Nadine Kucutulskaya aka Nadezhda Klimentevna Katulskaya
Nationality : Russian then American
Mini Biography
Ilya Lvovich ("son of Leo") Tolstoy was the 3rd child of the world-famous Russian writer and philosopher Leo Tolstoy (1828-1910), from the latter's 48-year marriage to Sonya Behrs, a marriage which produced 13 children in all. Although 5 of the Tolstoys' children died at birth or in infancy, the other 8 (including Ilya) survived to adulthood, and had careers which took them in many different directions. Ilya worked as a journalist, migrated to the USA in 1918 (around the time of the Russian Revolution), and had a motley career in the States. He did some journalism, including writings about his famous father in Russia, and served as a consultant on a few Hollywood films with Russian themes, including "Resurrection" and "Love" (1927). In one film Ilya Tolstoy even appeared briefly playing the role of his own father Leo Tolstoy. He died in poverty in a New York hospital in 1933. Ilya Lvovich Tolstoy's children were: Anna (1888- ), Mikhail (1893-1919), Andrei (1895-1920), Ilya Jr. (1896- ), and Vera (1898- ).
IMDb Mini Biography By: Prof Steven P Hill, Russian & Cinema, University of Illinois (USA).


Spouse
| | |
| --- | --- |
| Nadezhda Klimentevna Katulskaya | (1919 - 1933) (his death) |
| Sofia Nikolaevna Filosofova | (1888 - 1918) (divorced) 5 children |


1931
Nadia Tolstoy was the daughter-in-law of Count Leo Tolstoy, the Russian author of War and Peace. She was living with her husband Ilya outside of New York City. She had studied music at the University of Petrograd and spoke several languages. Interested in mystical literature and esoteric philosophy, Nadia was a sincere seeker of divinity; but merely reading books had not satisfied her and she was in search of a living Master.
Nadia and Ilya became friends with Malcolm and Jean Schloss. When they wrote to her of Meher Baba's visit, she came to Harmon for his blessing on November l9th. No sooner had she set eyes on Baba than she exclaimed, "My search is over!"
Nadia Tolstoy was later nicknamed Nadine by Baba.
Lord Meher Volume 4, Page 1483

1932
The day of the Collins interview was May 18th, and Nadine Tolstoy had come for Baba's darshan. Finally, after waiting a long time, she had her interview. Seeing him again, her faith in Baba was confirmed and she accepted him as her Master forever. "My intuition was unquestioning and sure," she recorded. "I saw Christ before me as he was seated on the couch in the expression of all his figure and divinely lit-up face, in his eyes beaming love ... the fulfillment of a long-awaited meeting, the climax of my life."
Leaving the room, she loudly shouted, "Jesus Christ!" and the onlookers turned and gazed at her. Nadine later explained her experience, "Something within me recognized, in this dear shape of Meher Baba, the incarnation of Jesus Christ of Nazareth. The unbelievable became a revealed fact. I gave my will to his Will, my life to his cause of Truth and Love, knowing that to love the Truth means to live it."
Finding out about her hardships, Baba remarked to Nadine, "I will repay you for all your suffering. I will give you permanent bliss. You will see things as they are, as you can see things now, in this incarnation. You are a beautiful soul, and one day will receive what your father-in-law had longed for – oneness with God." 

The next day, Nadine brought her husband Ilya, the son of Leo Tolstoy and himself an author. Ilya asked Baba, "How can one love when there is so much evil in this world?"
Baba answered, "You have to take love into your heart. You are a fine man; soon you will understand."
Ilya, too, was deeply impressed upon seeing Baba and wept. Returning home, he confided to his friends, "It was the first time in my life that I met someone in the flesh who was like Jesus. I felt his divine influence and was assured of his help. It was the first time in my life that I met a man who has divine love!" Ilya was to die a year and a half later, but his death freed Nadine to journey to India to be with Baba, as her close discipleship with the Master developed.
 
Lord Meher Volume 5, Page 1623