Chicago, Illinois, USA

Meher Baba visited Chicago briefly in 1932 & 1934, both as stop-overs  changing trains whilst travelling between New York & Los Angeles.
Meher Baba and his companions stopped briefly in Chicago on 26th May 1932 during his epic rail journey across the United States.
The following extract is Quentin Tod's recollections from his diary of the 1932 rail journey from Harmon, NY , printed in
The Awakener ; Vol.X11, No.3 - page 7

1932
ON MAY 25th, Meher Baba left Harmon by train with Jean and Malcolm Schloss, Meredith and Margaret Starr, Kaka, Chanji, Adi Jr. and Beheram. Quentin Tod had scheduled it so that he was on board the train already. Baba reached Chicago, Illinois, on May 26th at 7:20 P.M., by route of Cleveland, Ohio. In Chicago, they had to change trains, necessitating an hour's wait, during which time reporters surrounded Baba. Baba gave them a short message and was photographed. In New York, there had been at times as many as forty-eight reporters accompanied by camera men near Baba during press conferences.
Baba and the mandali quickly drove around Chicago in taxis along Lake Shore Drive and through the city before re-boarding the train and continuing their journey. At the photo session, Meredith and Malcolm both tried to be near Baba, which resulted in a quarrel. Baba then asked Tod to stand next to him, which pierced Meredith's inflated ego even more.
Lord Meher Volume 5, Page 1638

During this stay in Portofino, the chairman of the World Fellowship of Faiths sent Meher Baba an invitation to attend their conference being held in Chicago, Illinois, from June to November of 1933. Baba sent a telegram back that he would decide when he returned to India and let the man know.
Lord Meher Volume 5, Page 1794


On August 22nd, Rusi Irani arrived from Quetta. He stayed overnight in Nasik and left with Adi Sr. the next day for Ahmednagar.
The day Baba returned to Nasik, he received an invitation from Phelps Stokes in New York urging him to attend the All Faiths Conference in Chicago. A second invitation from the executive director of the conference arrived some time later. Baba agreed to attend on the condition that, if by that time he had not broken his silence, he would deliver a message to the conference through his alphabet board. The chairman of the conference did not know what exactly Baba intimated, but he accepted this condition. Baba was generally averse to attending any public meetings of this kind. His acceptance was therefore surprising to the mandali. Baba decided to proceed to America and preparations were begun.
Lord Meher Volume 5, Page 1804


That night, cables were received from Norina Matchabelli and Phelps Stokes in New York, and Kitty Davy in London, saying that the majority of delegates attending the All Faiths Conference in Chicago had left and it was about to end. This news made Baba feel relieved, as he was never keen to participate in the conference. It was only to please Mr. Stokes, Rustom and his other lovers that Baba had played this role by agreeing to attend. The chairman of the conference sent a telegram from Chicago that he understood that Baba was cancelling his visit because he was unable to attend. After receiving the cable, Baba decided instead to stay a month in Europe and then return to India.
Lord Meher Volume 5, Page 1814


Soon after, the maharani of Indore showed up with her secretary at 10 A.M. to see Baba for about fifteen minutes. Baba was dressed in a sadra at the time and his long hair was down. Baba informed the regal woman, "This is my customary dress. It is the clothing I wear in front of those who come to know me. To those who take me for a foreigner, I become a foreigner. I did not wish to meet you as a foreigner, so it is good that you have come today. Do I not now look like a fellow countryman?"
The maharani laughed and Baba continued by dictating a discourse:
Everything depends on the mind. The mind feeds on happiness and misery. The world is really a dream. Happiness and sorrow are plays of the mind; there is no substance in either. In fact, the mind exists to endeavor to see God, but it leaves this aside and becomes caught up in the world. "I want this! I want that!" it shouts. The mind gets one entangled in Maya and thereby increases desires. No sooner is one desire satisfied than another is there ready to be satisfied. Thus, one after another, desires increase without limit and they never bring freedom to anyone.
The man who has control over the mind possesses the whole universe. He has no use for happiness, suffering, health, wealth or anything else. He is beyond all that.
The maharani was satisfied with Baba's discourse and left. Shortly thereafter, Uday Shankar arrived to talk about his dance programs. Baba remarked to him in cryptic fashion, "Perhaps in Chicago one day, I shall give you darshan."
The boat stopped in Brindisi, Italy, at 9:30 A.M. on the 5th of October and left port two hours later. That afternoon, Mr. Munshi came at 4:40 for ten minutes. Thereafter, Akbar and Lady Hyderi saw Baba at five o'clock; he comforted them again and urged them not to worry about their son.
Lord Meher Volume 5, Page 1818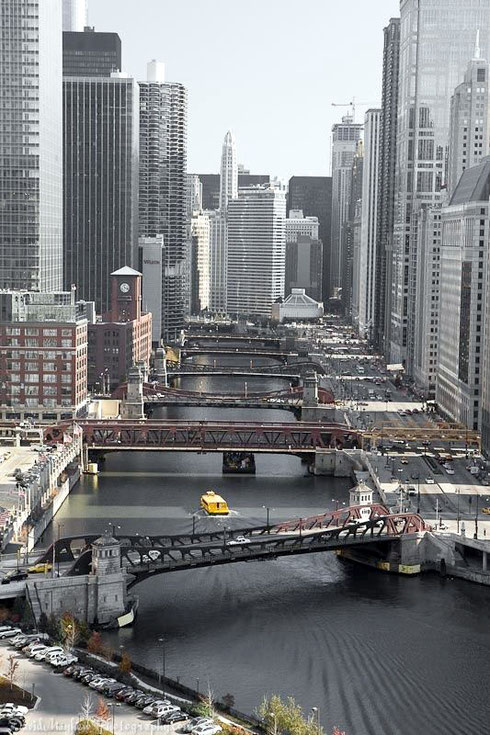 1934  

AFTER THREE DAYS in New York, on December 15th, Baba took a train westward across America on the Santa Fe Railway, headed for California. Besides the mandali of Chanji, Kaka Baria, Adi Sr. and Jal, accompanying him were Elizabeth, Norina, Minta, Nadine, Rano, Nonny and Ruano. During the three and a half day journey to Los Angeles, the train halted in Chicago, Illinois; Omaha, Nebraska; Denver, Colorado; and Santa Fe, New Mexico. Baba was headed for Hollywood and preoccupied himself by reviewing the film scripts and discussing the variations in plots and characters.
Lord Meher Volume 6, Page 1934

In a later letter during 1944, Elizabeth wrote to Baba:
I forgot to mention that while in Santa Barbara, we motored over to see Krishnamurti at Ojai Valley. Norina knew him previously and had a good talk with him. He said it would be a privilege to meet you.
I also gave a lecture in Chicago. You mentioned Chicago as a spiritually important city before we left India, but the turnout for my talk was not large.
Lord Meher Volume 8, Page 2954

The Avatar Meher Baba Center of Chicago welcomes all who love and follow Him, and those who know of Him and want to know more.
Avatar Meher Baba Center of Chicago
4356 N Milwaukee Ave.
Chicago, IL 60641

For a schedule of current activities and events, please contact Fereshteh at:
Email: meherazad@gmail.com
Home: (630) 416-3591
Cell: (630) 207-9461

Development Website:
http://www.ambcc.net

Visit us on Facebook:
Avatar Meher Baba Center Development Project

Mailing Address:
AMBCC
c/o Fereshteh Azad
6710 Breckenridge Rd.
Lisle, IL 60532 USA


 The information is from :
Chicago Union Railway Station
From Wikipedia, the free encyclopedia
 
 

City of Chicago


Clockwise from top: Downtown Chicago, the Chicago Theatre, the 'L', Navy Pier, Millennium Park, the Field Museum, and Willis Tower.
Nickname(s): The Windy City, Chi-Town, The Second City, City of Broad Shoulders, and others found at List of nicknames for Chicago
Motto: Latin: Urbs in Horto (City in a Garden), I Will

Location in the Chicago metropolitan area and Illinois

Coordinates:

41°50′13″N

87°41′05″W

Coordinates:

41°50′13″N

87°41′05″W

[

1

]

Country
 United States of America
State
 Illinois
Counties
Cook and DuPage
Settled
1780s
Incorporated (town)
August 12, 1833
Incorporated (city)
March 4, 1837
Named for
Miami-Illinois: shikaakwa
(wild onion or wild garlic)
Government
 • Type
Mayor–council
 • Body
Chicago City Council
 • Mayor
Rahm Emanuel (D)
 • City Clerk
Susana A. Mendoza (D)
 • City Treasurer
Stephanie D. Neely (D)
Area
 • City
234.0 sq mi (606 km2)
 • Land
227.2 sq mi (588 km2)
 • Water
6.9 sq mi (18 km2)  3.0%
 • Urban
2,122.8 sq mi (5,498 km2)
 • Metro
10,874 sq mi (28,160 km2)
Elevation

[

1

]

(mean)
594 ft (181 m)
Highest elevation
– near Blue Island
672 ft (205 m)
Lowest elevation
– at Lake Michigan
578 ft (176 m)
Population (2010)

[

2

]

 • City
2,695,598
 • Estimate (2013

[

3

]

)
2,718,782
 • Rank
3rd largest city in U.S.
 • Density
11,864.4/sq mi (4,447.4/km2)
 • Metro
9,522,434
Demonym
Chicagoan
Time zone
Central (UTC-6)
 • Summer (DST)
Central (UTC-5)
ZIP Code Prefixes

606xx, 607xx, 608xx

Area codes
312/872 and 773/872
FIPS code
17-14000
GNIS feature ID
0428803
Website
www.cityofchicago.org
Chicago (
i/ʃɪˈkɑːɡoʊ/ or /ʃɪˈkɔːɡoʊ/) is the third most populous city in the United States, after New York City and Los Angeles. With 2.7 million residents,[5] it is the most populous city in both the U.S. state of Illinois and the American Midwest. Its metropolitan area, sometimes called Chicagoland, is home to 9.5 million people and is the third-largest in the United States.[6] Chicago is the seat of Cook County.[a]
Chicago was incorporated as a city in 1837, near a portage between the Great Lakes and the Mississippi River watershed, and experienced rapid growth in the mid-nineteenth century.[9] Today, the city is an international hub for finance, commerce, industry, technology, telecommunications, and transportation, with O'Hare International Airport being the second-busiest airport in the world; it also has the largest number of U.S. highways, and railroad freight entering its region.[10] In 2012, Chicago was listed as an alpha global city by the Globalization and World Cities Research Network,[11] and ranks seventh in the world in the 2014 Global Cities Index.[12] As of 2012, Chicago had the third largest gross metropolitan product in the United States, after the New York City and Los Angeles metropolitan areas, at a sum of US$571 billion.[13]
In 2012, Chicago hosted 46.37 million international and domestic visitors, an overall visitation record.[14] Chicago's culture includes contributions to the visual arts, novels, film, theater, especially improvisational comedy, and music, particularly jazz, blues, soul, and the creation of house music. The city has many nicknames, which reflect the impressions and opinions about historical and contemporary Chicago. The best-known include the "Windy City" and "Second City."[15] Chicago has professional sports teams in each of the major professional leagues.