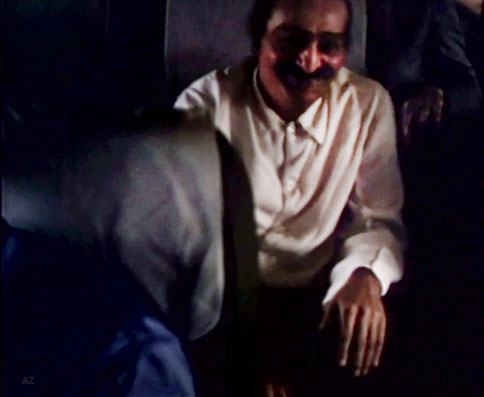 Newark Liberty International Airport
From Wikipedia, the free encyclopedia
Newark Liberty International Airport (IATA: EWR, ICAO: KEWR, FAA LID: EWR), first named Newark Airport and later Newark International Airport, is an international airport within the city limits of both Newark and Elizabeth, New Jersey, United States (although it is entirely owned by the city of Newark). It is about 15 miles (24 km) southwest of Midtown Manhattan (New York City).
The airport is operated by the Port Authority of New York and New Jersey, which also manages the two other major airports in the New York/New Jersey metropolitan area, John F. Kennedy International Airport (JFK) and LaGuardia Airport (LGA), in addition to three smaller airports, Stewart International Airport, Teterboro Airport and the Downtown Manhattan Heliport. Newark is the tenth busiest airport in the United States and the nation's fifth busiest international air gateway; JFK ranks first.[2]
Newark Liberty is the second-largest hub, after George Bush Intercontinental Airport in Houston, for Continental Airlines, which is the airport's largest tenant (operating all of Terminal C and part of Terminal A). Primarily due to this large hub operation, Continental Airlines is by far the leading carrier in the New York market.[3] Newark's second largest tenant is FedEx Express, which operates its third largest cargo hub from the airport. FedEx operates from three buildings on two million square feet within the airport complex.[4]
In 2008, Newark Airport handled slightly more than 35.4 million passengers,[5] compared with JFK's 47.8 million[5] and LaGuardia's 23.1 million. In total over 107 million passengers used New York-area airports in 2008, making the New York-area the busiest airport system in the United States in terms of passenger numbers and second in the world behind London.
 

History
Newark Airport was the first major airport in the New York area: it opened on October 1, 1928, occupying an area of New Jersey marshland filled with dredged soil.[6]
In 1935, Amelia Earhart dedicated the Newark Airport Administration Building, which was North America's first commercial airline terminal (Croydon Aerodrome, south of London, was the world's first, predating Newark by seven years). Newark was the busiest airport in the world until LaGuardia Airport opened in 1939, dividing New York's air traffic and allowing Chicago Midway International Airport to take the lead. Newark was temporarily closed to passenger traffic and taken over by the United States Army for logistics operations during World War II.
The Port Authority of New York and New Jersey took over the airport in 1948 and made major investments in airport infrastructure, opening new runways and hangars and revamping the airport's terminal layout. Airline traffic resumed that year. The art deco Administration Building served as the main terminal until the opening of the North Terminal in 1953, and was added to the National Register of Historic Places in 1979.
In the 1950s, there were suggestions to move the airport after two crashes within a month occurred at nearby Elizabeth, New Jersey.[7] A new international airport to serve the New York City area would have been built in what is now the Great Swamp National Wildlife Refuge, however local protests defeated the plan.[8]
In the 1970s, the airport underwent a significant enlargement, including the construction of the current Terminals A, B, and C, and was renamed Newark International Airport. Terminals A and B opened in 1973, although some charter and international flights requiring customs clearance remained at the North Terminal. The main building of Terminal C was completed at the same time, but only metal framing work was done on the terminal's satellites, and it lay dormant until the mid-1980s, when for a brief time the west third of the terminal was equipped for international arrivals and used for certain People Express transcontinental flights. Terminal C was fully completed and opened to the public in June 1988.
Underutilized throughout the 1970s, Newark expanded dramatically in the 1980s. People Express struck a deal with the Port Authority to use the North Terminal as both its air terminal and corporate office in 1981 and began operations at Newark that year. It quickly rose to become one of the largest American airlines, steadily increasing Newark's traffic through most of the 1980s. Virgin Atlantic Airways began flights from Newark to London in 1984, challenging JFK's status as New York's international gateway (however, Virgin Atlantic now has more flights going out of JFK than out of Newark). Federal Express (Now known as FedEx Express) opened its second hub at the airport in 1986.[4] When People Express was merged into Continental in 1987, operations at the North Terminal were greatly reduced, and the building was demolished to make way for cargo facilities in the early 1990s. Newark has remained a hub for Continental.
Today, Continental has its Global Gateway at Terminal C, having completed a major expansion project that included the construction of a new, third concourse and a new Federal Inspection Services facility. With its Newark hub, Continental is the largest provider of air service to the New York metropolitan area.
United Airlines Flight 93 pushed back from gate A17 at 8:01 am, on its way from Newark to San Francisco International Airport, on September 11, 2001. Two hours later it would crash into a field in Shanksville, Pennsylvania, when passengers attempted to take over the plane from a team of hijackers. Based on the direction that the plane was flying at the time and information gathered afterwards, most observers [9] believe that the hijackers intended to crash the plane into a target in Washington, D.C., such as the Capitol or White House. To honor the victims that died on September 11th, in 2002 the airport's name was changed from Newark International Airport to Newark Liberty International Airport. This name was chosen over the initial proposal, Liberty International Airport at Newark, and refers to the landmark Statue of Liberty, just 7 miles (11 km) east of the airport.[10][11]
In 2001, Newark Liberty International Airport became the terminus of the world's longest non-stop scheduled airline route, Continental's service to Hong Kong. Continental began flying from Newark to Beijing on June 15, 2005 and Delhi on November 1, 2005. When these services began, Continental became for a time the only airline to serve India nonstop from the United States, and the third U.S. carrier, after United and Northwest to serve mainland China nonstop and the first U.S. carrier to offer nonstop flights to Beijing from New York. On July 16, 2007, Continental Airlines announced that it would seek government approval for nonstop flights between Newark and Shanghai in 2009. In September 2007, the United States Department of Transportation tentatively awarded Continental the right to fly to Shanghai from Newark beginning March 25, 2009 using Boeing 777-200ER aircraft.
Since June 2008 flight caps restricting the number of flights to 81 per hour have been in use. The flight caps, which were only in effect until 2009, are intended to be a short-term solution to Newark Airport's congestion problem.[12]