Meher Baba  accompanied by some of his men mandali ( close ones ) visited Syria twice.
The first was in late October 1936 when he travelled by train from Baghdad, Iraq to Constantinople ( Istanbul ). Aleppo was about half way between these two centres, hence, it was made into a railway hub by the Turks who had administrated this entire region for a long time until the end of WW 1. There is no information to say how long he and his companions stayed, hours or a day or so. Because of the long journey from the Iraqi border and the journey to Istanbul being equally as long, the train would have needed supplies, hence a stay of several hours would have been needed in the least.

The second visit occured on the 17th July 1956 when his plane en route from Bombay ( Mumbai ) to Zurich, Switzerland touchdown on Damascus Airport to refuel for an hour and proceeded to Beirut Airport, Lebanon and onto Zurich.
There are no know images of Meher Baba for the whole of the 1936 journey from Bombay to London. This was his 9th visit to the West.
Click on the buttons below to visit the indivual pages of these Syrian locations.
https://en.wikipedia.org/wiki/Syria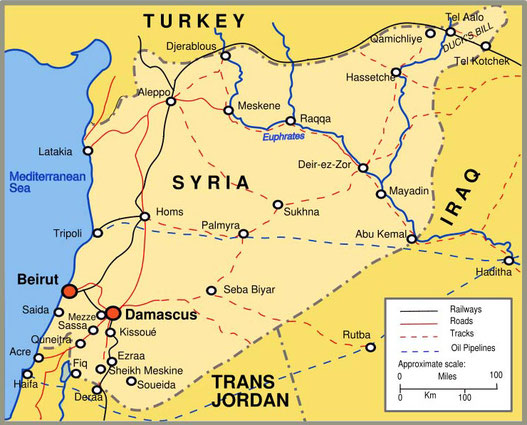 In Mid July 1956  Meher Baba and four of his men mandali ( close ones ) departed on a months circumnavigation  of the globe. They departed Bombay ( Mumbai ) by plane landing briefly at Damascus and Beirut Airport then onto Zurich and London. They then flew to New York NY, Richmond V.,Wilmington NC, Myrtle Beach SC, Washington DC., Dallas/Ft. Worth TX, Los Angeles-Meher Mount-Ojai-San Francisco CA., then to Honolulu, (Hawaii Is ), Kanton Is, Suva,( Fiji ), Sydney, Melbourne & Darwin, Australia, then onto Singapore and back to Bombay in mid August.