Ojai , California, USA
On the outer limits of Ojai is the Meher Mount property.
See the Meher Mount page from the same index.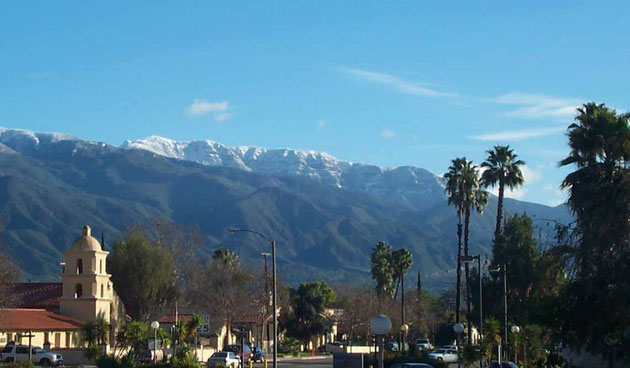 Ojai:
Meher Mount
9902 Sulphur Mountain Road
Ojai, CA 93023
(805) 640-0000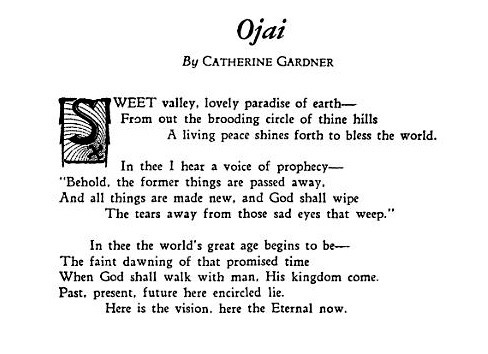 Catherine Gardner had met Meher Baba in 1931 in New York, on his first trip to America. She drove him to the Harmon Retreat north of New York.
There is an interesting encounter between herself and Meher Baba.  See her page on "His Close Ones - Westerners - Women ".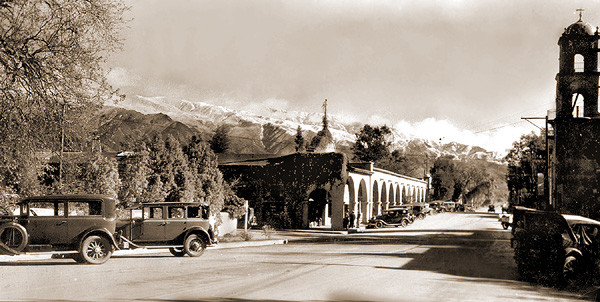 From Wikipedia, the free encyclopedia
Ojai (pronounced /ˈoʊhaɪ/ "oh-high") is a city in Ventura County, California, USA. It is situated in the Ojai Valley (10 miles long by 3 miles wide, approximately, or 16 kilometers by 5 kilometers), surrounded by hills and mountains. In 2003, the estimated population was 8,006, making it one of the smaller towns in the county.
[edit]
History
Chumash Indians were the early inhabitants of the valley. They called it Ojai, which means "Valley of the Moon." The area became part of the Rancho Ojai Mexican land grant made to Fernando Tico in 1837, and he established a cattle ranch. Tico sold it in 1853 to prospectors searching for oil, without much success. By 1864, the area was settled.
The town was laid out in 1874 by real estate developer R.G. Surdam and named Nordhoff, California, in honor of the writer Charles Nordhoff. Leading up to and during World War I, American sentiment became increasingly anti-German. Across the United States, German and German-sounding place names were changed. As part of this trend, Nordhoff was renamed Ojai in 1917.[1][2]
The public high school in Ojai is still named "Nordhoff." The public junior high school, named "Matilija," formerly served as Nordhoff Union High School and still features large tiles with the initials "NUHS" on the steps of the athletic field.
The main turning point in the development of the city was the coming of Edward Libbey, early owner of the Libbey Glass Company. He saw the valley and fell in love, thinking up many plans for expansion and beautification of the existing rustic town.
After fire destroyed much of the original western-style Nordhoff/Ojai in 1917, Libbey helped design, finance and build a new downtown more in line with the contemporary taste for Colonial-Revival architecture, including a Spanish-style arcade, a bell-tower reminiscent of the famous campanile in Havana, and a pergola opposite the arcade. These buildings still stand, and have come to serve as symbols of the city and the surrounding valley. To thank Libbey for his gifts to the town, the citizens proposed a celebration to take place on March 2 of each year. Libbey declined their offer to call it "Libbey Day," and instead suggested "Ojai Day." The celebration still takes place, each year in October.
Libbey's pergola was destroyed in 1971, after being damaged in an explosion. It was rebuilt in the early 2000s to complete the architectural continuity of the downtown area. The town completed a new park, Cluff Vista Park, in 2002, which contains several small themed regions of native California vegetation.
[edit]
Geography
Ojai is located at 34°26′57″N 119°14′48″W / 34.44917°N 119.24667°W / 34.44917; -119.24667 (34.449079, -119.246654)[3]. The city is generally at 745 feet (227 m) above sea level.
According to the United States Census Bureau, the city has a total area of 4.4 square miles (11.5 km²), of which, 4.4 square miles (11.5 km²) of it is land and 0.22% is water.
Ojai is situated in a small east-west valley, north of Ventura and east of Santa Barbara. It is approximately 15 miles (24 km) inland from the Pacific coast.
Since Ojai is lined up with an east-west mountain range, it is one of few towns in the world to have a "Pink Moment" occur as the sun is setting, when the fading sunlight creates a brilliant shade of pink for several minutes on the Topatopa Bluffs at the east end of the Ojai Valley, over 6,000 feet (1,800 m) above sea level. Nordhoff Ridge, the western extension of the Topatopa Mountains, towers over the north side of the town and valley at more than 5,000 feet (1,500 m). Sulphur Mountain creates the southern ranges bounding the Ojai Valley, a little under 3,000 feet (910 m) in elevation.
The Ventura River flows through the Ventura River Valley, draining the mountains surrounding Ojai to the north and east and emptying into the Pacific Ocean at the city of Ventura. The Ventura River was once known for its steelhead fishing before Matilija Dam and Lake Casitas were constructed, eliminating habitat for this trout species.
The climate of Ojai is Mediterranean, characterized by hot, dry summers (sometimes exceeding 100°F) and mild winters, with lows at night sometimes below freezing. As is typical for much of coastal southern California, most precipitation falls in the form of rain between the months of October and April, with intervening dry summers.
Culture
Ojai is the home of the Ojai Film Festival, which showcases independent films from around the world, founded in 2000.
There is only one movie theater in the town—the Ojai Theatre, located downtown. It houses only one screen and was completely remodeled in 2008. The remodeled theater includes new chairs, new stage, new lobby and bathrooms.
The Ojai Music Festival, founded in 1947, is an annual festival of performances by some of the world's top musicians and composers, and occurs on the first weekend after Memorial Day. Notable appearances include Igor Stravinsky, Aaron Copland, Esa-Pekka Salonen and Pierre Boulez, who was festival director in 2003.
The Ojai Poetry Festival began in 2003 as a biennial gathering of poets for two days of readings and discussions. It features poets of national repute such as Lawrence Ferlinghetti, Galway Kinnell, Jane Hirshfield, Robert Bly, Coleman Barks and Gary Snyder.
The Ojai Wine Festival which began in 1987, draws approximately 4000 people and 60 wineries each year to the shores of Lake Casitas in the Ojai Valley. The event is held at the picturesque site of the 1984 Olympic Rowing competition and features approximately 200 wines, a selection of beer, 10 local restaurants, live music, free boat rides, and many art and craft vendors. Many of the wineries consider this festival to be their favorite as it is the best combination of good weather, great scenery, and enthusiastic people who come to enjoy the food and wine culture of the Ojai Valley. The event is held annually on the second Sunday in June.
The Ojai Big Chili Cook off, held on the first Saturday in October each year, brings thousands of eager tasters and approximately 50 cooks together for the areas largest chili and salsa competition. The chili village is set on the shore of Lake Casitas and includes live music, free boat rides, a kids area, food, beer, and wine. The cooks compete in multiple categories for over $4000 in prize money. Attendees taste a wide variety chili and salsa and participate judging.
Ojai occasionally hosts the "Ojai Classic Rock Festival", featuring cover/tribute acts of various rock groups. There have been five Classic Rock Festivals so far, all taking place at Ojai's Libbey Bowl. OJAI ROCK FEST '08 featured the legendary Jackie Lomax.
The local public high school (Nordhoff High) also has a decorated music program. Its concert band held the California State Champion title in its division for three years in a row, until state budget cuts ended the festival, and performed in Carnegie Hall in April 2003 and again in April 2007, along with Nordhoff's award-winning choirs. The Nordhoff music department has also toured in San Francisco, New Orleans, Hawaii, Canada, Austria, and Germany. Nordhoff is also home to growing drama and dance programs to complement music offerings.
Ojai hosts the oldest competitive tennis tournament in the United States, known as The Ojai, which has been held since 1893.
The outdoor bookshop Bart's Books, subject of news programs and documentaries, has been in Ojai since 1964.
Ojai is home to the annual Ojai Playwrights Conference, a two week playwrights festival that brings professional writers and actors from across the country to Ojai.Over a period of just a few years, the Conference has become one of Southern California's most eagerly anticipated annual cultural events. Each year, theater professionals and interested members of the general public converge in the beautiful Ojai Valley to participate in the development of previously unproduced, quality new plays for the American theater. The Valley provides a retreat environment conducive to creative freedom, experimentation, and process. The playwrights are brought to Ojai for intensive, in-residence work on their plays, culminating in public readings. Terrence McNally, Bill Cain, Jon Robin Baitz, Lee Blessing, Charlayne Woodard, Joe Loya, Danny Hoch, Peter Morris, Luis Alfaro, Stephen Belber, Sarah Treem, Keith Bunin, Julia Cho and Chris Durang are previous attendees. Many of the plays performed during the conference go on to have successful runs in New York, Seattle and Chicago. Among the actors who have performed for the Conference are Dana Delany, Neil Patrick Harris, Minnie Driver, Victor Garber, Jane Kaczmarek, Ron Rifkin, William H. Macy, Felicity Huffman, David Hyde Pierce, Lily Tomlin, Linda Hunt, Peter Strauss, Peter Sarsgaard, Maggie Gyllenhaal, Meshach Taylor, Zac Quinto and Juanita Jennings. The Conference includes public symposia featuring prominent artists who discuss topics that enrich the cultural and artistic life of the citizens of Ojai and the Southern California area. The Conference also features a Youth Workshop that nurtures teenage playwrights. Under the guidance of adult theater professionals, the young playwrights develop their talents and perform their new works with professional artists, such as Jesse Lucas.
The community is served by The Ojai and Ventura VIEW, Ojai Valley News and The Ojai Post.
Demographics
As of the census[4] of 2000, there were 7,862 people, 3,088 households, and 1,985 families residing in the city. The population density was 1,773.0 people per square mile (685.2/km²). There were 3,229 housing units at an average density of 728.2/sq mi (281.4/km²). The racial makeup of the city was 88.01% White, 0.60% African American, 0.50% Native American, 1.58% Asian, 0.17% Pacific Islander, 6.26% from other races, and 2.90% from two or more races. Hispanic or Latino of any race were 15.84% of the population.
There were 3,088 households out of which 31.7% had children under the age of 18 living with them, 49.0% were married couples living together, 11.6% had a female householder with no husband present, and 35.7% were non-families. 29.0% of all households were made up of individuals and 13.9% had someone living alone who was 65 years of age or older. The average household size was 2.48 and the average family size was 3.06.
In the city the population was spread out with 24.9% under the age of 18, 6.5% from 18 to 24, 23.9% from 25 to 44, 26.8% from 45 to 64, and 17.9% who were 65 years of age or older. The median age was 42 years. For every 100 females there were 88.5 males. For every 100 females age 18 and over, there were 83.2 males.
The median income for households in the city was $44,593, and the median income for a family was $52,917. Males had a median income of $40,919 versus $30,821 for females. The per capita income for the city was $25,670. About 7.9% of families and 10.7% of the population were below the poverty line, including 15.9% of those under age 18 and 9.3% of those age 65 or over.

The Krishnamurti Foundation of America
Also established in the area :

The Krishnamurti Foundation of America is located in Ojai, California. It was founded in 1969 by Jiddu Krishnamurti, who lived from 1895 to 1986, and is regarded as one of the greatest philosophical and spiritual figures of the twentieth century. There are also Krishnamurti foundations in England (Krishnamurti Foundation Trust); India (Krishnamurti Foundation India); Canada (Krishnamurti Educational Centre); and Spain (the Fundacion Krishnamurti Latinoamericana).
Krishnamurti claimed allegiance to no caste, nationality or religion and was bound by no tradition. For nearly sixty years he traveled the world and spoke spontaneously to large audiences until the end of his life in 1986 at the age of ninety. In his talks, he pointed out to people the need to transform themselves through self knowledge, by being aware of the subtleties of their thoughts and feelings in daily life, and how this movement can be observed through the mirror of relationship. Krishnamurti was also passionately interested in education, and founded nine schools, one each in America and England, and seven in India.
Krishnamurti's lifetime body of work spans more than 60 years. The mission of the KFA is to preserve and disseminate his teachings, which it does through a variety of different programs. These include the operation of a publishing division (books, CDs, DVDs, audio/video tapes, and increasingly downloadable text, audio and video), the operation of Oak Grove School (pre-K through 12) in Ojai, California, residential seminars exploring topics in the teachings through interpersonal dialogues, and the opportunity to use the KFA's retreat and library facility for contemplation and study.