Sing-Sing Prison, Ossining, New York, USA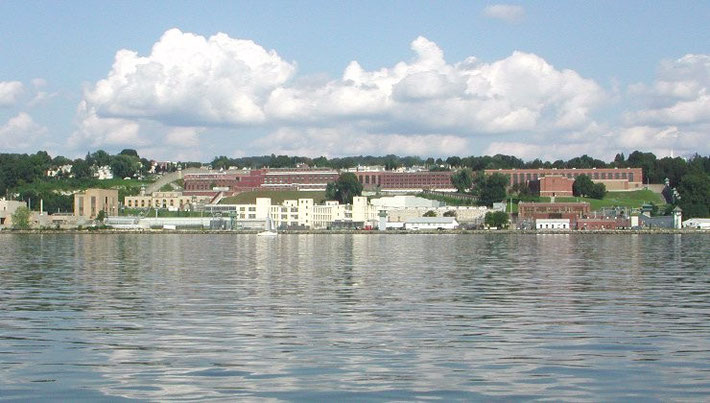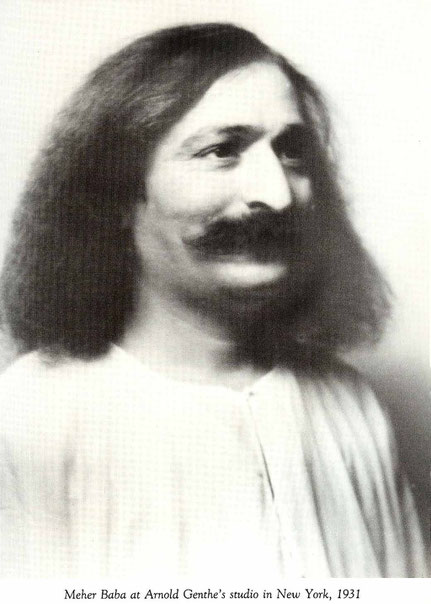 On the evening of November 28th, Baba returned to Harmon arriving at eleven o'clock. A day or two later, Baba asked to be driven to Sing-Sing Prison in the town of Ossining, five miles away.  They left Harmon at ten that night by car. Baba indicated he wanted to make inner contact with a man in the prison who would do future work for him. Their car drove all around the prison as Baba gazed at the walls and threw kisses.
Having the car stopped by the high entrance gate, Baba was silent for awhile, then communicated, "There is a man in this prison who is my agent – an abdal. He is doing good work for me. When I speak, I will free him."
Baba's mood became sad as they drove directly back to Harmon. In a melancholic state, he remarked, "It is not important for me to go physically into Sing-Sing, as I have already made contact with him." To lighten his mood when they arrived back at the retreat, Baba had a snack of coffee, cheese and biscuits.
Lord Meher Volume 4, Page 1491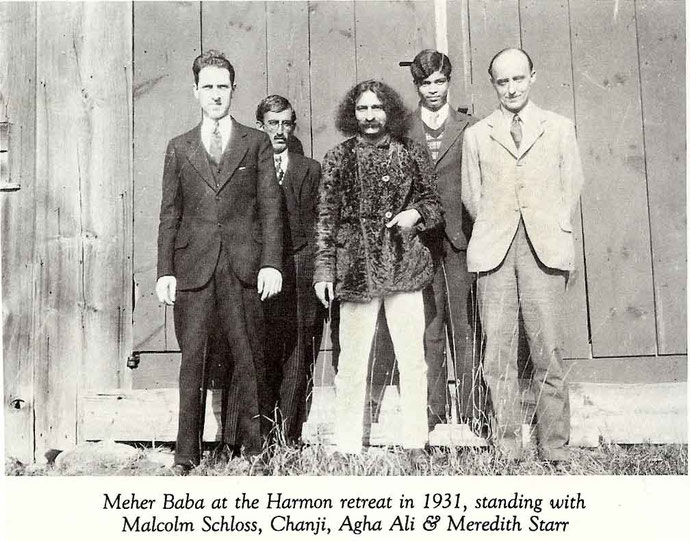 Anita De Caro recalls ( extract ) ;
Baba stayed one month in Harmon and I went out to see him as often as I could. Once he went to Sing-Sing, and we drove around the prison. I was totally innocent and didn't worry who was in Sing-Sing or what problems were in the world, I was like in heaven, only aware of Baba's presence. All of a sudden Baba put a foulard scarf over his head. It was the first time I saw this and thought it very funny and couldn't imagine what and why he was doing so. When Baba took the foulard off he looked at me and said "Anita, make me laugh!" In Baba's presence I could invent all sorts of incredible stories, make fun and invent fantastic things. It just flew out of me, out of my overflowing joy. We were so intimate, so extremely near to Baba; he never said that he was God, he only used the expression "the Ancient One". Norina would cry all the time, Elizabeth was of tremendous earnestness, Jean was a kind of ethereal figure passing through space, Malcolm was the poet, seizing all kinds of inspiration, Meredith was lecturing, he "knew". I myself was just happy. I never took all those things seriously, the only thing I took seriously was my love for Baba, his extreme beauty, his sensitivity and his tremendous sense of humor.
Awakener Magazine - Volume 21  Number 11984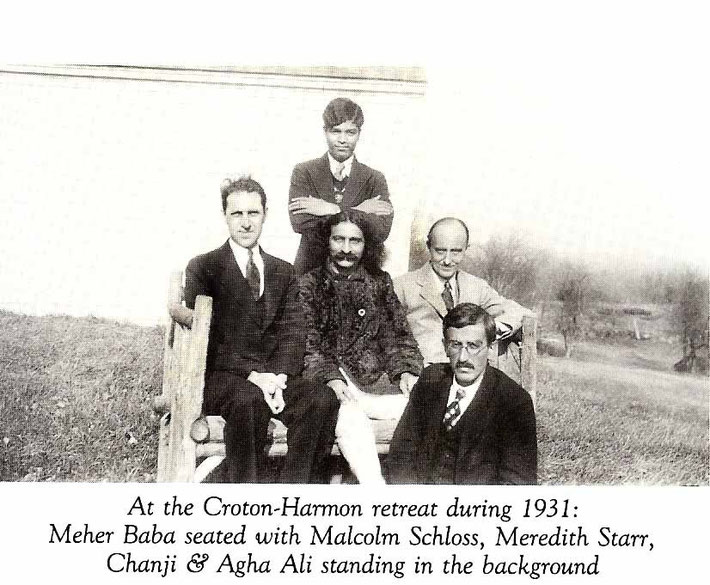 Baba also indicated that the various agents whom he had contacted who were stationed in Sing-Sing Prison, Lugano, Santa Margherita and Barcelona were all borrowed agents. The one in Warsaw, whom Herbert Davy contacted, was an indirect agent. The Italian, named "Christiano," whom Baba contacted in Rome, was a direct agent.
They left Barcelona at 7 P.M. and arrived twelve hours later in Marseilles on November 2nd. Enid Corfe and Otto Haas-Heije were there to meet them. They went to the Bristol Hotel for breakfast and a bath; afterward Baba discussed matters in private individually with Herbert, Enid and Otto.

SING-SING CORRECTIONAL FACILITY ( PRISON )


Sing-Sing Prison, Ossining, New York
From Wikipedia, the free encyclopedia
Coordinates: 41°9′6″N 73°52′8″W
Sing Sing Correctional Facility is a maximum security prison[2] of the New York State Department of Correctional Services in the town of Ossining, New York. It is located approximately 30 miles (50 km) north of New York City along the banks of the Hudson River. Ossining's original name, "Sing Sing", came from the Native American Sinck Sinck (Sint Sinck) tribe from whom the land was purchased in 1685.[3]
Sing Sing houses approximately 1,700 prisoners.[4] There are plans to convert the original 1825 cell block into a museum.[5]
The facility
The prison is divided in two by a railroad which bisects the property. There are four bridges over the tracks which connect the two halves of Sing Sing Correctional Facility. The northernmost bridge is a pedestrian crossing for employees which is outside the secure perimeter; this bridge is currently closed due to structural deficiencies. The next bridge southward contains utility lines such as steam pipes and electric lines. The 3rd bridge is a secure pedestrian bridge which can be used to move inmates from one side of the prison to the other. The southernmost bridge is a vehicle bridge inside the secure perimeter, which allows maintenance vehicles, shuttle buses and delivery trucks to move between sides without having to be re-inspected.[6]
History
Early years
In 1824 the New York Legislature gave Elam Lynds, warden of Auburn Prison and a former Army captain, the task of constructing a new, more modern prison. Lynds spent months researching possible locations for the prison, considering Staten Island, The Bronx, and Silver Mine Farm, an area in the town of Mount Pleasant, located on the banks of the Hudson River.
He also visited New Hampshire, where a prison was successfully constructed by inmate labor, using stone that was available on-site. For this reason, by May, Lynds had finally decided on Mount Pleasant, located near a small village in Westchester County with the unlikely name of Sing Sing. This appellation was derived from the Native American words "Sinck Sinck" which translates to "stone upon stone".[8] The legislature appropriated $20,100 to purchase the 130-acre (0.53 km2) site, and the project received the official stamp of approval.[8] Lynds hand-selected 100 inmates from his own private stock for transfer and had them transported by barge along the Erie Canal to freighters down the Hudson River. On their arrival on May 14, the site was "without a place to receive them or a wall to enclose them"; "temporary barracks, a cook house, carpenter and blacksmith's shops" were rushed to completion.[9][10]
When it was opened in 1826,[11] Sing Sing was considered a model prison, because it turned a profit for the state, and by October 1828 was finally completed.[7] Lynds employed the Auburn system, which imposed absolute silence on the prisoners; the system was enforced by whipping and other brutal punishments.
20th century
Thomas Mott Osborne's tenure as warden of Sing Sing prison was brief but dramatic. Osborne arrived in 1914 with a reputation as a radical prison reformer. His report of a week-long incognito stay inside New York's Auburn Prison indicted traditional prison administration in merciless detail.[12]
Prisoners who had bribed officers and intimidated other inmates lost their privileges under Osborne's regime. One of them conspired with powerful political allies to destroy Osborne's reputation, even succeeding in getting him indicted for a variety of crimes and maladministration. After Osborne triumphed in court, his return to Sing Sing was a cause for wild celebration by the inmates.[13][14]
Another notable warden was Lewis Lawes. He was offered the position of warden in 1919, accepted in January 1920, and remained for 20 years as Sing Sing's warden. While warden, Lawes brought about reforms and turned what was described as an "old hellhole" into a modern prison with sports teams, educational programs, new methods of discipline and more. Several new buildings were also constructed during the years Lawes was warden. Lawes retired in 1941 after 21 years as warden and died six years later. In 1943, the old cellblock was finally closed and the metal bars and doors were donated to the war effort.[15][16] In 1989, the institution was accredited for the first time by the American Correctional Association, which established a set of national standards by which every correctional facility should be judged.[17]
21st century
Today Sing Sing houses more than 2,000 inmates, with about 1,000 people working there and 5,000 visitors per month. The original 1825 cellblock is no longer used and in 2002 plans were announced to turn this into a museum.[18] In April 2011 there have been talks to close the prison in favor of real estate.[19]
Executions
Four inmates under federal death sentences were executed at Sing Sing. On June 19, 1953, Julius and Ethel Rosenberg were electrocuted for espionage. On August 12, 1952, Gerhard A. Puff was electrocuted for murder.[20] The last prisoner to be executed in the electric chair was Eddie Lee Mays who was convicted of murder and executed on August 15, 1963. In 1972, the United States Supreme Court ruled in Furman v. Georgia that the death penalty was unconstitutional and the chair was no longer used. Altogether, 614 men and women were executed at Sing Sing. The electric chair was later moved to Greenhaven Prison in working condition but was never used again.[21]
Educational programs
In 1996, Katherine Vockins founded Rehabilitation Through the Arts (RTA) at Sing Sing.[22] RTA works in collaboration with theater professionals to provide prisoners with a curriculum of year-round theater-related workshops.[22] The RTA program has put on a number of plays at Sing Sing open to prisoners and community guests. The program has shown that the use of dramatic techniques leads to significant improvements in the cognitive behavior of the program's participants inside prison and a reduction in recidivism once paroled.[23] The impact of RTA on social and institutional behavior was formally evaluated by John Jay College for Criminal Justice, in collaboration with the NYS Department of Corrections.[24] Led by Dr. Lorraine Moller, Professor of Speech and Drama at John Jay, the study found that RTA had a positive impact on prisoners who participated in the program, showing that "the longer the inmate was in the program, the fewer violations he committed.".[25] The RTA program currently operates at 5 other New York state prisons.[23]
Hudson Link for Higher Education in Prison, a not-for-profit organization was founded to provide college education to incarcerated people in an effort to help reduce recidivism and poverty, while strengthening families and communities. In 1998, as part of the get-tough-on-crime campaign, state and federal funding for college programs inside prison was stopped. Understanding the positive effects of education in the transformation and rehabilitiation of incarcerated people, inmates at Sing Sing Correctional Facility reached out to religious and academic volunteers to develop a college-degree granting program. Under the leadership of Dr. Anne Reissner, Hudson Link for Higher Education in Prison was founded to restore college education at Sing Sing through private funding.[26]
Museum
Plans to turn part of Sing Sing into a museum go back to 2005, when local officials sought to turn the old power house into the museum, linked by a tunnel to a retired cell block, at a cost of $5.0 Million.[27] In 2007, the village of Ossining applied for $12.5 Million in Federal money for the project, expected then to cost $14 Million.[28] The proposed museum will display the Sing Sing story unfolded over time.[29]
Contribution to American English vernacular
The use of the expression "up the river" to mean "in prison" derives from the practice of sentencing people convicted in New York City to serve their prison terms in Sing Sing, which is literally "up the Hudson River" from the city. Its use dates from 1891.

From Wikipedia, the free encyclopedia
Ossining is a village in Westchester County, New York, United States. The population was 25,060 at the 2010 census. As a village, it is located in the Town of Ossining.
Geography
Ossining borders the eastern shores of the widest part of the Hudson River.
According to the United States Census Bureau, the village has a total area of 6.3 square miles (16.4 km2), of which, 3.2 square miles (8.3 km2) of it is land and 3.1 square miles (8.1 km2) of it (49.37%) is water.
Demographics
As of the census[1] of 2000, there were 24,010 people, 8,227 households, and 5,339 families residing in the village. The population density was 7,464.8 people per square mile (2,879.0/km2). There were 8,515 housing units at an average density of 2,647.4 per square mile (1,021.0/km2). The racial makeup of the village was 51.26% White, 17.87% Black or African American, 0.12% Native American, 3.28% Asian, 0.01% Pacific Islander, 0.44% from other races, and 5.04% from two or more races. Hispanic or Latino of any race were 22.08% of the population.
There were 8,227 households out of which 30.7% had children under the age of 18 living with them, 47.0% were married couples living together, 12.9% had a female householder with no husband present, and 35.1% were non-families. 28.9% of all households were made up of individuals and 9.6% had someone living alone who was 65 years of age or older. The average household size was 2.61 and the average family size was 3.17.
In the village the population was spread out with 20.7% under the age of 18, 8.3% from 18 to 24, 39.1% from 25 to 44, 20.9% from 45 to 64, and 11.0% who were 65 years of age or older. The median age was 36 years. For every 100 females there were 117.6 males. For every 100 females age 18 and over, there were 119.4 males.
The median income for a household in the village was $52,185, and the median income for a family was $60,179. Males had a median income of $40,412 versus $36,975 for females. The per capita income for the village was $25,036. About 7.6% of families and 10.6% of the population were below the poverty line, including 12.9% of those under age 18 and 8.3% of those age 65 or over.
History
In 1838 Benjamin Brandreth built a manufacturing facility for his Vegetable Universal Pills which became one of the most successful patent medicines in the United States. Brandreth's business became very successful and his firm was at one point the nation's leading proprietary advertiser.[2] Brandreth became President of the village for many years.[3]
Due to the history of the village, a number of Ossining structures are on the National Register of Historic Places, and the downtown shopping area is listed as the Downtown Ossining Historic District.[4] In addition, the Sparta neighborhood has been designated a local historic district. Ossining's role in New York's heritage has been recognized by its inclusion, as one of only 14 areas, in an Urban Cultural Park System designed to attract visitors to the State.
Present day Ossining is a vital community with a vast range in types of housing, from the very modest to the luxurious estates, and a diversified population enjoying a healthy racial and religious mix. The Village of Ossining is situated within 3 square miles (8 km2) and according to the U.S. Bureau of Census, 2000 census 24,010 reside in this historic village on the Hudson River.
Ossining is ranked the No.2 best community to live in Westchester by Westchester Magazine, based on criteria such as Diversity, Housing Costs, Parks & Recreation, Property Tax, Proximity to NYC, Safety, Schools, Proximity to Water, Nightlife, Shopping, and Downtown.