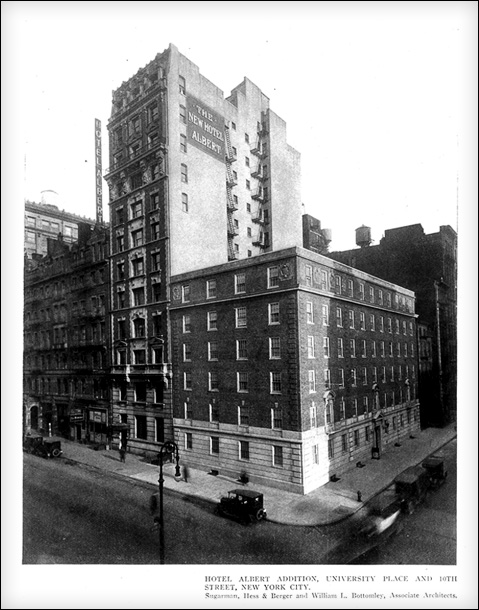 During Baba's visit to New York April 1932, he stayed at Graham & Lettice Stoke's home in Greenwich Village. The others in the touring party stayed at this hotel.
The hotel was located on East 10th Street, Greenwich Village, on the corner of University Place.The 500-room hotel closed some time ago and is now 190 co-operative apartments.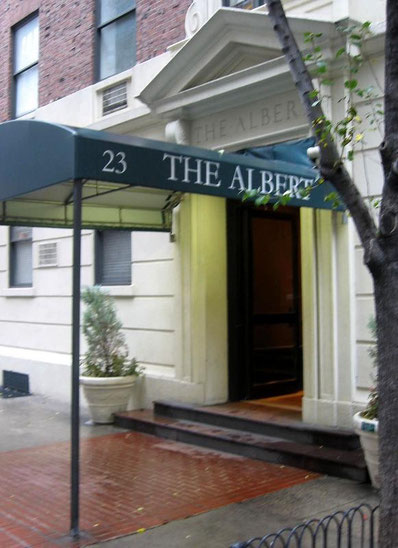 The Albert French Restaurant, located in the Hotel Albert at 11th St. and University Place, was at one time such a haven for writers that it became known as the "downtown Algonquin." Its most celebrated habitue, as it turned out, was Thomas Wolfe.
The Albert Hotel is 90 years old and its opening in 1868 was a gala occasion attended by P. T. Barnum, Gen. George McClellan of Civil War fame, and other celebrities of the day. The hotel was built by William Ryder and presumably named for his brother, Albert Ryder. Albert lived there and entertained so many of his impoverished Bohemian friends the Le, on the cuff, that the hotel went broke. There was a recent flurry in art circles over a revived rumor that the murals in the restaurant were the work of Albert Ryder, in which case they would be extremely valuable.
Joseph Brody, a French refugee, bought the ALBERT FRENCH RESTAURANT in 1946 and, reversing the usual trend, turned it into an American restaurant.