London Coliseum, London

Meher Baba visited this theatre on September 26, 1931 on his first visit London.
Baba went to a Saturday night performance of 'White Horse Inn'  with three of his Indian disciples, and four English people.
They are ; Desmond & Kim Tolhurst, Margaret Craske, Meredith Starr and Kitty Davy also  Rustom, Chanji and Agha Ali.
An actress named Cordelia DeLeon was introduced to Baba.  Delia, as she was called, was immediately drawn to Baba and sat by his side. Every day thereafter in London, Delia saw Baba. 
For further accounts see Lord Meher  ;  Bhau Kalchuri - Vol.4  Page 1434 - 5-6.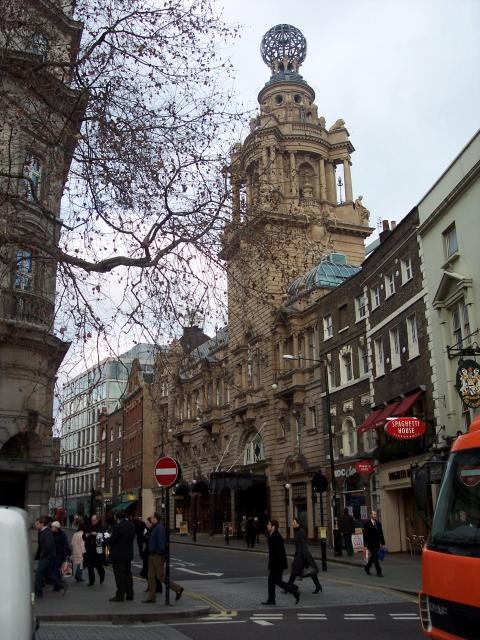 "White Horse Inn "
From Wikipedia, the free encyclopedia
Im weißen Rößl (English title: White Horse Inn or The White Horse Inn) is an operetta or musical comedy set in the picturesque Salzkammergut region of Upper Austria. It is about the head waiter of the White Horse Inn in St. Wolfgang who is desperately in love with the owner of the inn, a resolute young woman who at first only has eyes for one of her regular guests. Sometimes classified as an operetta, the show enjoyed huge successes both on Broadway and in the West End (651 performances at the Coliseum starting 8 April 1931) and was filmed several times. In a way similar to The Sound of Music and the three Sissi movies, the play and its film versions have contributed to the saccharine image of Austria as an alpine idyll—the kind of idyll tourists have been seeking for almost a century now. Today, Im weißen Rößl is mainly remembered for its songs, many of which have become popular classics.
Synopsis
It is summertime at the Wolfgangsee. Josepha Vogelhuber, the young, attractive but resolute owner of the White Horse Inn, has been courted for some time by her head waiter, Leopold Brandmeyer. While appreciating his aptness for the job, she mistrusts all men as potential gold-diggers, rejects Leopold's advances and longingly waits for the arrival of Dr Siedler, a lawyer who has been one of her regular guests for many years. This year, Josepha hopes, Siedler might eventually propose to her.
When Siedler arrives, he finds himself in the very same place with Wilhelm Giesecke, his client Sülzheimer's business rival, and immediately falls in love with Giesecke's beautiful daughter Ottilie. As it happens, Sülzheimer's son Sigismund, a would-be beau, also arrives at the White Horse Inn. Angry at first about that person's presence at the same inn, Giesecke soon has the idea of marrying off his daughter to Sigismund Sülzheimer, thus turning a pending lawsuit into an advantageous business merger. However, Siedler's love is reciprocated by Ottilie, who adamantly refuses to marry Sigismund, while Sigismund himself has fallen for Klärchen Hinzelmann, a naive beauty who accompanies her professorial father on a tour through the Salzkammergut.
Seeing all this, Leopold Brandmeyer decides that he has had enough and quits his job. Josepha has also done a lot of thinking in the meantime, reconsiders her head waiter's proposal of marriage, and can persuade him to stay—not just as an employee but also as boss. Love gets its way with the other two couples as well, and the play ends with the prospect of a triple marriage.
"Im weißen Rößl", with the English title The White Horse Inn, is a musical comedy set in the picturesque Salzkammergut region of Austria. In 1930 Ralph Benatzky composed the captivating music, and on the 8th of November 1930 the premiere of The White Horse Inn operetta took place at the great Schauspielhaus in Berlin.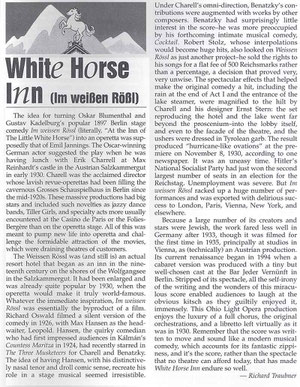 http://www.eno.org/home.php
From Wikipedia, the free encyclopedia
The Coliseum Theatre (also known as the London Coliseum) is on St. Martin's Lane, in the City of Westminster. It is one of London's largest and best equipped theatres and opened in 1904, designed by theatrical architect Frank Matcham (designer of the London Palladium), for impresario Oswald Stoll. Their ambition was to build the largest and finest 'People's palace of entertainment' of its age[1].
The inaugural performance was a variety bill on 24 December 1904. In 1911, dramatist W. S. Gilbert produced his last play here, The Hooligan.
The theatre changed its name from the London Coliseum to the Coliseum Theatre between 1931 and 1968 when 651 performances of the musical comedy White Horse Inn started on 8 April 1931). It reverted to the original name when the Sadler's Wells Opera Company (having moved from Sadler's Wells Theatre) moved to the Coliseum in 1968. The Company changed its name to the English National Opera in 1974 and bought the freehold of the building for £12.8m.
From 16th June 1963 it became the second of London's three Cinerama Theatres, first showing the 3-strip version for the first 5 months, then 70mm single strip film was shown until 22nd May 1968 when it screened its final movie.
It underwent extensive renovations between 2000 and 2004 and has the widest proscenium arch in London as well as being one of the earliest to have electric lighting. It was built with a revolving stage although this was rarely used. The theatre retains many of its original features and was Grade II* listed by English Heritage in September 1960[2]. The design team for the refurbishment was RHWL (architects), Arup Acoustics(acousticians) and Arup (building engineers).
The theatre hosted both the 2004 and 2006 Royal Variety Performances, in the presence of HRH the Prince of Wales.
[edit]
Transport links
The London Coliseum is located near several tube stations:
Charing Cross also provides mainline National Rail connections.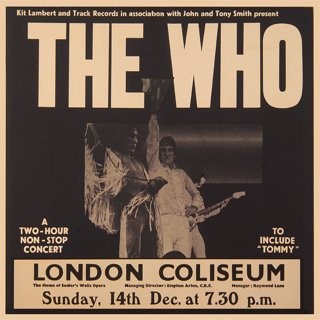 http://www.google.com.au/imgres?imgurl=http://3.bp.blogspot.com/_6Xm3jJCiNAg/STc0qWhghqI/AAAAAAAAACc/dHDbBbeNoa4/s320/londoncoliseum1969.jpg&imgrefurl=http://thewholinks.blogspot.com/2008/12/who-london-coliseum-1969.html&usg=__mkWjkNaIoW8gxBQceysNSAuJXDA=&h=320&w=320&sz=34&hl=en&start=24&zoom=1&tbnid=Psb2GPGLoZWZwM:&tbnh=150&tbnw=150&prev=/images%3Fq%3Dlondon%2Bcoliseum%26um%3D1%26hl%3Den%26client%3Dfirefox-a%26sa%3DN%26rls%3Dorg.mozilla:en-US:official%26channel%3Ds%26biw%3D1280%26bih%3D819%26tbs%3Disch:10%2C469&um=1&itbs=1&iact=hc&vpx=323&vpy=337&dur=1255&hovh=225&hovw=225&tx=117&ty=113&ei=XvqpTPnKEIvRca_arNMN&oei=Y_mpTP_FJ4msvgOns_2jDA&esq=8&page=2&ndsp=23&ved=1t:429,r:1,s:24&biw=1280&bih=819