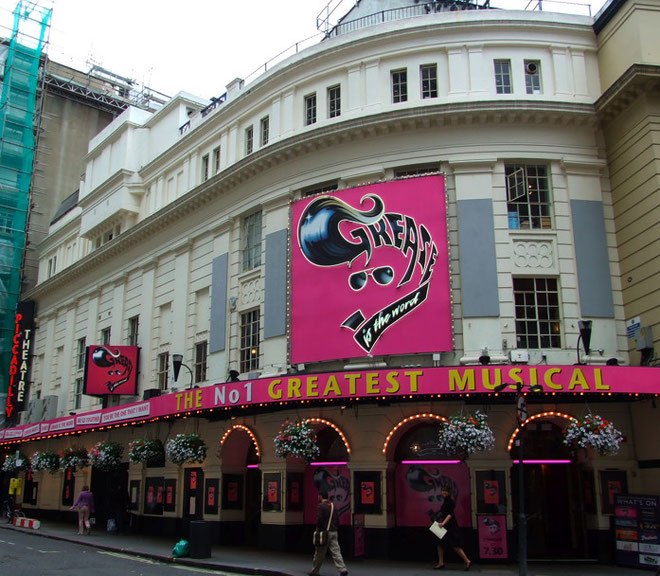 Meher Baba visited this theatre on the night of the 1st October 1931.
Lord Meher ;  Bhau Kalchuri -- Vol.4  Page 1442
The Piccadilly Theatre
The Piccadilly Theatre stands on a corner site on the east side of Sherwood Street at its intersection with Denman Street. It was built by the Piccadilly Theatre Company, the first licensee being Edward Laurillard. The joint architects were Bertie Crewe and Edward A. Stone and the general contractors were Griggs and Son. The theatre opened on 27 April 1928 with Blue Eyes, a romantic musical play by Jerome Kern, with book and lyrics by Guy Bolton and Graham John. (ref. 118) It was subsequently used as a cinema.
The theatre achieved its first success with Folly to be Wise which ran for most of 1931, and in 1933–4 James Bridie's A Sleeping Clergyman ran for 230 performances. (ref. 119) In 1935–6 there was an unrewarding season of variety and the next success was not until July 1941 with Noël Coward's Blithe Spirit, which was soon transferred elsewhere. Post-war productions have included Peter Ustinov's Romanoff and Juliet. The theatre was entirely redecorated in 1955, and again in 1961–2. (ref. 120)
The auditorium lies on a south-west to northeast axis with its back wall parallel to Sherwood Street and the stage at the easterly end of the site. The obtuse angle formed by the junction of Sherwood and Denman Streets is rounded by the façade which is terminated in Denman Street by a projecting wing, actually containing a separate public house, the Queen's Head, treated as part of the theatre front. The elevation is mainly in four storeys divided one-two-one: above the rusticated arcade of the ground floor projects a continuous lettered canopy, while a prominent cornice surmounts the series of giant pilaster-strips of the first and second floors, the walls of which are channelled; pairs of short pilaster-strips are carried up the third storey to a lesser cornice. A blank-walled protuberance from the third storey, over the upper-circle entrance in Sherwood Street, contains the film projection room. The exterior, in Portland cement, was praised by The Builder as 'modern in that it carries no superfluous detail'. (ref. 121)
The elliptical entrance hall is panelled in walnut. The auditorium, with stalls, dress circle and upper circle, but no gallery, was planned to seat 1200. The square-headed proscenium is framed by a plain architrave and flanked by ornamented pilasters. Messrs. Marc-Henri and Laverdet of Paris designed a colour scheme of eau-de-nil and gold, with stylized landscapes by Japanese craftsmen on the fronts of the boxes and circles.
Folly to be Wise - A Play
Eve Becke sings "I Love You So" 1934 From the 1934 British film "Death At Broadcasting House". The following mini biography from www.mgthomas.co.uk "Born 1910, singer Eve Becke started her professional career in the late 1920s as a chorus girl before joining Jack Hulbert's organisation. She was in the chorus of "The House That Jack Built" and "Folly to be Wise". After a three-and-a-half year period as a cabaret artist, she joined Jack Hylton's organization in variety and subsequently sang on a handful of his records. However, these weren't her first recordings; her debut was in 1932 singing "Was That The Human Thing To Do" with Roy Fox's band (at the time directed by Lew Stone). She subsequently made a number of recordings for the "Sterno" label, including some with Charlie Kunz' Casani Club Orchestra. she was in some demand on records, making some with Ray Noble, Jay Wilbur and Teddy Joyce, starring with the latter in the film "Radio Parade of 1935" as well as making other films at this period. in 1936 she married an Italian Count Eugenio Ugo Caneva di Rivarolo, who fell in love with her voice after hearing her on the radio. They lived in London where Eve concentrated on broadcasting and occasional recordings with the Geraldo and Louis Levy orchestras. During the war, they moved to Italy, but the Count was killed in 1944 and Eve returned to London and resumed her career, broadcasting again with Geraldo and Louis Levy. My thanks to Charles Hippisley-Cox and the late Tony Clarke for this information."
Folly To Be Wise
Revue devised by Jack Hulbert and Paul Murray.
Music and Lyrics: Vivian Ellis, Noel Gay, Harry Graham, Bert Kalmar, Harry Ruby, Herman Hupfeld, Dion Titheradge, et al.
Piccadilly Theatre, London - 8 January 1931 (257 perfs)
The Cast included:
Cicely Courtneidge, Mary Eaton, Nelson Keys, Ivor McLaren, J. Albert Trahan

The Piccadilly Theatre is a West End theatre located at 16 Denman Street, behind Piccadilly Circus and adjacent to the Regent Palace Hotel, in the City of Westminster, England.
[edit]
Early years
Built by Bertie Crewe and Edward A. Stone for Edward Laurillard, its simple facade conceals a grandiose Art Deco interior designed by Marc-Henri Levy and Gaston Laverdet, with a 1232-seat auditorium decorated in shades of pink. Gold and green are the dominant colours in the bars and foyer, which include the original light fittings. Upon its opening on April 27, 1928, the theatre's souvenir brochure claimed, "If all the bricks used in the building were laid in a straight line, they would stretch from London to Paris." The opening production, Jerome Kern's musical Blue Eyes, starred Evelyn Laye, one of the most acclaimed actresses of the period.[1]
The Piccadilly was briefly taken over by Warner Brothers, and operated as a cinema using the Vitaphone system, and premièred the first talking picture to be shown in Great Britain, The Singing Fool with Al Jolson. The theatre reopened in November 1929, with a production of The Student Prince, having a success in January 1931 with Folly to be Wise, running for 257 performances.[1]
Following a conversion into a cabaret restaurant, the theatre reopened in April 1936 as The London Casino, which became noted for its lavish stage shows. The building sustained considerable damage when it was hit by a stray German bomb during World War II. After renovations in the early 1950s, it returned to its original name and became a venue for plays, revues, and musicals.
[edit]
Later years
In the 1960s and 1970s, it improved its reputation with a series of successful transfers from Broadway – both Who's Afraid of Virginia Woolf? and A Streetcar Named Desire made their London debuts here, as did Man of La Mancha. The Beatles recorded a number of songs here on 28 February 1964 for the BBC Radio show, "From Us to You". In 1976, the Jerome Kern and Guy Bolton musical Very Good Eddie ran for 411 performances at the theatre. The cast included Prue Clarke.[2]
In 1986, the venue was the setting for ITV's popular Sunday evening variety show, Live From the Piccadilly, hosted by Jimmy Tarbuck. The 1990s witnessed an expansion in ballet and dance, notably the most successful commercial ballet season ever to play in the West End, with Matthew Bourne's acclaimed production of Swan Lake.
The Piccadilly has played host to such renowned stars as Henry Fonda, Ian McKellen, Judi Dench, Michael Pennington, Barbara Dickson, Lynn Redgrave, Julia McKenzie, Eric Sykes, and Dame Edna. Its productions have run the gamut from Wish You Were Here to Edward II to Spend Spend Spend to Noises Off to Blues in the Night to a season of plays directed by Sir Peter Hall.
The Donmar Warehouse production of Guys and Dolls ran from 19 May 2005 - 14 April 2007. This has been followed by Paul Nicholas's & David Ian's new production of Grease which opened on 8 August 2007 and is currently the longest running show in the theatre's history (July 26, 2010).
The Piccadilly is one of twenty-four venues owned by the Ambassador Theatre Group.
The Piccadilly Theatre also hosts ChristChurch London, a Newfrontiers Church, every Sunday afternoon.