Lyric Hammersmith Theatre, London

In night in April 1932, Meher Baba visited this theatre to see the play " Derby Days "
Lord Meher ;  Bhau Kalchuri  - Vol.6  Page 1571
Derby Days - Play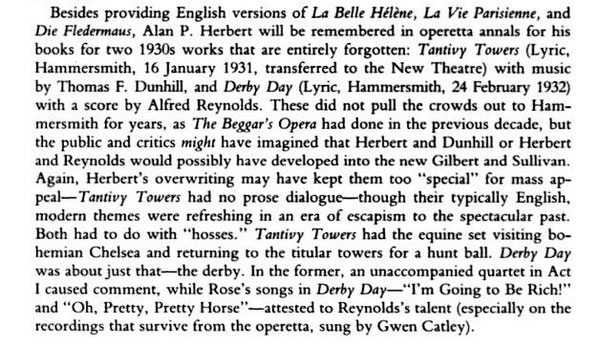 LYRIC THEATRE
29 Shaftesbury Avenue, London, W1D 7ES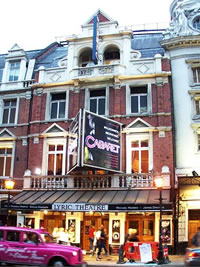 Architect : C J Phipps
Opened : 17 December 1888
Seats : 967 on 4 levels
Owned by : Nimax Theatres
The Lyric was designed by C. J. Phipps and built for Henry J. Leslie by Messrs Stephens and Bastow. Leslie financed the building of his new Theatre from the profits of 'Dorothy' from which he apparently made the huge sum at the time of £100,000. The Theatre's Freehold is now owned by the Theatres Trust.
The Lyric Theatre's Windmill Street Facade showing the remains of the house that once stood there, now the Lyric's dressing room block and stage door entrance. - Phot M.L. 06.The Lyric's Windmill Street Facade is interesting in that it is actually the remains of a house which once stood there. The house was built in 1766 by Dr William Hunter, who was an anatomist, partly as a home and partly as an anatomical theatre and museum. Internally the house was gutted to make way for the Lyric's dressing rooms but externally it is still much in its original form. The rear of the house was demolished so that the Lyric's stage could be built on the site. On the Windmill Street Facade there is a Blue Plaque to commemorate the original building.
The Theatre is unusual in that it still uses water to operate the iron curtain. Originally this was pumped from the Thames to most Theatres and Hotels around London's West End and used to hydraulically operate lifts and all manor of heavy machinery. Today the Lyric's Iron Curtain is operated via an electric pump but can also be operated manually by two people at a time, though it's a very labour intensive job, and slow too. The Lyric was also fitted with a large revolve which is still operable today, either by a huge and ancient electric rectifier or by hand.
Past Productions
1888 Opened with a transfer of the comic opera Dorothy from the Prince of Wales Theatre, featuring Marie Tempest.
1892 The Mountebanks, a comic opera by W S Gilbert.
1893 Eleanora Duse made her London debut in La Dame aux Camellias.
1896 The Sign of the Cross, written and produced by Wilson Barrett.
1898 Sarah Bernhardt appeared in Frou-Frou, Phèdre, Julie and La Tosca. Tom B Davis took over the management.
1899 Floradora with music by Leslie Stuart (including 'Tell Me Pretty Maiden') brought the theatre into the 20th century.
1902 Johnstone Forbes-Robertson produced and appeared with his wife Gertrude Elliott in Mice and Men.
1906 Lewis Waller appeared in a season of revivals and a romantic version of Robin Hood.
1910 The Chocolate Soldier was the first of Bernard Shaw's plays to be set to music when Oscar Strauss composed songs for an adaptation of Arms and the Man.
1911 Michael Faraday became sole controller of the theatre and Yvonne Arnaud found fame in the musical The Girl in the Taxi.
1916 F W Tibbets became lessee (until 1930).
1922 A play about the composer Franz Schubert employing his music, Lilac Time, was a great success.
1924 The Frederick Lonsdale musical The Street Singer.
1926 The Gold Diggers starred Tallulah Bankhead.
1929 Leslie Howard appeared in Berkeley Square.
1931 Eugene O'Neill's Strange Interlude and Dodie Smith's first play, Autumn Crocus.
1932 Dangerous Corner by J B Priestley.
1933 Thomas Bostock took over and the building was completely re-decorated.
1934 Alfred Lunt and Lynne Fontane in A Reunion in Vienna and George S Kaufman's Royal Family, directed by Noël Coward with Madge Titheradge, Marie Tempest and Laurence Olivier.
1935 Tovarich by Robert Sherwood and Laurence Houseman's Victoria Regina about Queen Victoria.
1941 Yvonne Arnaud in The Nutmeg Tree.
1943 Prince Littler took control of the building.
1944 Terence Rattigan's Love in Idleness saw the return of the Lunts.
1946 The Winslow Boy again by Rattigan.
1950 Robert Morley starred in The Little Hut which ran for 1,261 performances.
1954 The musical Grab Me a Gondola.
1955 Noël Coward's South Sea Bubble starred Vivien Leigh.
1958 Keith Michell and Elizabeth Seal led the cast in the musical Irma La Douce.
1964 Keith Michell again as Robert Browning in Robert and Elizabeth.
1969 Neil Simon's Plaza Suite.
1972 Alan Ayckbourn's How the Other Half Loves and Alec Guinness in Alan Bennett's Habeas Corpus.
1974 The Lyric became part of the Stoll Moss Theatres group.
1977 Eduardo de Filipo's Filumena starred Joan Plowright.
1982 Robert Holmes à Court took control of Stoll Moss Theatres.
1983 Barbara Dickson starred in the original production of Willy Russell's musical Blood Brothers and Judi Dench and Michael Williams were in Hugh Whitmore's Pack of Lies.
1984 Leonard Rossiter sadly died during the run of Joe Orton's Loot.
1985 Siân Phillips and Beryl Reid in the musical Gigi.
1989 Rosemary Harris led the cast of Robert Harling's Steel Magnolias, Kenneth Branagh in Look Back In Anger and Sheila Hancock in Andrew Davies's Prin.
1990 Burn This starred John Malkovich and Cameron Mackintosh's production of Clarke Peters' Five Guys Named Moe began a five-year run. Janet Holmes à Court took control of Stoll Moss following the death of her husband.
1995 The musical revival Ain't Misbehavin', Leo McKern in Hobson's Choice from Chichester and Australian dance sensation Tap Dogs.
1996 Transfer of Andrew Lloyd Webber and Alan Ayckbourn's musical By Jeeves.
1997 Siân Phillips starred as Dietrich in Pam Gems's play with music Marlene directed by Sean Mathias, and Antony Sher in the Royal Shakespeare Company's Cyrano de Bergerac. The theatre front of house areas were completely refurbished.
1998 Patrick Marber's Closer from the Royal National Theatre.
1999 Animal Crackers from the Manchester Royal Exchange and a multi award-winning performance from Janie Dee in Alan Ayckbourn's Comic Potential.
2000 The Lyric became a Really Useful Theatre when Lord Lloyd-Webber's Really Useful Group and Bridgepoint Capital purchased Stoll Moss Theatres Ltd. Fanny Burney's A Busy Day with Stephanie Beacham and Sara Crowe prior to Brief Encounter with Jenny Seagrove and Long Day's Journey Into Night starring Jessica Lange.
2001 Thelma Holt presented the first full-scale production of Noël Coward's 1926 play Semi-Monde prior to a short season of Barbara Cook Sings Mostly Sondheim and Brendan Fraser in Cat on a Hot Tin Roof (both produced by Bill Kenwright).
2002 David Warner returned to the stage in The Feast of Snails and Daisy Pulls It Off returned to Shaftesbury Avenue. The Constant Wife transferred from the Apollo Theatre, followed by another Maugham play, Home and Beauty.
2003 A short season with Al Murray The Pub Landlord, Who Dares Wines?, Strindberg's Dance of Death starring Sir Ian McKellen, the transfer of the Royal Court's Hitchcock Blonde by Terry Johnson, Camut Band and The Secret Rapture.
2004 The new musical Beautiful and Damned based on the lives of Scott and Zelda Fitzgerald was presented by Gem Theatrical Productions Limited.
2005 Bill Kenwright Limited transferred Festen from the Ameida Teatre and Delphi Productions presented Death of a Salesman starring Brian Dennehy and Clare Higgins.
2006 Bill Kenwright presented Night of the Iguana starring Woody Harrelson, Clare Higgins and Jenny Seagrove. Phil McIntyre staged a new play Smaller by Carmel Morgan, starring Dawn French and Alison Moyet, and directed by Kathy Burke.
Lyric Theatre (Hammersmith)
From Wikipedia, the free encyclopedia
The Lyric Theatre, also known as the Lyric Hammersmith is a theatre on King Street, in the London Borough of Hammersmith and Fulham, which takes pride in its original, "groundbreaking" productions.[1] It has two main performance areas: the Main House, a 550-seat 19th-century auditorium, rebuilt from the original Frank Matcham-designed theatre,[2] which hosts its main productions; and the 120-seat Studio, which houses smaller productions by up-and-coming companies.[1] The Lyric also presents frequent "Lyric Children" and "Lyric Music" performances as well as "Sunday Night Comedy".[1]
Its current artistic director is Sean Holmes, and its executive director is Jessica Hepburn.[3]
[edit]
Five strands
"The Lyric's programme is divided into five strands":