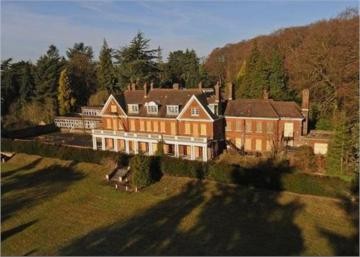 Witheridge Lane, Penn, High Wycombe HP10 8PG
In 1932 Indian spiritual master Avatar Meher Baba visited Penbury Grove. Built by Horace Field Parshall, the father of the master's disciple Kim Tolhurst, the stately house was built as a replica of William Penn's house in Pennsylvania. In more recent times it was a special school for disabled children - Penbury Grove School.
Kim and her husband also had a London residency at Compayne Gardens, West Hampstead.

The following is the late Richard Thompson's account of his visit to Penbury Grove along with his family and friends.
This extract was taken from Meher Baba Australia issue April 1998 Page 6,7 & 11.
By kind permission of Jenny Thompson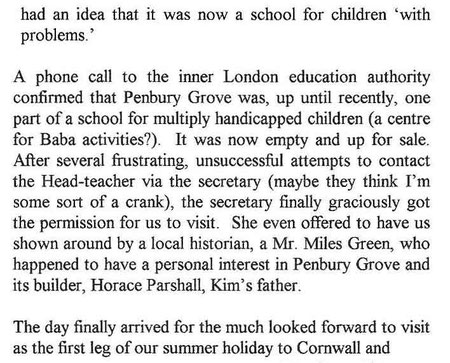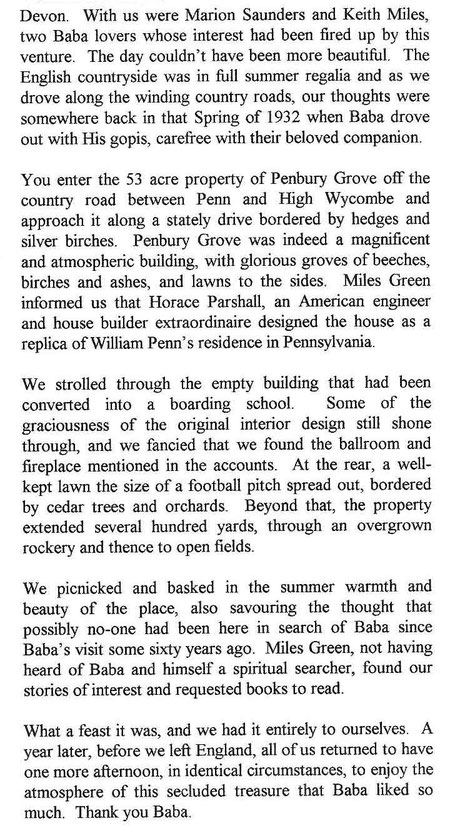 Penn mansion sold after 15 years standing empty
16 December 2010
Penbury Grove, one of the villages most historic properties, has been sold after lying empty for 15 years. The Witheridge Lane mansion is becoming increasingly derelict.
The estate agent Knight Frank announced today that Penbury Grove had been sold subject to contract. It was on the market for £5m and it is thought it has been sold to be redeveloped and renovated as a private residence.
The country house has a colourful past. It was the first house in Penn to have electricity when it was built at the beginning of the last century by a tycoon who made his millions in the emerging electricity generating industry.
In the 1930s it was occupied by Elizabeth Abbott, a former leading suffragette, who lived there until her death in 1957. The property was bought by the former Inner London Education Authority (ILEA} and it became a school for London children with hearing and communication difficulties. In 1975 it was merged with Rayners School in Penn to become Penn School.

 
When ILEA was abolished, its owners became the London Borough of Camden and in 1996 Camden closed the school because of increasing maintenance costs and staff and pupils were moved to the Rayners site. For many years its sports grounds were used by juniors at Penn and Tylers Green Football Club and was one of the most beautiful football venues in the county.
Penbury Grove is situated in the village of Penn, overlooking attractive open countryside in the Chilterns Area of Outstanding Natural Beauty and enjoys a secluded rural position, being bounded by mature trees. 
Penbury Grove Residential Nursery, Penn, Bucks - 25 acres5.10  (5 miles).Detached, Freehold, 10+ Beds, 10+ Baths, 5 Receptions.
We went through "Penbury Grove" along a public footpath.  The wood was entirely beech trees.
http://www.rightmove.co.uk/property-for-sale/property-18316339.html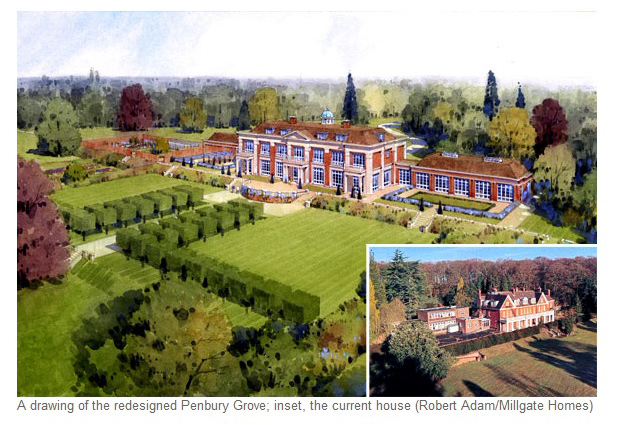 Richard F Budd sent me the following in mid 2011
Penbury Grove, Penn, Bucks is under receivership & BEING SOLD. Currently there is an application in by a building firm which has been approved where they intend to knock down & redevelop as it is not a listed building.