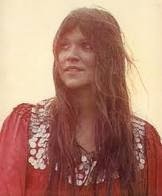 From Wikipedia, the free encyclopedia
Melanie Anne Safka-Schekeryk (born February 3, 1947) is an American singer-songwriter.[1] Known professionally as simply Melanie, she is best known for her hits "Brand New Key", "Ruby Tuesday", "What Have They Done To My Song Ma" and "Lay Down (Candles in the Rain)".[2][3]
Early career
Melanie was born and grew up in the Astoria neighborhood of Queens, New York City, New York.[4] Melanie made her first public singing appearance at age four on the radio show Live Like A Millionaire, performing the song "Gimme a Little Kiss". She attended Red Bank High School in Red Bank, New Jersey, graduating in 1966. After school, her parents insisted she go to college, so she studied acting at the American Academy of Dramatic Arts in New York,[5] where she began singing in the folk clubs of Greenwich Village and signed her first recording contract.
Initially signed to Columbia Records in the United States, Melanie released two singles on the label. Subsequently she signed with Buddah Records and first found chart success in Europe in 1969 with "Bobo's Party" which reached Number 1 in France. Her debut album received rave reviews from Billboard which heralded her voice as "... wise beyond her years. Her non-conformist approach to the selections on this LP make her a new talent to be reckoned with."[citation needed]
Later in 1969, Melanie had a hit in the Netherlands with "Beautiful People". She also performed at the Woodstock Festival in 1969 and the inspiration for her signature song, "Lay Down (Candles in the Rain)", apparently arose from the Woodstock audience lighting candles during her set (although most of the "candles" were actually matches or lighters). The recording became a hit in Europe, Australia, Canada, and the United States in 1970. The B-side of the single featured Melanie's spoken-word track "Candles in the Rain". "Lay Down" became Melanie's first Top Ten hit in America, peaking at Number 6 on the Billboard singles chart and achieving worldwide success. Later hits included "Peace Will Come (According To Plan)" and a cover of the Rolling Stones' "Ruby Tuesday".
In 1970, Melanie was the only artist to brave the court injunction banning the Powder Ridge Rock Festival, playing for the crowd on a homemade stage powered by Mister Softee trucks. Shortly following this performance, she played at the Strawberry Fields Festival, held from August 7 to 9, 1970, at Mosport Park, Ontario. She also performed at the Isle of Wight Festival in 1970 where she was introduced by Keith Moon and received four standing ovations (she also appeared 40 years later at the 2010 Isle of Wight festival). She was also the artist who sang to herald in the summer solstice at Glastonbury Fayre (later the Glastonbury Festival) in England in June 1971. She performed again at Glastonbury in 2011, the fortieth anniversary of the original festival.[6]
Melanie married Peter Schekeryk around 1970 and they had three children.[5] Melanie left Buddah Records when they insisted that she produce albums on demand. In 1971 she formed her own label, Neighborhood Records, with Schekeryk, who was also her producer.
Melanie had her biggest American hit on the Neighborhood label: the novelty-sounding 1972 number one "Brand New Key" (often referred to as "The Roller Skate Song"). "Brand New Key" sold over three million copies worldwide[citation needed] and was featured in the 1997 movie Boogie Nights.
The follow-up single to "Brand New Key" was "Ring the Living Bell". To compete with this release, Melanie's former record company released "The Nickel Song", which she had recorded while still signed to Buddah Records. Both songs were simultaneous Top 40 hits while "Brand New Key" was still on the charts — setting a record for the first female performer to have three Top 40 hits concurrently.[citation needed] Melanie was awarded Billboard's #1 Top Female Vocalist award for 1972.
Melanie has been awarded two gold albums (and a gold single for "Brand New Key") and three of her compositions were hits for The New Seekers. She is also well known for her musical adaptations of children's songs, including "Alexander Beetle" and "Christopher Robin".
When she became an official UNICEF ambassador in 1972, she agreed to forgo a world tour in favor of raising money for the organization.
Melanie had another Top 40 hit single in 1973 with "Bitter Bad", a song that marked a slight departure from the hippie sentiments of earlier hits (with lyrics such as "If you do me wrong I'll put your first and last name in my rock n' roll song"). Other chart hits during this period were the self-penned "Together Alone" and a cover of "Will You Love Me Tomorrow".
In 1973, Melanie started to retreat from the spotlight to begin a family. Her daughter Leilah was born that same year.
Later career
In 1976, Melanie released one album on Atlantic Records, Photograph, which was overseen by Ahmet Ertegün. The album was praised by the New York Times as one of the year's best, although it was largely ignored by the public. It was re-issued on CD in 2005 with an additional disc of unreleased material.
In the 1980s, the Quaker Oats Company used a version of "What Have They Done To My Song Ma" in their commercials for Instant Oatmeal with the revised lyrics "Look what they've done to my oatmeal".
In 1983, she wrote the music and lyrics for a theatrical musical, Ace of Diamonds, with a book by Ed Kelleher and Seymour Vall, based on a series of letters written by Annie Oakley. Though never fully produced, several staged readings were performed at Lincoln Center starring Melanie as the narrator and pop singer and actress Annie Golden as Oakley.[7]
In 1989, she won an Emmy Award for writing the lyrics to "The First Time I Loved Forever", the theme song for the TV series Beauty and the Beast.
With one exception her albums were produced by her husband, Peter Schekeryk, who died suddenly in 2010.[8] Her three children — Leilah, Jeordie and Beau-Jarred — are also musicians. Beau-Jarred is a guitarist and accompanies his mother on tour.
One of Melanie's most recent album, Paled By Dimmer Light (2004) was co-produced by Peter and Beau-Jarred Schekeryk and includes the songs "To Be The One", "Extraordinary", "Make It Work" and "I Tried To Die Young". In early 2005 most of Melanie's back-catalogue was re-released on the internet-only music label ItsAboutMusic.com. After a series of disagreements the relationship between the artist and the label was severed.
In 2007, Melanie was invited by Jarvis Cocker to perform at the Meltdown Festival at the Royal Festival Hall in London. Her sold-out performance received critical acclaim with The Independent claiming "it was hard to disagree that Melanie has earned her place alongside Joan Baez, Judy Collins, Joni Mitchell and Marianne Faithfull in the pantheon of iconic female singers. Meltdown was all the better for her presence".[citation needed] The concert was filmed for a DVD titled Melanie: For One Night Only which was released in October 2007.
Melanie also recorded a song called "Psychotherapy", sung to the tune of the "Battle Hymn of the Republic", which parodies aspects of Freudian psychoanalysis. It has been played on The Dr. Demento Show.
Personal
Melanie identifies herself politically as a Libertarian, stating: "I'm a total Libertarian, and I am not a Democrat, a Socialist, or a Republican."[9] For a time, at the beginning of her career, Melanie was a follower of Meher Baba and this influenced some of her songs (such as "Love to Lose Again" and "Candles in the Rain"). Over time she became disenchanted with other followers and then disassociated herself from Meher Baba. In 2006 she underwent a life-altering experience with Mata Amritanandamayi or Amma (Mother) as she is also known, or as the "hugging saint" from India, which inspired Melanie to write "Motherhood Of Love", one of her more recent songs.