In late 1970 Richard Lockwood and Ken Firth contributed to the debut LP Hush by Sydney band Extradition, released in June 1971 and now a rare collector's item. Both bands had been closely associated for some time, and shared similar musical outlooks; this led to Extradition members Colin Campbell and Shayna (Karlin) Stewart joining Tully at the start of 1971. Campbell played an important role in the later career of Tully and he wrote or co-wrote a considerable proportion of the material on both the Sea Of Joy and Loving is Hard albums.
Terry Wilson and Robert Taylor both left the group in December 1970. According to rock historian Noel McGrath, this was largely due to the fact that Carlos, Firth and Lockwood were adherents of the Meher Baba sect (popularised by devotees like The Who's Pete Townshend) -- an interest Wilson and Taylor reportedly did not share. Taylor was not replaced, and Tully continued to perform without a drummer.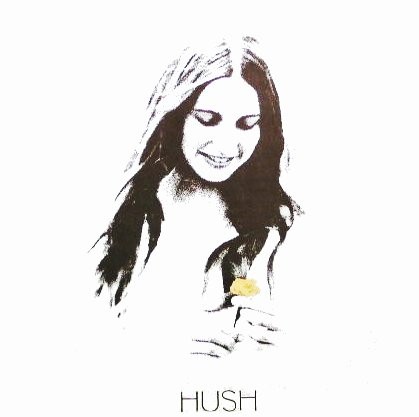 Dianne Adams is the lady on the record cover
Extradition was an Aussie hippie brotherhood, they belong to the earth and surely they showed it. Our cycle begins with water, pure and crystalline, as the first title "A Water Song" claims, you can actually hear calm water flowing mixed with the sounds of acoustic guitars; wooden sticks hitting each other accompanying the wind, distant flutes and of course the unearthly lush vocals of Shayna Karlin.

"A Love Song" opens with the same lush vocals with some quiet guitar, but then a shamanic beat of a mute drum and a harpsichord appears in this litany of love.

For me "Original Whim" it's the earth speaking, screaming and singing by herself, I know, I know… it sounds extremely hippie, but you can actually feel a very deep and organic vibe (no bullshit pal). Gerald Van Waes describes this piece better than I can possibly do ever: "It's an experimental meditative track, again as if driven and carried forth from the elements itself, starting from a more aerial element, like wind, with wood clicking sounds (Actually, according to the booklet, these must be stones, sticks, palm leaves, a tree, a Lebanese bell, Chinese and Turkish gongs, with some percussion instruments), becoming more melodic through Tibetan bells and chimes, and ending with the more deeply penetrating gong, all with the effect of an introductory musical "OM" for the next track.

… Thanks Gerald!, the next track "Minuet" it's a transitional piece, a very simple but effective and beautiful tiny classical repetitive dance with a piano laying in an harmonium, a joy for the spirit!

A static holded note appears at the beginning of "A Moonsong", sonically I interpret that holded whistle as a unique concentration point for what it comes… a litanic repetitive kinda prayer-chant, with a tabla marking the beat an a chorus repeating the prayer… mystical.

"Dear One" is the lengthiest track of the lp, again quoting Gerald Van Waes: "On this track, Richard Lockwood sings as well"… "This is created with piano and harpsichord mostly, with similar balancing and slowly evolving individual notes, on chord organ near the end, and with some acoustic guitar"

"A woman Song" is a melancholic theme with some violin indian vina.

In the beginning "I feel the sun" It's a classic woman vocals folksy song a la Anne Briggs with piano and Harpsichord, but surprisingly at the middle it turns into "Ice" certainly a Hammillean epic tour de force with solid male vocals, developing with drums, keyboards organ, cello and choir into an kind of anthem.

With "Song for Sunrise", the cycle ends as calm as it begins with the primeval wind blowing his message.

Extradition's Hush instead of be just a folk album, it's a tradition breaker using the tradition itself, an "Ouroboros" (snake swallowing its own tail), a perfect circle amidst the chaos, creator and destroyer itself. I mean, you got all the traditional folk elements, but used in an innovative and effective way… this is no crappy "elfish" stuff, as I said previously, this is the Earth speaking, screaming and singing herself, The Real Deal!


IMPORTANT: THE SONG "ICE" IS INCLUDED INSIDE "I FEEL THE SUN"
Hush, the original vinyl album recorded by Sydney group Extradition, remains one of the most rarest albums released by an Australian artist. Prices several years ago were above $100, but unlike many other albums of the early seventies, this album is not rock nor blues orientated. Instead it mixes folk, traditional folk with avant garde ideas, yet remains very listenable, even to this day. Having been to several folk festivals over the past few months, I can attest that several of their songs reflect the influence of English folk, particularly when vocalist Shayna Karlin takes on lead vocals: she has a classic, clear vocal sound reminiscent of Sandy Denny of Fairport Convention, although other scribes suggest Pentangle and Incredible String Band might also be other comparison reference points.

I also hear nuances of Steeleye Span. However it is the creative input from Colin Campbell and Colin Dryden that pushes the normal boundaries of folk towards more less travelled paths. On tracks like Original Whim, drummer Robert Lloyd, uses unusual percussive instruments and rhythms, without losing the interest of the listener. Lloyd later became more interested in World music, which he explored at the time in 1971, before World music became a recognised genre. The band also used unusual instruments such as a harmonium (on the classical instrumental Minuet) or the sitar sounding vina on A Woman Song. Other instruments include bamboo flute, glass chimes, harpsichord and gongs. This re-issue of the original album includes 6 bonus tracks, all from a live recording of the band in concert. For my money two of these constitute the best tracks on the album. Honeychild and In the Evening are a traditional folk song and the latter is a cover, in the blues folk idiom.

Ballad of Reading Gaol is a poem of Oscar Wilde set to music, and they do a very creditable version of Tom Paxton's Hold On to Me Babe. Dear One is a homage to the band's spiritual leader, Meher Baba. The melody is very strong and if you can ignore the lyrics - ie if you are not a convert, this is a very pleasant outing. I liked the use of the male chorus underpinning of A Moonsong. The 16 page booklet which accompanies the set, is among the best liner notes of any re-issue album in the country, putting all the major labels to shame yet again. Ian McFarlane has done a great job researching the release by tracking down most of the original members and including comments and excerpts from their interviews. Despite the obscure nature of the original release, this album deserves to be heard by a much larger audience. However don't expect to hear a progressive rock band; this is slow paced, gentle folk and washes of sound. Still this CD re-issue should be of interest to any collector of seventies' music.

01. A Water Song
02. A Love Song
03. Original Whim
04. Minuet
05. A Moon Song
06. Dear One
07. A Woman Song
08. I Feel The Sun
09. Ice
10. Song For Sunrise

1. https://rapidshare.com/files/1619712774/Extradition.rar
or
2. http://uploadmirrors.com/download/0Z8PKLSU/Extradition.rar