Bobby McFerrin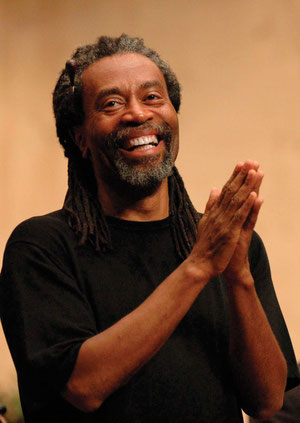 Bobby:
"I didn't have DWBH on the roster of tunes that I had for the CD Simple Pleasures. That was something I scribbled in the studio at the last minute. Literally, the lyrics and everything was just boom boom. That was that. Within an hour, I think, it was all done. I mean, who would have thought? Within an hour it was all taped. A very, very simple song.

It's not that I don't love the song. My songs are like my children. Some you want around and some you want to send off to college as soon as possible. I just don't like doing the same thing over and over again. Picasso wouldn't keep painting blue paintings just because people like them. He got himself caught up in something else. Well, that's me. I get restless easily.

It drives me a little crazy because that's many people's understanding of me. It drives me crazy that they're not giving themselves up to pieces like Circlesongs. "What have you done? We haven't heard from you" and I say it's because you haven't been listening. You haven't really followed up on other things I like to do. But I have a core of fans who know what they can expect from me. Expect new things, new experiences whether its jazz stuff or classical stuff or whatever."
Linda Goldstein:
We were going into the studio in Fantasy Studios in Berkeley, California, and we walked in and there was a studio door that said "Stu Dios." We all immediately started playing with these bad Spanish accents. "Stu Dios." Bobby was doing this character named 'Juan', and we were doing these silly jokes about, you know, "It takes Juan to know Juan."

Bobby sat down at the piano, and in the character of "Juan," started doing "Don't Worry, Be Happy." Doing the riff, it was just very funny and delightful and we (Bobby and I and the engineer, Chris Terguson) were laughing our heads off. I said, "Hey, why don't you go write some verses for that?" and basically, within several hours that song was created.

Unbeknownst to any of us, the song became #1 in just about every country in the entire world. It was staggering. It was absolutely shocking to all of us. Now mind you, I think the only country that it wasn't #1 was in Japan, because [Emperor] Hirohito was dying at the time and the Japanese felt it was inappropriate to be bandying about "Don't Worry, Be Happy."

You know, it was almost mortifying! I mean in a way it was coming back to haunt us. I remember being in line at the DMV to renew my driver's license. The clerk told me to stand in the wrong line for an hour. Getting to the front of the line, I said "But you said..." and she said, "Don't Worry. Be Happy." Oh, no, what have I wrought? I mean, it was ubiquitous! It was phenomenal. Who knew? We really didn't try! To this day, it's fascinating to me when people set out to have hit records. I actually believe that there are certain cultural phenomena that have wings. They fly on their own because they somehow just spark. But the particular irony of this was that it was the antithesis of Bobby's life path.
From Wikipedia, the free encyclopedia
Robert "Bobby" McFerrin, Jr. (born March 11, 1950) is a virtuoso American vocalist and conductor. He is best known for his 1988 hit song "Don't Worry, Be Happy". He is a ten-time Grammy Award winner. He is well known for his unique vocal techniques and singing styles.
Life
Bobby McFerrin was born in Manhattan, New York City, the son of operatic baritone Robert McFerrin and singer Sara Copper.[1] Robert Sr. was the first African American to be a regular with New York's Metropolitan Opera. Sara is a former soloist with regional opera companies and in Broadway shows, and is a professor emeritus of music at Fullerton College in Fullerton, California.
Bobby McFerrin married Debbie Green in 1975. They have three children.[2]
McFerrin's song "Don't Worry, Be Happy" was a No. 1 U.S. pop hit in 1988 and won Song of the Year and Record of the Year honors. McFerrin has also worked in collaboration with instrumental performers, including pianists Chick Corea, Herbie Hancock, and Joe Zawinul, drummer Tony Williams, and cellist Yo-Yo Ma.
Vocal technique
As a vocalist, McFerrin often switches rapidly between modal and falsetto registers to create polyphonic effects, performing both the main melody and the accompanying parts of songs. He makes use of percussive effects created both with his mouth and by tapping on his chest. McFerrin is also capable of multiphonic singing, as observed in his song "Drive" from the 2005 DVD Live in Montreal.[3]
A notable document of McFerrin's approach to singing is his 1984 album The Voice, the first solo vocal jazz album recorded with no accompaniment or overdubbing.[4]
Career
In 1986, McFerrin was the voice of Santa Bear in Santa Bear's First Christmas, and in 1987 he was the voice of Santa Bear/Bully Bear in the sequel Santa Bear's High Flying Adventure. That same year, he performed the theme song for the opening credits of Season 4 of The Cosby Show, as well as the music for a Cadbury chocolate commercial.[citation needed]
In 1988, McFerrin recorded the hit song "Don't Worry, Be Happy", which brought him widespread recognition across the world. However, the song's success "ended McFerrin's musical life as he had known it," and he began to pursue other musical possibilities – on stage and in recording studios.[5] The song was used in George H. W. Bush's 1988 U.S. presidential election as Bush's 1988 official presidential campaign song, without Bobby McFerrin's permission or endorsement. In reaction, Bobby McFerrin publicly protested that particular use of his song, including stating that he was going to vote against Bush, and completely dropped the song from his own performance repertoire, to make the point even clearer.[citation needed]
In 1989, he composed and performed the music for the Pixar short film Knick Knack. The rough cut to which McFerrin recorded his vocals had the words "blah blah blah" in place of the end credits (meant to indicate that he should improvise). McFerrin spontaneously decided to sing "blah blah blah" as lyrics, and the final version of the short film includes these lyrics during the end credits. Also in 1989, he formed a ten-person "Voicestra" which he featured on both his 1990 album Medicine Music and in the score to the 1989 Oscar-winning documentary Common Threads: Stories from the Quilt. The song "Common Threads" has frequently reappeared in some public service advertisements about AIDS. McFerrin also performed with the Vocal Summit.[citation needed]
As early as 1992, widespread rumors circulated that falsely claimed McFerrin committed suicide. The rumors intentionally made fun of the distinctly positive nature of his popular song "Don't Worry, Be Happy" by claiming McFerrin ironically took his own life.[6]
In 1993, McFerrin sang Henry Mancini's "Pink Panther" theme for the movie Son of the Pink Panther.
In addition to his vocal performing career, in 1994, Mr. McFerrin was appointed as creative chair of the Saint Paul Chamber Orchestra. He makes regular tours as a guest conductor for symphony orchestras throughout the United States and Canada, including the San Francisco Symphony (on his 40th birthday), the New York Philharmonic, the Chicago Symphony Orchestra, the Cleveland Orchestra, the Israel Philharmonic Orchestra the Philadelphia Orchestra, the Los Angeles Philharmonic, the London Philharmonic, the Vienna Philharmonic and many others. In McFerrin's concert appearances, he combines serious conducting of classical pieces with his own unique vocal improvisations, often with participation from the audience and the orchestra. For example, the concerts often end with McFerrin conducting the orchestra in an a cappella rendition of the "William Tell Overture," in which the orchestra members sing their musical parts in McFerrin's vocal style instead of playing their parts on their instruments.
McFerrin also participates in various music education programs and makes volunteer appearances as a guest music teacher and lecturer at public schools throughout the U.S. McFerrin has collaborated with his son, Taylor, on various musical ventures. Taylor has recently been singing, rapping, and playing minimal keyboard accompaniment with Vernon Reid (leader-guitarist of Living Colour) in the eclectic metal-fusion-funk group Yohimbe Brothers.[citation needed]
In 2009, McFerrin and musician-scientist Daniel Levitin served as co-hosts of The Music Instinct, a two-hour award-winning documentary produced by PBS and based on Levitin's best-selling book This Is Your Brain On Music. Later that year, the two appeared together on a panel at the World Science Festival, where McFerrin demonstrated audience participation with the ubiquitous nature of human understanding of the pentatonic scale by singing and dancing, and having the audience sing while following his movements.