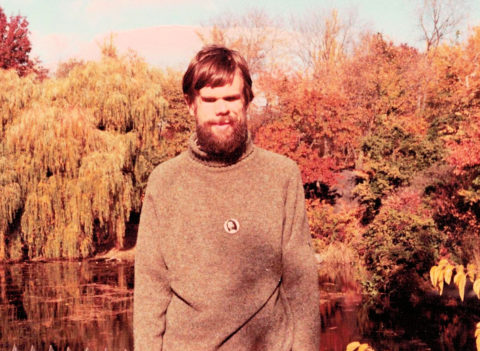 Born : 19th January 1944 - Huntington, West Virginia, USA
Died : 10th August 1997 - USA
Married : Linda Porelle

Children : Michelle   &  Erich ( deceased )

AMERICAN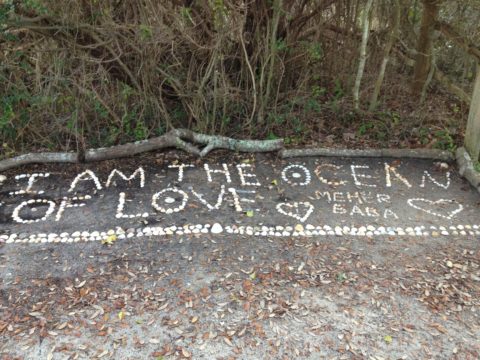 by Kendra Crossen Burroughs
 "I am the Ocean where all have begun, I am Beloved sublime . . ." What Baba-lover has not heard or sung along with these words from "The Ocean of Love," a beautiful song played around the world—at Meher Baba's Samadhi, at the Dhuni, at Baba's Birthday celebration, at annual gatherings for Avatar Meher Baba. Dolly Dastur once said that it was sung so often at the Samadhi that it has become an Arti in itself. And when Irwin Luck was making his film, Avatar of the Age, he chose "The Ocean of Love" as one of the featured songs because he liked its lyrics, in which the Beloved addresses Himself directly to the lover. In just a few words, Irwin pointed out, the song encapsulates the message that Meher Baba is the Ancient One, come again: "I've been called Jesus and Buddha and Ram, and now Meher Baba by you."
The person who gave the world this song was Bob Holdt of Somerville, Massachusetts—though to hear Bob tell the story, it was Baba who wrote the song. Bob reminisced with me about "The Ocean of Love" and his life with Baba during a visit to his bedside in 1996. On August 10, 1997, Bob himself entered Baba's Ocean of Love, surrendering after a long bout with cancer.
A HIT IS BORN
It was the end of summer 1979 when Bob was visiting Meher Center in Myrtle Beach that the song came to him in a burst of inspiration. He recalled the time as a difficult one: "My marriage was coming apart then, and I had just finished three years of working on a hotline where lots of lonely people called up and talked about how they felt. I was down on the Center with my family, but we were staying in separate cabins for the first time in the many years that we'd been going there. I was with some people walking down to the beach, and when we got to the wooden bridge that goes over the ditch, someone said, 'Have you ever seen these seashells on the ground that spell out Baba's words, "I am the Ocean of Love"?' I hadn't known they were there, and I squatted down to feel the shape of the letters. A short time later, when we were out on the beach, this song started to come into my head, based on that phrase: I am the Ocean of Love.
"It was odd because I never had written songs, I'd just been a performer of songs, so it was unusual to have a song welling up inside my head like that. I stood there while the others were chatting and listened to the song forming itself. The lines fell together very easily with virtually no effort on my part. It was like putting together a very easy jigsaw puzzle—all of a sudden you just see how the pieces fit together. I kept repeating the words in my head to make sure I would remember them as we walked back.
"When I got back to my cabin, I took out the autoharp and worked out the chord pattern to go with the melody. I started to sing it to a few people at the Original Kitchen, and they said it was a really good song, so I sang it to more people, and I also sang it for Kitty Davy and Elizabeth Patterson, who liked it very much too."
"The Ocean of Love" is a waltz, the verses in a minor key and the chorus starting in a major key. "The nearest song I can think of is Del Shannon's 'Runaway,'" Bob observed. "The chord pattern is somewhat similar. That was an oldie that I had sung many times as a street singer in Cambridge in the 1970s."
"When I became aware what a terrific song 'The Ocean of Love' was, I started singing it on the street, and it got a very warm reception—people would clap and comment on it. Sometimes I would sing the words with Baba's name: "…and now Meher Baba by you," and sometimes I would substitute "Compassionate Father of you." But in later years I've always sung Meher Baba's name, since I figure people are more open nowadays and won't be disturbed by a name they don't recognize at first."
By the time Bob first sang "The Ocean of Love" in India in 1984, it was already a hit on Meherabad Hill, and much requested at Baba events in the States. "The version that reached India ahead of me was a little changed," Bob noted; "the music was not quite exactly as I had conceived it originally. Linda Porelle, my former wife, said that was the mark of a true folk song—it evolves in different versions."
A LOVE FOR JESUS
Born in Huntington, West Virginia, on January 19, 1944, Robert A. Holdt was diagnosed at the age of eighteen months with retinal blastoma, a rare form of genetic cancer that was to cost him his sight. At the tender age of six he was sent to study at the Perkins School for the Blind, a residential facility in Watertown, Massachusetts. Bob remained in the Boston area, attending Harvard University and raising his children, Michelle and Erich, in Cambridge and Somerville. (Erich Holdt, who also suffered from retinal cancer as an infant but did not lose his vision, died of a recurrence of cancer in 1990 at the age of eighteen.)
"In junior high I became a fundamentalist-type Christian," Bob recalled, "reading the New Testament in Braille and listening to Billy Graham on the radio. I liked to recite the Peace Prayer of Saint Francis, as well as the Lord's Prayer. Then, in high school, I started to have doubts and questions about religion, and in addition I got interested in amateur radio and girls, so my religious ardor waned. I couldn't understand why a merciful God would consign people to Hell for eternity and all that. So I used to get into after-class theological discussions with the religious education teacher, and one day he told me, 'There's someone in India now who claims to be Jesus come again.' I thought to myself, 'How curious!' but I never asked him who it was, I just tucked the item into the back of my mind. It didn't surface again till I heard about Baba ten years later."
BABA TURNS THE KEY
In the fall of 1968, Bob met a young woman named Patty from New Jersey, whom he described as an unusual person who was was living the hippie life. When he and Linda encountered her in Harvard Square, "Patty was wearing a bell around her neck, and the sound attracted my attention," Bob said, "so I called out to her. She stopped and we started talking. She told us about how she'd been on Cape Cod hanging out with a fellow named Skip Fisher, and there was someone named Harold the Magical Donut who lived in a leather bus. Then she started talking about Meher Baba, using strange words like Maya and sanskaras.
"It piqued my curiosity, somebody claiming to be God, so I told Patty, 'Come over and visit us sometime,' and she did, quite a few times. She brought tapes and books and posters. We heard stories about how people heard Baba's name and suddenly their life changed, or they saw His picture and all these miracles happened.
"When Michelle was born in February 1969, Patty came over and brought a baby present. She was talking to Linda about the ego and said you shouldn't be attached to anything, that was the way to become spiritual—you shouldn't even be attached to your newborn baby! Patty said to Linda, 'Why, if I were to take your baby away and run off with her, you shouldn't be upset.' Well, Linda blew up and said, 'Tell that woman to get out of here and never come back!' So Patty left and didn't come back—but she sent other Baba-lovers to visit us. We didn't click with any of them until Ann Giles showed up at our door."
It was getting toward the summer of 1969 now, and Ann invited Bob and Linda to a meeting. "That's when I felt touched by Baba and became convinced that this was something to be taken seriously. In response to one of my questions they read a passage from the Universal Message, on how to love God or one of those quotes, and it reminded me of the Sermon on the Mount. The tone of voice rang with such authority and depth and power and truth that it reminded me of voice of Jesus that I had come to love and recognize in my younger days. I think that's when Baba turned the key in my heart."
Reflecting on the contribution that his song has made, Bob concluded, "I feel very blessed that Baba chose me to bring this wonderful song to us. I continue to be stunned by it every time I sing it. It's a very special song, it has an ancient kind of ring to it. Somebody told me once they'd shown it to a musicologist and he said it was the perfect song, the words and music fit together perfectly.
"My life with Baba has been strongly connected with music. Next to Baba I love music best: singing, sharing songs, group singing, listening to people sing. . . Music is a universal language that speaks to the heart Sound, vibration . . . there's music in everything."
At the 1995 Northeast Gathering for Meher Baba held at the Dryden Farm in New York State, Bob once again performed "The Ocean of Love," gracefully accompanied by Margaret Bernstein on flute. As soon as we heard of Bob's passing on August 10, 1997, my husband, Jonathan, and I went to Baba's tree at Meher Mount, where we lived then, and played the recording of that performance. Bob urged the audience several times to sing along, and so we did, though we were both sniffing back tears. I know we will continue to sing along for many years with Bob and "the music that never will cloy."
THE OCEAN OF LOVE
Song of the Divine Beloved
Lyrics & music by ROBERT A. HOLDT (1944–1997)
Copyright © by Michelle Holdt. All rights reserved.
I am the Ocean where all have begun
I am Beloved sublime
I am the Ocean where all finally come
I am the one beyond time
Yes, I am the one beyond time
Chorus
And I am the one who made Heaven and Earth
Planets and stars up above
I am the treasure of infinite worth
I am the Ocean of Love.
I am the Ocean of limitless joy
Infinite consciousness too
I am the music that never will cloy
I am the Ocean in you. (2X)
I am the Ocean of unending peace
Limitless hearing and sight
You from your chains I have come to release
Into the Ocean of light. (2X)
I am the Ocean of unbroken calm
Infinite bliss I am too
I've been called Jesus and Buddha and Ram
And now Meher Baba by you. (2X)
After last chorus, add:
Drown in My Ocean of Love
for I am the Ocean of Love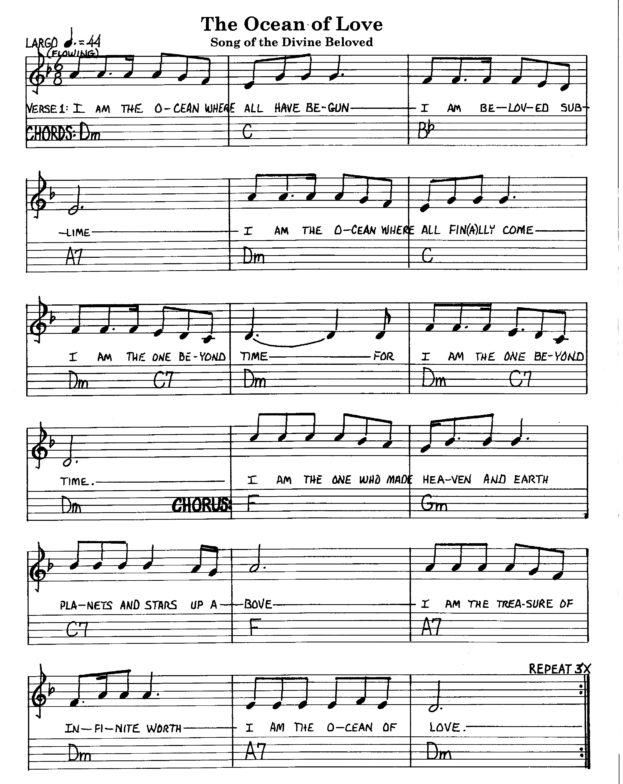 "The Ocean of Love"  by Bob Holdt
Womansong of Asheville, North Carolina  sings at their 20th anniversary concert, "Walking Among You", Nov. 2006
Debbie Nordeen - Choirmaster