Born : 9th May, 1929 - Lynchburg, Virginia
Married : Peter Marks Rev. ( m. 1952 )

Children : Viola, Alex, Susan, and Peter
Siblings : 4 brothers
Dancer / Therapeudic Psychologist

AMERICAN
To See Him Again
Highlights of a Talk by Ella Marks


by Kendra Crossen Burroughs
In

May 2002

, Meher Center celebrated the fiftieth anniversary of

Avatar Meher Baba's

first visit to

Meher Center in Myrtle Beach

, which was founded for him in the 1940s by

Elizabeth Patterson

and

Norina Matchabell

i. Arriving at the Center on

20 April 1952

, He remained until 21 May, when He and His companions left with the intention of visiting

Meher Mount in Ojai, California

; the journey was interrupted by the momentous event of His car acccident in

Oklahoma

on

24 May

.
As part of the celebration, some of those who saw Baba during that

1952

visit have been coming to the Center to share their memories. On the evening of

17 May

, Ella Marks—one of the dancers who came to Baba through

Margaret Craske

—recalled her meeting and life with Baba.
Ella's lovely face appeared lit from within as she beamed at the large audience.

"Where to begin?"

Today was the exact fiftieth anniversary of her first meeting with Meher Baba. Ella said she had formulated a wish for herself today. Usually when she wishes, it is for someone else—her children or people at work—but what would she wish just for herself?

"To see Baba again. To have Him present in form."
Born into an old Episcopalian family, Ella grew up on a farm in Virginia with four rowdy brothers.
Her parents directed her toward studying dance, and it was her dream as well; after high school she went to

the

School at Jacob's Pillow

in New York State She had heard about

"a wonderful teacher from England"

there, and placed herself, believing rather pridefully that she belonged there, in one of her advanced classes. Ella was quite pleased when Miss Craske came up to her at the barre. Miss Craske looked at her and ordered her out of the class:

"You are not ready."

The next day, Ella swallowed her pride and with some trepidation went to a much less advanced class. Miss Craske again approached her at the barre and corrected her placement. Ella turned and looked into her eyes and was flooded with a sense of bottomless love and compassion. Although with her loving parents she had experienced love, that one glance opened up a new dimension of Reality. Being taught by Miss Craske's and being in her presence made it the happiest summer of Ella's life. Her parents afterward allowed her to continue her studies in New York City, where Miss Craske taught.
There was an intriguing air of mystery about Margaret Craske. It was said that she'd been to India and had a guru there, and once a year she disappeared and didn't speak for a day. The first time Ella heard her talk about Baba was in the fall of

1947

. Miss Craske's generosity in sharing stories of Baba with her students was extraordinary—after teaching twenty to thirty students two to three times a day, she would give an hour or two to those who wanted to hear about Baba. 
Ella, who fancied herself an intellectual, decided to prepare for these discussions by reading Thomas Aquinas. She laughed as she recalled the quizzical look on Miss Craske's face in response to this. Ella later understood that what is important with Baba is not what is in the mind—it is the experience of love. 
Miss Craske did not lecture or make pronouncements about spiritual truths; she simply shared stories of Baba. She also spoke about how ego stands in the way of perceiving His Reality—and Ella admitted that she had more than her share of ego. Another value that Miss Craske impressed upon Ella was that

"small things are important"—don't be late, don't be careless, be clear.
"Miss Craske was so beautiful to me,"

Ella said, teaching her that people come to Baba in different ways—some immediately, others more slowly—and that it's OK to come more slowly or be more questioning. There was a centeredness about her, an inner space of quietness and integrity that you could hold on to, even if you didn't yet know what love was.
Ella received from Miss Craske a book about Baba—by

Charles Purdom

, perhaps—and was filled with a dread of entering alien territory that her family would not approve of. However, Ella says she never read much in the beginning, since Miss Craske taught them that Baba's way is experiential, not cognitive or intellectual. But there is nothing wrong with using the mind, and

"my understanding is that Baba expects us to use our mind."

Today she can read Baba's books, and it comes together more meaningfully for her now.
When the students were informed that Baba was coming to

Myrtle Beach

, Ella wanted to go. ( Miss Craske never tried to convince anyone to come to Baba, but simply said, in effect,

"Here it is—it's up to you.")

She was living on very little in New York and didn't want to ask her father for money to see someone who was said to be the Christ, so she scrimped and saved and bought the ticket herself. 
Ella flew in to Wilmington the night of

May 16, 1952

, with two other young women. The next day was her first meeting with Baba, in the Barn.

"I only remember seeing His form and His eyes—that's all."

Wistfully Ella said,

"I did not see who Baba was"

—something that has always been a great loss to her. She stumbled out of the Barn and had to be alone. Being a country girl, and not realizing that one was not supposed to stray off the paths, she walked for a while through the woods. 
After she returned, she learned that she and her friend

Myrna

were invited to tea with the women mandali. Being the only girl in a family of boys, Ella was used to a certain toughness, and so what struck her very strongly about Mehera and the other women was their incredible gentleness and their genuine interest in each individual.
After Ella met Baba, several significant things happened. The love of her life had been dance, but she now realized that she did not have the qualities necessary to become the dancer she wanted to be. At that time she also underwent

"a rough surgery."

Soon after, she met her husband-to-be,

Peter

, who was studying to be an

Episcopal priest

. After marriage, they lived in the inner city, where Peter served an impoverished community of recent Puerto Rican immigrants. Miss Craske was very patient with Peter, never speaking about Baba to him unless he asked. ( Eventually he did become desirous of speaking with Miss Craske alone.)
In

1956

, when Ella was expecting her first child ( Wyatt, later known as

Viola

), Baba came to New York, where she saw Him at the

Hotel Delmonico

. He touched her once, very quickly—an event she connects with the great transcendent joy she experienced in giving birth. Peter, a very reserved man, came to the hotel in his clerical collar to meet Baba. Ella joked that when Peter saw Baba sitting flanked by

Eruch and Adi

in their dark suits and with arms crossed over their chests, he had the impression that he was meeting mafiosi.
In

1958

, when Baba returned to the U.S., Ella was pregnant again.

Tex Hightower

and her other dancer friends would be going to Myrtle Beach

, but since Ella was eight or nine months along, she decided she had better not go. There was

a sadness upon hearing how beautifully the dancers had performed for Baba, but it was special knowing that her second daughter, Alex, had been born while Baba was at

Myrtle Beach

. ( Ella had four children in all—

Viola, Alex, Susan, and Peter

—and each was special, but the first two children had the distinction of being associated with Baba's visits.)
The life of a clergy wife was difficult, and Ella went through times of depression. Part of being with Baba, she reflected, is relinquishing things, letting go of illusion. When she first heard about

"illusion,"

she had no idea what it meant—but

"you learn what illusion is."

Ella had to let go of the persona of a dancer (she later became a psychotherapist). There was much grinding down of the ego and facing of harsh realities. Miss Craske's stories had helped prepare her for some of the rough times when

"you think you're over something and then—bang! —you get another blow."
After Baba dropped the body, Ella had planned to go to the

1969 Darshan

, but that did not come to pass. And so her first pilgrimage to India was in the fall of

1980

. It was a great joy to be at the

Tomb

with

Mansari

. Ella's mother had died that spring, but she had not truly mourned her. On the last day of her trip, Ella was at the Tomb and visualized her mother's funeral cortege; she was living it again, and for the first time in her life she experienced her mother's true goodness and love—something she had not been able to see because of the powerful personality that her mother was. She was able to grieve, weeping copiously on Mansari's shoulder while Mansari looked on with compassion and a quizzical expression.
On a subsequent trip to India, Peter agreed to go along. While walking up

Meherabad Hill

to the Tomb, he was suddenly flooded with a beautiful Easter hymn ("Christ is risen, Christ is risen indeed"). At Arti, he was surprised and said to Ella,

"You didn't tell me they have a liturgy here!"

The mandali were so beautiful to him—Eruch even asked Peter for his blessing, and then Mani came running:

"Me too, me too!"

Peter just melted. Being with the mandali reminded him of the early days of the Christian era.
A young man Peter met in India told him in the course of conversation,

"If you're ever in trouble, call on Baba's Name."

Peter was to remember this advice at a crucial moment. He and Ella—along with their daughter

Susan

, an Indian girl, and a Canadian woman—had gone up Seclusion Hill. It was very windy and the climb was a bit of a struggle (especially for Ella, who feared heights). The little girl's hat blew off and over the side, and though Peter wanted to try to retrieve it, Susan insisted it should not be attempted. When the others were ready to go back down, Peter wanted to stay on the hill alone near the area of Baba's seclusion. He spent some time in quiet and then again wanted to recover the hat. Wearing a pair of loose sandals, he went over the side and lost his footing. As he began to slide, he was filled with terror at the sheer drop (the goatherds below were the size of specks). He remembered what the young man had said and cried out Baba's Name—and all of a sudden he felt perfectly calm and relaxed, and slowly climbed back to safety—with the child's hat in his hand!
In conclusion, Ella remarked again on the grinding-down process she had undergone over the years. She'd had to learn to come down to earth and face life (in her youth she had done things like walk out of a theater barefoot, having forgotten her shoes inside). She feels tremendous gratitude for having met Baba and for coming closer to Him in many small ways.

"All day, truly, I thought: 'Oh, if I could meet You now—because so much has been cleansed away.'" 
Following the talk we saw a brief film of Baba in Switzerland in 1952 (after His accident), which ended with a shot of Him spelling out this message on the alphabet board: 
I love all those who love Me, with pure divine love, because I am pure love.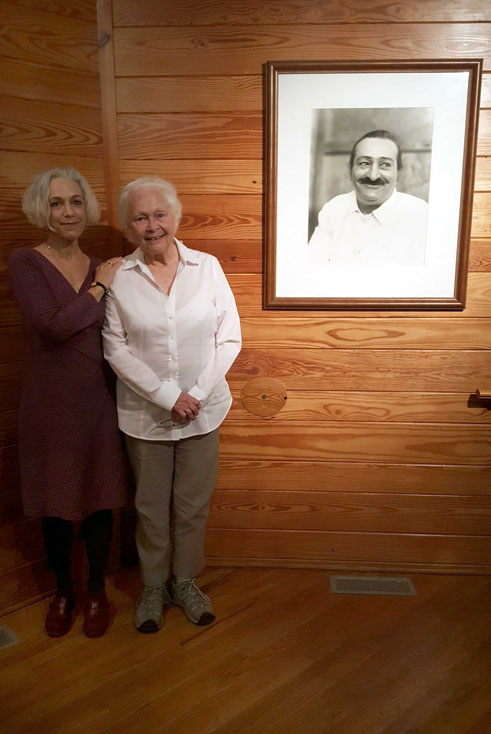 The following parishes The Marks family lived in New York City

Church of St. Edward the Martyr
(Episcopal)

14 East 109th Street
New York, N.Y. 10029
The Marks family lived here for 2-3 years in the mid 1950s.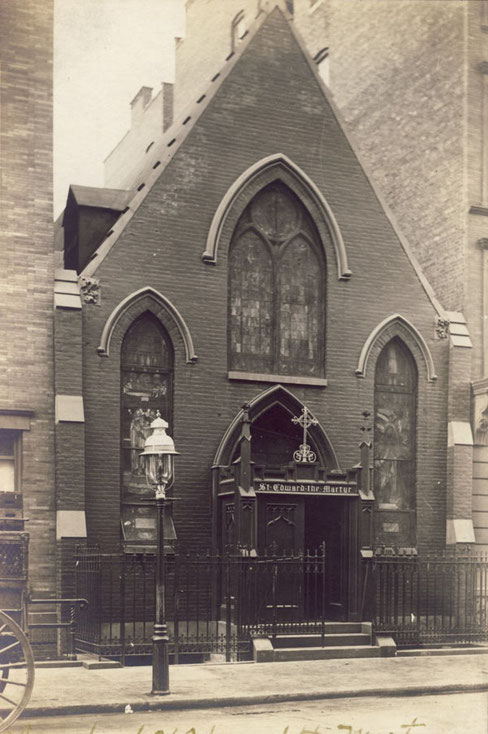 Church of St. Augustine
(Episcopal)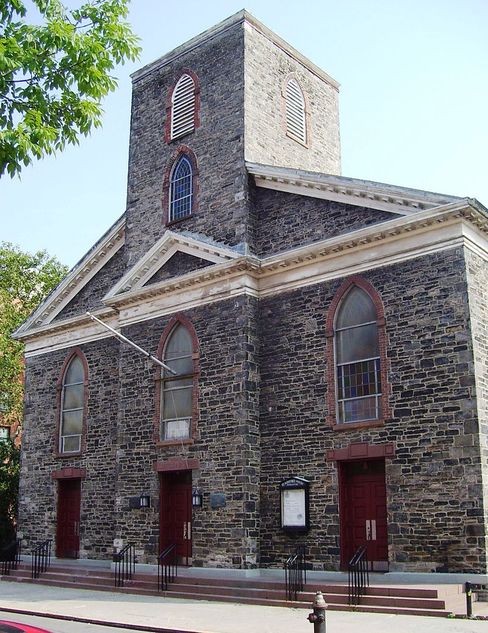 290 Henry Street
New York, NY 10002
The family lived in this parish for 1-2 years.
https://en.wikipedia.org/wiki/St._Augustine%27s_Church_(Manhattan)
At the SW corner of Henry and Market Streets is what was originally the Georgian Market Street Reformed Church, which was built in 1819 — it will celebrate its 200th anniversary soon. The windows are made up of multiple panels –35 over 35 over 35. This is now the First Chinese Presbyterian Church, which shared the building with the Sea and Land Church until 1972.
A few of Margaret Craske's dancers, including Ella Marks, were also permitted to see Baba in New York. Many of these lovers, along with John Bass, and Filis and Adele, used to meet at the Winterfeldts' home on Monday nights. Baba met with his "Monday Night Group" at 4:30 P.M. on Sunday, July 20th.
Courtesy of Lord Meher : page 3874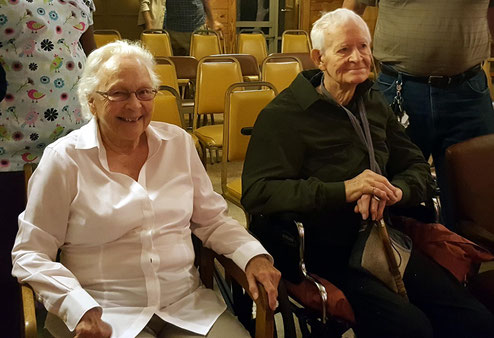 The 21st Annual Silence Day Sahavas, sponsored by the Los Angeles group, was a smashing success. HARRY THOMAS reports.
David McNeely, the co-chair of the event, was concerned about the success of the Sahavas due to a low registration count, when he received an uplifting letter from Bal Natu that said, "I am sure with Baba's grace this will be a very successful Sahavas, awakening the hearts of Baba's dear ones to His glorious and unconditional love."
And a success it was. The guests were Merwan Mehta, Ella Marks and Buz Connor who each brought a unique and refreshing gift to the event. Ella delivered the first talk entitled, "The Power of Meher Baba's Love." Ella related her first meeting Meher Baba in Myrtle Beach in 1952. "My coming to Baba didn't involve a great emotional experience." Perhaps so, but later she recalled that after physically meeting Him, "I was in a daze." She related how she wandered around the grounds, often leaving the paths.
Later she had the privilege of meeting Mehera, Mani, Meheru and Goher. She remarked, "I had never seen such beauty."
Her next meeting with Meher Baba was at the Hotel Delmonico in New York City in 1956. Her husband Peter, an Episcopal Minister, also met Baba at this gathering.
Throughout her talk, Ella made continuous references to Margaret Craske. Ms. Craske, as Ella called her, not only brought Ella to Baba, but continued to maintain a positive influence throughout her life. Curiously, it was Margaret who was instrumental in Peter's eventually developing an interest in Meher Baba. Ella also told us the incident where Margaret Craske and Baba danced together. Margaret said she had never danced with anyone who moved with such style and grace. Margaret said that Baba was Dance Itself.