Born : 11th January 1931

Married :  1 ) Yvonne Andrau ( divorced 1980s )
                 2 ) Cathy Haas
Children : Christina Mehera and Demian Meher ( 1st Marriage )
Nationality : American
Artist & Builder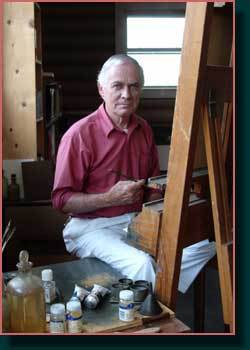 My boyhood was spent in Woodstock, NY, where many important artists have lived and worked. The area attracted spiritual teachers as well, such as Rabindranath Tagore and Vivikenanda. At the age of 16 I began studying with an elderly painter who had come to Woodstock in 1904 to help found the Summer School for the Art Student's League, an important American school of art. I attended Temple University outside Philadelphia, and later studied art history and art conservation at the New School in New York City.
I then spent many years in Woodstock, with my wife and two children, Christina Mehera and Demian Meher. It was there that I first heard of Meher Baba in 1954, which initiated my life-long preoccupation with Him. Not long after that, I began correspondence with Adi K. Irani, Baba's secretary, which lasted until I met Meher Baba in Myrtle Beach, SC in 1958. In 1962 I again had the opportunity to be with Meher Baba in India at the "East West Gathering."
Tom now resides with his wife, Catherine Haas Riley in Myrtle Beach, SC., near the Meher Baba Center.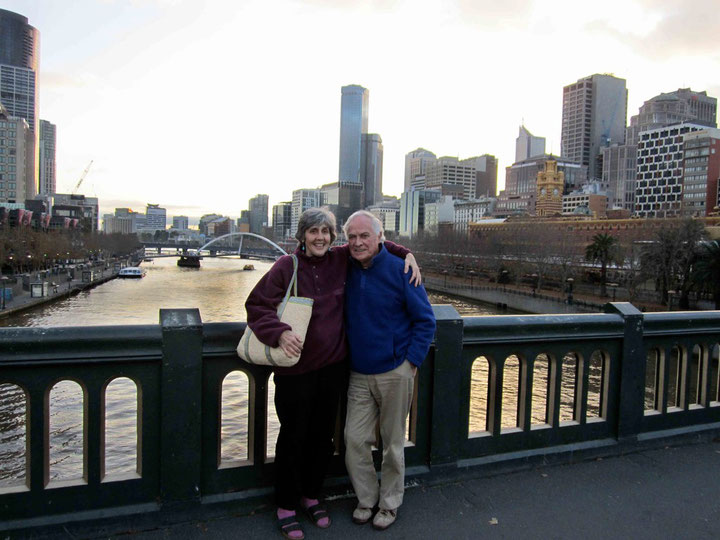 JUNE 2011 - THE RILEY'S VISIT TO THE MELBOURNE BABA GROUP

SEPT. 2011 - 1ST  URBAN SAHAVAS - CHICAGO MEHER BABA GROUP - TOM & CATHY ( GUESTS )
Woodstock, New York, where Allan Cohen first heard of Baba in Darwin Shaw's talk, had also been the home of many artists since the establishment of an artist's colony there in 1902. It had also seen visits by such spiritual notables as Swami Vivekananda and Rabindranath Tagore. Two of the artists living in Woodstock in contemporary times, Lyn Ott and Tom Riley, were followers of Meher Baba.

When Tom Riley was a young man and had come home to Woodstock after graduation from Temple University in 1954, he took out an ad looking for part-time work. A man named Raoul Vidas, a Hungarian violinist who had come from California to sell his summer home there, answered the ad and put Tom to work boxing things up for the movers. While boxing in the big library, suddenly Tom saw the wonderful photograph of a most extraordinary man on the cover of a "biographical sketch." It was the face of Meher Baba, the photo taken around 1940. Tom inquired about this person and was told by Raoul how, as a young musician, he'd met Meher Baba at the reception at Pickfair in Hollywood in 1932, given by Mary Pickford and Douglas Fairbanks. Baba had liked him, and had invited him on an overnight tour to a "cabin colony" (which sounds very much like the Moy Mell community, though no visit by Meher Baba to the Oceano dunes can be established for 1932). Baba had even invited Raoul to India, but had laid out two conditions--that Raoul quit smoking, and that he give up women. Raoul thought about it and decided he could not give up women and so could not accompany Baba to India--a decision he later regretted!

Tom owned an antique shop near Woodstock which had, in the 19th century, been a big country store with a vaudeville theatre on the 2nd floor. As you entered the big doors of the shop, there was a post office case to the left. One day Tom was working behind the cage when Garth Hudson, a friend and a member of Bob Dylan's "the Band," walked in with another man. The man looked at the large poster of Meher Baba that Tom had placed on a post close by the entrance. The poster showed Baba with his arm around Mohammed the mast(31), and the caption read, "True love is no game of the faint-hearted and the weak; it is born of strength and understanding." As Tom worked, Garth's friend proceeded to question him at length about Meher Baba. Suddenly the man walked around the post office cage, through a half-high swinging door, and gave Tom a big embrace. Tom didn't recognize this person but the next day Garth arrived and asked Tom what he'd thought of George. The visitor was George Harrison.