DOUGLAS  H. EVE
Born :
Died :
Married : Molly
Children : Ann and Anthony

Occupation : Insurance broker
ENGLISH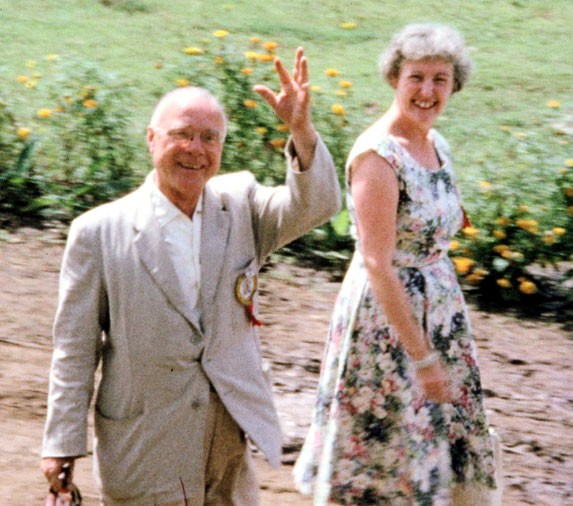 ( friend of Charles Purdom in London )
AUGUST 3, 1952
On the 3rd and 4th of August, (1952)  Baba met people in the mornings and afternoons in Room 46 of the Charing Cross Hotel, London. Besides his old British lovers, almost two hundred new seekers came into his contact, including Douglas and Mollie Eve and Fred Marks.
Lord Meher, 1st. ed., Bhau Kalchuri, Vol. 11, pp. 3885 – 3886.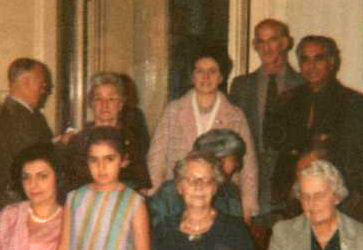 Douglas H. Eve, who was in the insurance business, had found out about Baba during the 1930s from Charles Purdom and Will Backett. After his private interview with Baba, he brought his wife, Mollie, and daughter, Anne. Mollie was, at this time, not dedicated to Baba.
He asked her, "Do you know about me?"
"Yes, a little," she said.
"Well, do you know about God?"
"Oh yes."
"Then you know about me, don't you?"
Courtesy of Lord Meher p.3888
1956
The same evening at 8 P.M., another reception for the public was held at the Rubens Hotel, London, and almost one hundred seventy-five people attended. Among the crowd included Kathleen Pritchard, Mollie and Douglas Eve, Stephanie Haggard, the Lawtons, Mr. and Mrs. Imai (the Japanese photographer who had taken Baba's portraits in 1931), and several friends of Irene Conybeare. Each person was allowed half a minute to meet Baba and receive prasad. Tom Hopkinson brought each person to Baba. Will and Delia were seated on either side of him. Baba looked resplendent seated on a purple satin-covered settee with velvet cushions, purple hangings in the background and a huge canopy of flowers on either side arranged by Dorothy Hopkinson. Baba looked absolutely regal and glowing the whole evening. Refreshments of tea, cakes and sandwiches were served and again entertainment was performed.
Courtesy of Lord Meher p.4948
1956 : London Airport - departure lounge, before flying to the USA & Australia.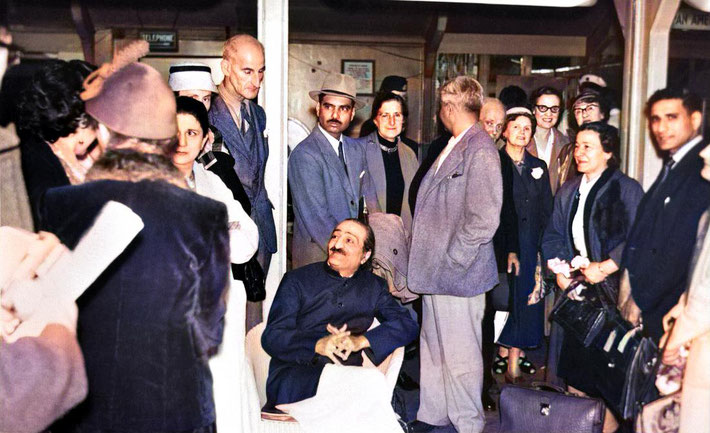 ( L-R ) Unknowns, Anita De Caro ( white coat ),?, Fred Marks, Meher Baba, Eruch Jessawala ( behind Baba ), Ann Powell, Adi K. Irani, William Backett, Mary Backett, Molly Eve ( dark glasses ), ?, Delia De Leon ( front ), Huma "Homa" Dadachanji ( holding bag ).
DARA & AMRIT'S MARRIAGE - December 1968
MEANWHILE, Baba had given his consent to hold the wedding of his brother Adi Jr.'s son, Dara, age twenty-four, to Kumar's daughter Amrit, age eighteen, in Meherazad. For several days, Pendu, Eruch and Mani were kept busy making arrangements for the two-day affair. Sarosh, Viloo and Adi Sr. were also actively engaged in these arrangements as well.
Kumar, Subhadra and Amrit arrived on December 19th, and were accommodated in Meherazad in Bhau's room. Bhau moved in with Eruch.
Adi Jr. and family arrived from London the following day. With them was a close family friend, Ann Eve, age thirty-two, who was the daughter of Douglas and Mollie Eve. Adi stayed at Meherazad for a few days and afterwards in Ahmednagar; Freni and Shireen stayed with Freni's mother and brother at their family home in Bhingar, and Dara and Ann Eve at Sarosh and Viloo's. At first the wedding date had been fixed for November, but Adi had written to say that June would be more convenient, as Shireen would have a school vacation break then. Baba did not agree to this, but agreed it could be held in December when Shireen had a shorter Christmas holiday. Although Baba agreed to the postponement he remarked, "I will have to adjust my work."
A shamiana (cloth canopy) was erected in the garden at Meherazad opposite the main house, shading about three hundred chairs. Everything was done splendidly, including arrangements for a luncheon. Close lovers from Bombay, Poona, Ahmednagar and Meherabad were invited for two days, coming in the morning and returning in the evening. Nariman and Arnavaz were staying in Meherazad, as were Katie and Khorshed.
Although Baba's health was quite poor, he had agreed to these festivities and indeed desired that they take place. It was his compassion to give darshan to his close lovers one final time, since he knew that for most of those present it would be their last opportunity to see him.
The next day, December 21st, Adi Jr.'s family and Ann Eve came to see Baba. This was also to be the first meeting between bride and groom; but upon reaching Meherazad, Amrit had fallen ill, and so no meeting between her and Dara occurred that day.
Sunday, December 22nd, was the first day of celebrations, a triple occasion in honor of Mehera's birthday, the betrothal of Dara and Amrit, and also the navjote ceremony of four children.
Courtesy of Lord Meher p.6689