Harry Lionel Kenmore Dr.
Born : 10th February 1910

Died : 13th May. 1971
Interred : 13th May, 1974, Lower Meherabad, MS., India ( ashes )
American
Thursday 26th July, 1956
The blind chiropractor, Harry Kenmore, met with Baba that morning, and then Mike Loftus of the Sufi group.
Harry is standing next to Carrie Ben Shammie.
** This book will be available from Sheriar Books in early August 2017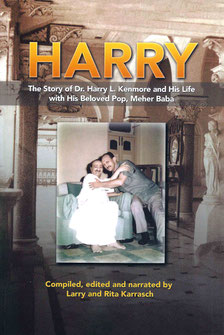 HARRY

The Story of Harry L. Kenmore & his Life with his Beloved Pop, Meher Baba

Compiled, edited & narrated by :
LARRY &  RITA KARRASCH

2017
Published by : iUniverse
716 pp.