Click on image to enlarge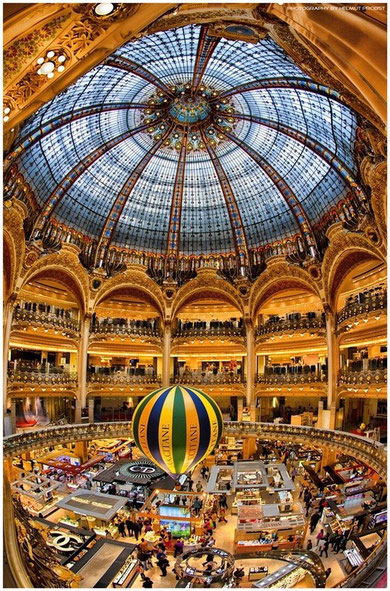 1931
One day on December 13th, the group had their photograph taken at the Eiffel Tower. They walked along the Seine River. Sightseeing through Paris, they went to the Louvre Museum, the Arc de Triomphe de l'Etoile, the Cathedral of Notre Dame, Gare de Lyons, and drove down the Champs Elysees. Baba bought a new coat at the Galleries Lafayette. That evening, they went to the Madeleine Cinema to see the movie Trader Horn.
Select from other Parisian places from the index on the left.
Click on image to enlarge
From Wikipedia, the free encyclopedia
Galeries Lafayette
The Galeries Lafayette (French pronunciation: [ɡalʁi lafajɛt]) is a French department store company.
[edit]
History
In 1893 Théophile Bader and his cousin Alphonse Kahn opened a fashion store in a small haberdasher's shop at the corner of rue La Fayette and the Chaussée d'Antin, Paris. In 1896, the company purchased the entire building at n°1 rue La Fayette and in 1905 the buildings at n°38, 40 et 42, boulevard Haussmann and n°15 rue de la Chaussée d'Antin. Bader commissioned Georges Chedanne and then his pupil Ferdinand Chanut to design the layout of the Haussmann location. A glass and steel dome, and Art Nouveau staircases were built in 1912.
[edit]
Paris flagship store
The flagship store of Galeries Lafayette in Paris is a 10-story department store. It is located at 40, boulevard Haussmann, in the IXe arrondissement.
[edit]
Floor Directory
[show]Home Store
level 3
level 2
level 1
level 0
level -1
Bridal Registry
Beds
Bed Linens
Bathroom Accessories

Baby Changing Station
Disabled Restrooms
Furniture/Sofas
Haberdashery
Textiles & Rugs
Lighting
Interior Design Services
Picture Framing
Crystal & Chinaware
Table Linens
Tableware
Lafayette L'Archicafé
Artificial Flowers
Gifts
Decorations
Lafayette L'Archicafé
Information & Meeting Point
Cooking Utensils
Cookbooks
Electrical Appliances
Cutlery
Utensils
After-Sales Service
[show]Men's Store
level 3
level 2
level 1
level 0
Men's Fashion
Men's Shoes
Men's Suits
Fashion Designers
Le Bar a Bulles
Restrooms
Sportswear
Jeans
Underwear
Restrooms
Lafayette Gourmet
Gourmet Foodstore
Wine cellar
le BarRouge
Chênevert
Cash withdrawal
Restrooms
Shirts & Knitwear
Men's Accessories
Travel Agency
Ticket Booth
Cash withdrawal
Disabled Restrooms
[show]Main Store
level 7
level 6
level 5
level 4
level 3
Terrace Restaurant
Fashion Show
Salon Opéra
Seasonal Restaurant
Bridal Registry
Wedding Gowns
Souvenirs of Paris
Books
Le Cafe Sushi
Sichuan Panda
Lafayette restaurant
Restrooms
Children's Fashion
Maternity Wear & Childcare
Children's Stationery
Toys & Games
Children's Books & Music
LINA'S
Children's Restrooms
Restrooms
Baby Changing Station
Outdoor Fashion
Coats
Raincoats
Fur & Leather Coats
Destination jeans
Swimwear / Luggage
Stationery / CDs
Videos & DVDs / Video Games
McDonald's
Restrooms
Seductive Fashion
Women's Fashion
Lingerie
Hosiery
Lafayette restaurant
Salon de Thé
Chanel institute
Restrooms
level 2
level 1
level 0 mezzanine
level 0
level -1
Contemporary Fashion
Women's Fashion
Personal Shopping Service
Spa Decleor
Hair Salons
Disabled Restrooms
Designer Fashion
Special Exhibitions & Events Gallery
Luxury Department
Le bar a Bulles
laurier
Lafayette Prestige
Restrooms
International Area
Global Refund
Exchange
Cosmetics & Perfumes
Jewellery & Watches
Leather Goods
Fine Jewellery
Handbags & Fashion Accessories
Information & Meeting Point
Handbags & Fashion Accessories
Café Illy
Souvenirs of Paris
Tax Free Shopping
Shoe Department
Baby Changing Station
Restrooms
Cloakroom
Lost and found
[edit]
Access
Stations on Paris metro: Chaussée d'Antin – La Fayette, Havre-Caumartin, Opéra, Madeleine, Saint-Lazare, and RER - Auber. Further details available at: Transports en Île-de-France
.