Ships used only by the mandali and Westerners
SS   ELYSIA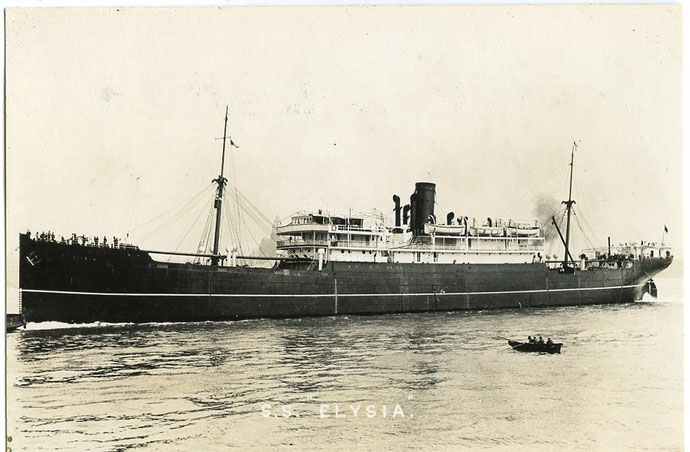 1936
Shortly after Meher Baba concluded his 9th trip to the West, arriving back to India 23rd November 1936 on the "SS Viceroy of India" several of the Westerners had also headed for Bombay, India. The first lot - Norina,  Elizabeth,  Jean,  Malcolm,  Rano and Nonny Gayley,  travelled on the "SS Elysia ". They arrived on the 8th December.
The second lot travelled on the "SS Conte Verde", arriving at Bombay on the 14th December.
The third lot travelled on the "PO  Rawalpindi" , arriving at Bombay on the 24th December.
Finally, Ruano Bogislaw arrived on the "SS  Strathaird"  in Bombay on the 2nd January 1937.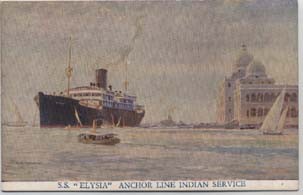 On December 8th, 1936, Norina Matchabelli, Elizabeth Patterson, Jean and Malcolm Schloss, along with Rano and Nonny Gayley arrived in Bombay on the steamer Elysia. They also brought two dogs with them – Elizabeth's black Boston terrier named Kippy, and Anita de Caro's white Siberian husky, Canute, which she had given to Baba while in Switzerland.

Launched 1908: SS  ELYSIA
SS  ELYSIA
---
built by D & W Henderson Ltd Glasgow,
Yard No 463

---
Propulsion: steam
Launched: Monday, 03/08/1908
Built: 1908
Ship Type: Passenger Cargo Ship
Tonnage: 6368 grt
Length: 440.6 feet
Breadth: 53.1 feet
Owner History:
Anchor Line (Henderson Bros.) Ltd., Glasgow
1935 Anchor Line Ltd.
Status: Torpedoed & Sunk - 09/06/1942

Remarks: Torpedoed on 5/6/1942 by Japanese aux. cruisers 350 miles ENE of Durban 27.33S 37.05E on passage Glasgow for Aden and Bombay, sank on 9/6/1942

Previous update by Stuart Cameron
Previous update by Colin Campbell
Previous update by Bruce Biddulph
Photo supplied by John Ward~McQuaid

Last updated: by George Robinson from the original records by Stuart Cameron
John Murdo Macleod , 8 Upper Coll, Isle of Lewis, a merchant seaman before the war had been on SS Queen Adeleide in March 1942 before getting the opportunity in Glasgow of joining Donaldson Lines as a Quartermaster on 21 April 1942.

He was travelling as one of 12 passengers on SS Elysia, 6,757 tons, Anchor Line of Glasgow, on his way to join his ship in India when Elysia was intercepted at 7am on 5 June 1942 and attacked by Japanese raiders. They were the Hokoku Maru, 10,439 tons and Aikoku Maru, 10,437 tons. They struck north-east of Durban as the British vessel sailed fast and independently.

John Murdo Macleod was among those lost - he was 26 years old.

This seaman was treated as a civilian war casualty by the CWGC. A crew member of the Elysia was rescued and was his best friend. I have a full account of the sinking from his hand.