Ships used only by the mandali and Westerners
S.S. CORFU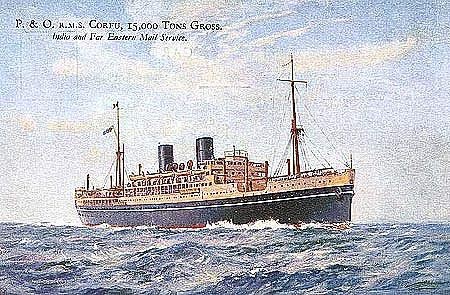 Fred Marks and Mr.Dana Field, both from the USA sailed and shared a cabin on this ship from Southampton, England in August 1954 to Bombay, India.
RMS Corfu
From Wikipedia, the free encyclopedia

SS Corfu
Career
 
Name:
RMS Corfu
SS Corfu
SS Corfu Maru
Owner:
P&O 1931-1961
Port of registry:
London
Route:
London, Bombay, China
Ordered:
25 June 1930
Builder:
Alexander Stephen and Sons,
Glasgow,
Scotland
Yard number:
534
Laid down:
9 September 1930
Launched:
20 May 1931
Maiden voyage:
16 October 1931
Fate:
Scrapped 17 October 1961 by Miyachi Salvage Co Ltd, at Osaka, Japan.
General characteristics
Tonnage:
14,293 (GRT)
Length:
543ft
Beam:
71ft 5in
Draught:
29ft 9in
Installed power:
Six steam turbines
Propulsion:
Twin propellers
Speed:
18 knots
Capacity:
177 First Class
214 Second Class
Notes:
Originally proposed name Chefoo
RMS Corfu was a Royal Mail Ship and ocean liner operated by the Peninsular and Oriental Steam Navigation Company. Known as one of the 'Far East Sisters', she was launched in 1931 to serve the company's India and Far East Mail Service, along with her sister ship, the RMS Carthage. Both ships were built by Alexander Stephen & Sons Ltd in Glasgow, Scotland and served from 1931 until 1961 when they were scrapped in Japan.