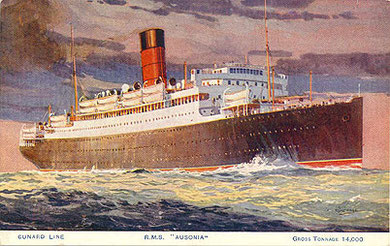 1932
Soon after,( August 20th )  Baba took a ship from Venice to Alexandria, Egypt, with Kaka and Chanji. Seeing Baba board the Ausonia at 4 P.M, his lovers wept sadly at his departure. The moment the ship sailed away, Baba's eyes filled with tears. Kaka and Chanji had never seen Baba so sad over a departure. His English lovers sent a cable to him on board ship, and Baba pressed it to his lips and eyes, wetting it with his tears. Baba's eyes remained wet with tears until he retired that night at ten. As if in agony, Baba spent a restless and sleepless night, and Kaka and Chanji wondered why he should suffer so. What sort of love could cause the Master of Bliss, who is above all worldly happiness and misery, to be so restless. How great that love must be!
For the next three days, Baba showed no interest in meeting anyone or going for a walk around the ship. He constantly remembered each one of those left behind and their ways. He spelled out on the board: "Kimco, my heart. How they all love me!" And he dictated this short rhyme to be sent to them:
"Kimco, my heart, now as ever and ever as now.
How I love you! How I miss you!
Just wait four months, when I come and kiss you!"
The ship docked at Alexandria at 5 P.M. on

August 23rd

. Baba, Kaka and Chanji went directly to the station and took the train to Cairo. They arrived at 10:30 P.M. and stayed at the

Luna Park Hotel.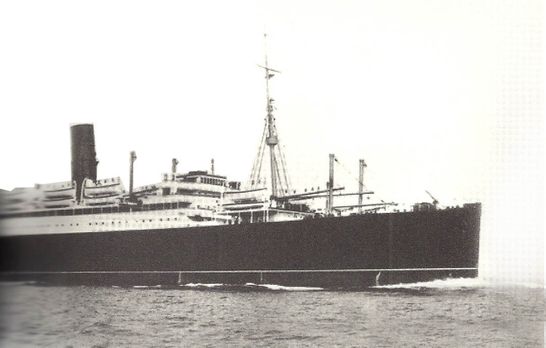 RMS Ausonia
From Wikipedia, the free encyclopedia
This article is about the Cunard liner. For the Italian liner, see
SS Ausonia
.


Career
Name:
RMS Ausonia
Owner:
Cunard Line
Builder:
Armstrong Whitworth, Newcastle upon Tyne
Yard number:
970
Launched:
22 March 1921
Maiden voyage:
31 August 1922
Fate:
Scrapped, 1965
General characteristics
Tonnage:
13,912 gross register tons (GRT)
Length:
538 ft (164 m)
Beam:
65 ft 4 in (19.9 m)
Propulsion:
Geared turbines, 8,500 shp (6,338 kW), twin screws
Speed:
15 knots (28 km/h; 17 mph)
Capacity:
510 cabin class, 1,178 third class
Crew:
270
RMS Ausonia, launched in 1921, was one of Cunard's six post-World War I "A-class" ocean liners for the Canadian service.
[edit]
History
Ausonia was built in Newcastle by Armstrong, Whitworth & Co., launched on 22 March 1921, and completed in June. She made her maiden voyage on 31 August 1921 from Liverpool to Montreal, and the following season went into service on the London-Canada route.
In December 1938, the Ausonia carried about 50 American veterans of the Abraham Lincoln Brigade returning from the Spanish Civil War from Le Havre, France, by way of England and Halifax, Nova Scotia, arriving in New York City on 20 December 1938.
On 2 September 1939 she was requisitioned by the Admiralty and converted into an armed merchant cruiser. On 3 June 1942 the Ausonia was converted to a repair ship. She was laid up during 1945. In 1958 she went to Malta as repair ship for the Mediterranean Fleet. In September 1964 she was laid up at Portsmouth, and in August 1965 she was sold to be broken up at Castellon, Spain.