S.S. CONTE  ROSSO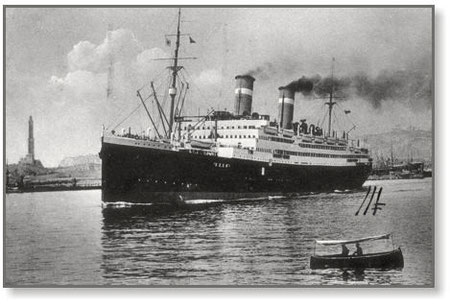 Baba sailed on the 24th March 1932 from Bombay to Venice via Port Said. Initially Baba was in cabin 107 but moved to 120.
They arrived on the 4th April.
On Thursday, March 24th, 1932, at nine at night, Meher Baba sailed from Bombay for England with his small group of six mandali, along with eight hundred other passengers on the Italian ship Conte Rosso. The group going to China set off the same day from Colombo, Ceylon, for Shanghai on the French ship Chimanceaux. This group was to be accommodated in Nanking, where Herbert Davy had arranged for their stay.
All of Baba's Bombay lovers gave him a hearty and loving sendoff. Mother Shireen and Mani were present, but his father Sheriar was indisposed. However, Baba had stopped by the family's house in Poona, where Sheriar met his beloved son Merog before his departure for what was to be their last time together.
On the docks at the pier waving farewell were Mother Shireen, Gulmai, Sarosh, Pudumji, Vajifdar, Hilla, Jerbai, Sohrabji Desai and his family, Alamai Katrak and her husband, the Dadachanji family, Banubai and Manekji Confectioner, the Jessawala family, the Namdar sisters, Manek Ranji, Sadashiv Patel, and several hundred other followers from Bombay, Poona and Nasik. During his first voyage, Baba had sailed off quietly without informing anyone of his departure; but this time, he permitted his lovers to be present at the dock.

Baba and Adi Sr. occupied one second class cabin (Number 107 initially, and then 120), Beheram and Adi Jr. another, and Chanji, Kaka Baria and Dr. Ghani a third. Besides these men with Baba, Adi Jr. found a twenty-year-old Anglo-Indian girl named Eileen Nettleton, whose parents agreed, just before the group left, to let her accompany them. Eileen was a pretty, fair-skinned girl with a charming personality, but Baba later remarked that she was not suitable. However, she was still taken along, and the mandali were to inform her about Baba during the voyage.
The days were hot aboard the ship. Baba played ping-pong twice a day with Eileen and the mandali. He wore his long hair loose while on deck taking a stroll. On occasion, they saw movies at night. For the most part, Baba remained in his cabin. Although the mandali and especially Adi Sr. relished the Italian food, Baba ate very little of the cuisine and considered going on a four-day fast before they landed.
As usual, Baba preferred to remain unnoticed and in seclusion, and hence the very first order he gave the mandali was: "No interviews with anyone on board." They were instructed not to tell anyone about him unless asked and to keep his identity undisclosed in general. In spite of all the observance of strict privacy, Baba's personality was so powerful that he immediately impressed those who happened to cast a glance at him or casually pass by him. In truth, no one is a stranger to him. Almost all who saw him wanted to know who he was and insisted upon being told, though the mandali could not reveal much and had to be very careful of what they said.
During the days of the voyage, there were many who were curious and quite impressed simply by seeing him. Among them was a Christian missionary who asked for, and was given, literature about Baba. A young man proceeding to Oxford for study was always particular to pay his respects to Baba whenever they passed. The ship's Italian stewards, sailors and officers especially seemed to scent Baba's presence, and they were all very humble and deferential toward him. They vied with one another to render assistance and tried to approach Baba on one pretense or another whenever an opportunity arose. As the voyage continued, in spite of trying to keep Baba's identity a secret, he became known to most of the passengers, officers and crew, who looked at him with a sort of reverence, though they could not explain why they felt so deeply.
On March 29th, after giving some instructions to the mandali during the course of general conversation, Baba explained some of the aspects of his teachings and workings:
I wish to establish a new school of thought suitable to both the East and the West. If you review my past activities, teachings and workings, you will find that they contain the elements of all religions in one way or another. They combine the teachings of all the great Prophets of the past – Jesus, Zarathustra, Buddha, Krishna, Moses and Muhammad.
Lord Meher Volume 5, Page 1546-8

Later that evening, at seven o'clock, Baba and the mandali went ashore at Port Said, Egypt, and had dinner at the City Hotel. The Conte Rosso left Port Said at eight the following morning, April 1st.
Due to news releases by the Associated Press of the interview given in Bombay, Baba's trip was widely publicized this time and many on board were anxious to meet him. A few persons knew about him, though Baba saw almost no one. He met only Professor Ernest Wood, a Theosophist working at the Theosophical Society in Madras, to whom Baba explained what he meant by spirituality at length.
Baba quickly came into public prominence by the news papers referring to him as the Indian Messiah. The Fox, Hearst and Paramount Film companies, through Malcolm Schloss' contact on March 31st, wired Baba for permission to film him on his arrival in Venice. Baba however, without explanation, did not send them a reply. When he disembarked at Venice on April 4th, he quietly left for the Hotel International, where Enid Corfe had arranged the group's accommodations.
Lord Meher Volume 5, Page 1548
SS Conte Rosso
From Wikipedia, the free encyclopedia
 
Career
 
Name:
SS Conte Rosso
Namesake:
Amadeus VII, Count of Savoy
Owner:
Lloyd Sabaudo Line / Italian Line
Builder:
William Beardmore and Company, Glasgow, Scotland
Maiden voyage:
17 May 1922
Fate:
Torpedoed and sunk, 24 May 1941
General characteristics
Tonnage:
18,500 gross register tons (GRT)
Length:
180 m (590 ft 7 in)
Beam:
22.5 m (73 ft 10 in)
Propulsion:
2 oil or coal-fired steam turbines, 18,500 hp (13,795 kW)
Speed:
21 knots (39 km/h; 24 mph)
Capacity:

1,500 tons cargo
1,950 passengers (200 1st class, 250 2nd class, 1,500 steerage)

 
SS Conte Rosso was a Italian ocean liner active in the early 20th century.
Named after Amadeus VII, Count of Savoy, the so-called "Red Count", the Conte Rosso was noted for her lavish Italian interior decoration. Because much of its sailing would be in warmer waters, the designers included an outdoor dining area, unusual for ships of this era. Her sister ship was SS Conte Verde.
Service history
She was built in the Glasgow yards of William Beardmore and Company for the Italian Lloyd Sabaudo Line and entered service in 1922 carrying passengers between Italy and New York. She was the first new transatlantic liner built after World War I and the largest Italian liner to date.
In 1928, she was replaced on the New York route by the newer SS Conte Grande and began service between Italy and South America[1]. She was acquired by the Italian Line in 1932 when it took over the Lloyd Sabaudo Line. In 1932, she began serving the Trieste–Bombay–Shanghai route, and thus became one of the major escape routes for the Jewish population of Germany and Austria as Shanghai was one of the few places that did not require paid emigration visas. She also served briefly as an Italian troopship during the Second Italo-Ethiopian War in the 1930s.
Incidents
On 31 January 1925 Antonietta Gigliobianco mysteriously fell overboard the Conte Rosso to her death at age 19, orphaning her two-year old son Ernesto. After being turned over to the ship's chaplain, a media outcry in the City of New York ensued which reunited the boy with his father Leonardo Gigliobianco.
Sinking
During World War II, she was used as a troop ship by the Italian Government until 24 May 1941, when she was torpedoed and sunk by HMS Upholder (P37). The sinking occurred 16 km off the coast of Sicily while in convoy from Naples to Tripoli. Of the 2,729 soldiers and crew aboard, 1,300 were killed.
From Wikipedia, the free encyclopedia

HMS Upholder
Career
Name:
HMS Upholder
Builder:
Vickers Armstrong, Barrow-in-Furness
Laid down:
30 October 1939
Launched:
8 July 1940
Commissioned:
31 October 1940
Fate:
sunk 14 April 1942
Badge:
General characteristics
Displacement:

Surfaced - 540 tons standard, 630 tons full load


Submerged - 730 tons
Length:
58.22 m (191 feet)
Beam:
4.90 m (16 ft 1 in)
Draught:
4.62 m (15 ft 2 in)
Propulsion:

2 shaft diesel-electric
2 Paxman Ricardo diesel generators + electric motors

615 / 825 hp
Speed:

11.25 knots max surfaced


10 knots max submerged
Complement:
27-31
Armament:

4 bow internal 21 inch torpedo tubes, 2 external
10 torpedoes
1 - 3 inch gun

 
HMS Upholder (P37) was a Royal Navy U-class submarine built by Vickers-Armstrong at Barrow-in-Furness. She was laid down on 30 October 1939, launched on 8 July 1940 by Mrs. Doris Thompson, wife of a director of the builders. The submarine was commissioned on 31 October 1940. She was one of four U-class submarines which had two external torpedo tubes at the bows in addition to the 4 internal ones fitted to all boats. They were excluded from the other boats because they interfered with depth-keeping at periscope depth.
She was commanded for her entire career by lieutenant-commander Malcolm David Wanklyn, and became the most successful British submarine of the Second World War. After a working up period, she left for Malta on 10 December 1940 and was attached to the 10th Submarine Flotilla based there. She completed 24 patrols, sinking around 120,000 tons of enemy shipping including the destroyer Libeccio after the Battle of the Duisburg Convoy, a cruiser, three U-boats (among which the Italian submarine Saint Bon), three troop transports, ten cargo ships, two tankers and a trawler. Wanklyn was awarded the Victoria Cross for a patrol in her in 1941 when he attacked a particularly well defended convoy and sank the 18,000 ton Italian liner SS Conte Rosso. She also damaged the Italian cruiser Giuseppe Garibaldi.
Sinking
Upholder was lost with all hands on her 25th patrol, which was to have been her last before she returned to England. She left for patrol on 6 April 1942 and became overdue on 14 April. On 12 April she was ordered, with HMS Urge and HMS Thrasher to form a patrol line to intercept a convoy, although it is not known whether she received the signal.[1]
 

Theories about her loss
The most likely explanation for her loss is that after being spotted by a reconnaissance seaplane, she fell victim to depth charges dropped by the Italian Orsa-class torpedo boat Pegaso northeast of Tripoli on 14 April 1942 in the position 34°47′N 15°55′E / 34.783°N 15.917°E / 34.783; 15.917, although no debris was seen on the surface. The attack was 100 miles northeast from Wanklyn's patrol area and he may have changed position to find more targets. It is also possible that the submarine was sunk by a mine on 11 April 1942 near Tripoli, when a submarine was reported close to a minefield. A third and less-likely theory came from an alleged air and surface attack on a submarine contact by German aircraft and the escort of a convoy on 14 April off Misurata, but no official axis record of this action was found after the end of World War II.[2]
A more recent research carried out by Italian naval specialist Francesco Mattesini points out to a German aerial patrol supporting the same convoy, composed of two Do-17 and two Bf-110, which attacked an underwater contact with bombs two hours before the Pegaso incident. The author also asserts that the seaplane crew was unsure if the target they pintpointed to Pegaso was a submarine or a flock of dolphins.[3] Mattesi, however, admits the possibility that Pegaso could have finished off the submarine previously damaged by the German aircraft.