Ships used only by the mandali and Westerners
S.S.  RELIANCE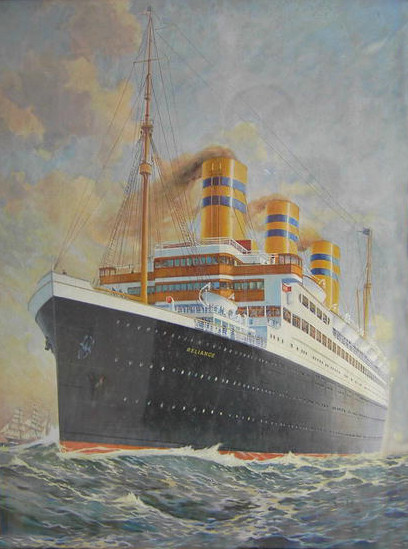 1938
Elizabeth Patterson arrived from America in Bombay on February 15th, on the Conte Verde. Her dog Kippy, who had stayed with Irene Billo in Switzerland while Elizabeth was in America, accompanied her to India. Adi Sr. met them. Nonny Gayley arrived two days later on the S.S. Reliance and was met by Chanji. Both were brought to Meherabad in time for the birthday celebrations, and they began living on the Hill with the other women mandali.
S.S. Reliance - Gustav Shutt, John W. Koch's brother-in-law, arrived October 12, 1923
Built by J.C. Tecklenborg, Geestemunde, Germany, 1920. 19,582 gross tons; 615 (bp) feet long; 71 feet wide. Steam triple expansion engines, triple screw.  Service speed 16 knots.  1,010 passengers (290 first class, 320 second class, 400 third class).
Built for United American Lines, in 1914 and named Johann Heinrich Burchard. Remained incomplete through World War I. Sold to Royal Holland Lloyd, in 1916 and renamed Limburgia. Amsterdam-East Coast of South America service. Completed in 1920. Sold to United American Lines, in 1922 and renamed Reliance. Hamburg-New York service. Caught fire and burned at Hamburg 8/7/1938. Wreckage scrapped in 1941.