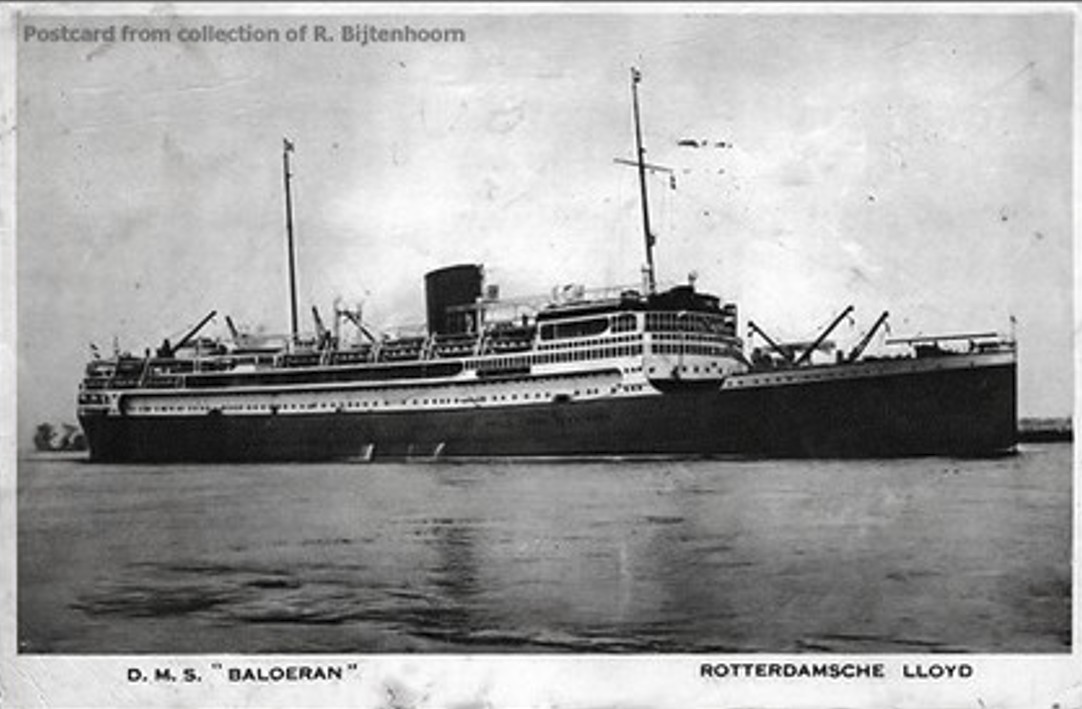 1933
On January 2nd 1933, Baba left for Port Said, setting sail the next day at 4 P.M. on the
S.S. Baloeran bound for Ceylon.
During the voyage, Baba asked Quentin Tod if he had noticed anything unusual about a Dutch girl who was travelling with her family. Tod at first noticed nothing out of the ordinary, but he then saw that she walked with a limp. Baba explained, "Many, many years ago in India, she was a yogi. She was then in a male form. While attempting to attain a higher state of consciousness through fasting and meditation, he had a stroke and died. In every incarnation since, he or she has limped. In order to free her from this affliction, it will be necessary for me to win her affection."
Baba proceeded to gradually draw the girl toward him. She spent more and more time with him each day, playing ping-pong and draughts. By the end of the voyage, a marked improvement in her health was noted.
Nearing Ceylon, Baba indicated that he wished to rest there for a month in solitude before returning to India. Baba, Kaka and Tod arrived in Colombo on January 12th, staying at the White Horse Hotel for three days.
Lord Meher Volume 5, Page 1751-2

POSTCARD MESSAGED BY MEHER BABA ON THE 7TH JANUARY 1933
Courtsey of Larry & Rita Karrasch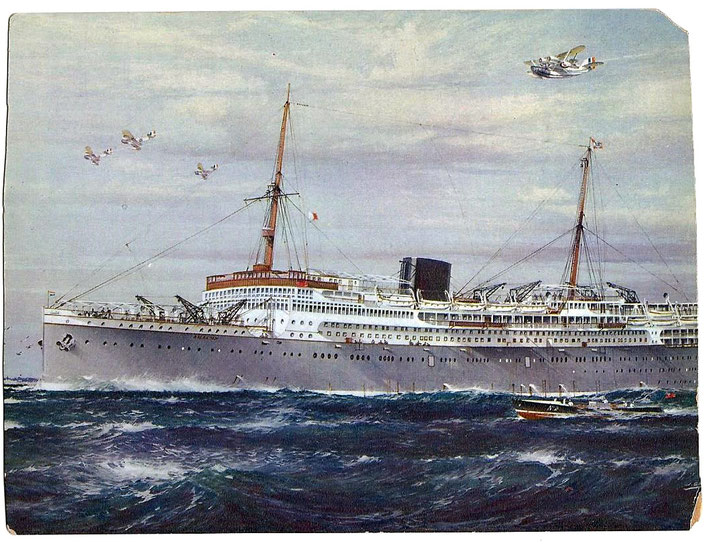 The Baloeran was built by Fijenoord NV, Rotterdam for Rotterdam Lloyd, Rotterdam principally for use on services between the Netherlands and the Dutch East Indies (Java). The maiden voyage commenced on April 16th 1930 from Rotterdam to India
It was one of several ships used by Marconi for his experimental broadcasts.
| | |
| --- | --- |
| | An overhead view of the Baloeran under steam, taken from a postcard produced by its owners. |
On troopship duty early in 1941 between Liverpool & Cape Town
On May 11th 1941 during the invasion of Holland the ship was captured by the German Navy and renamed MS Strassburg, serving as a hospital ship.
On September 1st 1943 the Strassburg collided with a mine off Ijmuiden whilst on a voyage from Rotterdam to Hamburg and was beached. Three weeks later British bombers (or torpedo boats?) set the vessel on fire, becoming a total loss (wreck site 52.32.63N, 04.32.35E), preventing salvage of the wreck. One source says the ship despite is hospital status was equipped with anti-aircraft guns.
Sister ship 'Dempo' built by De Schelde, Vlissingen. Torpedoed March 17th 1944 near Algiers during the Allied invasion of North Africa.
Details:
Built: Fijenoord NV, Rotterdam 1929/30
Launched: Maiden voyage April 16th 1930, Rotterdam to India
Tonnage: 16,981 tons
(Lloyds: Gross tons 17,001; below deck 12,123; nett 10,173.)
Length: 167.98 metres (551 ft)
Breadth: 21.44 metres (70.4 ft)
Draught: 9.10 metres (41.6 ft)
Propulsion: Two single acting Schelde Sulzer 10ST76 ten cylinder engines producing 7,000hp each at 100rpm
Auxiliary engines: Four x 6SS38 engines totalling 3,120hp at 170rpm
Screws: 2
Speed: 18 knots
Passengers: 236 1st class, 253 2nd class, 30 3rd class, 68 4th class & 27 convertible to 1st or 2nd class.
All images on this site are copyrighted - © Ronald Bijtenhoorn
Ship Name: Baloeran

Yard: De Schelde - Vlissingen (Casco 313: Fijenoord - Rotterdam)
Yard no: 188
Year of Build: 1930
Owner: Koninklijke Rotterdamsche Lloyd
Callsign: NGJS
Gross Tonnage: 16981
Netto Tonnage: 10062
Dead Weight: 8740
Length: 168,98m
Breadth: 21,44m
Depth: 9,10m
Motor: 2 x 10 cylinder Sulzer 14000 HP Diesel - 102 rpm
Speed: 18 knts.
Crew: 325
Passengers: 1st cl. - 262, 2nd cl. - 266, 3rd cl. - 70, 4th cl. - 68
Sister ship: Dempo

History:
10 may 1928: Order signed

26 august 1928: Keel laid

29 august 1929: Launched

22 march 1930: Trials

9 april 1930: Handover

16 april 1930: Maiden voyage from Rotterdam to Batavia

18 march 1931: Collision with an english ship (MS Silverbeech) by Tandjong Priok

End of 1937: Refurbished passengers accomodation (Machine fabriek en Scheepswerf "Smit" - Rotterdam)
     Gross Tonnage: 17001
     Netto Tonnage: 10173
     Dead Weight: 8736
     Length: 175,05m
     Breadth: 21,45m
     Depth: 12,7m
     Passengers: 1st cl. - 234, 2nd cl. - 280, 3rd cl. - 70, 4th cl. - 48

1940 at the start of WW2: The ships was used as an electricity generator.

11 may 1941: Claimed by the 'Kriegsmarine' and converted to a hospital ship (Lazarettschiff) by Wilton Fijenoord; renamed to Strassburg (HAPAG)

20 july 1941 til 30 may 1943: In service as a hospital ship (500 beds + 161 personnel); mainly between German and Norwegian harbours.

1 september 1943: During a voyage from Rotterdam to Hamburg she collided with a mine, west of Wijk aan Zee (52°30' NB - 4°30' OL) and was beached 1.3 miles north of the Noordpier of IJmuiden.

19 september 1943: Torpedoed by English Motor Torpedo Boats (MTB-617)

20 september 1943: Destroyed and sunk (52°29'15'' N - 4°32'04'' E) by English bombers