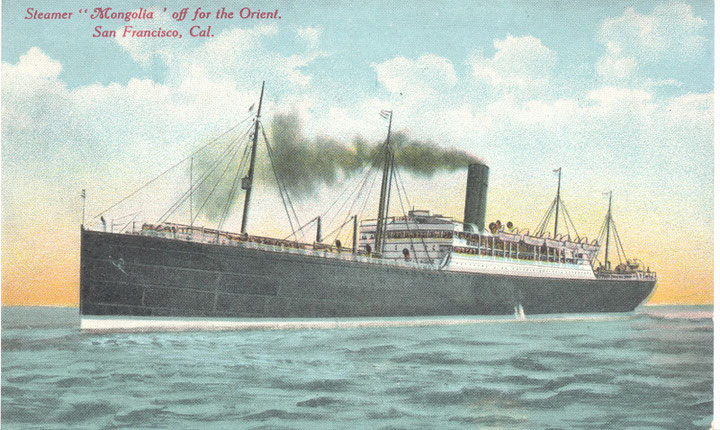 Meher Baba and his men mandali  ( Chanj, Kaka Baria and Adi Jrn. ) , sailed on this ship at 1:30PM on 9th June 1934 from Bombay to Marseilles.  This was his 7th journey to Europe. It took 13 days to reach Marseilles, arriving on 22nd June.
Baba and three men sailed from Bombay for Marseilles aboard the S.S. Mongolia at one-thirty on the afternoon of June 9th, 1934. Chanji, Kaka Baria and Adi Jr. accompanied him on this seventh journey to the West. Many lovers from Bombay showed up at Mole station to give Baba a hearty sendoff. They formed a large crowd and profusely garlanded Baba before he boarded the ship. Those who arrived late threw garlands up to Chanji on deck, and he garlanded Baba on their behalf. It was a scorching hot day and Baba gestured for his lovers to leave and not linger in the sun; but out of devotion, the crowd persisted despite the heat, standing and waving up to the last moments of departure. Baba motioned again for them to go home, but they stood at the dock until the last blast of the ship's whistle was heard in the distance.
The S.S. Mongolia was an old and rather small ocean vessel, and on this voyage Baba and the mandali experienced some inconveniences. Baba typically wanted his meals in his cabin and the purser finally agreed, in spite of the fact that it was against the rules. The weather continued to be hot as the ship traveled across the Arabian and Red Seas, and it reeled and pitched, but Baba remained unaffected by these rough conditions.
Lord Meher Volume 6, Page 1877

Thirteen days later, on June 22nd, 1934, they reached Marseilles, France, where Ruano Bogislav and Rano Gayley were awaiting their arrival. Baba had previously intimated that only Ruano should be at the dock to meet them and Rano was afraid of what Baba might say when he saw her. Before disembarking, Baba called them into his cabin and warmly embraced them. Rano whispered in his ear that she was not supposed to be there. Baba reassured her, by replying, "I am pleased with you, so don't worry."

SS Mongolia (1922)
From Wikipedia, the free encyclopedia

SS Mongolia off Australia.
Career
 
Name:
SS Mongolia
Owner:
P&O
Port of registry:
Newcastle upon Tyne

[

1

]

Route:
UK—Australia, later UK—New Zealand

[

1

]

Ordered:
22 November 1918

[

1

]

Builder:
Armstrong Whitworth, Newcastle upon Tyne

[

1

]

Cost:
£1 million
Yard number:
964

[

1

]

Launched:
24 August 1922

[

1

]

Completed:
Delivered 26 April 1923

[

1

]

Maiden voyage:
11 May 1923 (London to Sydney)

[

1

]

Out of service:
Laid up for sale in 1937

[

1

]

Identification:
Lloyd's Register 145517
 
 
 
 
 
 
 
 
 
 
 
 
 
 
 
 
 
 
 
 
 
 
 
 
 
 
 
 
 
 
 
 
 
 
 
 
General characteristics
Tonnage:
16,504 Gross Register Tonnage
10,383 Net Register Tonnage

[

1

]

Length:
573 ft (175 m) overall, 551 ft 6 in (168.1 m) between perpendiculars

[

1

]

Beam:
72 ft (22 m)

[

1

]

Draught:
30 ft (9.1 m)

[

1

]

Depth:
38 ft 6 in (11.7 m)

[

1

]

Installed power:
6 double-reduction-geared steam turbines

[

1

]

Propulsion:
Twin screws

[

1

]

Speed:
16 knots (30 km/h; 18 mph)

[

1

]

Capacity:

231 first class, 180 second class passengers; 669,000 cu ft (18,900 m3) cargo including 136,000 cu ft (3,900 m3) refrigerated

 
The SS Mongolia was a steam turbine-driven twin-screw passenger-and-cargo ocean liner launched in 1922 for the Peninsular and Oriental Steam Navigation Company (P&O) for service from the United Kingdom to Australia. Later in P&O service it sailed for New Zealand, and in 1938 it was chartered to a P&O subsidiary, the New Zealand Shipping Company, as SS Rimutaka.
In 1950 it was sold to become the SS Europa, carrying immigrants to the United States from Europe; later, it became a Bahamas cruise ship, the SS Nassau. Its final incarnation was under a Mexican flag as a Los Angeles to Acapulco cruise liner, the SS Acapulco, making it the only ocean liner to ever fly the Mexican flag. The ship was scrapped in 1963.[2]
 SS Mongolia, 1922–1938
The P&O ordered SS Mongolia from Sir W G Armstrong, Whitworth & Co. Ltd. of Newcastle upon Tyne on 22 November 1918, but construction was delayed by postwar refits of existing ships and she was not launched until 24 August 1922. After fitting out and sea trials the Mongolia was delivered to P&O on 26 April 1923. The ship cost an estimated ₤1 million.[1]
She left London on her maiden voyage to Sydney on 11 May 1923 on what was at first a 4-weekly mail service, that service being increased to fortnightly from 1925. She was converted to oil fuel in 1928.[1]
Notable incidents included a collision on 16 July 1933 with the tanker SS British Venture and a breakwater in Copenhagen, followed by running aground; and a collision with MS Villa de Madrid off Marseilles on 3 December 1936.[1]
She was laid up for sale in 1937.[1]