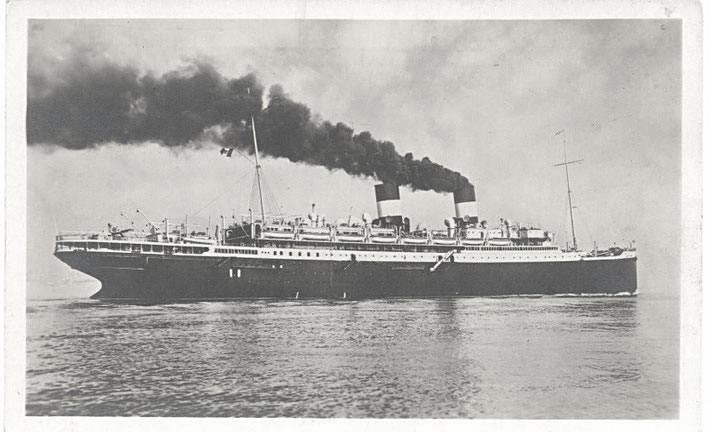 Meher Baba departed from the Italian port of Genoa on this ship on the 27th of October 1931, travelling to New York, USA, via Naples. Meredith Starr accompanied Baba and his men mandali. They arrived in New York on the 6th October. This was Meher Baba's first trip to America.

REACHING GENOA, Baba boarded the S. S. Roma at 10 P.M. on October 27th,1931,  bound for New York City. In Naples, Meredith introduced a Canadian lady from Toronto named Louise Skey to Baba. During the voyage, Miss Skey was taken with Baba and visited his cabin several times.

Baba was to conduct a newspaper and newsreel interview on the deck of the Roma on the 19th May, 40 miles from New York, but instead gave a pre-printed response.  The photographs of him were taken at 1PM in New York Harbour.
On Friday, November 6th, 1931, passing the statue of Liberty the S. S. Roma sailed into New York City's harbor at two in the afternoon. However, this time Meher Baba's welcome was not exactly warm or inviting. Two hours passed before Baba and the group were allowed to disembark. An insolent immigration officer kicked up a row on board ship, unnecessarily delaying their disembarkation. He was dissatisfied with the answers given by Meredith Starr to his questions, and suspected something suspicious about Baba's silence and alphabet board. He kept detaining Baba and the group with questions and even tried to read the board himself, but could not. He asked Baba directly, "You have come to teach people in America? But you do not speak. How can you teach with this board? How foolish! Who gave you this silly idea?"
Baba spelled out in reply, "I have come not to teach, but to awaken." In reply, the man laughed loudly, mocking Baba. Baba's eyes flashed, gesturing to the group, "Fool that he is, he laughs at this now, but I will show him. Poor, ignorant soul. I pity him!"
The officer then warned them, "I cannot let you pass unless someone in New York stands surety for you." However, this trip to America was not widely publicized and not many knew about Baba's coming. Except for three persons waiting for Baba at the dock, and they were prevented from boarding the ship, there was no one present to intervene on Baba's behalf. It was quite an awkward situation, but it was the Master's game. Baba remained serene and calm as he meekly submitted to the interrogation by the insulting immigration agent.
Suddenly, an officer of the ship dressed in white appeared on the scene, and asked the immigration agent, "Why do you detain these men when all the other passengers have left the ship?" He explained that he was not satisfied with their travel documents and wanted surety. The ship's officer looked through the papers and asked, "What is wrong with them? Let them go."

"But there is no one here to stand guarantee for them," the agent protested.
Chanji explained that they had very good references, and the officer said to the agent, "Quite frankly, I do not see any sense in your behavior. They even have references to show. If you still need a guarantor, I will stand guarantee. I am coming back shortly and want you to prepare permits for them to land."
This reprimand upset the immigration agent; however, he issued the landing cards. When Chanji went to thank the ship's officer, he could not find him. No one knew who he really was.
Malcolm Schloss met the group at the pier. Baba was wearing an olive green felt hat that concealed his hair as he came down the gangplank, with a gray green trench-coat over his white sadra.
Lord Meher Volume 4, Page 1464


Malcolm Schloss once described this first meeting with Avatar Meher Baba:
I had seen a picture of Meher Baba but I did not recognize him at first, nor was Meredith Starr prompt to introduce us. But when Baba, with his large, luminous brown eyes, smiled at me and held out his hand, instantly I knew who he was.
My own hand went out hesitantly. I had read the story of Sri Ramakrishna's first meeting with Vivekananda. According to the report, the Master Ramakrishna touched his visitor's knee with his foot; at that moment, the room reeled and disappeared, and Vivekananda lost all consciousness except the bliss of Union. I also wanted the bliss of Union, God knows, but the dock did not exactly seem the right place to experience that bliss. Baba thought likewise apparently, for nothing extraordinary happened. I was half relieved, half disappointed.
Smiling, Baba gestured, "Malcolm has a good heart." Malcolm had brought two cars with him, one driven by Katherine (Cath) Gardner and the other by Lillian Wardall. They drove out of New York City forty miles north along the Hudson River to a small town called Croton-Harmon. There, arrangements had been made for Baba's stay. The group arrived at the house at five-thirty.  
Lord Meher Volume 4, Page 1465

Aquitania/SS Roma (1926)
From Wikipedia, the free encyclopedia

SS Roma
Career (Italy)
Name:
SS Roma
Owner:
1926-1932: Navigazione Generale Italiana
1932-1939: Italian Line
Port of registry:
Genoa, Italy
Builder:
Ansaldo Shipyards, Genoa, Italy
Launched:
1932
Christened:
1932
Fate:
Taken over by Italian Navy
General characteristics of Roma

[

1

]

Type:
Ocean liner
Tonnage:
48,502 GRT
Propulsion:
Geared steam turbines powered Twin screws/quadblades
Speed:
20 knots
Career (Italian Navy)
Name:
Aquila
Ordered:
1941
Laid down:
1941
Fate:
Taken over by Germany
Career (Nazi Germany)
Name:
Aquila
Operator:
Nazi
Fate:
Scuttled by Italian commando frogmen and scrapped in 1952
Status:
Scrapped
General characteristics of Aquila
Type:
Aircraft carrier
Displacement:
23,500 long tons (23,900 t) standard
27,800 long tons (28,200 t) full load
Length:
235.5 m (772 ft 8 in)
Beam:
30 m (98 ft 5 in)
Draught:
7.3 m (23 ft 11 in)
Propulsion:
8 boilers, 4 turbines, 4 shafts
151,000 hp (112,600 kW)
Speed:
30 knots (35 mph; 56 km/h)
Range:
5,500 nmi (10,200 km) at 18 kn (21 mph; 33 km/h)
Complement:
1,420 (107 officers)
Armament:
• 8 × 135 mm (5.3 in)/45 caliber guns
• 12 × 65 mm (2.6 in)/64 caliber guns
• 132 × 20 mm (0.79 in)/65 caliber AA guns
Armour:
Deck: 80 mm (3.1 in)
Aircraft carried:

66

 
The SS Roma was a 30,000 gross tons ocean liner built for the Italian shipping company Navigazione Generale Italiana of Genoa by Ansaldo shipyard in Sestri Ponente. She was the sister ship to MS Augustus. The ship was later transferred to the new Italian Line after the merger of Navigazione Generale Italiana. The ship was taken over by Italian Navy. She was then took a refit and transformed into Aquila (Italian language: "Eagle") aircraft carrier during World War II. The conversion started in 1941; at the time of the Italian armistice (8 September 1943), the conversion was almost complete, but the ship was never delivered to the Regia Marina. It was scrapped in 1952.
SS Roma
After the World War I ended, many European shipping companies lose huge amounts of their fleets after they were sunk by torpedoes and mines from German submarines. White Star's HMHS Britannic and Cunard's RMS Lusitania were the example of those loss ships. Most of a German liners were seized by the United States during the war or were given to Britain including three Imperator class ocean liners. Many other shipping companies was waiting to have enough money to build a new liners. Navigazione Generale Italiana ordered two new 30,000 gross tons transatlantic ocean liners to Ansaldo shipyard. The first ship was launched in 1926 and christened Roma. Her interior was decorated by Baroque style that gave her a named Italian floating place. She was equipped with geared steam turbines unlike MS Augustus, her sister ship which was powered by Diesel engines. She had the hull completely steel but her main feature was the power engineer who, thanks all engine consists of eight turbines agents in pairs whose Steam was provided by 13 boilers petroleum, the allowed the speed of 22 knots. Her two funnels were repainted into the Italian Line's colours after her owner company merged together with Lloyd Sabaudo and Cosulich Line to form the new and famous Italian Line. When World War II broke out, she was laid up and later taken over by Italian Navy.[2]
Italian Aircraft Carriers
Aquila is considered the first aircraft carrier built for the Italian Navy, and the only one before Giuseppe Garibaldi. However, the Regia Marina had already tested the capabilities of ships with improved air capabilities, just after World War I. In 1923, the seaplane carrier Giuseppe Miraglia was launched.
The role of the aircraft carriers was undervalued by the Regia Marina, as well as by other navies, up until 1940; furthermore, the Regia Marina was to operate in the narrow Mediterranean sea, close to Italian air bases. These considerations led to the position, held by Italian High commands, that there was no need for such vessels, since the Italian mainland and islands such as Pantelleria were viewed as natural aircraft carriers.[3]
According to the plans developed, the fleet air coverage would have been the responsibility of the Regia Aeronautica; Regia Marina was to request, case by case, air coverage to Regia Aeronautica, which would fulfill these requests once provided to her own necessities. The end result of this "collaboration" was that several times the fleet fought without air coverage, or that the Italian aircraft arrived late to the battle area, or, even, that Italian aircraft attacked Italian ships (as during the battle of Calabria).
When the necessity for an air component travelling with the fleet was clear, it was decided to convert two ocean liners: Roma was to be transformed into Aquila, a fleet carrier, while Augustus was to become the escort carrier Sparviero.
Aquila was obtained through the conversion of the 38,000-ton 21-knot ocean liner Roma; since a battleship named Roma was already under construction, the name of the ship was changed to Aquila.
Aquila's Design and Construction
Work on converting Roma into an aircraft carrier began in earnest at Cantieri Ansaldo, Genoa, in November 1941.
Hull: The liner's interior was completely gutted to allow for replacement of the original machinery and the addition of a hangar deck and workshops. Deep bulges were added to either side of the hull to improve stability and provide a modest degree of torpedo defense. A layer of concrete, 60-80mm (2.4-3.1in) thick, was applied inboard of the bulges for splinter protection.
The designers worked in 30-80mm of armor over the magazines and aviation fuel tanks. The fuel tanks copied British practice and consisted of cylinders or coffer dams separated from the ship's hull by water-filled compartments. This was intended to prevent fracturing of the fuel system and the spread of volatile AvGas fumes due to severe vibration or 'whip' from bomb hits, near misses and torpedo hits.[4]
Machinery: Aquila's new propulsion system consisted of four sets of geared turbines taken from two canceled light cruisers of the Capitani Romani-class cruiser (Cornelio Silla and Paolo Emilio). They were capable of generating 150,000hp and Aquila was expected to reach 30 knots on trials and 29.5 knots when fully laden.
Flight Deck: Aquila had a single continuous flight deck 211.6m (694ft 3in) long by 25.2m (83ft 8in) wide. It was partially armored with 76mm plate.[5] The flight deck ended short of the bow but overhung the stern, which featured a pronounced round-down to improve air flow. Two 50-foot wide octagonal lifts with a 5 ton capacity enabled transfer of aircraft from the hangar to the flight deck or vice versa. One was directly amidships and the other 90ft forward. They were far enough forward of the arrester wires that both could be used for striking down aircraft into the hangar immediately after landing.
Two German-built Demag compressed air-driven catapults, each capable of launching one aircraft every thirty seconds, were installed parallel to each other at the forward end of the flight deck. A set of rails led aft from the catapults to the elevators and into the hangars. For catapult-assisted launches, aircraft would be hoisted in the hangar onto a portable collapsible catapult carriage, raised on the elevators to flight deck level and then trundled forward on the rails to the catapult starting positions, the same system as employed on Germany's own unfinished carrier, Graf Zeppelin.
According to Edward L. Barker, Aquila's engines and catapults were successfully tested in August 1943. However the arresting gear installed on the carrier, consisting of four cables, failed to work properly. This prevented aircraft, once launched, from landing back on board. It was therefore proposed that aircraft taking off from Aquila would, after performing their mission, fly back to the nearest land-based airfield, a serious and embarrassing limitation on her capabilities as a fleet carrier.[6]
Aquila's starboard-side island contained a single large funnel for carrying exhaust gases clear of the flight deck. It also included a tall command tower and the fire control directors for the 135mm guns.
AA Armament: Six 6-barrelled 20mm AA guns were positioned just fore and aft on the island. In addition, Aquila carried eight 135mm (5.4in) guns taken from one of the cancelled 'Capitani Romani' light cruisers. Though not designed as dual-purpose weapons, these guns had an elevation of 45 degrees and were therefore capable of providing a useful barrage against incoming enemy aircraft. There were also twelve 65mm AA guns (six on either side of the hull) mounted on sponsons below flight deck level. An additional sixteen 6-barrelled 20mm AA guns, also mounted below the flight deck, rounded out the ship's AA defence.
Aircraft: Throughout 1942 and 1943, trials were conducted at Perugia and Guidonia (the Regia Aeronautica's equivalent of the Luftwaffe's test facility at Rechlin or the RAF's Boscombe Down) to find aircraft suitable for conversion to carrier use. The Italians selected the SAIMAN 200, Fiat G 50bis and the Reggiane Re.2001 as potential candidates. In March 1943, German engineers and instructors with experience on Graf Zeppelin arrived to advise on aircraft testing and to help train future carrier pilots culled from 160 Gruppo C.T. of the Regia Aeronautica. They brought with them examples of the Junkers Ju 87C dive bomber and Arado 96B (the latter probably intended for training purposes only). The Italians eventually settled on the Re.2001 as their standard carrier fighter/fighter-bomber and even the Germans concluded it had better potential than their own counterpart, the Bf 109T. All flight testing, including simulated braked deck landings, were land-based.
Aquila's planned air complement was 51 non-folding Reggiane Re.2001 OR fighter-bombers: 41 stowed in the hangar deck (including 15 suspended from the deck head) and 10 on the flight deck in a permanent deck park. A folding-wing version of the Re.2001 was planned, which would have increased the size of Aquila's air group, but this never materialized. Only ten Re.2001s were fully converted for carrier use. They were given tail hooks, RTG naval radio equipment, bomb racks for 650kg of bombs and two 12.7mm SAFAT machine guns on the cowling with 350rpg. At least one Re.2001G was under test at Perugia as a naval torpedo bomber and was given a lengthened tail wheel strut to accomodate the added height of a torpedo below the rear fuselage.
Final Assessment
Aquila was a quick response to the problem the Supermarina (Italian Navy High Command) faced during the first years of the war in the Mediterranean: the otherwise powerful Regia Marina had no aircraft carriers, the air coverage of the Regia Aeronautica wasn't adequate, and the Italian warships faced many battles against the Royal Navy without an air component travelling with them, such as the Battle of Cape Matapan. Her role would have been of fleet defense, and, therefore, her hangar would have been filled with fighters or fighter-bombers.
Aquila would have been a good aircraft carrier, and a better conversion even than the Japanese Junyō; her major points were her good speed (30 knots), her average attack capability (equivalent to the Japanese Taihō), and the protection of the flight deck. Her major drawback was an operational one: even if finished before the end of the war, the Regia Marina would have had trouble training the pilots.
Aquila's Fate
Following the 8 September 1943 armistice, when Aquila's conversion was nearly complete and she'd already passed her first static test, Germany seized the ship and placed it under guard. Aquila was subsequently damaged during Allied air attacks on Genoa. Fearful the Germans might use the ship to block the entrance to Genoa harbor, Aquila was partially scuttled at her moorings by Italian commando frogmen. Raised in 1946, Aquila was later towed to La Spezia in 1949 where consideration was given to completing her or converting her to some other use. She was eventually scrapped in 1952.
References
^ Aircraft Carriers by David Brown, WWII Fact Files, 1977, Arco Publishing Co.
^ Courage Alone: The Italian Air Force 1940-1943 by Chris Dunning, 1998, Hikoki Publications
^ 'War Without Aircraft Carriers' by Lt. Cmdr Edward L. Barker, U.S. Naval Institute Proceedings no. 613, March 1954