Ships used only by the mandali and Westerners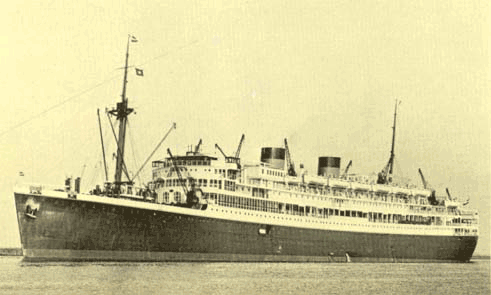 1933
February 1st, I sailed back to England on the "Marnix van St.Aldegonde" , arriving at Genoa February 14th and London 16th. I stayed in England until March 24th, when all of us left India on the "SS. Victoria" from Genoa.
Notes from Quentin Tod
The Awakener   Vol.XIV No.1
The JVO's sister ship, MS Marnix van Sint Aldegonde was launched on 21 December 1929. Dimensions of the MS Johan van Oldenbarnevelt and Marnix van Sint Aldegonde were 608 x 74.8ft (185.4 X 22.8m) with a gross tonnage of 19,040, with a displacement of 24,993 tons. At the time, these two would be the largest Dutch ships ever to be built and were the most luxurious liners to be placed on the international trade route to the Dutch East Indies. The ship had seven holds being able to carry up to 9,000 tonnes of cargo. For a ship of her relative size she offered comfortable accommodations in four classes form the luxurious First class, a comfortable Second class, Third class was sufficient to a very simple Fourth class located far forward, thus the JVO and her sister carried a grand total of just over 720 passengers and a crew of 361 to care for them. Interestingly First, second and third classes had interchangeable cabins thus numbers between these classes could vary considerably, thus the maximum interchangeable number of passengers in each class shown in the specification section down the page are shown in brackets.
MARNIX VAN ST ALDEGONDE was a Dutch vessel of 19355 tons. Most sources give her name as MARNIX VAN SINT ALDEGONDE. She was attacked by aircraft whilst on a voyage Liverpool for the Mediterranean positon 37.12.N 6.16 E.
The crew of 278 plus 33 gunners and 2924 troops were saved and the vessel was taken in tow for Philipville but sank 6.25 miles from Cape Bougaroni light.
She had a slight collision with SANTA ELANA whilst being towed.
In October 1943, the vessel 'Marnix van St. Aldegonde' flying under a Dutch flag, departed Liverpool bound for the Mediterranean.  On board was a crew of 278,  33 gunners and 2924 troops.
On the 6th November 1943, at 37 12N - 6 16E, the ship was attacked by 35 aircraft of K.G. 26 (Maj. Klumper) and seriously damaged.  All personnel on board were picked up by the 'Ruys' and other ships in the convoy.  An attempt was made to tow the vessel to Phillipeville but following a slight collision with the 'Santa Elena', she sank.
The Marnix van St. Aldegonde is believed to still lie in 30 fathoms, 88 degrees from Bougaroni Light, 6.25 miles away.