SS   VICTORIA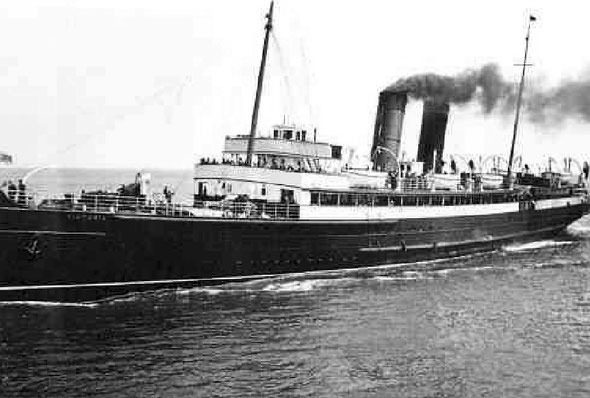 This ship was used on 4 seperate occassions.
August 29th 1932 ; Meher Baba and 2 men mandali -  Port Said, Egypt  to Bombay, India
March 28th  1933 ; Western followers - Genoa, Italy  to Bombay, India
June 12th  1933 ;  Meher Baba and 5 men mandali -  Bombay, India  to Genoa, Italy
July 24th  1933 ; Meher Baba and 5 men mandali - Genoa, Italy  to Bombay, India

Baba travelled on the SS Ausonia  from Venice on August 20th 1932 to Alexandria, Egypt, with Kaka and Chanji .
The ship docked at Alexandria at 5 P.M. on August 23rd. Baba, Kaka and Chanji went directly to the station and took the train to Cairo. They arrived at 10:30 P.M. and stayed at the Luna Park Hotel.

1932
Baba left Cairo for Port Said on August 27th. After five days in Egypt, Baba, Kaka and Chanji sailed for India on the S. S. Victoria on August 29th. The ship had fine cabins and the voyage was comfortable, but Baba remained inside most of the time. He did not wish to go out and be conspicuous, and did not wish to be recognized by anyone. During the voyage, he would occasionally go out at odd hours when no one was on deck, staying for a few minutes and returning to his cabin. While aloof inside, he seemed far away and when he communicated, it would be to constantly remember his Western gopis, Kimco, Herbert or Tod. Baba arrived in Bombay a week later on September 5th, and all his lovers there welcomed him with great joy and love.
Lord Meher Volume 5, Page 1705

1933
The Western group had met in Europe and sailed together from Genoa on March 28th aboard the S. S. Victoria. The London group consisted of Kitty, Margaret, Mabel, Audrey, Minta, Delia, Christine and Quentin Tod; the Americans were Elizabeth, Norina and Vivienne Gieson, who replaced Kim Tolhurst whose husband did not want her to go. They arrived in Bombay on April 7th.
The Bombay lovers went to the pier to welcome them; Freiny Irani and Dina Talati gave each of the new arrivals a wreath of flowers. The mandali in charge took the group to the Majestic Hotel, where they could bathe and rest.
Lord Meher Volume 5, Page 1761

1933
On his fifth foreign journey, Baba sailed from Bombay on the steamship Victoria on June 12th, accompanied by Chanji, Pendu, Adi Jr., Kaka Baria and Ramjoo's son, Dadu Abdulla. Baba's mood was ill-tempered as the voyage to Genoa was horrible. His cabin was small and the mandali were not often permitted to see him, as they were travelling a different class. Making matters worse, practically all of them were seasick. Kaka Baria stayed with Baba the entire voyage, although the cabin was small even for one person.
Two or three maharajas were on board, but Baba did not want to meet anyone. To avoid being recognized, he walked in areas of the ship meant only for the crew. On one occasion, he did briefly meet with Nanabhai Janglewala, a magistrate from Bombay. Stopping in Aden on June 16th, Baba did allow some Parsi lovers to come aboard for his darshan.
A week later on June 23rd, Baba reached Genoa and was met by Kitty and Minta. 
Lord Meher Volume 5, Page 1775

1933
HERBERT AND PENDU left for Paris on July 21st. Two days later, Pendu went to Genoa and Herbert went on to London. Baba left Portofino on July 24th and went to Genoa from where he sailed that same day on the steamship Victoria to Bombay.
Baba's cabin on the Victoria was small and the voyage was additionally uncomfortable because the Arabian Sea was very rough. The boat was tossed about like a toy and Chanji became extremely seasick. Baba was confined to his cabin for most of the journey, but when he did venture out on deck for a walk, some curious Parsi passengers tried to meet with him. The mandali, however, prevented it.
They arrived in Bombay at 8 A.M. on August 4th, 1933, and were met by Baba's brother Beheram and Naval Talati. Mother Shireen, Rustom, Freiny, Gulmai and Adi K. Irani, along with Marker, appeared on board a half hour later. Baba went with them to Naval and Dina Talati's home. At nine in the evening, after dinner he left by train for Nasik, where he arrived late that night.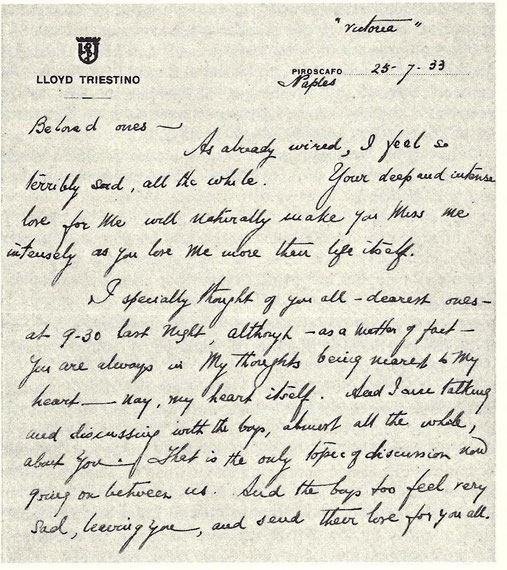 S.S. Victoria 2969 tons
 Built for Huddart Parker Company at Dunbarton and launched 1902 ; after a number of years on the Melbourne-Hobart-New Zealand route she was sold to China.
In 1934, the ship was beached at Tunkalilla, South Australia.